Games like Axie Infinity engender play-to-earn trends in the blockchain space. Amidst such circumstances, STEPN introduces a new norm to blockchain gaming – with data aggregation on movements. Doing so encourages the participants to lead an active lifestyle amidst hectic work schedules. Non-fungible tokens play their part in the form of sneakers that facilitate users' walking, jogging, or running outdoors. 
Why should all this bother me, you may wonder? STEPN Clone is a pre-built solution that lets entrepreneurs build their Web3 lifestyle app – very similar to the original STEPN app. 
Move-to-Earn
The move-to-earn trend is still in its infancy, with new apps sprouting on app stores. STEPN (GMT) is a move-to-earn game app with a sizable fan base and a significant position among the top 50 digital currencies. Several innovative gaming solutions based on geolocation-enabled walking, sprinting, or riding are also on the way. It is quite evident that investors flock to the move-to-earn space, with STEPN recently raising decent-to-good funding. 
The low entrance barrier is the primary benefit of move-to-earn games. Unlike traditional character-based games that need time, attention, and effort to comprehend, move-to-earn games use behaviors that every human is quite familiar with — movement! It implies that there is virtually no learning curve before a person can begin playing and earning, removing all obstacles to the entrance. 
Do You Wish to (Move-to-Earn) Start A Business? Contact us!

Live chat with usHire Us!
Move-to-Earn is Intertwined with Social Fitness Model
Anyone who embraced fitness apps knows how addictive their gamification features can be, whether it's trying to break a route record, keeping up with your friends' physical activity (and getting more likes), or even competing against yourself as you track your progress in the app.
The M2E fitness gaming app like STEPN has a magical effect on us: it brings out our competitive side, encouraging us to push ourselves and others beyond what we've ever pushed. And the incredible thing is that, except for enhanced physical health, no other incentive would justify such commitment. What will the prospect of earning a buck or two while exercising do us if peer pressure and social clout aren't enough to get us to do things we wouldn't ordinarily do — exercise?
Though some gaming coins like Axie Infinity's AXS and Decentraland MANA are dominating, STEPN's governance token (GMT) is harnessing good value with an all-time high price at $4.0038 during the last week of April 2022. 
Important Features of STEPN Clone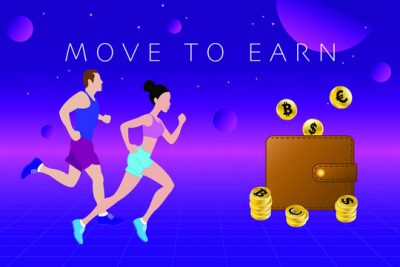 #1 Dual-token Architecture
STEPN like Web3 app incorporates the Game-Fi elements, which means decentralizing the crypto finance. The ability to attract more users is beneficial to gaming projects. They employ special tokens for incentives with particular purposes within the game's ecosystem and urge users to return.
STEPN NFT Game has two tokens available for the users to earn rewards:
Green Metaverse Token (GMT)

Green Satoshi Token (GST)
#2 Multiple Gaming Modes
The first-of-its-kind Web3 app like STEPN boasts various gaming modes: solo mode, marathon mode, background mode. Whatever be the mode – users are equipped with NFT sneakers to earn tokens while they move!
#3 Built-in Marketplace
While the users are away (not walking/inactive), they can rent/lease (or buy/sell) their NFT sneakers, badges, and gems on the marketplace platform. Like most marketplace models, the STEPN NFT marketplace has advanced search filters to simplify navigation. 
#4 Wearable Integration
Smartwatches and fitness watches with 5G connectivity are popular among individuals who want to track their exercise goals while on the road. A wristwatch extension or application can increase the popularity and acceptability of the gaming app among individuals who desire these additional technological extensions.
#5 Social Sharing
The user must be able to post on social media about their accomplishments and unique events. When it comes to promoting your NFTs, social media is critical. Access and sharing on popular social media platforms should be made possible so that gamers may quickly advertise their in-game content.
Revenue-generation with STEPN Clone
Projects that allow you to work while you make money could be the answer. In addition to NFTs, which are tradable normally, some games also have in-game utility and governance tokens, which can be easily purchased on exchanges and grow in value as the game's value and popularity rises.
The fitness game like STEPN makes money through tax on in-app activities along with NFT trading and minting rentals. Apart from this revenue-generation activity, the open-source STEPN NFT Marketplace allows you to churn revenue in multiple ways. Having a built-in marketplace ensures that you get a commission for every sale/transaction happening through the platform. 
Engulf in the 'Move-to-Earn' Trend with AppDupe!
2022 is bustling with play-to-earn (P2E) NFT games. While competition is heavier in the P2E sector, move-to-earn (M2E) remains largely unexplored. You may still have your fair share of success with the STEPN clone from AppDupe. Our developers will ensure that you get a GameFi-rich M2E game that prolongs the trend. 
Do You Perceive a Business Model in M2E? Discuss with us!
Have a Crypto Platform/NFT Marketplace Related Development Idea?
---
Get your free consultation now