Fiverr Clone App - Micro jobs on a single platform
---
What's Fiverr? Fiverr is a platform where you can grow your business with different services provided by freelancers, albeit at a nominal rate. If you wish to create a similar app, then the below line would interest you.
Fiverr clone is a binding bridge between the Service Provider (freelancers) and Users (anyone in the vicinity). Our app enables the consumers to check the complete list of gigs and select the one option they wish to avail. Freelancers can also add the gigs they can work on, thereby creating a perfect revenue generation platform for you.
Benefits of Fiverr Clone App
---
Fiverr clone will be your marketplace with two major segments comprising freelancers and consumer. It is an effective revenue generating method if you are looking to start a venture with just a small investment. Our Fiverr Clone app will be the most profitable way.
Create Job Opportunities for freelancers
Provide customized services to your consumers
Generate profits by being the best marketplace app
Our Fiverr Clone App Packages Includes
---
We design and develop apps for your venture with our high-end tech services.
Android and iOS App
Our unique Android and iOS app offer enhanced performance for both your customers and service providers.
Website Installation
We offer site installation service to our clients, we take care of the website installation totally.
Admin Panel
We give you the necessary admin control options to run the app seamlessly.
Why Choose Our Fiverr Clone?
---
Catering Mobile Devices
The world is tech-driven and so are we, AppDupe's stellar Fiverr clone app is designed to make your customer's mobile experience better
End-to-End Customization
Our Fiverr Clone is entirely customizable and will seamlessly integrate your requirements without any difficulty.
Hassle Free Install
The entire installation process will be taken care of by our developing team, installation is the best way to ensure your app is tech ready.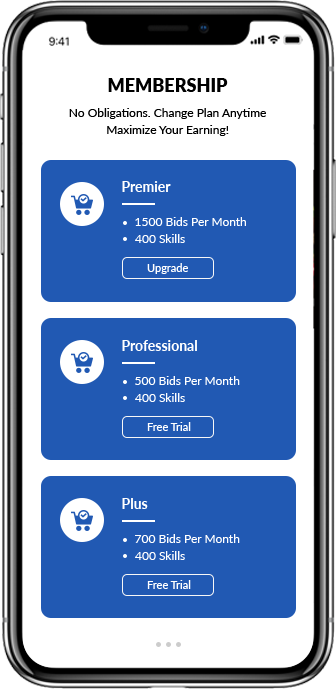 Product Scalability
We ensure you are always on the top of your game with the app's scalability quotient on your side.
Ad Management
Fiverr clone app will have many visitors in the form of consumers and freelancers. Easy integration of ads for enhanced revenue generation.

Revenue
With the right ads and the commissions flowing in, you will tap into the right revenue stream with each successful service.
Rich Features of Freelance Marketplace
---
Our Fiverr clone encompasses all of the essential features that will enable the app to run without any hassles.

Manage Gigs
As an Admin you can manage the Gigs(Jobs) that are assigned to freelancers, or assign the gigs to freelancers that you seem fit for the job.
Freelance Dashboard
Freelancer dashboard will be handled by the admin ensuring freelancers get to work on the service most suited to them.

Manage Buyer Request
Your customers are your buyers, and their request forms will be sent to you, and you can manage them either manually or with a set of automated programs through your admin panel.
Push Notifications
As an admin, you will be notified about the product additions in your app. You can notify the same to your consumers.
Reviews and Ratings
Consumers can check the ratings along with the prices of the freelancers. Upon completion of work, consumers can leave their own ratings for others.
Multiple Payment Gateway
Easily integrate multi payment system suiting yours and the app users including service providers and consumers needs.
Browse Gigs
Consumers will have many options to browse from. As Fiverr Clone app will offer varied services like Writing, Illustration, voice recording etc. and can be modified as per client requests.
Refine Search
Apply the most suited filters and come across the most perfect service provider for your venture.

Post Request
Consumers can post requests about the gigs that need to be done. The request goes to the admin, and upon approval, freelancers contact the consumers.

Payment Transaction
Payment can be done through different methods, and the app supports multiple payment gateways.
FAQ
---
You will own the entire source code of your product. The application will be hosted on your dedicated server.
Yes, the script you purchase from us is 100% customizable and as per your requirements will be developed and delivered.
Yes, we do. You can discuss this in detail with our experts, do write to us.
Yes, the payment as agreed upon will be only one-time and no hidden costs are involved.
Yes, we at AppDupe ensure that your product is designed and developed on time.