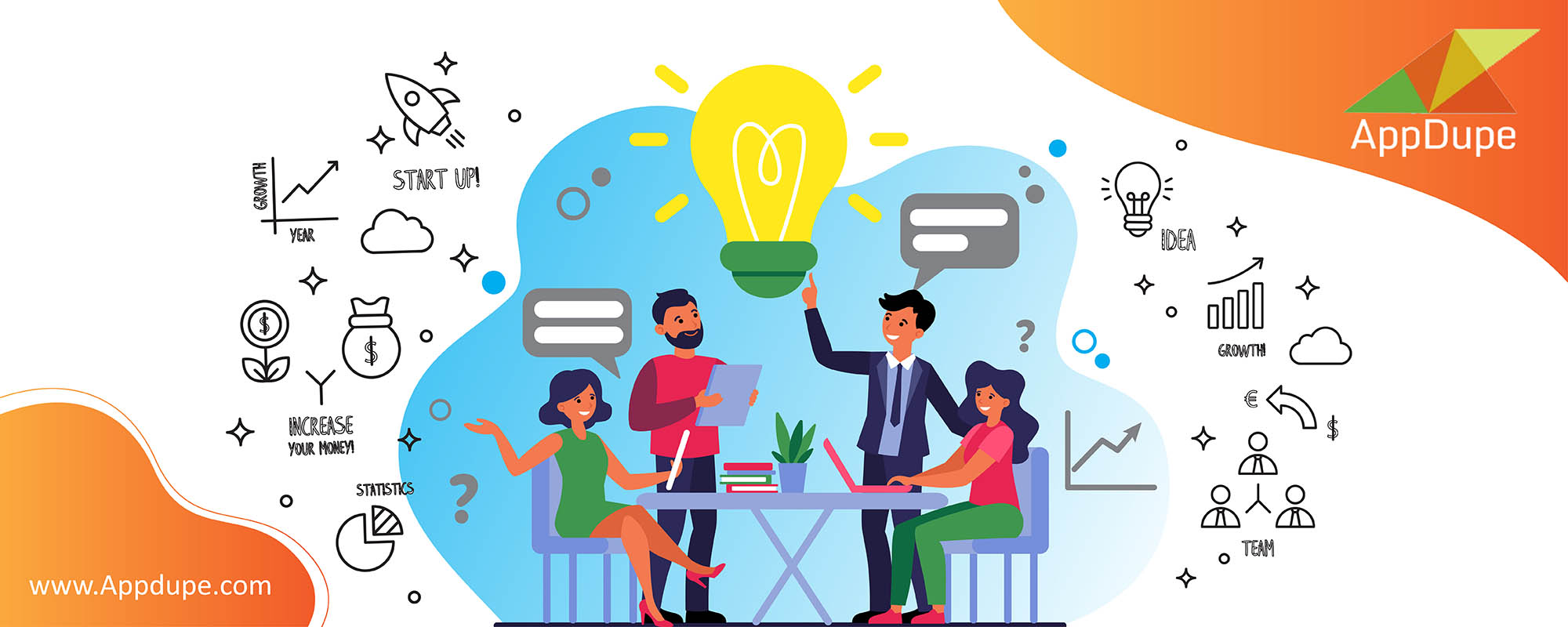 The world is running a rat race. Competition is everywhere in every field. Businesses constantly look towards improving their areas and challenge their potential. Most of the big companies smartly scale their businesses. Despite having similar quality or better quality of app development products, some small companies' businesses lie low as their strategy is nowhere near the big companies. So, how does one strategize? Apart from strategy, it needs to make a team effort, focus on objectives, and work hard unrelentingly. Scaling up does not work for every organization due to their methods. Hence, identifying the right approach is the primary step.
A research states 20% of start-ups during their first year and 70% fail due to premature scaling.
Growing
Growing is the process of elevating the company's profit due to time and investment in human resources and technological advancements. The method of growing is straightforward. You need to invest in man-made machines and staffing to grow—each time when profit after earning a profit, investment is mandatory.
Scaling
Scaling is increasing revenue without any investment. It mainly focuses on digital transformation or App Development business automation to gain the spotlight on the stage. Scaling is cost-effective and time-consuming compared to growing which allows a faster increase in the share of the industry. It requires intelligent practices without involving investment.
Advantages and Disadvantages of growing
Advantages
The growth of revenue is stable and does not hinder if the investment is made carefully and selectively.
There is little to no risk.
Growth can be forecasted easily when observed from scratch.
Disadvantages
A good amount of investment is required. Besides, businesses should invest in the right product or practice.
Rapid growth is not assured. It can consume more time.
Growth may be less profitable than scaling. Scaling simply by using innovative strategies can give a business much-deserved attention.
Advantages and disadvantages of scaling
Advantages
Scaling requires less investment and cuts costs.
Provides more revenue when compared to growing as scaling focuses on smart work.
Scaling requires less time to give the results.
Disadvantages
Scaling can be risky. Taking one wrong decision can collapse the business entirely.
The future of scaling is not predictable and can constantly shift.
Managing the data flows of the business.
Developing a company culture to utilize staff's efforts
The right time to scale business- Green signals to start scaling
When employees feel pressurized and are unable to manage work.
When long-term goals of the business are unattainable.
When the leads for App Development business keep increasing.
When the sales model requires monotony at a point.
When there is enough revenue and due to repeated sales.
Interested In Launching A App Development?

Connect on WhatsApp Contact Us
Constructive method to scale your app development business 
Model your expertise
Scaling demands the development of skills rather than money. Entrepreneurs should focus on improving their expertise in a particular field. The working team should accomplish the business goals without compromising on work quality. It is only on the attainment of standards, scalability can be achieved. Investing in a good app team will help achieve business goals seamlessly in the long run.
Build Connections and Collaborate
If broadening the business and promoting the growth is your objective, make
Connections in the app development industry and collaboration with companies. It is important to have good PR to achieve and maintain success eventually. Building connections with people and concerns along with customers, they would be willing to assist you by offering important market analytics and ideas to improvise. Official alliances and acquaintances aid as a stepping stone to targeted goals.
Invest wisely
Investing in the right tools decreases the labour and increases work efficiency. You can gain massive scalability if investment and time are utilized wisely. Apart from these, system integration is a crucial factor to scale App Development businesses. There are several systems an entrepreneur may resort to for enhancing efficacy. Below are some technical systems that a company can incorporate for scaling.
Customer relationship management- Augments user data and increases the efficiency of team collaboration for sales and marketing teams.
Inventory management software systems- For keeping track of inventory, sales, orders, and deliveries.
Accounts and Finance software- To generate precise and on-time reports to make financial decisions.
Human resource management systems- It helps manage staff, mechanize manual work, and arrange information as your requirements.
Digital Marketing- Marketers can implement, assess, and estimate their campaigns constructively.
Systemize business process
Business processes and procedures should be systemized and accelerate operations. The right delegation of business processes incentivizes your business growth. Through systemization and coordinating primary functions, it is easy to frame the crux of App Development business goals effectively.
Mechanize the systems
Creating a mechanism for operations will ensure the smooth running of operations at a lower cost. It increases efficiency and minimizes the delivery time of any task. It also diminishes staff's errors. It does not stop the employees from working; it only decreases the barriers that hinder progression. It increases the yield of raw materials to reach their output.
For example, when a customer registers with your business, an automated welcome message may be sent on the screen and to their email, ensuring their value to other business.
Analyze the needs of customers
Analyze the needs of customers. Begin by identifying from the viewpoint of the customers. Find the answers for,
Who the customers are
What they do
What app development or clone app development products they are choosing
Peak times of sales
Income range
Reasons for opting for app development or clone app development
Their reviews about your offers
Thoughts on your competitors
Expectations and suggestions from your concern
Identification business's cutthroat 
Identify the areas your App development business specializes in and on the weak areas. Ensure to maintain the strength and level up by taking one step at a time. For example, reviews and ratings and sales for one clone app development may be higher than the others as an app development company. The object should be to identify the downsides of the other apps and find ways to improvise the features to increase sales and revenue.
Concentrate on increasing sales
The focus should be on increasing sales, which in turn will increase the revenue. You can pitch more clients for selling for your clone app development solutions, but it firstly requires an effective sales plan to fetch customers. Before that, analyze if you have enough leads, enough sales members to follow the leads, a system to manage orders effectively, a billing system to collect invoices, etc.
Elevate marketing 
The marketing team of the app development company should coordinate internally within their team and prioritize their quality of their marketing strategy. Framing proper strategies will help your business be firm and expedite its growth.
Final Thoughts
Scaling your business with effective solutions requires proper assessment and planning. Incorporating a few technologies will avoid mishandling by the staff, increase work efficiency. Appdupe being a clone app development company, our clone App development solutions offer upright app development solutions that prevent any hindrance from your business growth and aid in scaling. Appdupe's clone app development involves integrating brilliant technology and the human mind, to capture and give every business the right solutions.
Join Hands With Our Team To Launch App Development!

Connect on WhatsApp
Contact Us!

Marketing is my soul mate and writing is my side kick. Using my writing skills to share the knowledge of app development and upcoming technologies.
Have a Crypto Platform/NFT Marketplace Related Development Idea?
---
Get your free consultation now