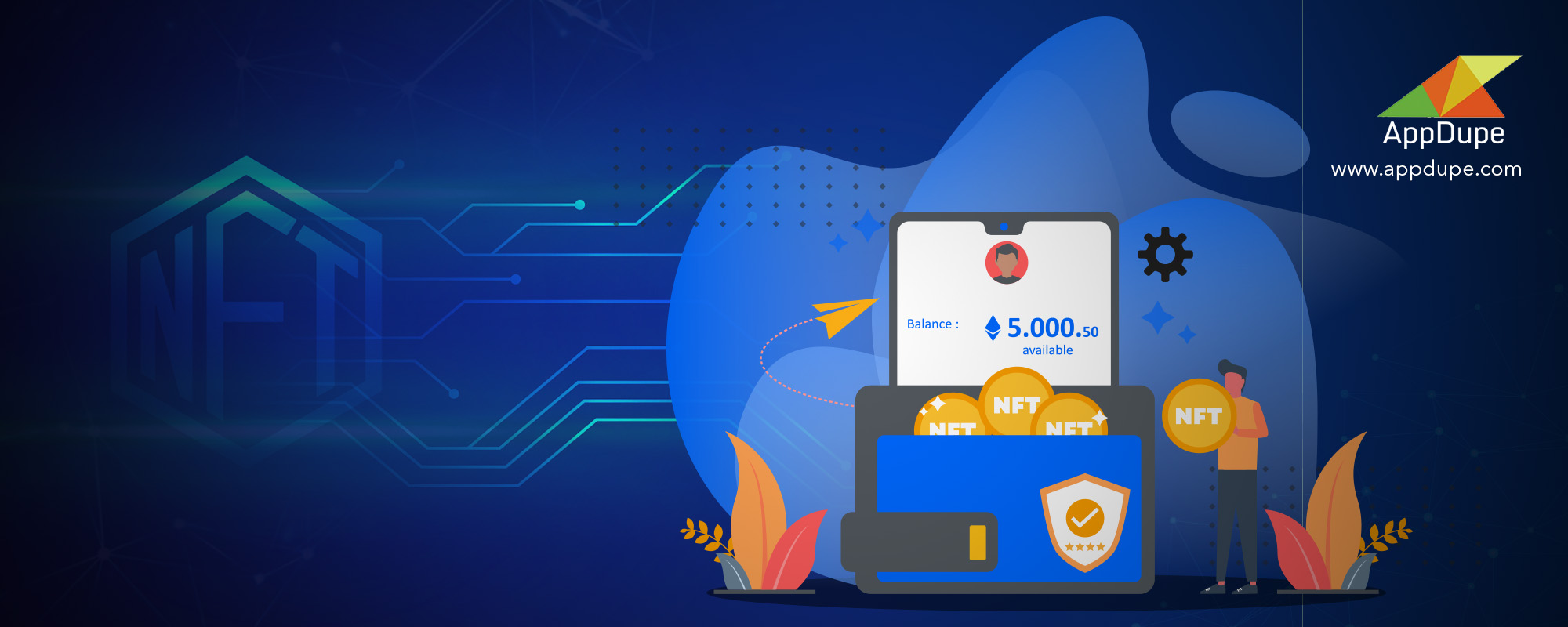 As crypto collectibles break all records in the digital trading industry, there is one question that is on the minds of content creators and investors always. How to back up the digital collectibles securely? Entrepreneurs can sort out this issue by beginning NFT wallet development. You can offer artists and collectors different kinds of hardware and software wallets. 
How does an NFT wallet function?
Virtual collectibles come in various asset standards. It comprises BEP-721, BEP-1155, ERC-721, ERC-998, ERC-1155, TRC-721 etc. Generally, digital collectibles vary from one blockchain network to another. 
Be it hardware or software wallets, NFT marketplaces across the world offer several options for safe storage. Users ought to register on these offline or online wallets. They should undergo Anti-Money Laundering (AML) and Know Your Customer (KYC) verification.
Importantly, NFT enthusiasts will have 100% control over their digital collectibles. They can safeguard their unique assets with private keys and secret passwords. 
What are the core features of software wallets?
Biometric authentication –

"My choices are like my fingerprints, they make me unique", says a famous quote. An online wallet will be embedded with a biometric authentication option. They can shelter their crypto collectibles from hacking,  phishing, and scamming attacks. 
Browser-based login mechanism –

Users can sign in to a digital wallet via browsers like Brave, Firefox, and Google Chrome. This helps them to store their collectibles in a quick time. 
Gallery-wise segregation –

Any kind of NFT such as artwork, digital cats and pets, memes, photos, tweets, videos etc. They can segregate their valuable collectibles in a modern gallery. This will help them to organize their digital collectibles securely.  
Key Vault –

A unique code is used for encrypting all the data and the NFTs held by investors. They can utilize the powerful vault for safeguarding all the crypto collectibles.
Protection against slippage –

Sometimes the price of crypto collectibles can fluctuate depending on the market conditions. NFT users can switch their buy and sell orders to numerous Decentralized Exchanges (DEXes). 
Slippage refers to the difference in costs placed between the order placement time and the confirmation time. If the amount is above a certain limit, it will get automatically cancelled. 
Token swapping option –

Content developers, as well as traders, can exchange their tokens in a flash. They will get a competitive price with very low transaction processing fees. 
Know the popular online wallets in the market
"Choice is what enables us to tell the world who we are". NFT holders have ample options to store their digital collectibles. They can use different digital wallets like Arkane, Binance Chain Wallet, Bitski, Coinbase Wallet, Dapper, Fortmatic, MetaMask, OperaTouch, Torus, Trust Wallet, WalletConnect etc. 
All the above-mentioned software wallets work on a non-custodial mechanism. They offer several benefits like an email sync facility, a fiat on-ramp option, QR code payments, and a social media login mechanism. 
Hot wallets are embedded with multi-layer security measures. It includes end-to-end encryption, password protection, and the usage of digital signatures. 
Decoding the functionalities of hardware wallets
Offline wallets are a perfect alternative to software wallets. They enable investors to store their digital collectibles in a cold storage system. For example, the popular hardware wallets are Ledger and Trezor. 
It is a USB device containing a secure chip. The NFTs held by investors are protected by a PIN code. One of the biggest advantages of offline wallets is that users can get back their crypto collectibles even if they lose them. They can utilize the unique recovery phrase for restoring their account. 
NFT buyers and sellers gain from an anti-tampering sticker, individual shields to fortify their personal and financial information, real-time tracking of balances, and support for numerous cryptocurrencies, DeFi tokens, and stablecoins. 
Lead the digital economy through NFT Wallet Development
Explainer: Why security must be the top priority for storing NFTs
Hardware wallets prevent thefts as they follow modern security standards. For instance, the Ledger Nano S wallet follows various data protection guidelines. It complies with cryptography guidelines like Advanced Encryption Standard (AES), Elliptic Curve Digital Signature Platform (ECDSA), and Rivest, Shamir, and Adelmann (RSA) public key algorithm.
Trezor is another famous offline wallet. The password manager of the hardware wallet contains options like integration with other cold storage wallets,  live portfolio management,  multi-platform compatibility (browser and desktop), privacy and security measures, real-time conversion of crypto to crypto, crypto to fiat, and fiat to crypto, support for Near Field Communication (NFC), and 12 to 24 recovery seed phrases. 
Is WalletConnect the future of preserving Non-Fungible Tokens (NFTs)?
Web 3.0 is the term in vogue now. WalletConnect is a popular open-source protocol for syncing Decentralized Applications (DApps) with different digital wallets. It uses 2 mechanisms, deep linking and QR code scanning for helping users to link their mobile wallets. 
The specialty of WalletConnect is that it does not operate on a blockchain network and there are no transaction processing charges. Currently, the WalletConnect protocol enables integration with Argent, Authereum, Bitpay, Huobi, KyberSwap, MathWallet, TokenPocket, and Torus. 
Know the key factors to consider before NFT Wallet Development
There are numerous aspects to take into account before creating an NFT wallet. 
The multiple facets to take note of are
Discussing business requirements with entrepreneurs. 
Studying the existing market conditions and latest trends.
Assembling the needed frameworks, programming languages, and tools. 
Deciding the type of blockchain network and the nature of smart contracts. 
Finalizing the choice of file storage systems like IPFS and Filecoin. 
Abiding by laws related to data protection, privacy, and security. 
Creating the user interface (UI) of the wallet for storing NFTs.
Designing the prototype of the wallet. It contains basic features. 
Scrutinizing the prototype by testing in certain terms and conditions. 
Testing the privacy and security measures of both hardware and software wallets. 
Eliminating the bugs and glitches from offline and online wallets. 
Launching the final version of the NFT wallet in the market. 
Wrapping Up
With big tech companies, payment processors, and social media giants also entering the metaverse, NFT wallet development is crucial. As billions of artists, brands, and celebrities enter the era of crypto collectibles, capturing the credibility of all stakeholders is important. On the same note, investors also ought to follow security steps to prevent unauthorized usage of their funds.  
Entrepreneurs like you can make the right decision now, curate a wallet for saving digital collectibles by partnering with AppDupe. We offer a range of solutions to preserve your precious NFTs.  
Undertake NFT Wallet Development and move ahead of your rivals

Marketing is my soul mate and writing is my side kick. Using my writing skills to share the knowledge of app development and upcoming technologies.
Have a Crypto Platform/NFT Marketplace Related Development Idea?
---
Get your free consultation now