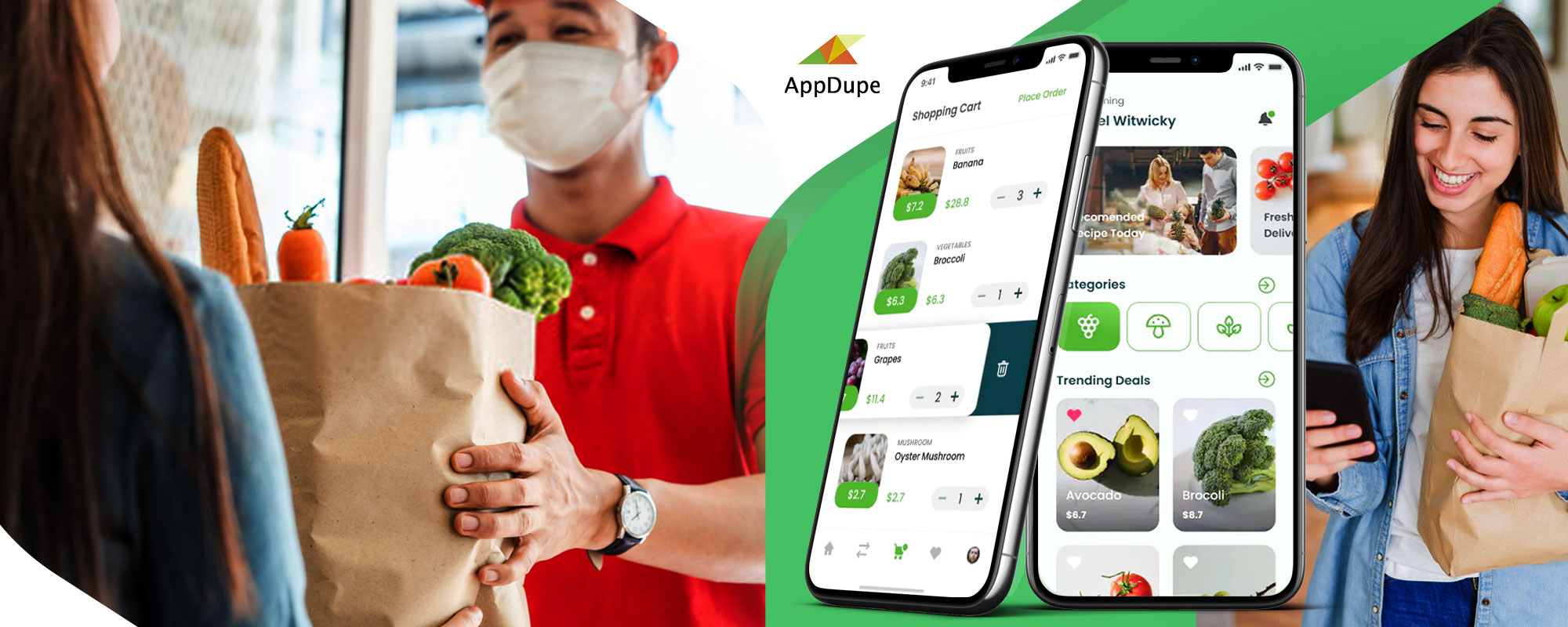 Hi! One of the most popular businesses in recent times is grocery delivery. Though the grocery delivery service was already in existence, it marked its importance only during pandemic times. The pandemic not only had an impact on businesses but impacted the users' priorities too. Previously, many restricted buying groceries online as they believed that online shopping would not match the traditional handpicking of groceries. But, as of the current situation, grocery delivery has become inseparable from our routines. Here we present you with some stats on the grocery shopping pattern of users.
Around 68% of consumers ordered groceries online from March to August.
Among the 68% of online grocery shoppers, 43% shop groceries online once or twice a month.
17% of the respondents say that they purchase meal-kits along with other groceries.
Of all, 81% of people wish to buy groceries online even after the pandemic.
By now, you would have guessed about the main content of the blog. Absolutely it is the grocery business and the grocery app development. Come and take a look at the Asda clone app development.
Unwinding Every Deet about Asda 
Asda (Asquith and Dairies) is a supermarket chain located in England. The company, founded in 1949, emerged as the biggest supermarket within a few years of inception. Initially, Asda was offering groceries and later included dairy products and meats. With a sequence of successes, in the year 1965, the company acquired GEM, a cloth retailer, and included it as one of its product lines. With this brief history, let us quickly go through the offerings of Asda in contemporary times and get to know why it is a successful grocery supplier.
What Is So Welcoming About Asda's Grocery Delivery Services?
The company offers a range of Asda Clone grocery products of different categories, from pastries to meat to healthy snacks. One of the brownie points of purchasing items from them is, users can sort out grocery items based on nutritional content and allergen-free items.
Dan Owens, Project Manager, Asda, pens down the recent inclusions in their offerings. He states that there are people who are prone to allergies if they consumed certain products. Also, he added that people no longer have to tolerate allergens, and they can meticulously purchase products that don't contain allergens.
So, here is what Asda's website has for its users. There is a wide range of products categorized as gluten-free, dairy-free, lactose-free, and even soy-free food products. So, it's one great idea to personalize products according to the shoppers' preferences. As a business person, you must put forth the priorities of your customers like Asda.
What Is The Latest Feature Included In Asda?
Asda has announced that it has collaborated with Google to integrate voice-based search features into the app. Users will have to download Google Assistant on their devices (It supports different devices like smartphones, home devices, Chromebooks, Android TVs, etc.) and link their Asda account.
Once the account is linked, users should say, "Hey Google, talk to Asda." They will get directed to the website, and they can command to add products to the cart. Simple and time-saving!
Develop Your Asda Like App From Us!
At Appdupe, we provide a diverse range of grocery shopping app solutions. One of our prestige products is the Asda clone. The app is a replicated version of Asda as it stands as an inspiration for customer-friendly grocery shopping apps. If you are curious about the advantages of developing the app from us, here is the list of benefits you can expect from our app solution.
White-label
Customizability
Scalability
Swift delivery
Budget-friendly
How about scheduling a meeting with our team?

Connect on WhatsApp Contact Us
Features You Can Expect In Our Asda Clone
Categories and subcategories
Users can search for products based on different categories. They can also narrow down their search using the subcategories section and finalize the products.
Search bar and filters
If users directly wish to bump into the product without surfing through the category list, they can do so by entering the name of the item they are looking for in the search field. They can even make use of the filter option and shortlist the groceries.
Wishlist
Wishlist lets users mark certain items as favorite ones and those that they wish to buy at a later time.
Order takeaway
Some users wish to opt for takeaways, and here is the app's order takeaway feature. After selecting the items, they can choose the takeaway option. They can collect the orders from the stores at the time of their convenience.
Payment integration
Users can pay their bill amount using the various payment options integrated into the app. Our app solution will support different payment modes, including cards, Stripe, PayPal, Google Pay, Braintree, Amazon Pay, etc.,
Knowledge base
The knowledge base is a repository of articles and manuals that contains frequently asked questions, help guides, and other app-related articles. Users can access the knowledge base and clarify their queries.
Workflow Of The App
Step 1: Registered users will directly login, whereas new users will complete the registration and then log in.
Step 2: They can look out for various products under the category section or search directly by inputting the name of the items in the search field.
Step 3: After the selection of items, they can drop them on their cart and make the payment.
Step 4: After making the payment, they will receive a confirmation message and the date of delivery.
Step 5: Based on the shopping experience, users can leave their reviews in the review section.
Tip: Since this being a grocery app, you can consider adding recipe manuals so that users will find it more beneficial. Asda Clone app has a dedicated section for recipes where users can know how to prepare the recipe, cooking time, etc.
Conclusion
Start early in this competition of setting up grocery delivery businesses. Our app solution will give more exposure to your business as you can custom-build the app the way to want it. Head to us, and we will assist you with your requirements. All the best!
Have a few words with our development team

Connect on WhatsApp
Schedule a meeting

Marketing is my soul mate and writing is my side kick. Using my writing skills to share the knowledge of app development and upcoming technologies.
Have a Crypto Platform/NFT Marketplace Related Development Idea?
---
Get your free consultation now