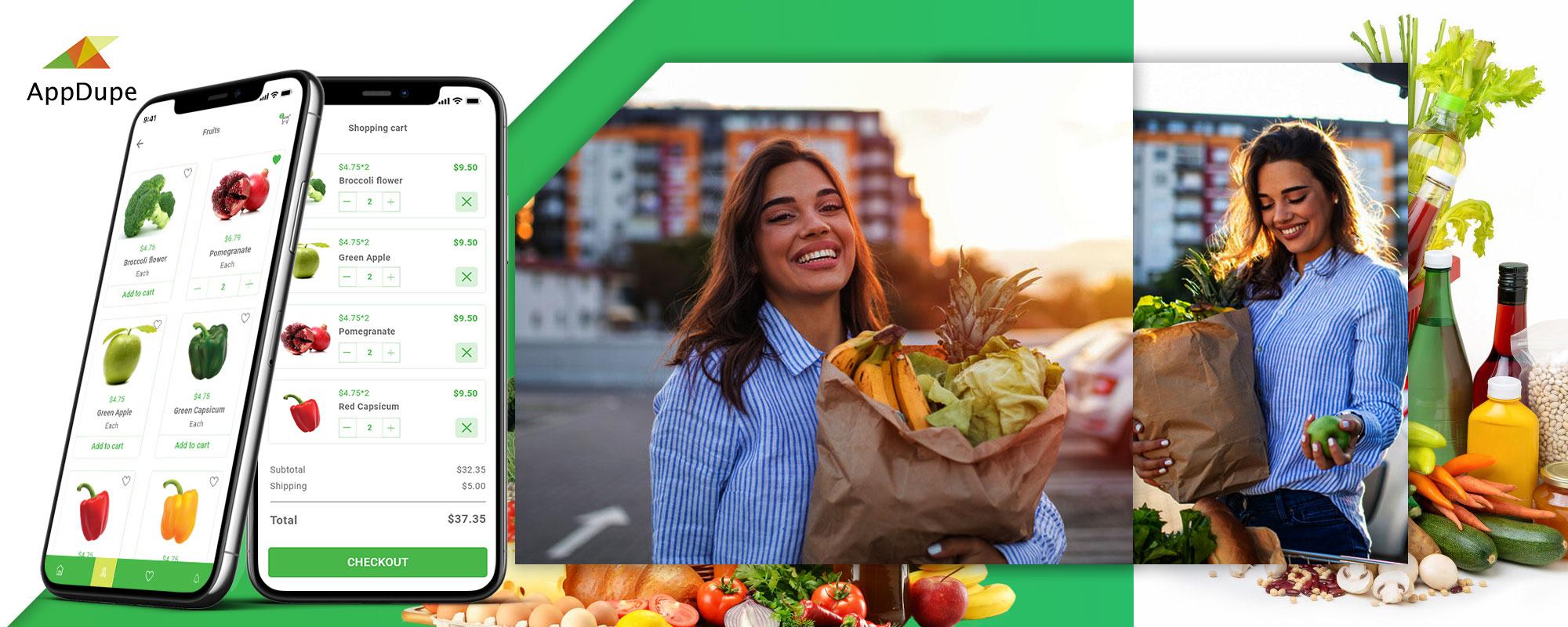 The Australian retail industry earned a whopping AU$30.3 billion in February 2021. It indicates a high level of efficiency in distribution channels, regular shopping of products by the urban population, and agility in delivery services.
Coles is a giant in the Australian market with its multiple supermarkets and retail chains. Customers can purchase a variety of bakery products, snacks, beverages, seafood, fruits, and vegetables at affordable prices from the platform and its various physical stores.
Digital transformation will change the dynamics of the Australian retail industry. The future trends that entrepreneurs must adapt to is facilitating purchases of products by customers through a "Click and Collect" mechanism, offering same-day delivery of goods to a variety of locations, and ensuring instant processing of payments. Creating an app like Coles is a viable business opportunity for entrepreneurs to enter the profitable e-commerce space, enhance their brand reputation, and improve shopper satisfaction. A 4.6% annual growth is predicted for the Australian retail sector till 2024.
Some of the latest news related to Coles is 
It is offering various offers and discounts for different products as part of Pre-Easter 2021.
Coles Express is offering art books and learning material for students containing interesting information about the culture and history of Australia.
Alcohol is sold at cheap rates in the form of a "Price Drop" campaign. Wine, vodka, and spirits can be bought at affordable prices by the drinkers.
Coles has sold more than 13.3 million buns in the first 3 months this year across Western Australia.
It is planning to utilize only 100% renewable energy by 2025. Coles aims to reduce greenhouse gas emissions to zero by 2050.
Coles has teamed up with Nestle to build a recycling plant for soft plastics. The plastics will be converted into food wrappings. This is done as part of its efforts to ensure sustainability and contribution to the circular economy.
Entrepreneurs looking to attain a strong position in the fast-growing retail industry by establishing a platform like Coles will have to be prepared to commit a huge investment and time.
A viable alternative to achieving success quickly is by acquiring the Coles clone app made by an experienced development company like Appdupe. The ready-made and customized Coles clone contains well-functioning Android and iOS apps for shoppers, delivery executives, store managers, and a robust admin panel.
The fantastic features of an app like Coles are
Coles Express – It is a retail platform that offers the sale of fuel and other convenience products. Coles Express offers various benefits like access to attractive discounts and offers every month, Flybuys points per litre of fuel for each physical visit to a Coles store, and other services like cash withdrawal from nearby ATMs, car wash, hiring trailers on-demand. Users can also purchase fast food items and coffee on Coles Express.
Coles Local – The Coles clone app offers customers access to local and sustainable food products produced by farmers. It includes fresh produce, vegan products, and pet care products. Eco-friendly packaging and recycled bottles instead of recycled plastic to ensure maximum protection to the environment.
Coles Insurance – Users can safeguard themselves against various risks by taking Coles Insurance. An app like Coles offers insurance for homes, cars, and pets. The advantages comprise 24×7 filing of claims with the integrated online service centre, lifetime guarantee for any kind of repairs, and tie-ups with the leading insurance companies.
Coles Credit Cards – High-quality financial services are also provided by the Coles clone app. Coles Credit cards offer benefits like attractive rewards, low-interest rates, the absence of an annual fee, and protection against ID theft. It can also be seamlessly integrated with Apple Pay and Samsung Pay.
Coles Personal Loans – Customers in dire need of credit can avail of loans at variable interest rates flexibly for one, two, three, and five years. No monthly fees need to be paid by the borrowers in the first year and no penalty is imposed in case of early repayments.
Coles Recipes – Shoppers can know the recipes of pasta, non-veg food, chocolates, and bakery products. All the recipes of different dishes can be accessed via the Coles Magazine issued every month.
Coles Mobile – Customers can utilize Coles Mobile for purchasing SIM cards, mobile data plans or internet packages, and prepaid smartphones easily.
In-store pickup – This is a useful option for users when they can place orders online via the Coles website or app and collect their products from nearby Coles supermarkets and retail stores.
Health and Beauty Magazine – It is issued during autumn, summer, spring, and winter every year. The magazines offer the best health and beauty tips written by well-known experts and popular influencers.
Partnership with the leading liquor brands – Alcohol can be easily bought by tipplers from the top brands like Liquorland, First Choice Liquor, and Vintage Cellars.
Acceptance of multiple payment methods – Users can easily pay for their orders via debit cards, credit cards, Mastercard, PayPal, BPay, cash, Visa, Diners Club, personal cheques, and Myer Gift cards.
Provision of 24×7 customer support – Technical support is rendered round-the-clock to deal with any issues faced by shoppers. Attention is given to solve problems like taxation discrepancies, replacement and exchange of products, incorrect items delivered, and late delivery of orders.
Having Second thoughts in launching Coles Clone App?

Connect on WhatsApp Contact Us
The step-by-step procedure followed by Appdupe for Coles Clone App Development
Knowing the business objectives of the firm to achieve over a period.
Preparing a roadmap for Coles clone app development spanning a couple of weeks or a few months.
Hiring different team members like mobile app developers, marketing experts, finance managers, business analysts, project managers, QA testers, relationship managers, and technical support executives.
Designing a friendly UI/UX for online shopping that will be suitable for the different tastes and age groups of customers
Adding a comprehensive list of features and functionalities into the Coles supermarket clone app.
Extensively testing the solution to get rid of technical loopholes and bugs.
Launching the final version of the Coles clone app in the target market.
Final Thoughts
Founded more than a century ago, Coles has carved a strong position in the Australian retail market as a trustworthy supermarket. It has effectively managed the tough competition from the likes of Woolworths, Costco Wholesale, Amazon, Target, and Walmart.
The future of Coles will revolve around providing a personalized shopping experience to the customers powered by artificial intelligence, automation, cloud computing, data analytics, and machine learning. It is planning to set up lots of dark stores to remove the chances of congestion and to enhance the operational capacity of handling bulk orders.
Entrepreneurs stand to benefit immensely from the development of a Coles clone app due to its flexible business model and the consistent inflow of revenue. Hence, partner with the well-versed developer team of Appdupe to get a captivating app like Coles soon.
Join us to create an app like Coles. Immediately!

Connect on WhatsApp
Contact Us Now!

Marketing is my soul mate and writing is my side kick. Using my writing skills to share the knowledge of app development and upcoming technologies.
Have a Crypto Platform/NFT Marketplace Related Development Idea?
---
Get your free consultation now