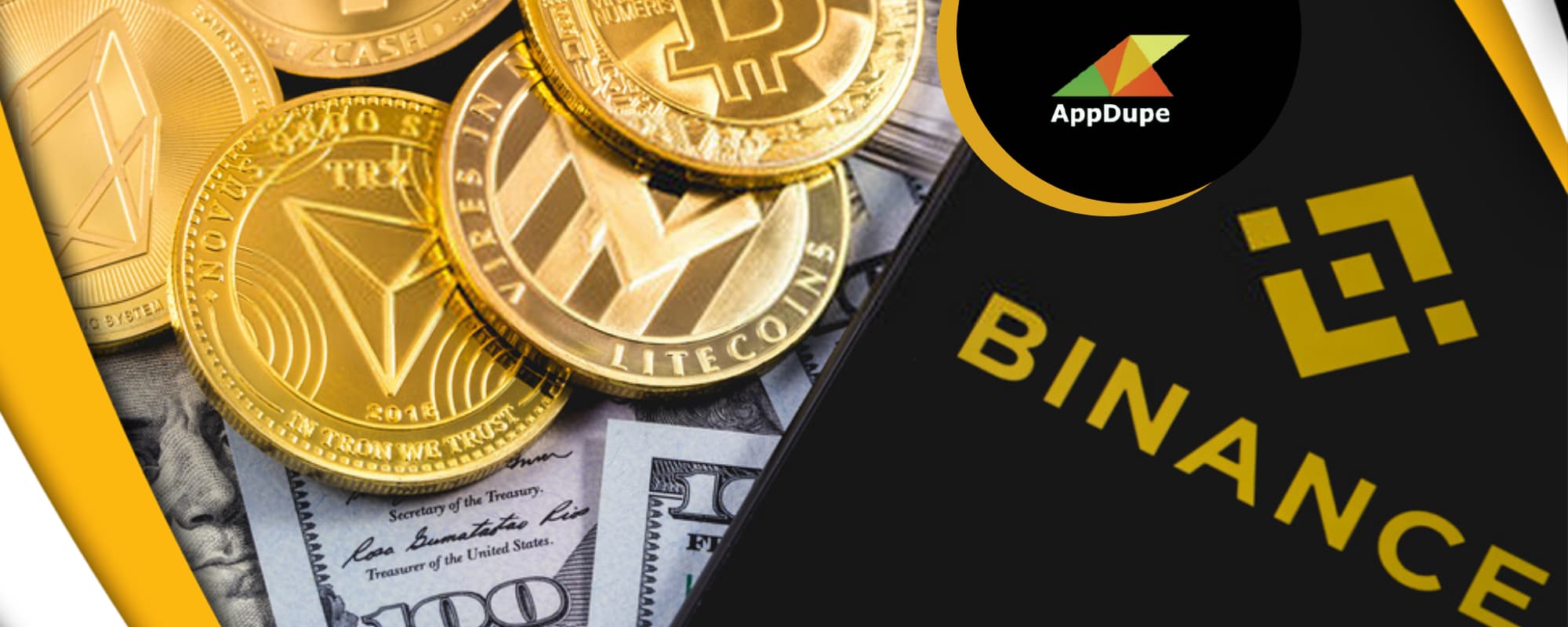 July 2017 was a turning point in the vibrant digital asset industry. Binance took the whole world by storm by coming out with its crypto exchange. Today, after a successful period of 4 years, the Cayman Islands-based platform has a daily trading volume of $19.36 billion. It is also the undisputed leader in average liquidity and the total number of listed coins as per CoinMarketCap. Entrepreneurs can enter the $2.1 trillion crypto industry by developing Cryptocurrency Exchange like Binance with AppDupe. 
Decoding why Binance is the big shot in the crypto sector
The Binance cryptocurrency exchange is apt in terms of multi-device compatibility and user-friendliness. Users can trade 24x7x365 from anywhere. Importantly, they receive real-time alerts about the available trading pairs, growth percentage and prices (current and previous). Besides that, the Binance crypto trading platform is cross-platform compatible (works smoothly on Android, iOS, Linux, macOS, and Windows). 
Flexibility is the Unique Selling Point (USP) of Binance. It allows investors to choose trading options like (derivatives, futures, leverage, P2P, spot, and synthetic stock tokens). Users can boost their returns through Binance Earn, Binance Pool, and Liquid Swapping. 
Investors visit the Binance cryptocurrency exchange 26 million times a week. It is higher than Coinbase (2.9 million) and Huobi (0.9 million). The Binance crypto trading platform provides excessive liquidity (1403 markets) for investors and supports 384 crypto coins (highest in the entire industry).
Examining the importance of a White label Binance clone software 
"Speed defines everything," says a popular quote. Techpreneurs like you can purchase our ready-to-launch Binance clone and launch crypto trading operations swiftly. You can add your brand name, logo, and new features as per the business needs and market conditions. 
Since rapid changes are occurring in the digital trading sector, our talented developers ensure that the Binance clone is developed in just a few days or weeks. Further, you can control the day-to-day business activities through the Zones section.
It contains various panels like Binance Smart Chain (BSC), DeFi tokens, Exchange Traded Funds (ETFs), and Non-Fungible Tokens (NFTs). Likewise, smart decision making is ensured as tokens are split based on 2 kinds of consensus mechanisms.
Investors will know the last prices, market capitalization, and 24-hour changes in the costs of crypto tokens. Accordingly, they can select either the Proof of Stake (PoS) or the Proof of Work (PoW).  
Know the numerous benefits offered by a Cryptocurrency Exchange like Binance
Cryptopreneurs like you can earn plenty of revenue. The ownership of a Cryptocurrency exchange like Binance will offer more returns than costs. The multiple sources of income are bid-ask spreads, brokerage fees, a commission on trading, the hourly interest rate on loans, interchange fees for debit card usage, mining operations, the operation of settlement systems, and slippages. 
Comfort is at its best in a Binance-like trading platform as users can choose either crypto-to-crypto, fiat-to-crypto, and fiat-to-fiat using Peer-to-Peer (P2P) transactions. 
Moreover, entrepreneurs like you can grab the trust of investors. Traders get several advantages such as anonymity, decentralized management of assets, and protection against frauds and scams. 
The top 7 features of our White label Binance clone Software
Derivatives trading mechanism – Binance Futures, Coin-M Futures, USD Futures, Leveraged Tokens, and Vanilla Options. 
Different crypto trading versions like Advanced, Classic, Convert, P2P, and Stock Token. 
Markets Section – It comprises spot and futures markets with multiple trading pairs. Investors can check out liquidity for Binance Coin (BNB) and the other cryptos like Bitcoin, Cardano, Ethereum, and Ripple. In particular, they can choose 3 margin support options (All Margin, Cross, and Isolated).
Multi-payment options – Banxa, Mastercard, net banking, Paxos, Simplex, and Visa. 
Instant disbursal of crypto loans – flexible repayments of the principal amount, a high loan-to-value (LTV) ratio, the lack of prepayment penalty, and no transaction fees. 
Quick login mechanism – via email, phone number, and QR code.
24×7 technical support – for crypto buyers and sellers via email, live chat, and phone. 
Set up a Cryptocurrency Exchange like Binance and become mighty in no time

Connect on WhatsApp Contact us now!
How to start a Cryptocurrency exchange like Binance?
Cryptocurrency Clone Script
Entrepreneurs can spend less and pocket more returns by hiring AppDupe for Binance clone app development. You will get benefits like easy conducting of Initial Coin Offering (ICO) and Initial Exchange Offering (IEO), multilingual technical support, real-time sharing of trading information, swift onboarding of affiliates, and two-factor authentication. 
Cryptocurrency Development from scratch
It involves assembling all the required blockchain developers and technologies. This option takes a lot of time and cryptopreneurs will incur huge expenditure over several months and years. 
White label Binance exchange
It is a ready-made crypto trading solution with the needed features and functionalities. Our Binance like script contains digital wallets like an order book, numerous payment gateways, and a matching engine. Further, users can control their portfolio via the Binance Chain Wallet and the Trust Wallet. 
What are the factors to know before owning a Binance clone script?
Various aspects influence the global crypto ecosystem. Hence, techpreneurs like you must consider facets like the changes in government regulations, liquidity, privacy, security, and the target market.
Importantly, you should also choose the right type of crypto trading platform. It varies depending on the mindset of investors. Entrepreneurs like you can select Centralized, Decentralized, Hybrid, and Peer-to-Peer based on the business requirements. Indeed, operating licenses are required from relevant authorities. Therefore, this will ensure uninterrupted buy and sell operations without any restrictions.
The cost of creating a Cryptocurrency Exchange like Binance
The cost for creating a clone script similar to Binance is never specific. It relies on the choice of features and functionalities, hourly rates paid to the developers, level of customization needed by entrepreneurs, multi-platform compatibility, the tech stack, and the time allocated for front-end and back-end development.  
Besides that, AppDupe offers exclusive post-deployment services. It comprises the addition of payment processors, API integration, compliance with different laws, digital marketing, security updates, smart contract auditing, and technical assistance. 
Why select AppDupe for Binance clone app development?
"Change is inevitable and Change is Constant", AppDupe firmly believes in this motto. Moreover, the demand for digital assets is high now amidst the slowdown in the global economy. Hence, we are your ideal partner for creating a crypto clone trading platform like Binance.
Importantly, we ensure a safe trading experience for both big-ticket companies, institutional traders, and ordinary investors. Our advanced crypto exchange like Binance also shares real-time reports related to daily investor activity, revenue, and trading volume. 
Wrapping Up
Undoubtedly, Binance is one of the game-changers in the global crypto economy. Its ruthless rise has helped overtake the likes of other platforms like Coinbase, Huobi, FTX, and Kraken. Today, the Binance platform has turned into a hub of A-Z financial services at an affordable cost. Therefore, entrepreneurs like you can set the stage on fire by getting hold of our Binance clone white label solution.
Change investment tendencies by using our Binance clone script
Frequently Asked Questions (FAQ): 
Will there be any premium features added to the Binance clone script?
Professional trading options are available for corporate enterprises and VIPs. Some of the advanced functionalities are atomic swapping, a liquidity API for integrating with different exchanges, market-making, perpetual swapping, staking, and a trading bot. 
What is the scope after developing a Binance like crypto trading platform?
Binance has massively expanded its business operations to several countries. Its meteoric rise up the ranks in just 4 years is impressive. The acclaimed crypto exchange platform is aiming at a valuation of $200 billion in the coming days. Hence, entrepreneurs like you will accumulate a large user base by owning a Binance like white label software. 
How does a Binance clone ensure efficient financial management?
Indeed, operating a Binance like crypto exchange requires credibility and high-end security measures. Likewise, techpreneurs like you can offer investors either guaranteed or high yield returns. Traders can select numerous options like flexible savings, staking, and the storage of Binance Coins (BNB) in vaults. Accordingly, the duration of staking will be fixed or flexible. 

Marketing is my soul mate and writing is my side kick. Using my writing skills to share the knowledge of app development and upcoming technologies.
Have a Crypto Platform/NFT Marketplace Related Development Idea?
---
Get your free consultation now