Undoubtedly, the adrenaline amongst spectators is high when they watch a car race. However, the massive growth of the metaverse has been a game-changer. Formula 1 in partnership with Animoca Brands, a Hong Kong-based gaming software company has come out with F1 Delta Time. The Ethereum-based game allows players to take part in Grand Prix events, compete against fellow challengers, and win exciting rewards. Eager to dominate the Web 3.0 era? Develop an NFT game like F1 Delta Time. 
Function of an NFT based Car Racing Game like F1 Delta Time 
Grand Prix Mode
Players need to exhibit their skills and drive their cars on challenging tracks. Subsequently, they should click the Grand Prix mode. Later, gamers will receive real-time updates when the race begins. Users can take part in the final edition of the race after meeting certain timings in the qualifying stages. Importantly, racers should choose various tiers and also modify their strategy based on the weather conditions. The ones who complete the lap quickly will receive keys. They can use it to receive SHRD (Play-to-Earn) tokens. 
Time Trial Dashboard
It displays data of the standings after the completion of the race. Hence, users can see information like the name of the player, his/her position, timing, and the tier (A, B, C, and D). Subsequently, they can filter the data based on location and time (daily and weekly). 
Integration with several wallets
Users can process transactions easily on an NFT based car racing game like F1 Delta Time by syncing their software wallets. They can purchase cars, drivers, valuable accessories, and components via hot wallets like Bitski, Dapper, Portis, MetaMask, and Fortmatic. What if players do not have any cryptocurrency? They can use their credit cards to purchase digital assets from well-known trading platforms. 
Staking Pool
Gamers can stake their NFTs and win rewards. Generally, a Formula 1 Car Racing Game like F1 Delta Time will offer a specific number of REVV tokens. These digital assets are divided into various pools (Gaming Operations, Staking, Reserve, and Promotion). Users can also purchase these REVV tokens from platforms like Uniswap, SushiSwap, Gate.io, PancakeSwap, Quickswap, Paraswap, and KuCoin. 
The total earnings of players depend on factors like the rarity of the NFT (common, apex, legendary, and epic), the population, and the weight. Moreover, owners can claim the ERC-20 tokens after a specific claim interval. Hence, all users who staked NFTs will receive utility tokens after a specific duration. Moreover, players have to consider the different rules while staking and unstaking. They can initiate it after paying the gas fees in Ethereum (ETH). 
Leaderboard section
It showcases data of the drivers who successfully completed the race. Users can view the circuit name, location, results, names of the racers, and the weather conditions (hot, dry, light rain, and heavy rain). 
Help Desk
Players can solve issues by reaching out to the help centre. They receive support for problems like processing of transactions, syncing of hardware and software wallets, purchase of REVV (utility tokens), and delays in seeing data about results. 
Sign up to get your very own F1 Delta Time development Solution!

Live chat with usContact us
A sneak peek into how drivers can enhance their car performance 
Undoubtedly, a few seconds will make the difference between the winner and the loser in a race. Generally, the performance of drivers depends on aspects like the top speed, acceleration, and level of grip. 
Likewise, racers also need to concentrate well, maintain their stamina, and stay aggressive to defeat their competitors. Users can modify their strategy based on the climate and the type of car. 
How does bidding work on an NFT Game like F1 Delta Time? 
All the auctions on F1 Delta Time run only for a specific duration. Users should submit bids for the NFTs within the deadline. Generally, their bids are treated as valid after it equals a certain percentage of the current price. 

Buyers should enter a specific amount in Ethereum (ETH) and Wrapped Ethereum (WETH). Subsequently, they should click the Confirm Bid button. 

Later, they should transfer the required amount from software wallets like Bitski, Dapper, Fortmatic, Portis, Torus, and MetaMask. 
Subsequently, the bid gets approved after the payment is made. After a while, users will get real-time updates on the auction via email. 
Moreover, investors can also convert their Wrapped Ether (WETH) into Ethereum (ETH) to strike the best deal. 
How Reward Pools work on an NFT Based Car Racing Game like F1 Delta Time?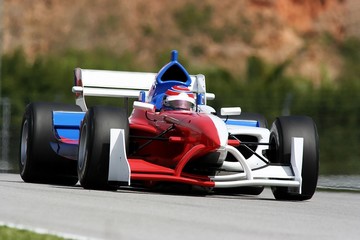 Generally, users will receive notifications about Grand Prix events being held across multiple locations. Racers can take part in 2 circuits. However, their final results depend on factors like the time taken to complete the race. Moreover, the data is computed every week. Players will receive a specific number of points based on their positions and the tiers (A, B, C, and D). Eventually, their rewards include a specific number of REVV tokens, attractive trophies, and keys. 
Various challenges are held every week. Moreover, participants will know the total prize pool before the race begins. Importantly, players will receive 3 types of fractionalized keys (Legendary, Epic, and Rare). Users can open a key and see the number of Non-Fungible Tokens (NFTs). Besides that, players can trade the key fractions after a specific duration. 
The entire pool of REVV tokens is divided into various types of tiers. Users will receive the payouts every week. Importantly, players who occupy the top 3 spots would get the Time Trial Trophy. Overall, the standings depend on aspects like the performance of players in 2 tracks and the total points earned irrespective of the weather conditions. 
Wrapping Up
Undoubtedly, F1 Delta Time has witnessed stupendous success.  It has become a force in the blockchain gaming industry since its launch in 2019. Interestingly, drivers have pocketed huge numbers of REVV tokens by taking part in Apex Tier races in Belgium and Monaco. 
Besides that, the number of tracks under the Epic Tier is increasing in countries like Australia, Bahrain, Belgium, Britain, China, Italy, and Monaco. Wish to offer a virtual racing experience by harnessing the power of blockchain technology? Connect with us now for launching an NFT Game like F1 Delta Time. 
Connect with us to develop your NFT Game like F1 Delta Time Now!

Marketing is my soul mate and writing is my side kick. Using my writing skills to share the knowledge of app development and upcoming technologies.
Have a Crypto Platform/NFT Marketplace Related Development Idea?
---
Get your free consultation now