Bolt Raises €600 million To Launch Its Super App: How About Launching A Super App Like Bolt for Europe?
Author
Bolt Clone, Gojek Clone
After revolutionizing the SouthEast Asian market, now Super apps are all set to conquer the European market. This segment was untouched for several years owing to its economy and app market. So, several leading companies have even backed off their ideas, citing the above reasons. But as the saying prompts, "there is always a bolt from the blue," now the European market is ready to welcome an all-in-one app. 
The leading ride-hailing app – Bolt, has been making news around the world as the company has announced starting its venture into the Super app category. Understanding the global surge, it has decided to start off its new venture covering various on-demand segments. 
By doing so, Bolt is opening its door for myriads of investors and entrepreneurs to array into this lucrative app market. There are several opportunities for businesses to flourish in this market category. In this blog, we have discussed various alluring opportunities it will pave for budding entrepreneurs. 
How Bolt became the top taxi sharing app globally?
Could you believe that the Taxify app was founded by a 19 years old boy? Bolt was launched in the year 2013 as transportation providing mobility services. The app was then called Taxify. Within a year since its inception, the company went to reach foreign markets. 
Bolt has so far tried its hands on every transportation segment. In 2017, it ventured into the e-scooter business with dockless e-scooter services. It extended its business arena by introducing an online food delivery service in 2019. And followed by that, in 2021, Bolt drive introduced their car-sharing services. 
It has added several features to its crown. The app became the first of its kind by offering a feature for its customers to pay for their trip through mobile carrier billing. For the first time in the app market, it combined scooter hiring services along with vehicle hiring services in 2018. 
Now, you might wonder what's on the card right next for them? They are fully packed with ideas to improve their brand value and net worth across the world. 
Bolt's mission towards building a Super app 
Although they have set an attractive market for its brand, the pandemic played a rigorous role by reducing 80 percent of its revenue in the last year. The founder and CEO, Markus Vilig, mentioned that they had a drop in its revenue.  Yet they have not laid off any employees. 
Along with ride-hailing services, it also runs the Bolt food app through which it conducts its food ordering business. The company understood the scope of the online delivery business. So they decided to strengthen their business to several extents. 
They observed the pattern on how companies easily earned their revenue through grocery delivery services. So, the company decided to launch their new business solution through grocery delivery services where they decided to provide grocery delivery within 15 minutes for their customers from the time of their ordering. This segment will be integrated with the existing app for the food segment. 
The application will continue to work with the delivery assistants previously partnered with them. They have also planned to venture their business initially in some of the countries in Europe like Portugal, Sweden, etc.
How did Bolt deal with the funding of its Super app?
It started off its business with ride-hailing services and later on expanded its ventures to various services and now it is ready to launch its grocery delivery services. 
The investment for the business is backed by Sequoia, G Squared, DI capital, and Naya. They have raised a whopping sum of €600 million at a € 4 billion valuation through which they can build their grocery delivery business. Among the list of investors, Sequoia is the new investor who has already backed the companies Apple, Google, and WhatsApp. 
Even though the app was affected so badly amidst the pandemic, it had an excellent market presence prior to the pandemic. This is one of the driving forces that has encouraged investors to invest in Bolt's super app project. Moreover, the grocery delivery segment is winning over the hearts of people, and many companies are investing in such apps.
GOT AN IDEA FOR A SUPER APP? LET'S DISCUSS!

Connect on WhatsApp Contact Us
Things to consider before joining the race of the Super apps 
Super apps are quite popular among people in Asia, and in countries like China, Thailand, and Singapore, these apps are more prevalent. The economy and the market system were in favor of them flourishing. The concept is not new to the market as it was already coined in the market by Mike Lazaridis in 2010.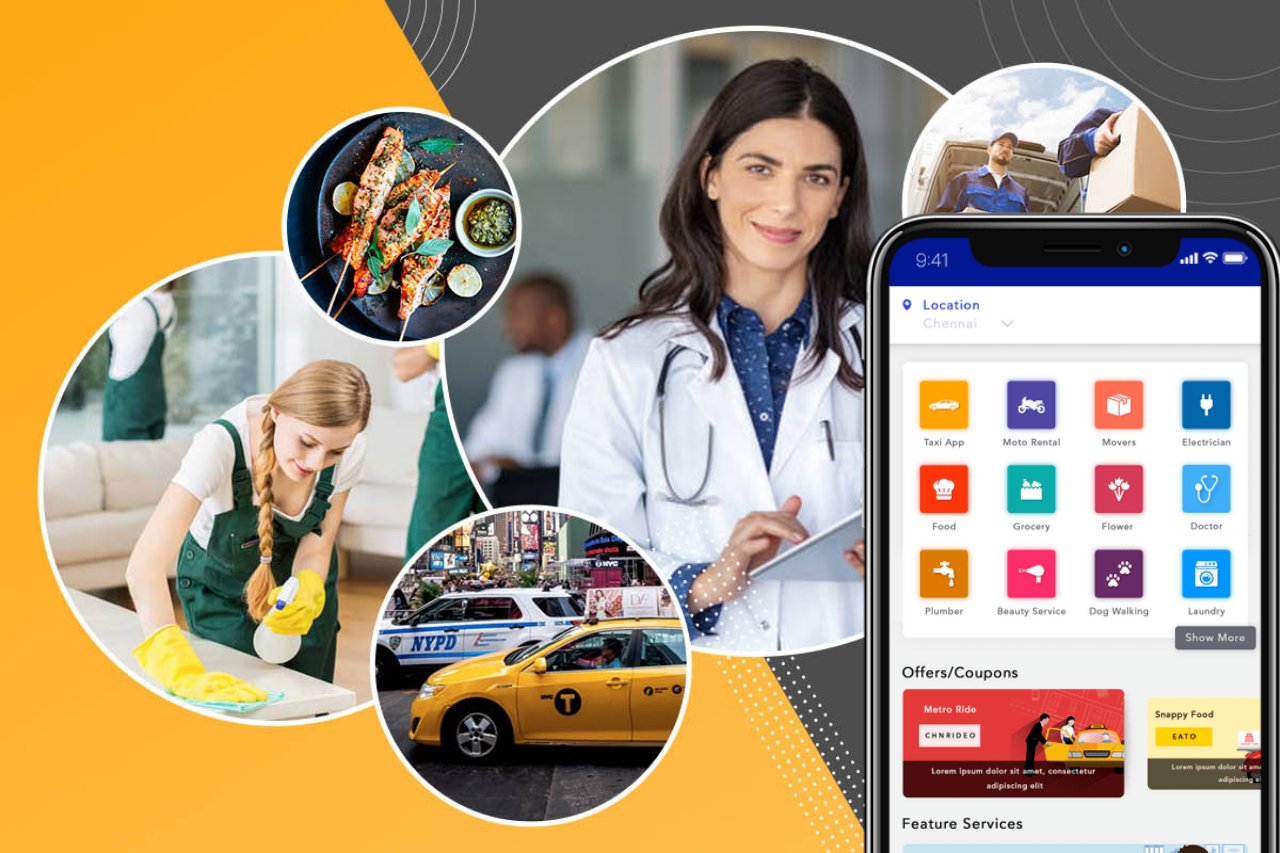 You can even consider Facebook as a Super app as it has pretty much covered all the elements of a social media platform. It has enabled the messenger facility in both Facebook and Instagram. 
Planning a Super app is as difficult as developing it. Because you will be confined to providing a whole lot of on-demand services for the users, these services you offer in the app should be meaningful and logical. The ideology is to combine different services from various industries and integrate them into a single app. 
How can we help you in launching a super app like Bolt?
Bolt has already made it quite clear that it has ideas for rebranding its app status to a Super app by aligning grocery delivery to the already existing Bolt Food app. It is gearing up for a victorious march in the UK market. This clearly shows us that there is a path for entrepreneurs like you to sharpen their ideas.
At Appdupe, we offer an intensive Gojek clone app developed on similar models to the original app. The white-label super app solution from us will be a perfect guiding light to kick-start your mobile app business. Moreover, we offer a ready-made solution that can instantaneously launch your app in no time. 
Reasons why launching our Bolt clone will be the best choice you could ever make?
With our Bolt clone script, you vigorously market your app and invite various service providers to your platform. 

As a super app, you can integrate more on-demand services into the app. Through these services, you can considerably increase the revenue streams for your business.

In the present scenario, digital networks are paving the way for entrepreneurs to improve their brand value. In the same way, it will be a great opportunity to improve your digital market presence. 

You can aim at the UK and US, who are yet to welcome their fully-fledged Super app. These apps are already common in Asia, and aiming at the western region will be pure bliss. 

Last but not least, our ready-made script is every entrepreneurs' dream to start a business in a short span of time. Make your strong entry into the market with our robust app. 
Wrapping up
More than a decade after the launch of Super apps, westerns are ready to witness them in the near future. This promising scenario is what makes things seem easy for you to start your own venture. Appdupe will lend it a hand in every possible way to strengthen your digital presence in the right direction. Hurry up and get to us to discuss further on our Bolt clone.
Get the white-label Super app solution now

Marketing is my soul mate and writing is my side kick. Using my writing skills to share the knowledge of app development and upcoming technologies.
Have a Crypto Platform/NFT Marketplace Related Development Idea?
---
Get your free consultation now