Remember those times when we used to shop at physical stores. Yeah, it does seem like a long back, though, right? Gather your thoughts, and go back in time when the salesman used to woo you into buying two products instead of helping you select one? The trick that they use would, however, turn the situation into something more beneficial as you would get desired products beyond your limit. And you would praise him silently for convincing your mom as well. Ah, what lovely days were they!
Now back to this moment, there are a variety of e-commerce apps, offering you millions of choices. But don't you wonder if it would be good if someone could be there to provide you with suggestions for selection? Tada! You wished, and it is granted. Yes, the live streaming e-commerce apps are here for you. Can guess that wheels are turning in your head now. So, without any delays, bury your nose into the blog to know about it further.
Live streaming e-commerce business: The doppelganger of QTV
Ecommerce site businesses are continually growing and evolving until the world exists. The innovations of them also follow the same path. One recent entry to this innovation is the live streaming business.
Just as the name goes, live streaming ecommerce means using live media for selling products or services online.
The usage of live streaming is used widely in order to increase the engagement of the customers by bringing interactions into play. 
To make it more understandable, if you remember, there were and still are QVC, also known as TV shopping, where hosts demonstrate to you and explain about some gadgets or products through live telecasts. Well, the live streaming e-commerce business is just like it. You get to look at the products while someone showcases that to you, according to your request.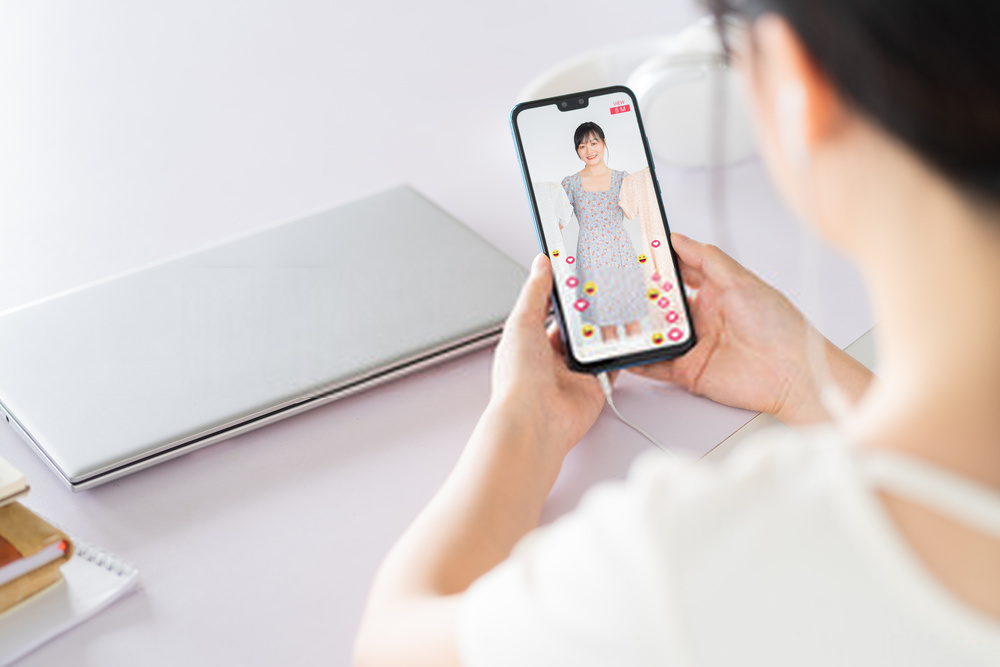 China set the ball rolling
It all started with the inspiration of live streaming features in the social media apps like Facebook, Twitter, Instagram, which had them for years. Followed by which, the platforms like Twitch and Mixer have started live streaming gaming competitions.
The concept was brought into existence in 2014 when the ecommerce platform Mogujie began this experiment, followed by Taobao of Alibaba's. But the popularity only rose by 2018, when the transaction rate generated was $14 billion. Soon, another subsidiary of Alibaba, the AliExpress, reported approximately 320,000 products added to the carts for each one million views.
Apparently, you are not the only one missing the demonstration.
What's cracking?
Though because of the trends of ecommerce, many brick and mortar stores were deciding to shut their doors, and the COVID-19 only made it worse. However, ecommerce sellers didn't have to fret over it because of the unique opportunity that came into existence- live streaming.
Moreover, since people were restricted from many activities, their way of shopping has changed incredibly. They couldn't get to any places for shopping as long as we all wished to stay at home to relax. Somehow every one of us was having significantly less interaction. Therefore as a way of bringing the connection and the now-old experience of sales demonstration (due to ecommerce apps), live commerce is embraced by everyone. Again, an increase of 719% in the number of merchants live streaming is proof of how trending it is.
Ok, how to deploy a live commerce app into the business?
Well, there are two ways to bring it into existence. And scroll down now to know them.
Development from scratch:
It is a method where you need to code from the bottom, with the help of a team. The team would comprise backend and frontend developers, UI/UX designers, project and sales managers, etc. Here, infrastructure might have to be rented. The money and time spent here will be ample, as everything should be handled by oneself.
Incorporating into off-the-rack solutions:
This step is relatively simple, compared to the previous one, as there not be any coding practice, neither does any infrastructure needed. The solutions will be ready to be launched with just the addition of some features and unique add-ons. They can be modified according to the requirements and all the designs, including logo, brand name, and themes.
GOT AN IDEA FOR LIVE STREAMING ECOMMERCE APP DEVELOPMENT? LET'S DISCUSS!

Connect on WhatsApp Contact Us
What's in store?
Customer acquisition has turned to spike high because of the intense competition in the ecommerce world. Live streaming ecommerce has turned and is going to turn everything upside down ultimately.
Various countries like Japan, South Korea, and The U.S. have started adapting to this invention for extending and for reaching out to their target audience quickly.
Many social media apps like Facebook have also started to think about leveraging the superior live streaming ecommerce experience.
As a new feature to the Facebook Marketplace community, live streaming is allowing merchants to sell items. As a new feature, it is allowing Thailand users to screenshot the things they wish to buy the items, demonstrated by the seller.
According to the estimates by Taobao, the live commerce platform will generate over 500 million sales by 2021.
Wizards among live streaming ecommerce platforms
As a video-enabled marketplace, it lets users, or sellers, shoot and share the recommendation videos of their products. They can also make a purchase through the app by finding any products from the newsfeed.
The app acts as a live commerce platform for not just apparel but multi-categories like kitchenware, fashion accessories, home décor, etc. The app contains a feed of live videos of the products, with which anyone could ask a question about the products they want to purchase.
Users can discover the products and shop through videos. The app is available in multiple languages.
As an online platform that is based on footwear shopping, they sell multiple brands like Adidas, Rokit, Jordan, etc. The users need to register to the website and view the live video based on the events and buy the products.
Looking at the trend, as a pioneer in developing various app development solutions, an expert app development company like Appdupe is offering live streaming ecommerce app solutions. They are completely customizable, readily integrable and ready to launch solutions.
Wrapping up,
Live streaming ecommerce apps are trendsetting now as a product of technology and ecommerce invention. So, for any entrepreneurs who would like to enter into this industry, there can never be a better chance than this.
Wanting to set trends in the e-commerce industry for a long time? Launch a live streaming e-commerce app now!

Connect on WhatsApp
Talk with us

Marketing is my soul mate and writing is my side kick. Using my writing skills to share the knowledge of app development and upcoming technologies.
Have a Crypto Platform/NFT Marketplace Related Development Idea?
---
Get your free consultation now