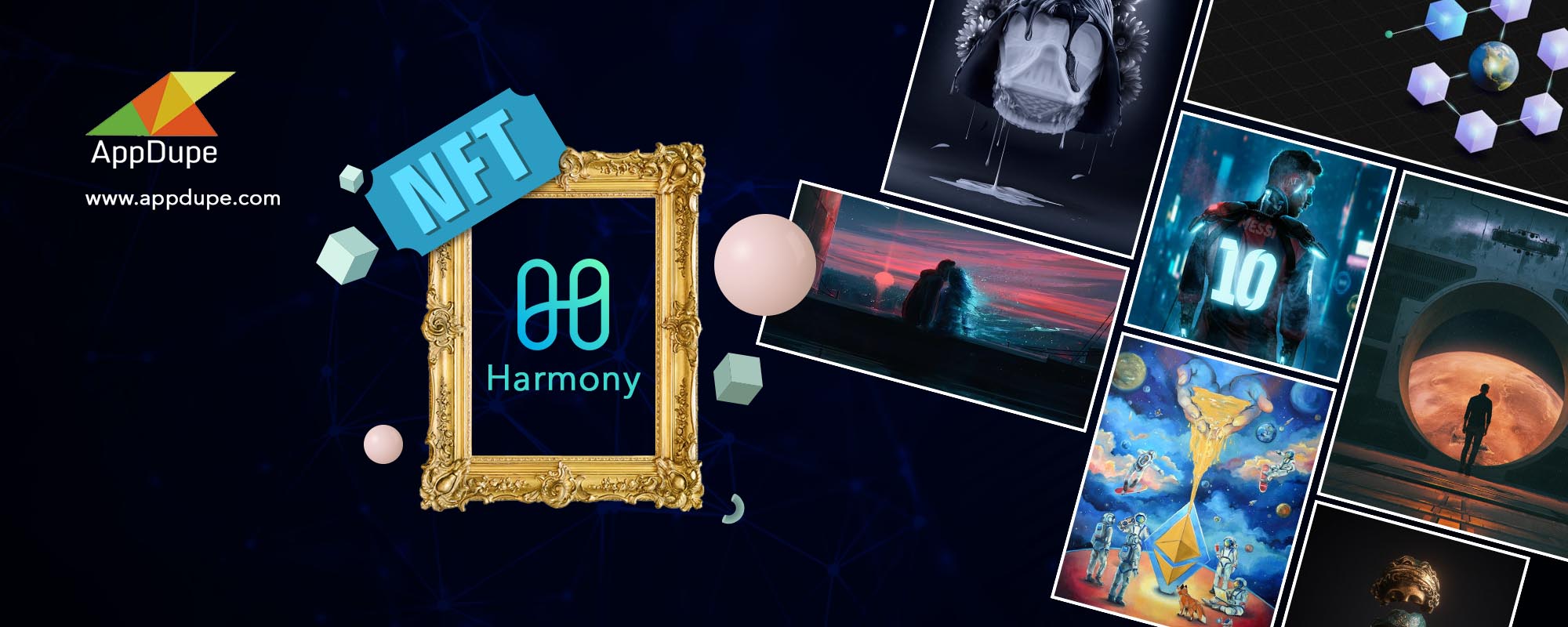 As the digital economy takes centre stage, crypto collectibles are offering unbelievable returns to artists, collectors, investors, and speculators across the world. Buyers and sellers are dealing in Non-Fungible Tokens (NFTs) worth $3.66 billion daily as per data taken from CoinMarketCap. Unquestionably, blockchain networks are the backbone of different NFT marketplaces. With Ethereum facing severe congestion issues, there is one blockchain network in the headlines. If you are puzzled about which is that one? It is none other than Harmony which was launched in June 2019. Entrepreneurs can also enhance their wealth by beginning NFT marketplace development in Harmony.
Why is Harmony ideal for building an NFT trading platform?
It executes transactions within just 2 seconds. While Ethereum is known for its skyrocketing gas fees, Harmony claims that its gas fees are 100 times lower than other competitors. Fresh with a $300 million grant, the open-source network is also cross-chain compatible. Moreover, it seamlessly syncs with Binance Smart Chain (BSC), Ethereum, and Polkadot along with the Polygon sidechain.
Discover the powerful features of the Harmony blockchain
Cross Bridging – Harmony is a pioneer in the revolutionary concept of Decentralized Finance (DeFi). It has integrated with Binance Bridge and decentralized exchanges like SushiSwap on the Binance Smart Chain (BSC).
Retail, as well as institutional investors, will benefit from inter-chain liquidity. They can use either the peg-in or the peg-out mechanism for swapping their BEP-20 and ERC-20 tokens. As a result, they can transfer their cryptocurrency and stablecoin holdings to the BSC. Harmony has synced with BSC using Horizon.
Random State Sharding – Apart from the division of network nodes, all the Harmony blockchain states are split into shards. Hence, this ensures a high level of efficiency in the management of machines, processing of transactions, and storage of data.
There is a fool-proof security mechanism because of the Verifiable Delay Function (VDF) for guaranteeing unbiased membership to every horizontal part of data (shards). Without a doubt, all the nodes and validators are assigned randomly.
State-of-the-art consensus mechanism – Funds are transferred in a lightning-fast manner owing to the advanced consensus algorithm. The Practical Byzantine Fault Tolerance (PBFT) mechanism leads to the quick execution of transactions. 1-Block-time finality is a unique selling point (USP) of Harmony.
Explore the functionalities of our NFT Marketplace in Harmony
Creation of ONE tokens – The Harmony blockchain network has its own native token named ONE. Our talented team is proficient with the Binance Smart Chain (BSC). Thus smart contracts will implement the prefixed terms and conditions automatically.
Issue of HRC-721 and HRC-1155 tokens – ERC-721 and ERC-1155 are well-known asset standards on the Ethereum blockchain network. Accordingly, the Harmony blockchain is compatible with HRC-721 and HRC-1155 collectibles.
Staking option – Both compounding of rewards and delegation in decision making are offered for our investors on Harmony. A special feature is the Effective Proof of Stake (EPoS) consensus mechanism.
This assures equitable distribution of rewards for all validators. Stability is another plus point as investors will receive returns consistently. The energy for processing transactions is burnt. This would counterbalance the issuance of tokens. Therefore, this promotes zero inflation especially when there is an overload on the network.
Support for both offline and online wallets – Worried about shifting your virtual assets from one blockchain to another? No concerns anymore!. Artists and NFT investors can sync their MetaMask software wallet along with the Ledger wallets. Subsequently, they will safeguard their funds from hackers, phishers, and scammers.
White-label NFT marketplace solutions – Currently, the Harmony blockchain network is the hub of numerous NFT trading platforms and collections. The popular ones are Animoca Beast Quest, Atari, DaVinci, LMA Art Gallery, and the Sandbox.
Investors will gain access to free ONE tokens, limited-edition collectibles, rare collections, trading cards, and VIP points. Therefore, it has attracted both artists and investors.
Increase sales of collectibles via NFT Marketplace Development in Harmony
Analysis: Why Harmony is superior to other blockchains
Harmony creates blocks faster than several blockchain networks in the industry. It assists in creating and using decentralized applications (DApps). The Palo Alto-based platform is targeting cross-sharding smart contracts and cross-bridging infrastructure by the end of this year.
Integrated with the Ethereum Virtual Machine (EVM), Harmony operates on an on-chain slashing mechanism which ensures easy access to open liquidity pools, lower on-bridging fees per transaction, and seamless integration with the Bitcoin Bridge.
Above all, the roadmap of Harmony is impressive. It has partnered with big shots like Binance, Huobi, Math Wallet, and a variety of cross-chain protocols like Chainlink, Edgeware, and Gnosis Safe Multisig.
For the third quarter of 2021, it will focus on establishing a Decentralized Autonomous Organization (DAO) along with an on-chain 1Wallet. Artists will also gain an upper hand through the issue of timeless moment NFTs.
Multi-Chain Compatibility: The biggest strength of Harmony
It will establish Application Programming Interfaces (APIs) across chains to guarantee more safety to investors. In the next 3 months, Harmony will make a big mark in the NFT trading industry. Wonder why? This is because it will set up a cross-chain NFT marketplace soon.
With well-planned bridging with the Bitcoin and Polkadot blockchain networks, it will decrease the finality time to just 1 second. Traders will benefit from certainty as they will get a fixed income.
Why choose AppDupe for NFT Marketplace development on Harmony
As a leading NFT enterprise solution provider in the industry, we have good knowledge of the latest trends. As times change, our development team stays updated with new technologies.
Entrepreneurs like you can avail of different NFT services like creation of collectibles as per guidelines of various blockchains, implementation of marketing campaigns, industry-agnostic platform development, integration with hardware and software wallets, smart contract auditing, security testing, storefront creation, and technical assistance.
Wrapping Up
The Harmony Foundation will support promising projects in the future. It has a 4-year plan in place alongside an array of layer-2 integrations. The California-headquartered blockchain will distribute funds of $180 million for 2022 and $30 million for several partner organizations.
It will focus on enhancing the Proof of Stake (PoS) consensus mechanism for low-cost transaction execution. Harmony will distribute more grants and rewards in the years to come.
Are you that digipreneur aiming to change the metaverse forever? Head over to AppDupe now and kickstart NFT marketplace development in Harmony.
Kick off NFT Marketplace Development on Harmony and make a quick buck

Marketing is my soul mate and writing is my side kick. Using my writing skills to share the knowledge of app development and upcoming technologies.
Have a Crypto Platform/NFT Marketplace Related Development Idea?
---
Get your free consultation now