YourMechanic, a car repair marketplace that allows mechanics to fix your cars at your house, claims to reduce the costs unto 30%-50% from shops and dealers. This is the Uber for mechanics. On the app you can see profiles of the mechanics, reviews on them and their services, repair records and the price. They also offer helpful notifications of your car to appear on your smart phone. Guess who won't forget to change the oil on time now. 
The company has raised $1.8M in seed funding from  Y Combinator, SV Angel, Yuri Milner, Andreessen Horowitz, Lerer Ventures, Launch Capital, Jeff Clavier, Crunchfund, Paige Craig, A-Grade Investments, Jawed Karim, Justin Waldron, Joshua Schachter and Kevin Freedman.The company also sells parts. The basic repair and maintainene for an out of warranty  non-luxury car is $120B per year.  The company currently has 10 mechanics. A background check, interview and verifying of the certification of the mechanic takes place before they are hired to work for YourMechanic. Agarwal's aim along with his team was to eliminate the fact that most of the money earned by the mechanic goes to shop owner. They are working towards eliminating the shop owner as a whole. This a good thing for both the car owners as well as the me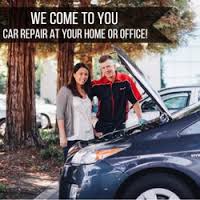 chanic as it gives the mechanic more motive to work efficiently.
The 2,000+ Jiffy Lube service centers across North America are owned and operated by independent franchisees who set their own prices for services. Oil change prices vary by market and the type of motor oil used.  The oil type is based on the type of car,  the customer's can select the oil if they wish to. An oil change at Jiffy Lube is $37.
Mr.Agrawal says that the point isn't to compete with Jiffy Lube. Jiffy Lube focuces on preventive maintenance and not on repairs, YourMechanic's main focus is on repairs and inspection of the cars.
If you'd like to launch a similar venture, get the whitelabel turnkey script from here: http://appdupe.com/uber-for-x-clone-script

Marketing is my soul mate and writing is my side kick. Using my writing skills to share the knowledge of app development and upcoming technologies.
Have a Crypto Platform/NFT Marketplace Related Development Idea?
---
Get your free consultation now