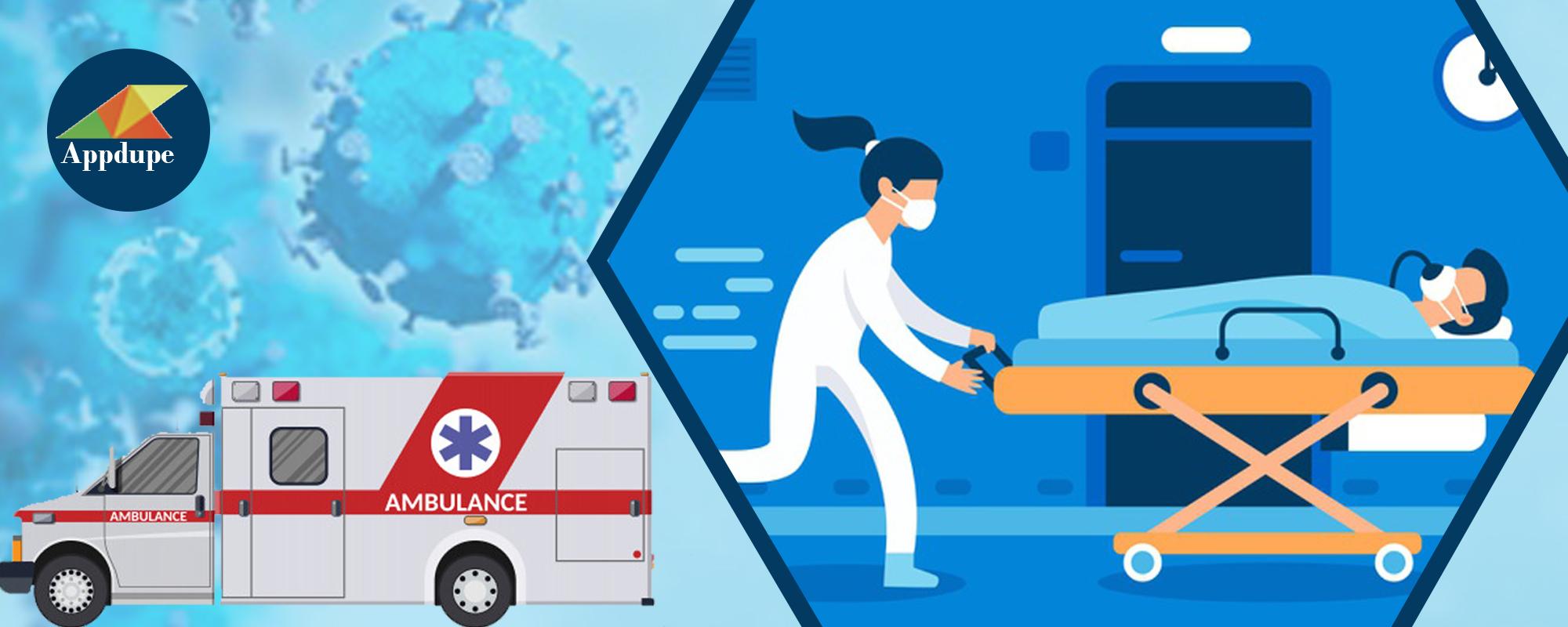 With thousands of patients dying daily due to the deadly Covid-19 pandemic, it is the right time for ambitious entrepreneurs to make it big in the healthcare industry by launching an Uber for Medical Transportation app. 
The entrepreneurs who own the on-demand medical transportation ambulance can also provide priority healthcare services round-the-clock for children, differently-abled, elderly people, and pregnant women.
What is the meaning of Non-Emergency Medical Transport (NEMT)?
It is an on-demand ambulance transport service for patients to go to clinics, hospitals, and pharmacies. A Non-Emergency Medical transport (NEMT) app can be utilized only by those patients who do not face any serious risk or threat to their lives. NEMT is available in the form of minivans with wheelchair facilities, healthcare taxis, sedans, stretcher cars. 
It is highly advantageous for people suffering from asthma, cancer, cardiac arrest, diabetes, and Chronic Obstructive Pulmonary Disease (COPD). Patients can request ambulances for minor illness like cold, ear pain, flu, and sore throat. 
How can entrepreneurs earn huge profits from their Non-Emergency Medical Transportation Business?
The entrepreneur can make hefty revenue by charging a commission for each ambulance booking by the patients, initial registration fees from ambulance drivers, transaction processing fees for execution of online payments, and offering other premium services. 
How should an entrepreneur launch an Uber for Medical Transportation App?
He/She has to have adequate funds in hand to pay different expenses like fuel, initial registration of the business with government authorities, insurance, legal fees, vehicle maintenance, rent, and salaries to the ambulance drivers. 
The entrepreneurs should comply with laws like the General Data Protection Regulation (GDPR) and the Health Insurance Portability and Accountability Act (HIPAA) for ensuring the confidentiality of medical information of healthcare providers and patients.
The entrepreneur must choose the right location for providing on-demand medical transportation ambulance services. It is best to start in regions severely affected by Covid-19 as the demand for ambulances will be very high.
Ideally, the Non-Emergency Medical transportation business must be started in one area or city first and then expanded to different cities/regions based on the initial response.  Entrepreneurs should also check if clinics and hospitals are available nearby.
The entrepreneur must hire licensed and skilled ambulance drivers after thoroughly verifying their background and data. They should launch their Uber for Medical transportation app at an appropriate time in the market. 
The entrepreneur has to maximize the positive buzz for the on-demand medical transportation ambulance services by sharing its benefits across online healthcare forums and social media platforms.  
As the business gets successful, the entrepreneur can expand the scope of his/her Non-Emergency Medical transportation services by introducing services in different regions and hiring more ambulance drivers. 
They can also increase the size of their in-house team that includes finance managers, human resource managers, marketing specialists, mobile app developers, and technical support staff. 
What is the current situation of the Non-Emergency Medical Transportation business in the Covid-19 pandemic?
Ambulances can play a vital role in the safe and timely transport of Covid-19 positive patients and also ensure that people take their vaccine jabs quickly. Special focus must be devoted by the entrepreneurs to dispatch ambulances instantly for the treatment of other diseases like asthma, cancer, and diabetes. 
A Non-Emergency Medical transportation app can prevent patients from missing their appointments with doctors. This results in more income for healthcare organizations. 
The safety of patients is ensured by utilizing modern stretchers and wheelchairs. The Uber for Medical transportation app can also be used for the quick transfer of blood and organs to the required hospitals in different destinations. 
24×7 helpline numbers are available now for providing on-demand medical transportation ambulances due to greater demand from patients and a high sense of uncertainty. 
What are the big challenges faced by the entrepreneurs in the on-demand medical transportation ambulance business in recent times?
Navigating quickly through remote areas remains a challenge as every ambulance driver may not know all the routes and shortcuts. Adverse weather conditions like cyclone, hailstorm, and heavy rain can also affect the time for ambulances to reach the patients' location. In addition, the movement of ambulances can be affected in containment zones and overpopulated areas.
Ambulance drivers also need to be given safety equipment as they must be protected from getting exposed to diseases when dealing with the patients. Entrepreneurs have to fully comply with the changes in healthcare laws introduced by governments and regulatory authorities.  
Entrepreneurs will have to deal with intense competition from ride-hailing apps like Ola, Uber, and Lyft who are also providing free non-emergency medical transportation services for passengers. 
Become a healthcare giant soon by curating an Uber for Medical Transportation app

Connect on WhatsApp Contact us
How technology can power up the Uber for Medical Transportation app?
The data from patients can be analyzed by entrepreneurs with the help of Artificial Intelligence (AI). This will be utilized for accurately predicting the demand and supply patterns for ambulances. 
The exact time at which there would be a new booking for an On-demand medical transportation ambulance can be known beforehand. AI can also be used in online chatbots for sending automated replies to the patients when they request an ambulance.
The medical data of ambulance drivers and patients can be safeguarded by implementing top-notch security measures like end-to-end encryption and multi-factor authentication. All the healthcare information can be protected by backing it up in secure cloud platforms and immutable blockchain networks.
How does a Non-Emergency Medical Transportation app function?
The patients register on the Uber for Medical Transportation app. They submit the required information like their age, email address, location, medical data, and name. 
The patients who suffer from serious diseases and illnesses can book an ambulance or a fully-equipped medical van with just a few taps.

The admin informs the nearby located ambulance driver to accept the request of the concerned customer.

The ambulance drivers immediately arrive at the users' location by utilizing the route optimization option. 

The patients are then immediately taken to the nearby hospitals for providing the best treatment. 

Once the patients have arrived at the hospitals safely, they can make the required payment either through cash or use online modes like credit cards, debit cards, net banking. Transactions can also be processed through Apple Pay, Google Pay, Mastercard, PayPal, Stripe, and Visa. 

The patients rate the quality of the non-emergency ambulance and the professionalism of the drivers on a scale of 1-5.
Who are the different stakeholders and what are the benefits they get by using an On-demand medical transportation ambulance?
Healthcare organizations can improve their brand image by providing Non-Emergency medical transportation services. Greater trust is obtained from the patients by ensuring timely medical assistance across various locations. By using advanced data analytics, the healthcare providers can monitor the demand and supply dynamics of ambulances and accordingly make changes to their business operations. 
Patients benefit immensely from the availability of state-of-the-art ambulances ensuring a comfortable and safe trip from their homes to different hospitals. Their total medical bills are reduced by providing them with attractive coupons, deals, and offers.
The ambulance drivers also get advantages like a consistent inflow of income, insurance, and safety kits. The drivers can ensure secure pickup and drop off the patients without any delay. 
How Uber has become a big game-changer in the NEMT business?
Uber has stepped up its business operations now by offering various services like free rides to the vaccine centres for Covid-19 positive patients (especially for senior citizens and women). They have also enabled quick vaccine appointment bookings for customers. It has facilitated the booking of 9000 online healthcare appointments in 2021 so far through integration with DocsApp (a digital doctor consultation platform). 
More than 150,000 Uber drivers (auto, car, and bike) will also receive cash incentives worth a whopping $2.5 million if they take the vaccine shots in the next six months. The drivers have to show the valid digital vaccination certificates to get Rs 400 each for the two Covid-19 vaccine shots. 
What are the future expectations from the booming business of Non-Emergency Medical Transportation?
There is no doubt that the healthcare sector is an important part of every economy. Though the infrastructural strength was tested by the onslaught of the Covid-19 pandemic, frontline healthcare workers stood up to the serious challenges and saved a lot of lives. 
Entrepreneurs have to adopt the latest technologies in their Uber for Medical Transportation app to enhance operational efficiency and reduce costs. The competition in the On-demand medical transportation ambulance industry will also skyrocket in the future and entrepreneurs have to make their business robust enough to survive in the market successfully. 
Concluding Viewpoint 
The healthcare industry will be given greater importance in the years to come as there will be a rapid rise in usage of an Uber for Medical Transportation app. 
Entrepreneurs can make a significant mark in this emerging business by initiating on-demand medical transportation ambulance app development with Appdupe. We provide ultra-modern Android and iOS apps for the patients and ambulance drivers, a web panel for booking the required services, and a sturdy admin dashboard for real-time monitoring.
Get started with game-changing Non-Emergency Medical Transportation app development now

Connect on WhatsApp
Call our team now

Marketing is my soul mate and writing is my side kick. Using my writing skills to share the knowledge of app development and upcoming technologies.
Have a Crypto Platform/NFT Marketplace Related Development Idea?
---
Get your free consultation now