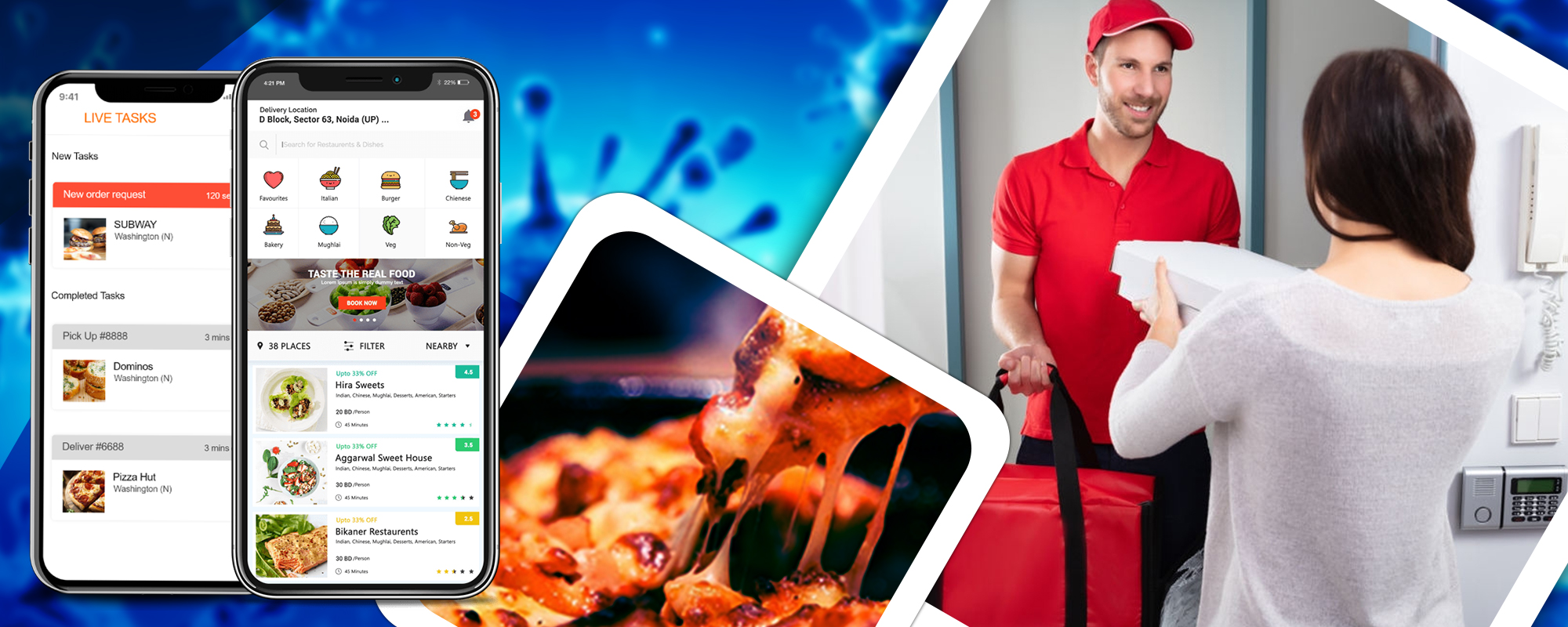 Coronavirus has shut the doors of the people's homes. People cannot wander or roam about on the street, sit at a restaurant, and have dinner. But modern technology has provided people with apps that can cater to the needs of the people. The online food delivery apps and courier delivery apps have seen a surge during this quarantine period. The food delivery industry is expected to return $365 billion by the end of the decade. Food delivery apps are seeing a 20% rise in orders than in February. Food delivery apps have already begun to hire new full-time and part-time employees to cope up with the increasing demand. 
If you are a business owner or an avid entrepreneur planning to enter this thriving market, here are some tips for the apps to function efficiently.
Tips to function efficiently:
Practicing the art of Proactiveness:
Keeping Social Distancing in mind, 'Contactless' deliveries ought to be followed. Orders are made in food delivery apps like DoorDash and UberEats. Users can inform the delivery professionals to place their orders at a confined place in front of their homes. Payments can also be made via different digital platforms. This way, physical contact is deprived between the users and delivery professionals. The same applies to the case of Courier delivery apps like Postmates. The receiver of the goods can direct the delivery professional to deliver it in front of his/her home to avoid contact. The Art of Proactiveness is highly necessary while coping with viruses of such magnitude as the coronavirus. It is always better to prevent something than curing an already occurred one. Being proactive can reduce the victims of the outbreak. Moreover, the transmission chain is also broken here. By following proactiveness, delivery professionals are also prevented from this pandemic.
Maintaining adequate Supply chains: 
Meeting the demands of the users can be a challenging task. The stocks are depleted in no time in this pandemic season. Maintaining an adequate Supply chain is highly essential. Proper incoming goods mean the proper functioning of the restaurant. Proper functioning of a restaurant ensures efficient delivery options. Maintaining adequate supply chains involves restocking of necessary raw materials as and when needed. Food delivery without adequate restaurants is a boat without a row. Establishing proper communication with restaurants can help the business venture sustain in this pandemic.
Joining hands with Local business: 
Even the mightiest restaurants in town can run out of supplies. A restaurant in a locality can still function efficiently. Joining hands with a local business venture or delivery professionals can largely maintain the productivity of the app. Restaurants nearer to the users can come in handy during this pandemic. Even for a courier service, the sender can immediately locate a delivery professional in the vicinity in case of emergencies. Waiving delivery prices during this pandemonium period and maintaining regular rates for deliveries in food and courier delivery services can increase the reliability of users towards the app.
Hiring delivery professionals: 
Demand is continuing to increase in the food and courier delivery industry in this quarantine period. Even delivery professionals fear the spread of infection. Providing awareness about the disease to the delivery professionals can continue services without interruption. Moreover, as the demand grows, more delivery professionals are needed to supplement the existing ones. Hiring delivery professionals either for a full-time or a part-time role is essential. Even, hiring professionals during peak hours can also lead to seamless delivery of food and courier.
Summing up, 
On-demand apps are needed for every service nowadays. In situations like these, the demand for services like food delivery and courier delivery will continue to spike. Identifying key resources and focusing on areas of improvement can be ideal for your business venture. You can follow these tips even if you are looking to develop an on-demand courier service app or a food delivery app.
Ready to survive this pandemic with on-demand apps?

Marketing is my soul mate and writing is my side kick. Using my writing skills to share the knowledge of app development and upcoming technologies.
Have a Crypto Platform/NFT Marketplace Related Development Idea?
---
Get your free consultation now