Tinder is no longer just a mobile app. Well, that's old news because at Appdupe, we had the foresight to build our Tinder clone – DateSauce with a web app ( complete Tinder clone WEB & MOBILE APP with a powerful admin dashboard was available just for you long before Tinder got the idea. The company (Tinder) has launched a version of its app called Tinder Online. The web app targets users who have less storage on their phone and therefore cannot get the mobile app. To make things simpler, Tinder launched a web app where the users can swipe left or right on profiles using their computers. It's not so much swiping as it is dragging since that's how it works with computers, dragging a profile to the right would indicate that you are interested in the person.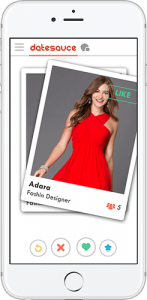 To use the Tinder web app search for Tinder.Com and to have your own Tinder like dating app up and running within a few hours contact us! Together we can start a profitable business from day one. The app is easily customizable and available to you in 2 clicks. 
The desktop version of Tinder has you longing in via your Facebook account. The rest of the features are almost the same, although Tinder says it optimized the desktop version for messaging. You can view your match's profile while you chat.
The service is being tested in Argentina, Brazil, Colombia, Indonesia, Italy, Mexico, the Philippines, Italy, and Sweden. Logging in through SMS is also being tested in a couple of markets. Tinder online will be out soon for the users but Tinder has not set a date yet. Get your own Tinder like dating app within a couple of hours by contacting us, Tinder isn't the only one with the web app you can be too! 
Get your Tinder like dating app script with Web + Android + IOS NOW and have it running within a day! Click Here : https://www.appdupe.com/tinder-clone-mobile-dating-app/