People are finding ways to relieve their internal stresses. In this competitive world, productivity is the key. Research shows that multiple factors affect a person's productivity. One major factor among those is the environment in which people work. People demand a comforting workspace to boost their daily mood. A tinge of a positive vibe can glaringly accelerate a person's work. Now, with the advent of on-demand apps, people get doorstep services instantly. 
Indoor plants in an office or home can extensively reduce stress and provide a relaxed environment. Moreover, indoor plants purify the air around us, providing us with clean air to breathe. Removing toxins in the air boosts our productivity, as well. An emerging entrepreneur can offer people in need of indoor plants through an online platform. The benefits of these indoor plants are providing a vast market to be explored. By opting for a Delivery app development solution for indoor plants, you can enhance your business in the market. In this blog, we'll get to know how to develop an Indoor plant delivery app. 
Advantages of developing an Indoor plant delivery app
An indoor plant delivery app development can be advantageous to users, service providers, and business owners. 
Initially, your audience base increases when you enter the market with an on-demand app. You can enhance your business by connecting to a

wider audience across the locality.
Developing an on-demand app can pave the way to generate revenue if you own a nursery or plantation business. This way, the profit for your business increases.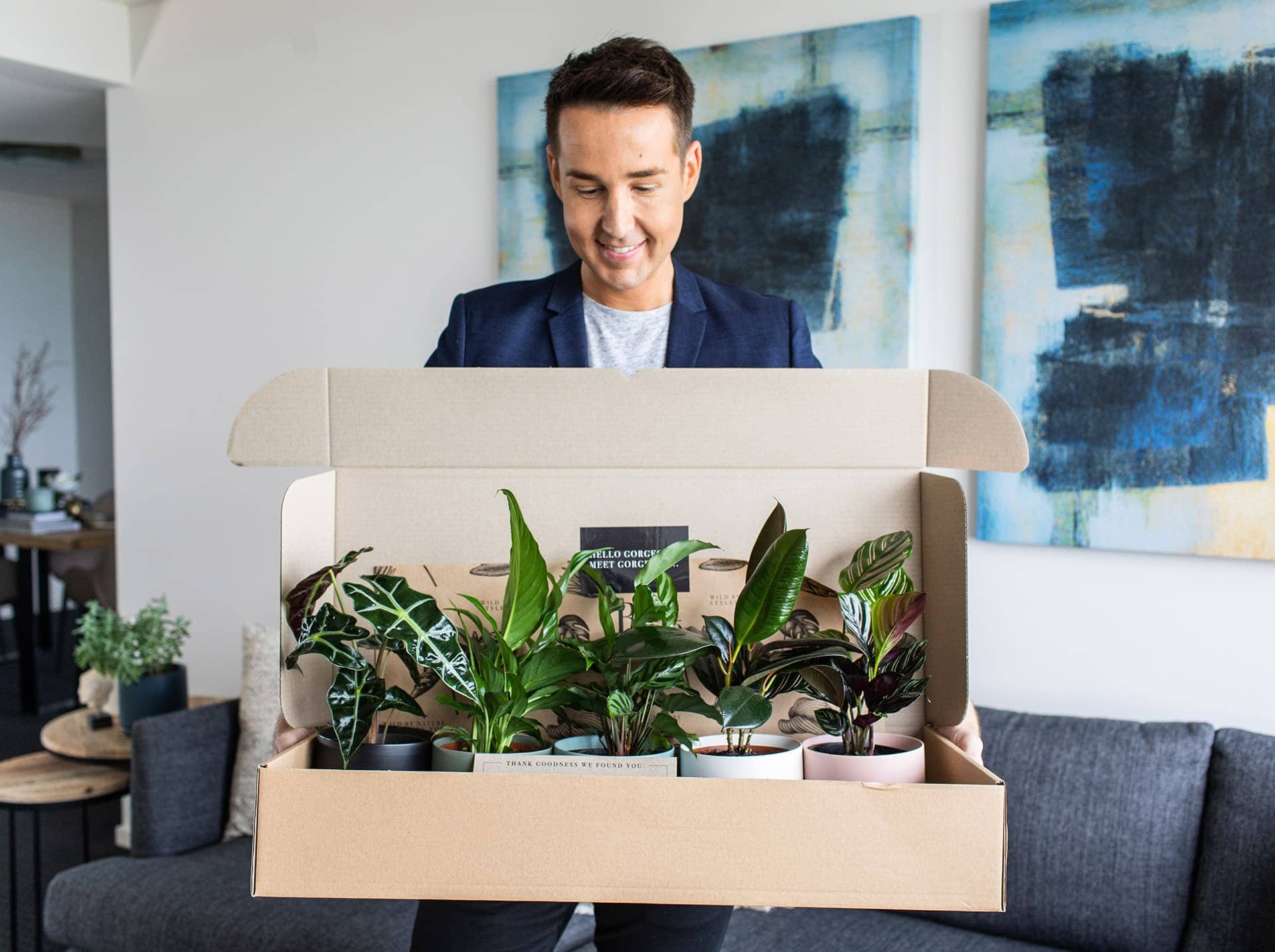 People can turn houses to homes with your indoor plants. This way, these apps are exceptionally beneficial to millions of people who are in need of plant decorations.
Managing bulk orders is a piece of cake through an on-demand app. You get real-time insights and updates on your inventory, thereby letting you make informed business decisions.
People are gradually inclining towards digitalization. By digitizing your app, people can easily access your nursery business. Moreover, you can manage multiple orders efficiently with an on-demand app.
These are certain advantages of setting up an online platform. 
Key features of an Indoor plant delivery app
There are certain key features worth considering while developing an indoor plant delivery app. 
User Registration:

Users, upon downloading the app, can register in the app via different social media handles. 

Access multiple plants:

Users can navigate through the app and find various indoor plants, including air-purifying plants, low maintenance plants, etc. 

Search and Filter:

To reduce the time of navigation, users can use instant search options, thereby finding the intended plants in a flash. Moreover, they can use advanced filter options to narrow down their search results. 

Instructions manual:

Besides sales of plants, you can provide instructions to users as to how to maintain the plant. This way, users will get quality insights on the soil, air, and other parameters needed for plant growth. 

Multiple payment options:

Users can pay for the plants through a multitude of payment gateways, including credit/debit cards, digital wallets, etc. 

Real-time tracking:

Users can track delivery professionals carrying their orders through the app, thereby ensuring hassle-free deliveries. 

Offers and discounts:

You can lure customers towards your app by offering attractive offers and discounts. This way, you enhance your sales significantly, and users enjoy orders at reduced prices. 
Development stages involved in an online indoor plant delivery platform
Now that you know the features and benefits of the online platform, you initiate your app development by either hiring freelance developers or approaching app development companies. The latter is known for its convenience offered to entrepreneurs. The stages in development include, 
Identifying the requirements of the business. 

Conducting market research to know customer expectations. 

Designing the UI/UX for the app. 

Integrating key features and functionalities in to the app

Developing the back-end, including the admin panel. 

Rigorous testing for identifying defects and bugs.

Deploying the app on major platforms, including Android, iOS, etc. 

Providing a 24×7 support system for customers. 
At Appdupe, we strictly adhere to this basic development timeline, providing the utmost care to your quality inputs at every stage. 
The benefits of availing a Gojek clone app
Some entrepreneurs may consider developing an app for indoor plant delivery alone is not cost-worthy. This has led to the development of a multi-services app, wherein people can access multiple services through a single app. From a business owners' perspective, you can offer numerous delivery services under one common roof. This way, your revenue through the app increases significantly. Moreover, you enhance customer engagements, as a wide range of target audience accesses the app for several services. 
Appdupe offers a feature-rich best-in-class Gojek clone, accommodating more than 60 services. The multiple delivery services include, 
Food delivery 

Grocery delivery 

Medicine delivery 

Indoor plant delivery

Medical cannabis delivery 

Courier delivery 

Alcohol delivery 

Flower delivery and many more. 
You can supplement your indoor plant delivery business with multiple other deliveries, paving the way for guaranteed success. 
The cost to develop an indoor plant delivery app: 
The development cost depends on multiple factors based on your requirements. Some of the prominent factors include, 
The type of platforms:

The digital platforms (Android, iOS, etc.)you wish to launch your app will impact the app budget. 

The design of the app:

The UI/UX of the app plays a significant role in the user experience. Hence, designing a user-friendly and intuitive app costs a considerable amount of money. 

The features you incorporate into the app:

Features determine your app's uniqueness and attract users towards your platform. The more cutting-edge features you integrate, the higher is the cost incurred. 

The team to develop the app:

You need a well-equipped technical team to develop the app according to the latest market trends. Their development rates also influence your budget. 
Summing up, 
Indoor plants come with enticing benefits to people who need to stay productive throughout the day. By venturing into the market with an on-demand delivery app for indoor plants, you can gain instant success. Cutting-edge features will propel your app to greater heights. A GoJek clone app can come in handy for business owners who wish to offer multiple delivery services through a single app. This is an ideal time to set foot into the market and provide users with ultimate convenience! 
At Appdupe, we offer best-in-class, 360-degree app development solutions at affordable rates. Reach out to our support team, and share your visions of the app. We'll provide a fair estimate to develop a top-notch on-demand indoor flower delivery app. 
Looking to startup an on-demand Indoor delivery app?

Marketing is my soul mate and writing is my side kick. Using my writing skills to share the knowledge of app development and upcoming technologies.
Have a Crypto Platform/NFT Marketplace Related Development Idea?
---
Get your free consultation now