Highlights of Launching an On-demand tow truck app development solution with sparkling models
Author
Uber for Towtruck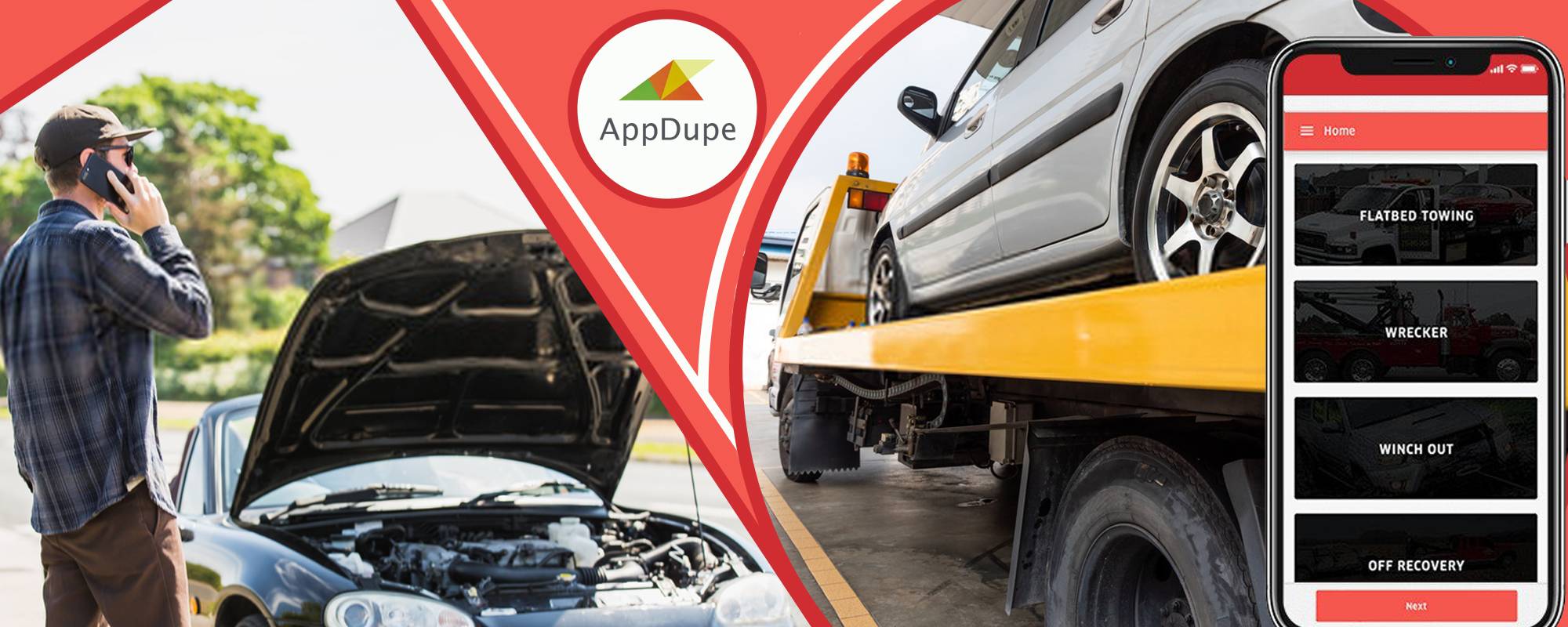 Sometimes, the swankiest bikes and cars can suddenly stop working in the middle of a traveller's journey. They will be stranded without any assistance in the middle of nowhere. People are not well-versed in repairing their own vehicles. Hence, it is best to use an On-demand tow truck app development in that situation. 
Trained technicians and tow truck drivers arrive immediately at the customer's location and restore their vehicles to good working condition quickly. They provide different services like fuel delivery, replacement of batteries, engines, and tyres, and repairing broken doors, windows, and windshields. Additionally, vehicles that cannot be repaired on the spot are taken to a nearby garage or workshop. 
Entrepreneurs aiming to become the top choice for on-demand roadside assistance can launch a customized Uber-like app for tow truck in partnership with AppDupe. Our talented team of developers creates easy-to-use Android and iOS apps for customers, technicians, and tow truck drivers. An advanced admin panel assists in controlling the day-to-day business operations. Moreover, a modern web dashboard helps in the quick acceptance of bookings.
What are the highlights of our on-demand tow truck app development?
GPS tracking option – Users can track the movement of the tow truck operators on a real-time basis via the GPS option. They will get information about the Estimated Time of Arrival (ETA) of the service providers via Apple Maps and Google Maps. 
Acceptance of multiple payment methods – Customers easily pay for the availed services via cash, credit cards, debit cards, e-wallets, net banking, and wire transfers. 
Users can also process transactions through Apple Pay, Google Pay, PayPal, and Stripe. Hence, the technicians and tow truck drivers get their payments on time. 
Instant sharing of digital invoices – There is no paperwork involved in our Uber for tow truck app. Digital receipts are shared with the vehicle owners after competition of the required services. 
It contains details like booking date and time, name of the customer, name of the service provider, and bill to be paid (commission, service fees, and taxes). 
A social media login option – Lightning-fast registration is facilitated on our on-demand roadside assistance app. New users can register on the on-demand tow truck app solution by syncing their Facebook, Instagram, and Twitter accounts. Above all, they can share updates to their followers about the resumption of their journey after the maintenance and repair services.
A rating and review system – Vehicle owners can share feedback about the quality of the on-demand roadside assistance on a scale of 1-5. Additionally, they post comments and opinions about the professionalism of the tow truck service providers.
Availability of insurance – Customers are safeguarded against damage to their vehicles through insurance. Subsequently, they can file their claims online without depending on any broker.
A live chat facility – Users can interact with the Tow truck operators anytime via the real-time chat option. Service providers share photos and videos as proof of their work with customers. 
Premium services – Special services are provided for high-end cars on our Uber-like app for tow truck. It includes on-demand roadside assistance services for various brands like Audi, Bentley, BMW, Ferrari, Jaguar, Lamborghini, Maserati, Mercedes Benz, Porsche, Rolls Royce, and Volvo. Customers have to pay extra costs to purchase branded spare parts. 
Witness huge success by kickstarting Uber for tow truck app development

Connect on WhatsApp Contact Us
What is the business model of an Uber-like app for tow truck?
You can earn hefty revenue from booking fees, a commission from tow truck operators for each booking, monthly and yearly subscription plans, premium services for high-value cars, publishing targeted advertisements, and transaction processing charges. 
The majority of expenses is on buying new equipment and tools, maintenance of the tow trucks, offering discounts and rewards to users, and paying salaries to the technicians and tow truck drivers. 
How will the on-demand roadside assistance market perform in the future?
The global vehicle assistance market will be worth a whopping $30 billion by 2027. It will grow at an impressive annual rate of 3.92% for the next 6 years. Nonetheless, more demand for tow truck services will come from vehicle owners who are affected by accidents and collisions. 
Entrepreneurs have to use powerful technologies like sensors and telematics systems to ensure quick dispatch of the tow truck operators. Special services need to be provided for expressways and highways due to high vehicular movement. Nevertheless, staff also need to be trained on repairing the latest electric and hybrid vehicles emerging in the market. 
Which are the best markets to launch an on-demand tow truck app development solution?
Asia-Pacific, Europe, and North America are the ideal regions for creating an on-demand roadside assistance app. Entrepreneurs can strike gold with positive trends like better Internet connectivity, cheaper automobile loans, greater smartphone usage, and an increase in disposable income for customers. 
They can pocket more revenue by providing tow truck services for both commercial and passenger vehicles. Special on-demand roadside assistance services can be offered for bikes and cars affected by ice and snow due to extreme weather conditions. Further, in-depth tow truck services will be required for old vehicles (above the age of 10-15 years).  
What is the budget for Uber for tow truck app development?
AppDupe divides the development process into several stages. The cost is split based on phases like business analysis, market research, designing the User Interface (UI), front-end and back-end development, testing, launching the solution, and conducting insightful digital marketing campaigns. 
Moreover, entrepreneurs have to spend more on using different services like API integration, fixing bugs, maintenance, software upgrades, and technical assistance. 
Why choose AppDupe for on-demand roadside assistance app development?
We have a well-versed team of app developers and marketing specialists who know the new trends in the automobile industry. Our Uber for tow truck app can be quickly deployed in the market which will give a competitive edge to the entrepreneur. Above all, we also offer extensive post-deployment services 24×7 in numerous languages. 
Wrapping Up
Business prospects for the on-demand roadside assistance market are bright for entrepreneurs. The numbers in vehicular registration and sales are increasing daily. They can earn more income by partnering with popular automobile manufacturers to offer tow truck services to their customers. Hence make your business goals come true by getting an ultra-modern Uber for tow truck app from AppDupe now.
Pocket more revenue by creating an on-demand tow truck app solution

Connect on WhatsApp
Contact Us!

Marketing is my soul mate and writing is my side kick. Using my writing skills to share the knowledge of app development and upcoming technologies.
Have a Crypto Platform/NFT Marketplace Related Development Idea?
---
Get your free consultation now