Manifold Your Revenue

By Launching A Uber For Towing Service App
---
Develop an on-demand roadside assistance app built on a reliable business model.

Extend instant roadside assistance to stranded customers promptly.

Take your existing towing service business online with our white-label solution.

Build a marketplace connecting service providers with customers in need.
Facilitate users to book the roadside assistance services in a jiffy.

Manage the bookings received through the powerful admin panel.

Track the performance of service providers and keep service quality in check.

A leading-edge Uber for tow truck app available for Android and iOS platforms.
Why Choose
Our On-demand Tow Truck App Development Solution?
---
Intuitive interfaceOur Uber like tow truck app comes with an elegant user interface that is eye candy for your app users, offering an enhanced customer experience. Also, accessing the app from mobile devices is extremely convenient and intuitive.

Custom-built solutionsEach business is unique in its own way. Hence, we make every effort to implement a robust feature set in your Uber like app for tow trucking service that helps in making it stand out from your competitors.

White-label application Our tow truck app is a white-label solution that can be readily rebranded with the branding elements of your business. Also, it offers space for future enhancements effortlessly.

Complete personalization We build Uber for tow truck app that is pre-laden with all cutting-edge features and functionalities needed to extend a hassle-free functioning. This ready-made solution can be quickly customized as per your business model.

Highly scalable To succeed in the long run, it is crucial for your app to keep adapting to the changing business environment. For that very purpose, we ensure the Uber for roadside assistance app is scalable to accommodate any changes in the future seamlessly.

TransparencyKeeping our customers satisfied and informed of the entire project's progress is the core objective of our on-demand roadside assistance app development services. 100% transparency in every step of the development process!
Vital Features
Of Our Uber For Roadside Assistance App
---
RegisterCustomers can quickly sign up with the roadside assistance app like Uber for tow truck with their email IDs or phone numbers.

Manage profilesCustomers can set up their profiles with their necessary information and manage/ edit them with convenience.

Browse servicesCustomers can explore the various service options available on the roadside assistance platform to find the one they look for.

Book now/ laterCustomers can instantly book the towing services or schedule them for a later date at their preferred date and time.

Live trackingCustomers can track the location of service providers once they start from their place to extend their roadside assistance services.

Share locationsCustomers can effortlessly share their real-time locations with service providers to help them reach without any hassle.

Push notificationsCustomers will be updated on the status of their service requests instantly via the in-app push notification feature.

In-app chatCustomers can fleetly reach out to service providers or the admin team in case they face issues with availing the services.

Secure paymentsCustomers can process payments right after the completion of the service via the secure payment gateways integrated with the Uber like tow truck app.

Ratings and feedbackCustomers can rate the towing service they availed and share their feedback upon evaluating the provider's performance.
OnboardingService providers can list their services on your Uber for tow truck app by signing up with it and setting up their profiles with needed details.

Verify profilesService providers can verify their accounts to earn verification badges, thereby gaining the trust of the app users.

Availability toggleService providers can use the toggle to go online or offline as per their availability.

Accept/ reject requestService providers can accept a towing service request received or reject it at their convenience.

Instant alertsService providers will be fleetly updated on the service requests via in-app push alerts.

Route optimizationService providers can quickly reach the locations of customers by traveling through the best-optimized route generated by the app.

View reviewsService providers can overview the feedback shared by customers for their services and ensure their performance is up to the mark.

Track paymentsThe payments received for services completed can be checked in this section.
DashboardThe admin can get a bird's eye view of the services ongoing on the application, upcoming requests, and more via the powerful admin dashboard.

Manage customersThe admin can manage the customers signed up with the platform and ensure they are provided with the best roadside assistance service possible.

Manage service providersThe admin can verify the profiles of towing service providers before allowing them to offer their services on the platform.

Manage servicesThe admin can manage the service requests completed, ongoing, and upcoming with their entire details.

Chat supportThe admin can offer their support to both customers and service providers anytime they need via the live chat service.

InsightsThe admin can get analytical reports generated periodically to help them track the performance of their Uber for towing services platform.
Want to Create An App Like Uber for Tow Truck?
Capture the market opportunity as Appdupe's Uber for Tow Truck app can be launched in a matter of a few days.
Services Included
in On-Demand Roadside Assistance App
---
Live Geo­tracking
---
Your Customers can always see where the nearest drivers are in real time in your customer facing mobile apps.
Change/Cancel Booking
---
Your customers have the comfort of changing or cancelling a booking at any time.
Talk to your Driver
---
With our Customer and Driver apps, your clientele and providers can chat or call from within the app.
Work History
---
Customers and Drivers can check the service history and see where their previous points of service requests.
Review System
---
Both drivers and your customers can see the history of jobs with reviews so that they can get better.
Native Mobile Apps
---
Both our iOS and Android apps are built natively so that they perform with best user experience in respective platforms.
Advanced Features
---
Referrals

Offer reward points to users who successfully invite their friends and family members to install and use your application. A great way to increase your app reach!

Coupon codes

Customers can be bestowed with coupon codes to avail discounts from time to time, driving them to use your app regularly.

Multi-currency support

The app can be integrated with multi-currency payment options to let users pay conveniently.

Multilingual support

Let the app users access the platform in their regional languages. An excellent option to scale your business globally!
How Does Our Uber For Towing Service App Work?
---
1

Registration/ Sign in

2

Set up and manage profile

3

Enter the location

4

Choose the towing service type

5

Send service requests to nearby service providers

6

Get notifications on requests' status

7

Avail the service offered

8

Pay securely

9

Rate and review the towing service
Exclusive Benefits
Of Our On-Demand Roadside Assistance App Development
---
Turnkey Solution
---
All our products are 'Turnkey'. You can start with ZERO time-to-market and capture the largest market-share.
Powerful Admin Dashboard
---
Complete control of your websites and mobile apps is comfortably available in your admin dashboard.
Scalable Product
---
Have plans of taking off and scaling up rapidly? We got your back with the most scalable robust products in each category.
Whitelabel Solution
---
Our solution is entirely whitelabel to put whatever brand you want. Your customers will never know about Tow Truck.
Cost Effective
---
Tow Truck is the most featureful product in its tier with pricing from the bottom of the barrel, prolonging your runway
Native Mobile Apps
---
Both our iOS and Android apps are built natively so that they perform with the best user experience in respective platforms
Generate Revenue
From Various Streams With Our Uber For Tow Truck
---
Verification charges

Charge towing service providers with a specific fee for verifying their profiles and giving them a badge to earn the credibility of users.

Registration fee

Collect registration charges from users for signing up with your Uber for tow truck app and accessing roadside assistance services from verified service providers.

Commission

Earn commission for every successful towing service request fulfilled through your application. These charges can be fixed or vary based on the service type.

Cancellation fee

Upon canceling a booked service, users can be charged a nominal cancellation fee based on the time they take to cancel the request.

Waiting charges

If the service providers have to wait for some time to offer their services as the vehicle can not be towed right away, users can be charged with a waiting fee.

Ad fee

Make the best use of the ad banners by displaying the promotional adverts of third-party businesses for a price. The ad fee can be calculated based on factors like impressions, clicks, etc.
View Demo
Get both the Android and iOS apps for free. After all, building a business doesn't have to cost you a bomb!
Admin Panel - Features
Admin Login
Forgot Password
Admin Dashboard
User Management
Provider Management
Map
View Ratings and Reviews
Manage Service History
Manage Schedule Services
View/Manage Vehicle Types
Manage Price Settings
Manage Admin Commission
Manage Service Statements
View/Manage Promocodes
View/Manage Document List
Manage Payment History
Manage Payment Settings
Manage Site Settings
Manage Provider Timeout
Manage Search Radius
Manage Order Assign (Manual/Automatic)
Help
Custom Push
Translations
Provider Approval
Admin Account Management
Change Password
User - Features
User Registration
User Login
Forgot Password
User Account Management
Change Password
Homescreen
View/Select Vehicle Types
Book Service
View/Manage Card Details
Manage Offer Coupons
Manage Wallet
View Service History
Manage Scheduled Services
Help
Share
Book Service
Call/Chat Options
Cancel Service
Real-Time Tracking
Push notifications to User
Provider - Features
Provider Registration
Provider Login
Forgot Password
Offline/Online Service Option
Home
Receives Request
Accept/Reject Request
Cancel Service
View Service History
Manage Scheduled Services
View Provider Earnings
Revenue Dashboard
Manage Services
Upload/Manage Documents
Help
Share
Update Provider Location
Change Password
Provider Account Management
Call/Chat Options
Real-Time Tracking
Push notifications to Provider
Paid Plugin
---
Bitcoin Wallet Integration $1000
Integrate our bitcoin wallet and start trading with thousands and millions of bitcoin users globally. Highly secured and seamless.
Schedule Bookings $699
Your customers can book a service for a later time and date. Your Drivers will get notification of a later appointment and will be shown their
Live Navigation $499 Now Free!
With this feature your Driver can navigate to your customer within the app and not have to switch between apps
Geo fencing $750
This feature uses GPS tracking to create a virtual geographic boundary and triggers a response when the taxi enters or leaves the boundary.
Chat Integration $500
Once the ride has been accepted by the driver, chats and calls can be initiated by the driver or rider to communicate with each other
God's eye view $500
This feature allows the admin to view factors like overall earning, list of users and drivers with details, busy or

Multi Language $499
The entire Xuber apps, website and backend will be translated to a language of your choice.
MLM Viral Marketing $750
Use multi-level marketing by having your riders and drivers use referrals to promote your business. It creates a win-win situation for all.
Bidding Option $1000 Now $750!
Allow riders and drivers to take advantage of the best possible options by letting them bid for the best prices for the rides. This gives them a sense of satisfaction
Promotion Codes $999 Now Free!
This feature enables your customers to share a promo code to their friends and peers so that they both get better discount and brings virality to your app
Video Calls $2499
For a small cost we will be able to build in video calls inside of the app so that none of your providers
Wallet System $1500
This feature enables the passenger to top up money into his wallet account within the app. Mobile Money can be used to top up or admin can top up
Voice Calls (VOIP) $1499
For a small cost we will be able to build in voice calls inside of the app so that none of your providers
App Screenshots
---
An enhanced version of Tow Truck app. Built with pure technology expertise to help entrepreneurs prosper.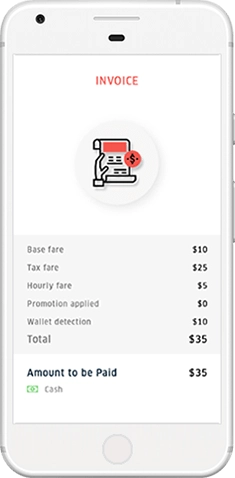 What We Offer
In Uber for Tow Truck App
---
Mobile Apps

Easy to use, technically advanced, seamless mobile apps for any given vertical.

Web App

Apps built on avant-garde technologies. Highly functioning, pro-customizable, friction free in-app functionalities.

Admin Dashboard

All-in-one dashboard to quickly skim through the app activities and overall performance.

Customization Support

Boundless customizing options with immediate add-on support for quick app transformation.

Payment Options

Secure payment options via any authorized online payment portals.
Why Should You Choose Us?
---
10+

Years of experience

250+

Experts in service

50+

Products and still counting

100+

Countries

100%

Customer satisfaction