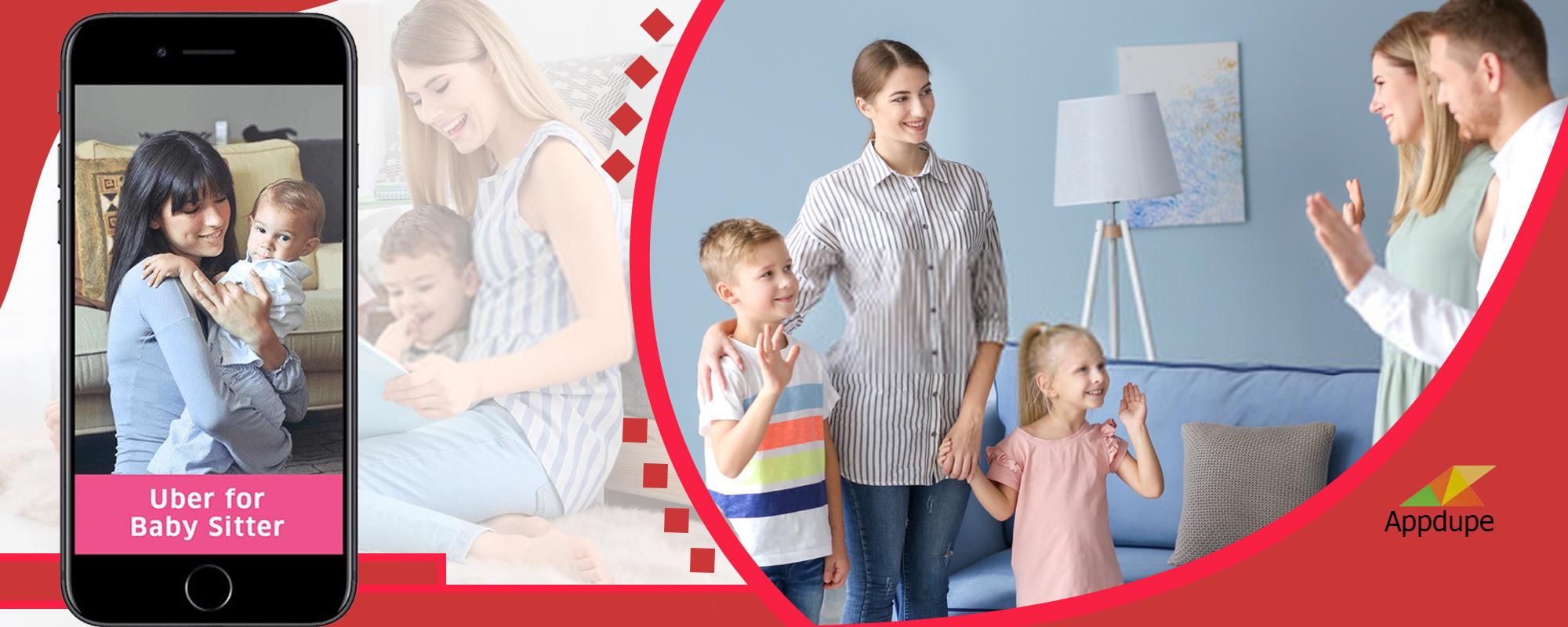 Taking care of babies is a big challenge for parents. They have to deal with the behavioral changes of the toddlers. Apart from that, parents need to take care of all their activities like bathing, eating, exercising, playing, sleeping, and washing. Sometimes, the busy professional lives of parents may lead them to ignore their child. Hence, they may not do their duties properly. Importantly, this is where an Uber-like app for babysitter steps in. 
Parents outsource the handling of their children to babysitting experts. The child care service providers render round-the-clock babysitting services. This ensures that the kids maintain a high level of physical and mental health. 
How entrepreneurs can strike success by launching an Uber for babysitter app?
Entrepreneurs aiming to build a world-class childcare app can partner with AppDupe for customized on-demand babysitter app development. Our well-equipped developers create modern Android and iOS apps for child care service professionals and parents. 
Fathers and mothers book appointments through the advanced web dashboard. A state-of-the-art admin panel helps in keeping a close watch over the daily business activities.  
What are the notable features of our Uber-like app for babysitters?
A Search and Find option – Parents can discover trained child care service providers through the Search and Find option. Generally, they can filter their searches based on experience, location, price, ratings, and reviews.  
A Social media login facility – Parents register swiftly on our Uber for babysitter app by syncing their Facebook, Twitter, and Instagram accounts. This boosts conversion rates for entrepreneurs as they add new users quickly. 
Instant processing of payments –  Users execute transactions for the availed babysitting services quickly. They transfer funds directly to licensed child care experts through credit cards, debit cards, e-wallets, net banking, and wire transfers. 
Moreover, customers keep track of their expenditure by accessing the transaction history. Besides that, babysitters will also know their income level by viewing the detailed earnings report.
An integrated feedback system – Parents rate the quality of childcare services on a scale of 1-5 in the integrated review system. Furthermore, users can share comments and opinions about the professionalism of the babysitters. 
Sharing of instant notifications –  Customers get real-time alerts about their babies through push notifications. Importantly, parents will know about their exercises, level of food and water consumption, recreational activities, and sleeping time through photos and videos shared by the child care professionals. 
Provision of 24×7 technical support – Parents get round-the-clock technical assistance in multiple languages on our on-demand babysitter app. They can resolve their complaints and issues via email, live chat, and phone. 
How does our Uber-like app for babysitters function?
Parents register on our babysitter app like Uber. They enter details like their email address, location, name, and phone number.

Child care experts also create their accounts on our Uber for babysitter app. Moreover, they share information about their qualifications and work experience.

The admin approves the accounts of parents and profiles of babysitters after verifying their respective background and data.

Fathers and Mothers can choose either of the 3 options for booking the services of child care experts. Then, they select Right Now, Within a Week, and In 1-2 months. 

Parents can narrow down on the type of babysitter they require. They opt for babysitters working in Daycare centres, a drop-in babysitter, nannies or recurring babysitters, a one-time babysitter. 

Likewise, users mention the age of their children, gender, and the number of kids.  

Additionally, they submit their babysitting request and the admin informs a nearby child care service provider to accept the booking. 

Customers receive a confirmation of their booking after the babysitters agree to render their services.

Further, the parents hand over their children to the certified babysitters. Subsequently, the child care service professionals take good care of the kids and send regular updates to the fathers and mothers through images and videos.

After a certain period, users get back their toddlers. Likewise, parents make the required payment to the babysitters by transferring money to their bank account or e-wallet. 

Finally, customers share feedback about the quality of babysitting services in the inbuilt review system.  
Become the number one choice for child care by procuring our Babysitter app like Uber
What are the new trends in the global child care industry?
Corporate Child Care – This is a great option for working mothers who have a hectic schedule. Companies are setting up in-house babysitting spaces by providing incentives like discounted services and flexible working hours. This also helps mothers as they need not quit their high-paying jobs to take care of their kids. Similarly, entrepreneurs can offer exclusive on-demand babysitting services for employees of enterprises to pocket extra income. Above all, it assures a good work-life balance for parents. 
Franchise-based business model – You can launch several branches for offering babysitting services through a Franchise business model. Entrepreneurs earn license fees every month from the Franchisee. Moreover, you will benefit from the higher quality of child care services and minimum operating costs. Besides that, insurance protection is also available against any damages or liabilities. 
How will the on-demand babysitting industry perform brightly?
The global child care market will be worth a whopping $520.4 billion by 2022. Positive factors like awareness about the need for early learning, better Internet connectivity, government schemes, increasing smartphone usage, and a rise in the disposable income of customers will lead to huge growth in the online child care industry in the years to come. 
What is the budget outlay for creating a Babysitter app like Uber?
AppDupe divides the cost for on-demand babysitter app development into numerous stages. Significant budget is allotted for business analysis, conducting a detailed market study, designing the User Interface (UI), kickstarting front-end and back-end development, extensively testing the performance and speed, launching the Uber for babysitter app, and implementing well-planned online promotional campaigns across multiple communication channels. 
Further, entrepreneurs have to incur expenses for availing services such as bug fixing, maintenance, software upgrades, and technical assistance. 
Wrapping Up
Above all, entrepreneurs can pocket huge revenue from our Uber-like app for babysitter. They earn booking fees, cancellation charges, a commission from child care experts for each appointment, monthly and yearly subscription plans paid by parents, publishing targeted advertisements, and transaction processing fees. 
Babysitters will have to deal with the kids emotionally and socially to satisfy parents completely. Nevertheless, entrepreneurs will also have to keep track of changes in government laws related to early education and child protection. Hence, witness a surge in profits by teaming up with AppDupe now for innovative on-demand babysitter app development soon.
Need assistance in building your own uber for babysitting app?

Marketing is my soul mate and writing is my side kick. Using my writing skills to share the knowledge of app development and upcoming technologies.
Have a Crypto Platform/NFT Marketplace Related Development Idea?
---
Get your free consultation now