Uber for Nannies
Highly Rated Babysitters App in the Market
---
The recent technological advancements across various industries led to the development of nannies on-demand applications to fulfill the rising needs of the general public. One such app solution that has won the hearts of thousands of mommies and daddies is the on-demand babysitter apps. These app solutions help them find the best nannies for their little ones when they are away from them.

We had come up with the white-label babysitter app solution to help companies who wish to offer a marketplace where parents in need of babysitting services meet people providing those services. These app solutions can be personalized, including their logo, color scheme, and more, to suit your branding requirements. The app benefits every single stakeholder associated with the app, thus allowing everyone to hit a home run.
The Workflow of Uber for Nannies App
---
Before getting into the development of the on-demand babysitters app, you need to have a clear understanding of its functioning. Here's how the app functions:
Register with the AppParents can register themselves with the app and verify their profiles to opt for the service of professional babysitters. Once registered, they can search for the list of babysitting service providers present nearby their locations.

1

Request the Service of BabysittersParents can choose the babysitters based on their experience and ratings and reviews provided by other parents. They can request the service of babysitters by giving the date and time on which they want the service to be provided.

2

Accept/Reject RequestsThe request will be sent to babysitters. Babysitters can either accept or reject the requests based on their availability and convenience. If approved, parents will be notified through push notifications.

3

Offer the Babysitting ServiceBabysitters will reach the location provided by parents to offer their babysitting service on the date and time of booking. Parents can check with the nannies from time to time about the whereabouts of their kids.

4

Complete PaymentsOnce the service is provided, parents can process the payments through the app. The platform owners can take their commissions and process the rest to the accounts of babysitters.

5

Ratings and ReviewsAfter availing the service, parents can rate and review the service offered by babysitters, helping other parents in making informed decisions.

6
Build a Trustworthy Uber for Nannies App
Complete, ready-to-use app solutions with open source codes, for iOS, Android, and web platforms. Allow parents to find professional babysitters with ease. The app offers advanced features, such as expert advice and GPS-enabled tracking system. Get an undisputed real-time control with our robust admin panel. Build a safe and reliable on-demand babysitter app and start earning for every booking scheduled through your app.
Earn Through Online Creche
There are times where parents can get last-minute plans like business meetings or travels where they are forced to look for a babysitter at the last minute, which may or may not happen. Parents can avoid these hassles with the on-demand app for childcare services. Babysitters in the local vicinity can earn some quick money by signing up with the app, and taking up requests as they come their way.
Services that we provide in Uber for Nannies App
---
NATIVE MOBILE APPS
---
Both our iOS and Android apps are built natively. Thus, they offer the best user experience on their respective platforms.
LIVE GEO­TRACKING
---
Parents can always see where their babysitters are in real-time while they are taking care of their kids.
CHANGE/CANCEL BOOKING
---
Your users have the comfort of changing or canceling a booking at any time.
TALK TO THE BABYSITTER
---
Both parents and babysitters can communicate through chat or call from within the app.
SERVICE HISTORY
---
Babysitters can check their service history and see all the services they offered in one place.
REVIEW SYSTEM
---
Parents can rate and review the service availed so that babysitters can offer improved service.
Features of On-demand Babysitter App Development
---
Parent App
Onboarding

Parents can register with the app through their email IDs, phone numbers, or social media accounts so that they can book babysitters with ease.

View Babysitters Profile

Parents can view the detailed profile of the babysitters as per categories such as the helper, nighttime, and last-minute nanny who are present near their location.

Schedule Appointments

Parents can book appointments with the nearest babysitters by providing the date and time on which the service is needed. They can also change or cancel the bookings without any hassle.

Push Notifications

Parents who have booked the services of babysitters will receive their details once babysitters approve the service request. Also, other updates of the service will be sent through push notifications.

Tracking Babysitters

On the days of the appointment, parents can track the babysitters so that they can be assured of their arrival.

Payment Gateway Integration

Multiple payment gateways are integrated into the app. Parents can choose to pay for the service requested with their debit or credit cards or through the payment mode of their preference.

Ratings and Reviews

Parents can rate and review the babysitting service provided, helping other parents to make informed decisions.

Booking History

All the details of the service availed to date are stored on this page, helping users to book services of babysitters that have been availed in the past.
Babysitter App
Easy Sign Up/Log In

Babysitters can register with the app through their email IDs, phone numbers, or social media accounts with ease.

Profile Setup

Babysitters can create their account and input other information, setting up their profiles for users' reference.

Availability Toggle

Babysitters can choose to provide their service only at the time of their convenience. They can switch off the availability toggle when they are not available to offer the service.

Accept/Reject Requests

Babysitters can accept or reject a service request as per their comfort. Parents are notified accordingly.

In-App Navigation

Babysitters can reach the users' location on time through the GPS-enabled navigation system integrated into the app.

Earnings Report

All the bookings and earning details are stored in a single place for the future reference of babysitters.
Admin Panel
God's Eye View

Manage all activities taking place through the app with the robust admin dashboard. Profiles of parents and babysitters can also be managed.

Heat View In Admin

The admin can see where the customers are mostly looking for childcare services and reroute babysitters to those locations to provide their service.

Billing Administration

Allow your accounts team to have a separate panel for sorting out your financial details. You can choose to restrict them from accessing other sections of your app.

Manage Commission

Commission earned from each booking made through the app will be displayed in a single place, so you can refer to them to manage your finances.

Advanced Reports

With advanced reports, the admin can find the areas that need more marketing to increase app usage, giving a clear-cut idea to plan the business.

Customer Support

Offer customer support 24x7 for handling the queries and grievances of both parents and babysitters for enhanced app experience.
Advanced Features
Search By Category

Parents can choose babysitters promptly by the use of various search combinations and filters available in the app.

Set the Babysitter's Range

Parents can avail the service of babysitters who are available at a specified distance near their location. It can be set by the admin for user convenience.

Manage Interviews

Allow parents to schedule video call interviews or receive introductory videos from caretakers. It helps in building trust among your users and choosing the right nannies to care for their kids.

Schedule For Later

This feature is useful for parents who wish to book the babysitting service for a later time. It helps them to plan their other works accordingly.

Bill Estimation

The app automatically calculates the final bill for parents by considering several factors like the service fee, distance to be covered, etc.

Top-Notch UI/UX

Allow users and babysitters to use your app with ease. Keep the designs simple and appealing, so they can navigate through the app and find the option they need without much hassle.

Email/SMS Notification

Send the details of the bookings, including babysitters' details, bill amount, etc., to your users through email and SMS. So they can refer to it if need be.

Referral Programs

Offer referral points to users who invite their friends to try out your service, helping in increasing your customer base. You can give them points for each successful referral.
A Complete White-Label Solution
For On-Demand Childcare Booking Software
---
Turnkey Solution
---
All our products are 'Turnkey'. You can start with ZERO time-to-market and capture the largest market-share.
Powerful Admin Dashboard
---
Complete control of your websites and mobile apps is comfortably available in your admin dashboard.
Scalable Product
---
Have plans of taking off and scaling up rapidly? We got your back with the most scalable robust products in each category.
Whitelabel Solution
---
Our solution is entirely whitelabel to put whatever brand you want. Your customers will never know about Babysitters.
Cost Effective
---
Babysitters is the most featureful product in its tier with pricing from the bottom of the barrel, prolonging your runway
Native Mobile Apps
---
Both our iOS and Android apps are built natively so that they perform with the best user experience in respective platforms
Uber For Babysitters App Screenshots
---
An enhanced version of online service uber like app for babysitters. Built with pure technology expertise to help entrepreneurs prosper.
View Demo
Get both the Android and iOS apps for free. After all, building a business doesn't have to cost you a bomb!
Admin Panel Features
Admin Login
Forgot Password
Admin Dashboard
Manage Dispatcher Panel
Manage Customer (Parent) List
Manage Carers (Babysitter)
Map
Manage Ratings and Reviews
Manage Service History
Manage Scheduled Services
Manage Service Types
Manage Provider Rule List
Manage Service Statement
Manage Promocodes
Manage Document List
Carer (Babysitter) Approval
Manage Payment History
Manage Payment Settings
Manage Site Settings
Manage Carers (Babysitter) Response Time
Manage Search Radius
Manage Service Assignment (Manual/Automatic)
Manage Social Settings
Manage CMS Pages
Translations
Manage Admin Account
Change Password
Application Features
Choose Parent/Carer
Parent/Carer Registration
Parent/Carer Login
Forgot Password
Rate and Review
Features - Parent
Homescreen
View Available Services
Profile Management
Change Password
Add/Manage Card Details
View Coupons
Manage Service History
Manage Scheduled Services
Share
Help
Add Favorites
View Notifications
Manage Wallet
Book Service
Cancel Service
Push notifications to User
Call/Chat Options
Manage Chat
Features - Carer
Homescreen
Manage Incoming Service Request
Accept/Reject Request
Cancel Service
Revenue Dashboard
Manage Availability
Manage Chat
Profile Management
Upload Documents
Manage Price Settings
Manage Service Settings
Manage Service History
Manage Scheduled Services
View Summary
Share
Help
Push Notifications
Call/Chat Options
Paid Plugin
---
Bitcoin Wallet Integration $1000
Integrate our bitcoin wallet and start trading with thousands and millions of bitcoin users globally. Highly secured and seamless.
Schedule Bookings $699
Your customers can book a service for a later time and date. Your Drivers will get notification of a later appointment and will be shown their
Live Navigation $499 Now Free!
With this feature your Driver can navigate to your customer within the app and not have to switch between apps
Geo fencing $750
This feature uses GPS tracking to create a virtual geographic boundary and triggers a response when the taxi enters or leaves the boundary.
Chat Integration $500
Once the ride has been accepted by the driver, chats and calls can be initiated by the driver or rider to communicate with each other
God's eye view $500
This feature allows the admin to view factors like overall earning, list of users and drivers with details, busy or
Multi Language $499
The entire Xuber apps, website and backend will be translated to a language of your choice.
MLM Viral Marketing $750
Use multi-level marketing by having your riders and drivers use referrals to promote your business. It creates a win-win situation for all.
Bidding Option $1000 Now $750!
Allow riders and drivers to take advantage of the best possible options by letting them bid for the best prices for the rides. This gives them a sense of satisfaction
Promotion Codes $999 Now Free!
This feature enables your customers to share a promo code to their friends and peers so that they both get better discount and brings virality to your app
Video Calls $2499
For a small cost we will be able to build in video calls inside of the app so that none of your providers
Wallet System $1500
This feature enables the passenger to top up money into his wallet account within the app. Mobile Money can be used to top up or admin can top up
Voice Calls (VOIP) $1499
For a small cost we will be able to build in voice calls inside of the app so that none of your providers
Uber for Babysitters App Package
---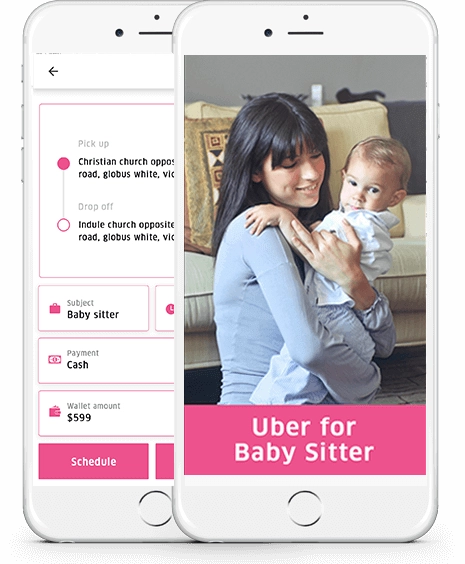 Our ready-made app solutions are built with advanced tools and technologies available in the market to ensure the seamless functioning of your business. During the development process, our expert team makes sure that the app complies with the regulations of the Google Play Store and iOS App Store, so your app doesn't get rejected upon submission.

Also, the app offers 100% responsiveness and can be accessed on all personal digital assistants, such as mobile phones, tablets, and more that operates on Android and iOS platforms.
Our app package includes:
Landing Page

User Android App

User iOS App

Admin Web Panel

Babysitter Android App

Babysitter iOS App