How to Develop a Clubhouse Like App? [Voice Chat App Development 101]
Author
ClubHouse Clone
All of us have got hooked to social media platforms as we get all the necessary products and services. Be it entertainment, education, fashion or lifestyle, we all spiral down to the last resort or maybe, let's call it, social media networks.
The social media app market is turning highly competitive because of this, by rolling out the red market for something new every day, be it an app or a feature of any social media tycoon. In this scenario, let's stick to the former option. The one-year-old social media app that's been under the spotlight and is fighting its way to zip through the tycoons like Facebook, Twitter is Clubhouse.
Bit about Clubhouse
The Clubhouse is a brand new social media app that has managed to make a great wave right from the time it got launched. Though the app is still in its beta version and is available on just the iOS platform, that didn't stop people from growing curious about the app.
Why this craze?
The discussion platform is nothing like the standard social media apps. Fingers no longer have to move back and forth in a hurry to put their views on front. The app is all about audio and audio-only.

You can engage with professionals of your industry and learn and get inspired.

Want to try out something new on the platform? Everything about the app is unique. You get to choose whichever topic you want to discuss. You can have real-time discussions on a variety of subjects.

Tagging along is another aspect. Not everyone has access to the app's discussions.


You can access the app only when one of your acquaintances invites you. 
Unique Selling Point of Clubhouse
The Clubhouse provides only iOS apps. It offers a mix of live streaming and podcasting only to a select group of influencers, who belong mainly to the startup and tech communities.
When you log in to the app and browse a list of rooms, you will be displayed a list of individual influencers instead of topics. The name of the room depends on which influencer is speaking currently.
Video calls have users fixed in the place. Agree? You might have at least once experienced sitting in front of the Zoom camera with a rigid posture. The need to look presentable is so high that you will forget what the discussion was about in the first place. But that's not the case in Clubhouse. 
Here, nobody has to pretend, and you can use the app casually and switch between computers to phones and AirPods. There's no need to prepare for a call, and no more friction comes with video calls. Every conversation here is spontaneous, casual and focused as well.
Social media and privacy can never go in the same sentence. But again, the Clubhouse breaks all the stereotypes by offering utmost secrecy to what's happening in the app. The app never saves the conversations or discussions. You have to concentrate on what's happening, or else there is a high chance that you might miss valuable details. It gives the users more urgency. This makes the app more engaging and strikes a chord within us, as everything will feel like you are on a phone call.
As of Feb 2021, the users have been using the app for at least 11-22 hours per week.
We saw what's unique about the app, but to understand it better, let's see what makes the app so popular that it could even replace tycoons.
Is Clubhouse conquering apps like Instagram, Zoom, and Spotify?
The app contains better networking opportunities, alluring functionalities, and unique concepts, all the three aspects that any social media would need! Then how is it unique from others? Let's see.
'Show off' or presenting themselves differently is the central aspect we could see in a social media app. But Clubhouse vanquishes these prospects by aiding an opportunity for the users to tell. While connecting with industry leads is not possible in other apps, this app provides a personal touch by allowing them to hear their experiences, tips etc.
The popularity measurement is not encouraged in the app like it used to be in other social media apps, with logins or followers.
You can create a set of 'Club rules' for your own spaces. When any user violates the rules, you can block the user and even report the user.
No one can record or share a conversation that happens in the chat room.
While other social media apps require you to stare at the screen for hours, there is no need for you to look at the screen often. Like you hear a music track or podcast, you can listen to the discussions while working or even driving.
How can anyone join the Clubhouse app?
There are only two ways that a person can start using the Clubhouse app. They are:
When a user decides to join the Clubhouse and experience it, they are given an invitation that can be sent to some other person using their phone number. Then the chain goes on. Once someone joins the app, he/she can do a broadcast or moderation. This is how the social media app grows its network.
The app is supportive only of iOS devices. You can download the app and save their username. Once you join the app, the friends of yours will get a notification, and he/she can connect you, and from then, you can start using the app and invite others.
Turn your entrepreneurial dream into reality with Clubhouse Clone. Take your first step today!

Connect on WhatsApp Contact Us
How does the Clubhouse like app work?
As seen earlier, there are two ways to get into the app.
Personal invitation: Where a friend or family members who are existing in the app will send an invitation to let one more person join.
The waitlist: You can enter and create a profile and wait until the app receives your invitation.
Set-up profile

Like other social media platforms, the app provides you with a profile where you can tell a little more about yourself.

You will set a profile picture and select.

Add a little bio with emojis if you need it in the text editor that the app offers.

If you want, you can add other social media profiles of yours

In case you are not okay with profiles being connected, you can also disconnect them.

Start with Clubhouse Hallway
Similar to social media apps' feed, the app will let you scroll through the Hallway and show your ongoing chat rooms. If you are a follower of specific rooms or clubs, it will be shown on the top.
Join any rooms or host your own space
There might be many interesting active chat rooms when you scroll through the Hallway. You can find topics that will interest you when going through the rooms. Let's look at what happens when you join one of them.
When you hop into the chatroom, you will be a listener first. You won't be able to use your mic. When you want to put in your point, then you raise your hand.

You will access to speak or use the microphone when the host or another speaker brings you up as a speaker. You can mute or unmute your microphone then.

Depending upon the choice of host and current moderator, you could also be promoted as a moderator.
If there's no one in the community who you know, you can still be a moderator or speaker when you host your own space and invite people. When you create and host your own space, the app will notify you of the approval, and after that, any number of users can join the conversation.
As of now, we have seen a general guide to how good and appreciative the app is to everyone. But we should not forget one crucial use case,
Clubhouse for Business owners and marketers
>> Coaches and trainers: For coaches and trainers, it is easy to build a community and open up some new ways to engage using the app. They could also learn from other people's experiences better when they start to connect with other Clubhouse members.
>> Event manager: Are you an event manager who got stuck between the four walls during the pandemic? Then this app could be your best platform to form a group and interact, as the app itself provides a unique event group.
>> Collaboration with projects: Everyone can initiate a personal meeting, as it is the perfect place to hold private chats about opportunities for collaborating and even participate in allied marketing programs.
>> Consult with experts: The app is a perfect place for consulting with experts. The app is ideal for involving industry leaders, multi-million dollar CEOs and tech titans. It makes the app perfect for sharing the stage, asking a question and also getting the questions answered in real-time. It is undoubtedly something anyone could leverage.
>> Build podcast communities: Without having to add a lot of content production, you can use the app for maintaining engagement with your audience.
As we've covered the edges of the app, now let's look at the section that you have been hoping for. Yes, the steps to develop an outstanding voice chat app. 
Critical steps that will simplify the Clubhouse like app development process
> Research your market
When developing a voice chat app, the primary thing that you need to consider is your target audience. Social media apps revolve around connecting people than any other apps. Hence it would be best if you understood the needs of people. You have to study your potential users as much as you can. Start the research by collecting data about the demographics and behavioural trends.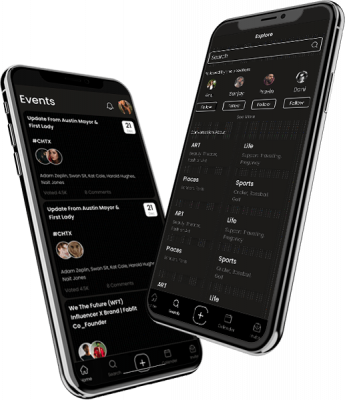 Analyze the average age of your users, their residence and what devices they use. Apart from that, find out what their expectations are and what decreases the desire of the user to download the app.
> Choose a revenue stream
The next step is that you need to choose a suitable monetization model. When you get to know about your users better, you can also predict what the users pay for.
Freemium:

Social media apps are all about networking with people without any charges. So for an ideal voice-chat social media app development, it is better if you offer the freemium model. But you can also allow them to pay for using advanced features of the app.
Paid or premium model:

It is a straightforward model where your users will have to pay for using the app. Though this is not used often, you can try this if you believe that your app is worth their penny!
Note: Instead of headlong releasing the paid version, you can let the users use the app for a certain period for free and then ask them to pay for using the app further. It might increase the curiosity among your users, and the chances are high that they will start using the subscribed version.
Advertisement:

This model is adopted by many social media apps. And to put it simply, it is a money-rewarding model.
> Hire a right app development team
Having an idea and reproducing it into a successful product is where your talent lies. So to help you launch a Clubhouse like app, choosing a qualified and expert development team is crucial. The team should have year-long experience in creating social media apps. Because only they can understand your requirements better and come up with the right strategies.
Important note: AppDupe is a successful social media app development company, who has been producing hundreds of social media apps per month. Our usage of technology and analysis will never let your business face a decline.
> Build an MVP
Creating a social media app is complex. Adding to that, since the app is going to be audio-centric, instead of straightaway launching the app, we highly recommend you establish a minimum viable product and start testing its technical performance. Let your potential users look at what they like and what they don't in your app. You can take their reviews into consideration and improve your app.
In a nutshell
With social media apps altering everything in the world, you could have already felt that the competitions are also growing higher and higher. It's high time that you launch a Clubhouse clone as soon as possible to not miss out on the popularity and revenue that you could gain from it. So, call our experts team now and soar high in this lucrative industry.
Ready to launch a booming social media app? Grab our Clubhouse clone

Marketing is my soul mate and writing is my side kick. Using my writing skills to share the knowledge of app development and upcoming technologies.
Have a Crypto Platform/NFT Marketplace Related Development Idea?
---
Get your free consultation now