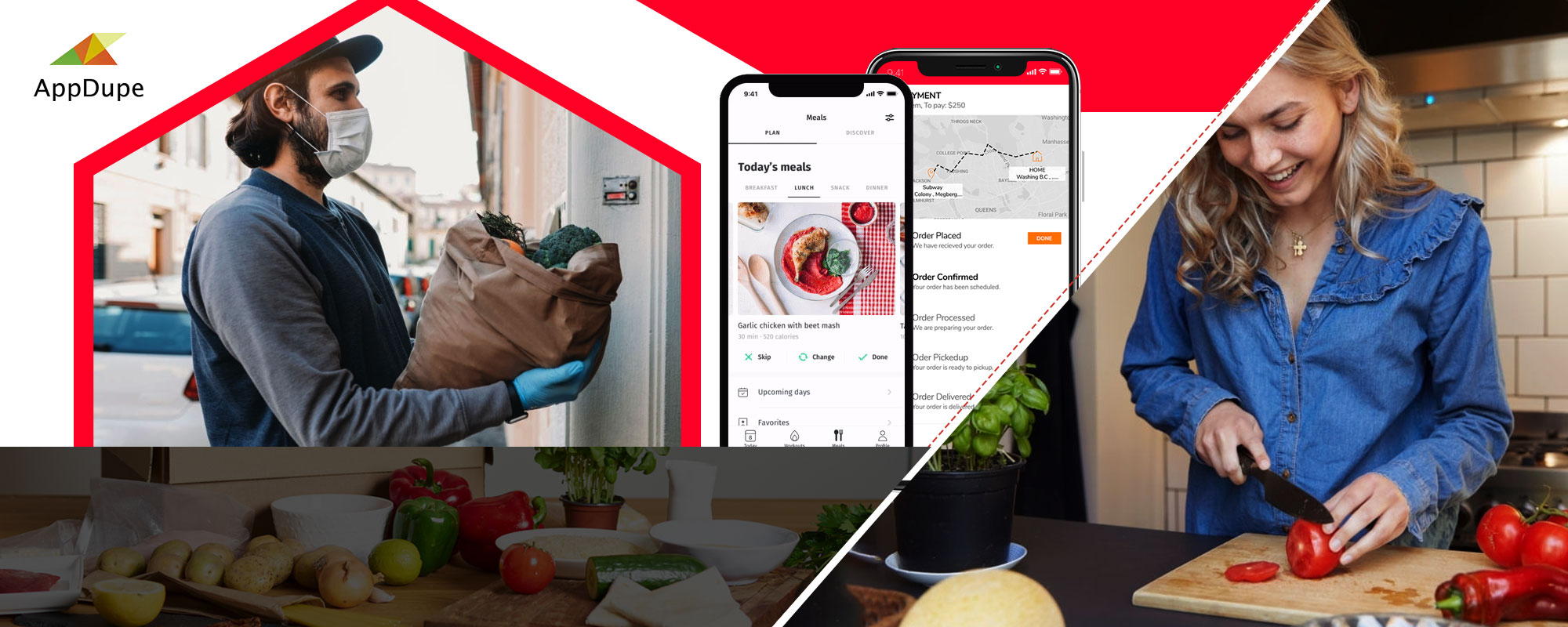 In today's world, where people expect services anytime and anywhere, on-demand apps have become an integral part of people's lives. These apps have made doorstep services a possibility for people with just a few taps on their smartphones. Amid the COVID-19 pandemic situation, on-demand delivery apps like UberEats, in particular, food & grocery delivery apps have garnered a massive audience base and have soared in popularity tremendously worldwide.
However, the outbreak situation has reiterated the need to stay healthy among people, propelling them to consume nutritious food. This is where meal prep apps come into the picture. People ordering via such apps enjoy pre-packed but healthy food anywhere and anytime. With a predominant number of food delivery apps focusing on bridging the gap between restaurants and consumers, markets with high worth like that of the meal prep business go unnoticed.
An entrepreneur with the right approach can gain a stronghold of this emerging market. Are you one such entrepreneur with a highly executable action plan and carrying the desire of setting foot into the sector? If so, this blog provides you with quality insights & overviews on launching a meal kit preparation business.
Highlights of the blog

The Meal Prep Business – A Quick Glance
Understanding the Target Audience – Pivotal in Numerous Aspects
Locality-based Market Research – A Competitive advantage
Action Plan & Business Strategies – Key to instant traction
Developing the Meal Kit Delivery App – The Foundation
The Marketing & Digitization Strategies – A Giant Leap
Challenges along the Road – Prepare for Battle
Conclusion
The Meal Prep Business – A Quick Glance 
Simply put, the meal prep & delivery business is similar to any other food delivery business out there, except for the fact that instead of delivering calorie-rich pizzas or burgers, ready-to-eat, highly-nutritious food is delivered to customers. You can provide healthy eating options by enabling customers to heat the food in the microwave before consumption.
It is to be duly noted that in the meal prep business, an entrepreneur has to gather the necessary resources to prepare the gourmet food in the first place. Some of the market conditions that signifies the tremendous rise of the meal prep business include,
According to Grand View Research,
The market for meal kit delivery service was valued at a massive $7.6 billion in 2019.
The market forecasts a healthy CAGR of 12.8% between the forecast period 2020 and 2027.
With such a healthy CAGR, the market is expected to clock a $20 billion valuation by the end of 2027.
Understanding the Target Audience – Pivotal in Numerous Aspects 
A plan for any business is incomplete without identifying the potential target audience. Similar to any other business, you need to target your meal prep business towards a specific set of audience. Here's a list of buyer personas who can benefit from your business comprehensively,
Your target audience can be those customers who wish to consume healthy food and reduce weight. Streamlining your meal kit delivery app towards customers signing up for weight-loss programs can do the trick.
Those customers who have adapted themselves to the fast-paced environment, wherein they neither have the time or energy to prepare healthy food, can be your potential customers.
The final set of target audience involves a broad perspective, as in everyone who wishes to consume nutritious food by ordering online.
Locality-based Market Research – A Competitive advantage 
Now that you have identified your customers, it is time to pinpoint a particular location to initiate your business proceedings. Locality-based market research plays a vital role in gaining a competitive advantage over rivals. Here are some things to consider during market research.
Streamlining with the customer frequency: At the end of the day, a business that satisfies customers gets to survive another day. Hence, before initiating UberEats Clone app development, analyze what customers are expecting from a meal kit delivery app. Conducting surveys or hearing constructive feedback can go a long way in ensuring sustainability.
Assessing competitors' pros and cons: Competitor analysis is another key element when it comes to market research. Identifying your local opponents and evaluating their pros and cons can help you derive areas of improvement in no time.
Action Plan & Business Strategies – Key to instant traction  
Initiating a business and running it successfully is no easy feat. In today's world, entrepreneurs end up on the losing side even after having a groundbreaking idea because they seldom cared about their business plans and future operations. Right from curating a list of strategies to stay on top of customers' radars to crafting a sustainable action plan, your meal kit delivery platform's success invariably depends on these simple yet effective actions.
Action plan: Action plan, in simpler terms, refers to the visualization of your end-product in the paper. Do not miss out on external factors like physical/mental fatigue, resource availability, time, etc., when devising your action plan. Organizing and streamlining your resources based on your action plan is ideal for eliminating hurdles down the way.
Business strategies: Speaking of strategies, different delivery apps come with multiple approaches in view of luring the audience. In a superficial tone, strategies can be your USPs (Unique Selling Propositions). Conduct extensive brainstorming sessions with your technical team on ideas like implementing features, the tech-stack, etc.
Developing the Meal Kit Delivery App – The Foundation 
As a business owner, you have varied options when it comes to app development. Here, we'll narrow down the list to the top 2 techniques that have been predominantly under use to transform an entrepreneur's vision into reality.
Build from scratch: This conventional method gains mixed acceptance even today. Here, you approach an UberEats Clone app development company or freelance developers. You organize and follow-up with the company/developers and roll out your food delivery app in 3-5 months.
Customizing readymade clone apps: This emerging technique involves modifying clone app solutions from app development companies. You can launch the white-labeled, custom-built UberEats clone app in a matter of a few days.
If you're an established entrepreneur who needn't worry about the budget, you can opt for developing an app from the ground up. However, if you're a budding startup with a limited budget, clone app solutions can come in handy. Either way, it depends on your finesse and the ability of the app development company to transform your ideas into a highly valuable & reliable product.
The Marketing & Digitization Strategies – A Giant Leap 
Most entrepreneurs fail to look at the big picture here. The market is becoming increasingly crowded with each passing day. The need to reach out to potential target audiences has propelled entrepreneurs to experiment with the marketing & personal branding of the platform.
Among various marketing trends, digital marketing is an ideal way to reduce the overall budget and enhance conversion rates. Some of the crucial aspects of digital marketing include,
Social Media Marketing – Facebook, Twitter, LinkedIn, etc.
Inbound Marketing – Content Creation, SEO, etc.
Ad Marketing – Google Ads, Third-party ads, etc.
Here's an interesting fact – 'Successful online platforms spend one-third of their development cost on marketing.'
Challenges along the Road – Prepare for Battle
Successful businesses overcome challenges to gain a stronghold of the market. Here are some challenges that you may face during your meal kit delivery or UberEats Clone app development.
Handling the delivery chain – Promising accurate deliveries has become a norm for food delivery apps nowadays. Hence, ensure you have an efficient in-house delivery team or gig workers to do so.
Fluctuating audience – Consuming healthy food as a habit is gradually declining, especially among millennials. Unless and until you gain a customer base in your initial months, sustainability in the sector becomes a huge concern.
Conclusion 
We hope this blog provided you with a detailed overview of different aspects involving meal kit food delivery app development. At Appdupe, we have helped entrepreneurs like you comprehensively with our cutting-edge app development solutions. Reach out to us, and we'll help you launch a world-class meal kit delivery app right away.
Get our ultra-modern food delivery app today

Marketing is my soul mate and writing is my side kick. Using my writing skills to share the knowledge of app development and upcoming technologies.
Have a Crypto Platform/NFT Marketplace Related Development Idea?
---
Get your free consultation now