Insights to Launch a B2B ride-hailing business: How Gett raised $200M at $1.5B valuation?
Author
Uber Clone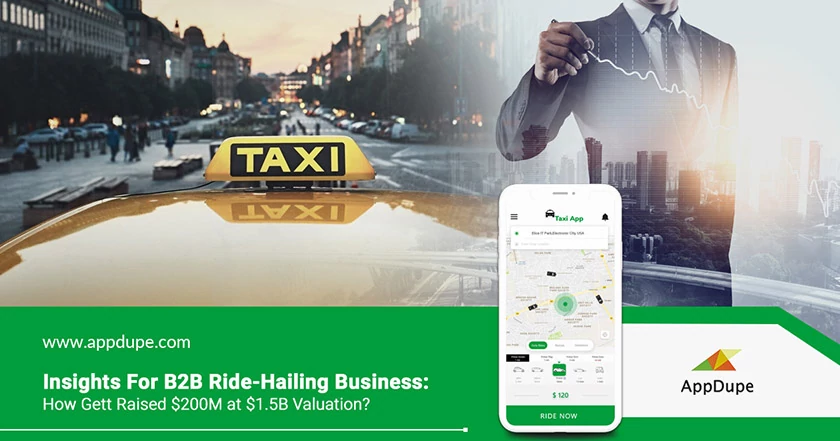 When it comes to ride-hailing services, we always tend to look at Uber as the Goliath in this field. The fact that the number one place had no contenders even at a thought-level speaks volumes about the success of Uber.
However, what Uber has done is that it has opened the floodgates to immense possibilities of location-based services that are provided on demand. This has prompted Uber to open a lot of parallel services like food delivery. It has also encouraged a lot of local players to get into the business of on-demand cabs.
The Untapped Segments
More number of people and cabs available means that there is a lot of business available for both the segments beyond Uber. A few of them have taken on Uber directly and have found local success. Go-Jek in Indonesia and Ola in India could be stated as examples of this.
The Dark Side
Uber has achieved unprecedented success by marking its presence in more than 650 cities and employing more than a million drivers across the globe. It has been valued at $70 billion and is in talks with Tencent for its next round of investments.
However, Uber, in spite of its massive success, was not able to avoid losses. These losses might be inevitable for a company of Uber's magnitude. Is there a possibility to create a business that is similar to Uber by identifying a niche with a lot of potential and still keep the balance sheet showing profits?
Enter Gett
A practical answer to this question was given by the Israeli cab hailing company called Gett. Gett did not make much news until last year. But, now Gett is all set to change the game by raising $200 million from a multitude of investors like Volkswagen, Access, and Kreos.
The company is valued at a whopping $1.4 billion. The number might not look great compared to Uber, but the fact that Gett has always been positive in Earnings before interest, tax, depreciation, and amortization (EBITDA) is nothing short of awesome. Achieving success in a niche sector for a local region will be a good start for a budding entrepreneur. If you are trying to develop a taxi app, try a ready-made solution like Uber clone app.
What Made Gett a Success?
Gett's founder and CEO Dave Waiser stated in his latest interview that the company plans to go for an IPO (Initial Public Offering) by the first quarter of 2020.
He said that the focus of Gett was not on the number one spot but rather in creating a sustainable business that will keep attracting a set of elite users again and again.
One of the biggest factors that fuelled the success of Gett is its focus on specific areas. Right now, Gett operates only in Israel, London, Russia, and New York. In cities that it focuses on, Gett has ensured the quality of its services – the commitment to customer satisfaction does not even falter marginally.
In London, Uber aspired to create a cab culture of its own. However, Gett partnered with the classic black taxis of London, offering pickups from the rides that are booked on the Gett app.
In New York, the yellow taxi services were unshakable since it was popular among people and even Uber couldn't find ways to destruct this popularity and incept its service at first. However, what Gett did was something that Uber did not foresee. They partnered with over 20,000 companies in providing B2B ride-hailing services. Gett was known by the new business brand Juno and it remained New York's constant number 3 going by the number of trips.
The Magic of Thinking Different
When we talk about Instagram quotes that say great people don't do different things but rather do things differently, it might not have made sense. However, with the success of Gett, we know and we understand that it is the small differences in perspectives and philosophies that can differentiate a company. While everybody aspires to be number one, Gett and its CEO had a different perspective, showing some astounding statistics on the EBITDA aspect.
Gett does not plan to be sold out to the competition or to shut down its business. When they are fuelled by funds and riders from the automobile giant Volkswagen, Gett is all set to become a case study for how a company can work differently on a concept that was taught to have no more room for vertical innovation.
Have an idea to startup a B2B ride-hailing business?

Marketing is my soul mate and writing is my side kick. Using my writing skills to share the knowledge of app development and upcoming technologies.
Have a Crypto Platform/NFT Marketplace Related Development Idea?
---
Get your free consultation now