Mental Health has become a subject of profound importance in today's world. In this fast-paced world, people are subjected to excessive stress and strain throughout the day. The need to relax and rejuvenate has made people explore ways to take care of their mental health. Following the conventional method of consulting mental health, practitioners come with significant pain points like lack of privacy, dedicated time for sessions, etc. The need for an efficient yet simple way to maintain mental health has led to the rise of mental health apps like Blueprint, Calm, MoodTools, etc. 
But, venturing into a market where information of such magnitude like mental health is involved is no easy feat. One needs to ensure that the platform adheres to the guidelines of regulatory bodies like HIPAA, GDPR, etc. 
Are you an entrepreneur who aims to initiate your mental health app development? If so, this blog provides you with a detailed overview of the need for mental health apps and the features to integrate into the application. Besides, the blog discusses critical information on HIPAA compliance as well. Let's dive straight in. 
Mental Health as a Concern – The Focal Point 
Before storming into the segment, it is advisable to know the need and market for online mental health applications. Here are stats to signify the same, 
According to the Anxiety and Depression Association of America (ADAA), almost 40 million people in the US suffer from anxiety disorders. 

In developing countries, nearly 75% of the people worldwide with mental disorders go untreated due to the unavailability of effective treatment or solution. 

Searches for mental health apps worldwide has increased massively by 566% since 2014 (Source: Onefourzero). 

Blueprint, the most prevalent mental health app, witnesses 100,000 daily users. 

Recently, Blueprint raised $3.4 million in seed round funding, led by Bonfire and Lightbank ventures. 
Thus, it is clear from the above stats that the online medium provides befitting answers to people in need of mental health help. With smartphone penetration soaring massively,  there cannot be an ideal time for you to foray into the sector. 
Blueprint – Automating Mental Health Data Collection 
Launched in 2019, this Chicago-based mental healthcare app accumulates and streamlines mental health data like sleep, exercise, etc., by automatically detecting them via smartphone sensors. The data can be interpreted by mental practitioners and aids them significantly in providing the right treatment and consultation to patients.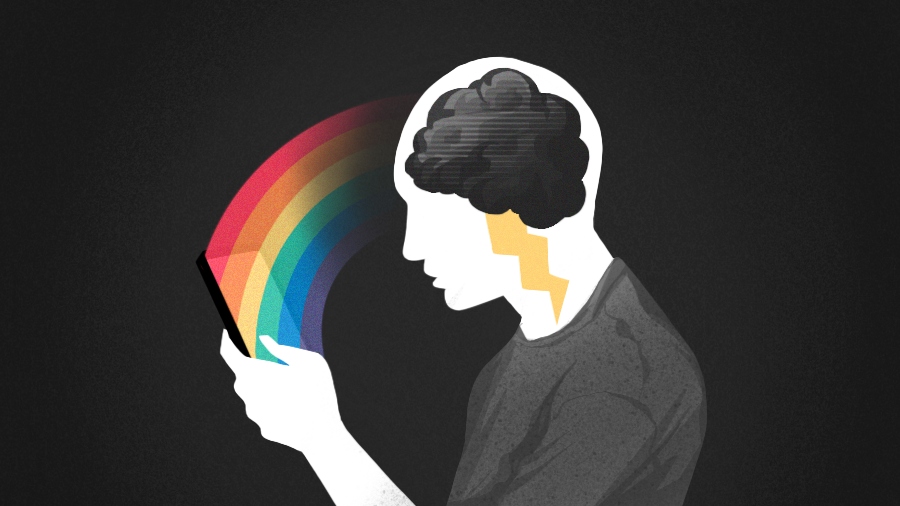 In April 2019, Blueprint raised $1.3 million in funding, led by Lightbank and Hyde Park Angels. With aggressive plans, the platform has raised another $3.4 million in seed round funding, propelling its valuation to $4.7 million recently. 
Blueprint has made it outrightly clear that the platform collects measurements from patients between appointments. With the data, clinicians or medical practitioners can help patients recover faster than usual. In addition, the platform also submits reimbursement claims after every successful consultation by the patient. 
Cutting-edge Features – Key to Engagement rates 
During the development of a mental healthcare app, one needs to provide the utmost attention when it comes to incorporating features. Features directly impact customer engagement levels. Ensure that the app's workflow is minimalistic & straightforward, offering a rich & vibrant experience. Here are some crucial features to integrate into your Blueprint health app clone. 
Registration:

After downloading the app, users register with the mental health platform by specifying the necessary information or logging in via social media handles. 

In-app Alerts:

It is vital to remind users from time to time of the need to do exercise or do some physical activity to relax during work. Ensure that the platform provides periodic alerts on different messages, consultations with clinicians, etc. 

Social sharing:

Be it any achievement in the platform, or sending relevant data to friends/family, integrating a social sharing option helps in boosting brand visibility substantially. Ensure that the platform houses multiple sharing options like email, Facebook, WhatsApp, etc. 

Groups/Forums:

This feature is vital to ensure maximum user engagement rates. With the groups/forums feature, users can organize or join groups, wherein users with the same disorder or condition can discuss among each other. This way, the platform acts as a support system in helping users take care of their mental health. 

Scheduling appointments with therapists:

Users can browse therapists and can filter them out extensively based on numerous sorting metrics like ratings, the price per hour, etc. They can schedule appointments with their desired practitioners based on their availability. 

In-app chat/call:

Besides providing virtual consultations, it is ideal to have an in-app chat/call feature. This way, users can reach out to fellow users of the platform or clinicians at any time and resolve their queries. 

Intuitive dashboard for practitioners:

Practitioners can get detailed information on their patients' data, upcoming appointments with patients, and their earnings, etc., all under one place with the help of a unified dashboard. 

Real-time analytics:

The admin can generate detailed reports on the app's performance based on numerous metrics like daily users, ratings, etc. 
Adhering to HIPAA – Ensure Privacy & Security
Most healthcare apps on the Google Play Store or the Apple App Store aren't HIPAA-compliant because they do not include Protected Health Information (PHI). 
To gain the trust of customers, it is vital to include PHI and adhere to the guidelines of regulatory compliances like HIPAA, GDPR, etc. 
HIPAA compliance:

Health Insurance Portability and Accountability Act's (HIPAA's) privacy rules and regulations invariably include the PHI. This information includes details on the patient's physical and mental conditions, payment details, and other crucial information that can be traced back to the patient. Ensuring absolute privacy and security to this information enables a mental healthcare platform to comply with HIPAA regulatory bodies. 

GDPR compliance:

General Data Protection Regulation (GDPR), in simpler terms,  refers to the privacy and protection of data in the European Union (EU) and European Economic Area (EEA). GDPR regulates businesses in ensuring the confidentiality of the information and personal data. 
Crucial Challenges – Eliminate Them Effortlessly 
Any app development invariably involves different hurdles. It depends on entrepreneurs' ability to eliminate these hurdles and steer a business/app towards success. Here are some key challenges during mental health app development. 
Accurate and reliable information:

The treatment provided by practitioners invariably depend on the data collected from the platform. Hence, ensure that the information recorded is accurate and reliable. Besides, providing personalized suggestions to patients based on their health conditions must not directly or indirectly harm them in any way. 

Wearable Devices:

People find it challenging to carry their smartphones everywhere. Hence, ensure that the platform is compatible with wearable devices like smartwatches and other wearable gadgets. 
Conclusion, 
Now that you have understood the ins and outs of mental health app development, it is time to set foot into action. At Appdupe, we help entrepreneurs with our enticing end-to-end app development solutions. Reach out to us, and emerge as the next big thing in the sector right away.
Launch a mental health app like Blueprint

Marketing is my soul mate and writing is my side kick. Using my writing skills to share the knowledge of app development and upcoming technologies.
Have a Crypto Platform/NFT Marketplace Related Development Idea?
---
Get your free consultation now