Nvidia Promises Better Video Calls By Unveiling Maxine AI: Time To Launch Your Zoom Clone With The Best Cloud-AI Video Streaming
Author
Zoom Clone
Leap Years! That's the right term to discuss the advancements in the tech industry. Leveraging technology has become the core of invention in recent decades. Right from cellular phones to availing services at our doorsteps, technology has come a long way. While it is hard to believe, the new normal is upon us. Turning digital has been the norm for many years, right? Remote working has emerged as the only solution for several organizations aiming to safeguard their employees and maintain productivity simultaneously. 
When speaking about working from homes, there are two indispensable tools – file sharing and video conferencing. A poor Internet bandwidth, coupled with a noisy environment, makes video conferencing the most dreadful part of the 'new' normal among employees. With Zooms, Skypes, and Airmeets sprouting up, organizations have managed to stay afloat somehow. Emphasis on 'somehow.' The next major shift in video conferencing appears to be Nvidia's Maxine AI that has hit the floors a few days ago. 
The mere idea of background noise removal, improved eye contact, conversational AI avatar, etc., has made the tech world buzzing. What exactly does Nvidia's Maxine AI have in its store? Can this Cloud-AI video streaming platform replace the likes of Zoom and Skype? Are we experiencing the future of technology? Read further to find out! 
Nvidia's Next Big Thing – Maxine AI 
Nvidia has moved one step closer to the future – Nvidia Maxine Video Streaming platform. One notable aspect that has made the entire industry go crazy is that Nvidia has promised to rectify some of the most common problems when it comes to video calls. 
Artificial Intelligence (AI) has a crucial role in making the future of video calls a reality. Maxine comes with a bulk-load of essential attributes. They include, 
Reduced video bandwidth usage to one-tenth of the H.264 standard 

Improved eye contact during conferencing

Super-resolution

Noise removal

Face relighting

Real-time translation and transcription

Conversational animated AI avatars 
While features like real-time transcription and face relighting are common among popular platforms like Microsoft and Apple, Nvidia's Maxine appears to be an upgraded version in every aspect. 
Bandwidth reduction – A major milestone 
Among various features, the AI-assisted video-compression tool has been the talk of the town. This feature's ideology is to turn your face into a static image and read your facial expressions. The AI animates the static image with your facial moves, transforming your face into a virtual chat avatar. 
In a video explaining this tool, Nvidia compares the original video conferencing template that uses nearly 100KB per frame. Upon using this tool, the AI-compressed video uses only 0.12 KB per frame. Quite an astounding feat!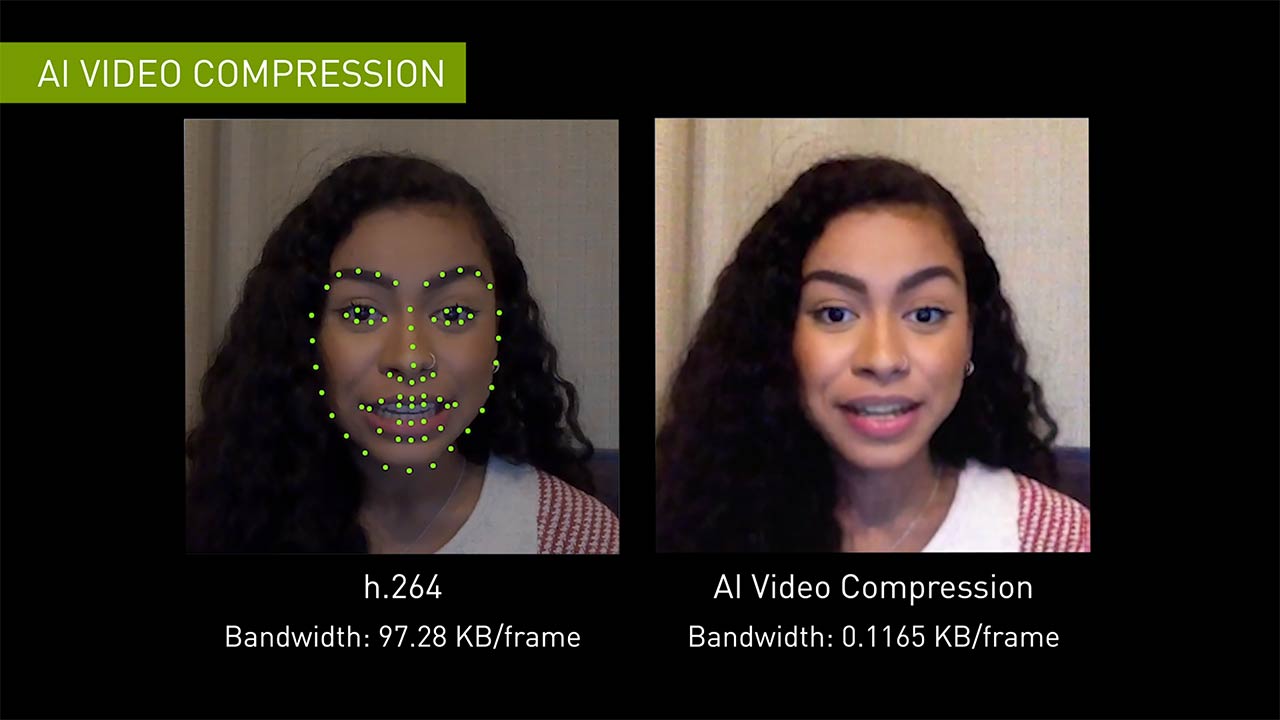 (Source: AI-Powered Video Conferencing with NVIDIA Maxine)
Video upscaling and Noise reduction – Enhanced quality 
Webcams determine the quality of the video on any given day. Nvidia promises better quality and performance to even those who do not have the best webcams. Similar to Nvidia Broadcast's Auto Frame, the AI-assisted video upscaling feature ensures better quality presentations. 
One of the most negative impacts of remote-working is attending conferences in a noisy and clumsy environment. Although 'mute participants' can be the way out in host sessions, conferences, where everyone's attention and input is essential, remains a problem to be addressed. External noise cancellation isn't entirely new to Nvidia as they have spent exhaustive hours on their powerful Nvidia RTX voice's noise reduction features. 
Conversational AI Avatars and Virtual backgrounds 
Nvidia's research on Jarvis SDK has yielded positive results when it comes to virtual assistants. This AI-assisted innovation comes with features like speech recognition, language understanding, and speech generation. This way, these AI avatars can take notes in real-time and answer questions in human-like voices. 
Virtual backgrounds isn't a relatively new concept, considering the entire world is familiar with Zoom and Google Meet's background blur functionalities. Being a developer-focused tool, it is hard to leave out the most common feature of any video conferencing platform nowadays. However, Nvidia's face alignment feature, matched with virtual backgrounds, seems a pretty decent way to present in conferences. 
Also Read, Launch Your Own Zoom Alternative With A Secure And Encrypted Video Conferencing
Nvidia's Maxine isn't coming straight to consumers 
Nvidia's R&D on AI and video conferencing is one to be admired for. However, the mountainous task lies in the fact that well-established companies must be ready to use Nvidia's technology. Nvidia's AI Maxine is not a consumer toolkit. It is available for third-party companies to acquire and utilize in their respective platforms. So far, only one company, Avaya, has joined with Nvidia to use specific features of Maxine to improve their software. 
Merging AI with Cloud-based video streaming platforms 
Cloud-based video streaming platforms are flourishing ever since COVID-19 happened. Zoom, which had only 10 million downloads in 2019, exploded in its daily download rate, surpassing the 300 million mark comprehensively within late April 2020. According to App Annie, business conferencing apps witnessed 62 million downloads between March 14-21. 
Video-based conferencing comes with multiple advantages like reduced maintenance costs, fast and simple workflow, enhanced security aspects, etc. Bandwidth, noise, and video quality are the only drawbacks of the video conferencing vertical. Nvidia's Maxine proves that AI can be utilized to its fullest potential to eliminate numerous hurdles in video conferencing. 
It doesn't take much time for third-party brands to introduce cloud-AI based video streaming platforms into the remote-working ecosystem. 
Boost your chances of success with a trendsetting Zoom clone 
Even though the situation is returning to normalcy, remote-working is here to stay. Be it business communications or virtual classrooms or teleconferencing or personal connections, video conferencing can be the safest way out in the future. If you're an entrepreneur eyeing for a potential breakthrough, do not hesitate to set foot into this flourishing sector. 
Appdupe's tech-savvy experts have made the best use of modern technology to craft a futuristic white-label Zoom clone script beneficial and profitable. It is time for worthy entrepreneurs to roll up their sleeves and introduce a feature-rich Zoom clone app that can cater to every need of people. 
Final thoughts, 
Changing the world by revolt and revolution has become a thing of the past. Nowadays, it is technology that can steer change in the world. Remote-working wasn't an integral part until COVID-19 happened. Is it COVID-19 that propelled this shift, or is it the human nature of getting things done even in the most unforeseen circumstances? Either way, technology is HERE for good! Utilizing and reaping profits depends on the entrepreneur's finesse! 
Looking to Startup AI Cloud Video Conferencing Platform?

Marketing is my soul mate and writing is my side kick. Using my writing skills to share the knowledge of app development and upcoming technologies.
Have a Crypto Platform/NFT Marketplace Related Development Idea?
---
Get your free consultation now