Seeya Clone: Enable Easy Discovery of Friends by Acquiring the Video Conferencing App
Author
Seeya Clone, Zoom Clone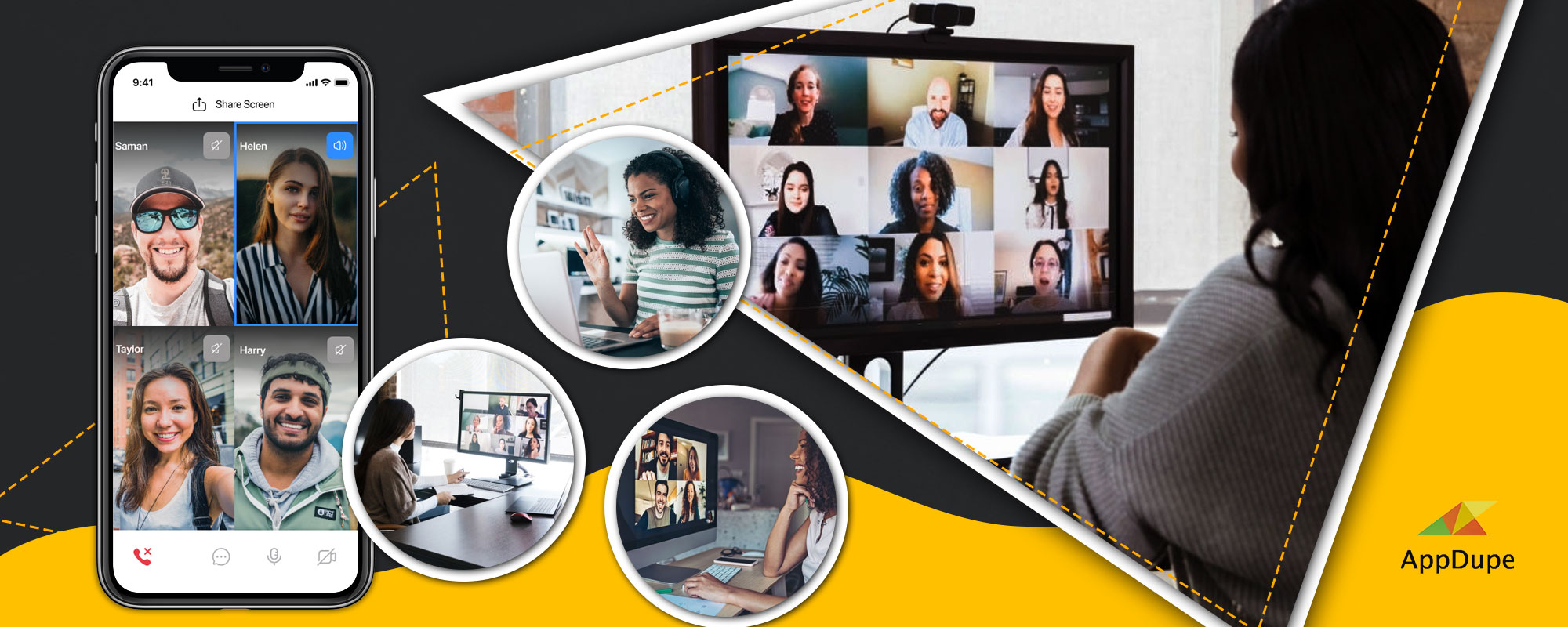 The Covid-19 pandemic led to a huge change in how people communicate with each other. Video calling and chatting was the primary way to see each other's faces due to lockdown measures and social distancing. Many users started getting into long-distance relationships. Seeya is a well-known online video chatting app. People can randomly chat with strangers across the world. The Android app of Seeya has more than 500,000 downloads by users.  
Entrepreneurs looking to rule the digital world can hire AppDupe for customized video conferencing apps like Seeya. Our qualified developers create Android and iOS apps for users. An admin dashboard handles grievances from users and monitors the day-to-day business activities efficiently.
What are the noteworthy features of our Seeya Clone?
Social media login facility – 

New users can instantly sign up on our Seeya clone app. They can sync their Facebook, Google, Instagram, and Twitter accounts. 

Start match option –

Members of the Seeya clone script can connect with like-minded people quickly. They have to press the "Start Match" button and any person available for video chat will automatically pop up on their screen. 

Match and Chat option –

Users can match with an unlimited number of people on the Seeya clone script. They can organize their video chats based on the name of the person and the time from which they started communicating. They can pick a random user by tapping the "Select my chat group" option. 
Attract millions of Users by Setting up the Seeya Clone

Connect on WhatsApp Contact us now!
Bluetooth, Camera, and Microphone linking –

Members of the Seeya clone app can establish connections with paired devices. Users can utilize their Cameras to record videos after agreeing with the required permissions on an app like Seeya. They also record audio through their microphone and can easily share it with anyone.  

A Block mechanism –

Users can block a person's profile if they do not like him/her. Hence, the blocked person cannot do video calls to the specific user. The members of an app like Seeya can also unblock a user anytime.  

An integrated feedback system –

Users can rate the quality of the video calls on a scale of 1-5. They can post their comments and opinions in the Feedback section. Entrepreneurs can go through the reviews and take action to improve some features and prevent an unpleasant experience for members in the future. 

A Reporting mechanism – 

Users can report abusive, homophobic, misogynistic, and racist content received from other people to the admin of an app like Seeya. Hence, the admin will suspend the accounts of those users who have violated the community guidelines. 

Thumbs Down Button –

Members of an app like Seeya can reject a request for a video chat from a person by pressing the Thumbs Down button.   

Sharing of Hearts symbol –

Users can send Hearts symbol if they like a profile of another person on the Seeya clone. Hence, this increases their chances of getting a match with a user who shares similar interests and tastes.

Implementation of several security measures –

We ensure a high level of data protection and privacy for all the registered members on the Seeya clone app. We implement security steps like anti-DDoS protection, email verification, end-to-end encryption, multi-factor authentication, and SMS authentication. This prevents the occurrence of hacking and phishing attacks. 

Provision of 24×7 technical assistance –

Members reach out to the inbuilt Help Centre for sorting out glitches and issues related to account management, privacy, and security. Round-the-clock technical support is offered to users via email, live chat, and phone in several languages. This maximizes the retention rates for entrepreneurs. 
What are the advanced features of our Seeya Clone Script?
We offer many premium features for users in our Seeya clone. It includes attractive effects, filters and stickers, customized masks and graphics by using Augmented Reality (AR), group video calling, live broadcasting, merging with the contact list, screen-sharing, sharing of instant notifications, virtual noise cancellation, and Voice over Internet Protocol (VoIP) calls. 
How entrepreneurs mint more money by owning an app like Seeya?
Importantly, you can pocket huge revenue from different sources by procuring our Seeya clone. Entrepreneurs earn income from in-app purchases. offering monthly/ yearly subscription plans with premium features to users, publishing targeted advertisements, and transaction processing fees.  
What is the tech stack used for Seeya Clone app development?
We use frameworks like WebRTC and Wowza Streaming Engine to build an app like Seeya. Notifications are shared regularly with the users through Twilio. Krisp is utilized for noise cancellation, and video calls are enabled via MirrorFly. 
Besides that, our mobile app developers make use of programming languages like JavaScript, Kotlin, and Swift. MongoDB, MySQL, and PostgreSQL ensure efficient management of the database. Above all, we use platforms like Amazon Elastic Compute Cloud (EC2) and Google Cloud for securely backing up the data of users. 
How much is the budget outlay for creating the Seeya Clone?
AppDupe divides the total cost of Seeya Clone app development into different stages. The budget depends on factors like the choice of basic and advanced features, the level of customization demanded by the entrepreneurs, hourly rates paid to the front-end and back-end developers, the tech stack used, and the time devoted.   
Entrepreneurs have to spend more money for utilizing services like bug fixing, maintenance, software updates, technical support, and third-party API integration.
Wrapping Up
The global video chatting market will be worth a humongous $4.66 billion in 2021. Moreover, it will grow by an impressive annual rate of 11.4% for the next 7 years and cross a value of $9.95 billion by 2028.  
North America and Asia-Pacific regions are apt for developing a video calling app like Seeya. Positive trends like better Internet connectivity due to the launch of 5G, an increase in the youth population, and a rise in smartphone sales will increase the number of users registering on video calling and chatting apps. 
Additionally, entrepreneurs can boost the user experience in an app like Seeya through powerful technologies like Artificial Intelligence (AI), Machine Learning (ML), and Virtual Reality (VR). Our Seeya clone can be flexibly used for personal networking, professional communication, and social interaction. 
Hence, take a strong position in the digital media world by teaming up with AppDupe now for scintillating Seeya Clone app development.
Stay ahead of your rivals through Seeya Clone App

Connect on WhatsApp
Schedule a Meeting

Marketing is my soul mate and writing is my side kick. Using my writing skills to share the knowledge of app development and upcoming technologies.
Have a Crypto Platform/NFT Marketplace Related Development Idea?
---
Get your free consultation now