There are many apps out there to help you during this season, Stuck in the snow? use the app to get help. Choose which one according to your wants and needs. This Snowfall be prepared. Wish to be the one to own an app? Contact us to make that happen. Be the owner of a Plowz and mowz or a PlowMe. Uber for Snowplows is here!
The landscaping company owned by J and R Lawn operates 20 snowplows in and around Cicero, N.Y . Another tech company uber for snowplows, Plowz and Mowz had promised a profit raise in Boston. J and R were willing to bet four plows, Eight workers, money for gas and hotel rooms on a faraway post-blizzard boom.
So this is how it works, customers sign up in advance to be dug out when it snows. 
and 
caters to homeowners who don't pay for a regular service but want one occasionally. The startup uses software to assign new jobs to drivers who are already planning to be in the area when it snows. Wills Mahoney, launched the startup in 2013 with a former college roommate. He expects to process 2,000 jobs in Boston as a result of the recent blizzard, which had 18 inches of snow. "We see ourselves as billion-dollar company," Mahoney says. 
There are many more competitors in the market right now like PlowMe with a similar goal in the same filed. PlowMe, a second startup trying to use technology to improve an age-old business. "What we're doing is building infrastructure for route density for snow and lawn guys," Diab says
Diaz launched PlowMe in 2012 as an on-demand service, Plow drivers needed to improve their efficiency with regular customers along set routes. PlowMe is designed to be a route-management tool and a marketplace in which drivers can trade or sell parts of their route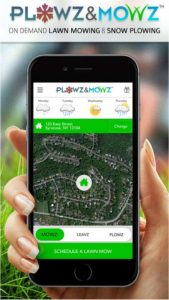 s to others. A bit different than the others.  An estimated 50,000 small and medium sized plow businesses serve the U.S., with average revenue of $100,000 per year, according to Phill Sexton, chief knowledge officer at the Snow & Ice Management Association. Private-equity firm KKR last year paid $1.6 billion for the East Coast landscaping company Brickman and then merged it with California based ValleyCrest, forming a national plowing giant.
This business is very different from the taxi business, Since the taxi drivers know the amount of rush they get during the peak hours. But here you're not sure if you may or may not get customers who need help. Although, it majorly depends on the area and the time. Some areas might have 10 customers while the other might not have any. Depending on the amount of snow in each area the drivers must be smart.
There is no other choice in this business but to scale, says Diab.
If you wish to have your own PlowMe/Plowz and Mowz  and many other, check this out : http://appdupe.com/uber-for-x-clone-script/

Marketing is my soul mate and writing is my side kick. Using my writing skills to share the knowledge of app development and upcoming technologies.
Have a Crypto Platform/NFT Marketplace Related Development Idea?
---
Get your free consultation now