3 Incredible tips to multiply your earnings from an Uber for beauty app
Author
Uber for Beauty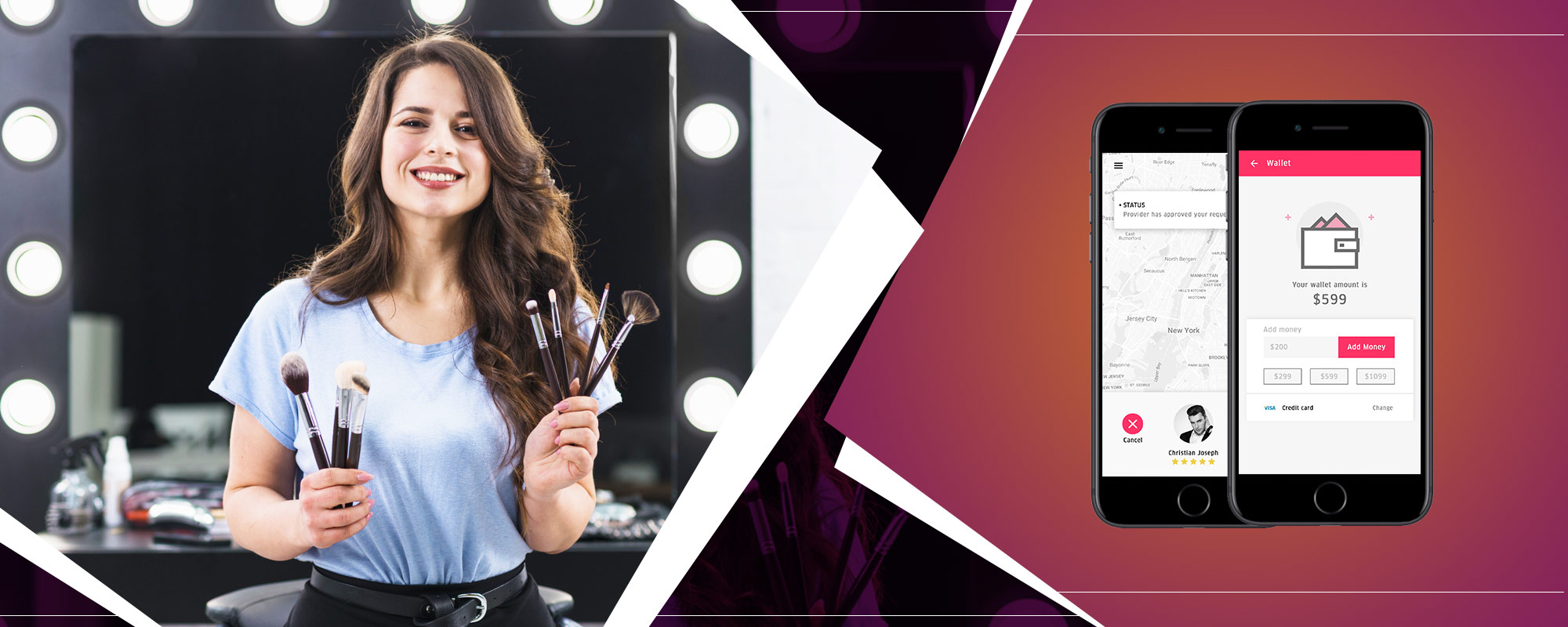 With an estimated worth of $805 billion by 2023, the on-demand beauty industry has been steadily growing for the past years, and it does not look like it will cease anytime soon. Make the most out of this thriving industry and earn higher profits by launching your on-demand beauty app.
Your app is the key to run your beauty business, and it is vital to build it with the utmost caution. Read on to understand the know-how for successful on-demand beauty app development, spiking your returns on your investments.
Provide all possible beauty services
Customers, who wish to avail salon and spa services along with make-up services, have to travel from one location to another. Also, they need to wait for their turn, which makes them tired and look for a solution that helps them avail these beauty services in the comfort of their homes.
If you offer all the services that are available in the beauty sector through your Uber for beauty app, it becomes relatively easy for your users to book the services they need with just a few taps. Also, they do not need to commute, and the service will be provided at the date and location of their convenience. 
Thus, you could build an amazing app for your own salon business or function as an online marketplace connecting people looking for beauty services with professionals offering those services.
Ensure to include all needed features
Your app is the platform through which they interact with your business, so make sure it is intuitive, user-friendly, and speedy. Your app should include all the basic and advanced features needed for the seamless functioning of your business.
Research the competitors in your niche and jot down all needed features to integrate into your app. Features included in an app might make or break it. So, plan accordingly by keeping your end-users in mind.
Offer extra value to your users
People go for businesses that offer an added value to the money they spent. Hence, provide them with beauty tips and other associated details that make them come to your business again and again.
For instance, when users book for a hair cut through your app, you can give them information on which haircut will suit their face and how to find out the shape of their face. It builds trust among your customers and increases the value of your business.
After the development of your app, you can also introduce referral programs through your app. It makes your customers invite their family members and friends to use your app and earn reward points for every successful referral. It increases your customer base to a great extent.
You can also offer discounts and offers from time to time, especially during special occasions. It will bring in more users who avail beauty services through your app, resulting in an increased ROI.
Wrapping up!
We hope the article is useful to you! Now it is time for you to get started on your on-demand beauty app development. Several people think that developing an on-demand app is quite challenging and time-consuming. It is only the case when you opt to build the app from scratch. Instead, you can choose clone app solutions for a quick set up of your app business.
Appdupe offers the leading ready-made app solutions that are highly customizable and scalable. You can personalize it to suit your business model. Another significant advantage is, it has all the aforementioned options integrated into it promptly.
Connect with us right away and make your dream business a reality, along with earning in higher profits.


Marketing is my soul mate and writing is my side kick. Using my writing skills to share the knowledge of app development and upcoming technologies.
Have a Crypto Platform/NFT Marketplace Related Development Idea?
---
Get your free consultation now