Scale Your Business
With On-Demand Beauty App Development Services
---
In the early days, people found it increasingly difficult to avail beauty services at the time of their convenience. They had to wait for long hours in the crowded spa and salon establishments. However, the situation had been turned upside down since the advent of apps like Uber for beauty. With these apps onboard, customers can readily make their appointments with the experts of their choice and avail of these services in the comfort of their homes. A few taps and a couple of swipes can do wonders!
Join this lucrative market right away as the demand for app like Glamsquad is not going to slow down anytime soon.
Services Included
In Our On-Demand Beauty App Development Solution
---
LIVE GEOTRACKING
---
Your Customers can always see where the nearest beauticians are in real-time in your customer-facing beautician on-demand app.
CHANGE YOUR MIND?
---
Users have the liberty to change their mind and cancel a booking at any point of time.
TALK TO YOUR BEAUTICIAN
---
Customers and beauticians can use the Uber for beauty service app itself to call or message each other regarding any queries.
WORK HISTORY
---
An excellent front end website for your customers to login, book a service, pay, give feedback and check service history.
REVIEW SYSTEM
---
Warn the other customers by leaving a detailed review on the service using the review option.
DETAILED PROFILE
---
Customers can create a detailed profile and maintain it all on the app for future references.
Core Features
Of Our On-Demand Beauty App Development Solution
---
Customer App
Manage Profiles
Customers can create and manage their profiles with ease. They can provide their personal and contact details if need be.
Advanced Search
Customers can search for beauticians by making extensive use of the advanced search engine to find the ones who fit their needs.
Estimate Cost
The on-demand salon app automatically presents the bill amount to customers, considering many factors like the beautician fee, distance to be covered, etc.
Book Appointments
Customers can schedule appointments with the preferred beauticians at the time and date of their convenience.
Instant Alerts
The status of the service, the beauticians' profiles, and related details are shared with customers via push notifications.
Payment Options
Customers can pay using any one of the payment options listed at their convenience.
Cancel appointments
Customers can cancel their appointments if caught up with their work in the scheduled date and time.
Scheduled bookings
This feature is useful for customers who want to book or schedule a service for a later time. Irrespective of the situation that presents itself, customers can book prior.
Ratings and reviews
Customers can provide their ratings and feedback for the service offered and the app experience. It helps to keep the service quality in check.
Refer and earn
Customers can invite their friends to try out the on-demand beauty service app, which in turn increases the customer base. They can receive reward points based on the number of friends they have invited.
Beautician App
Profile set up
Beauticians can create and manage their profiles with their service details to allow customers to choose them as per their preferences.
Availability toggle
Beauticians can make their availability visible to customers with the availability toggle and choose to extend their services in their available time.
View ratings and reviews
Beauticians can see the ratings and reviews shared by customers for their services offered.
Geolocation
With the GPS-enabled geolocation feature, beauticians can find customers' locations with ease, delivering their service on time.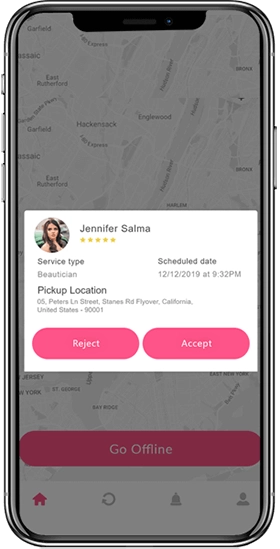 Commission report
The on-demand Uber like beautician app operates based on the rate of commission the beauticians make per day. This report explicitly explains the details of the commission earned to manage their finances.
Accept/Reject request
Beauticians can accept or reject requests based on their availability. If they are committed to another customer, they can reject the request, and another provider may take it up.
Admin Panel
God's eye view
The admin can have a complete view of the operations taking place in the Uber for beauty app to ensure better management.
Verified profiles
Beauticians can make their availability visible to customers with the availability toggle and choose to extend their services in their available time.
Advanced reports
With advanced reports, the admin can check out the areas that need more marketing to expand the business. It also gives a clear-cut idea to plan the business.
Customer support
The admin can promptly respond to the queries and grievances of customers via a 24x7 customer service option, increasing brand loyalty.
Advanced analytics
The admin can get a bird's eye view of customers' and beauticians' activities, the number of requests, numbers of bookings, commissions earned, most visited location, etc.
Set provider's range
The admin can set the distance range of the beautician who accepts the request. When a customer places the request, the beautician in the specified distance range will receive the request.
Advanced Features
Heat view
The admin can see where more customers are looking for beauty services to reroute the beauticians to those locations and pick up requests.
Legally protected
Every request is tracked via a GPS tracking system. In any worst-case scenario, the details of the geographical location will be needed for legal issues.
Booking through call/SMS/Email
Not every customer owns a smartphone to download the beauty services app. Hence, the admin can accept service requests via a phone call or SMS or email and provide services accordingly.

Email notification
A proper email containing the details of the service, such as the final bill breakdown, beautician's details, and more, is shared with the customer.
The 6-Step Workflow
Of Our On-Demand Beauty Salon App
---
Take a look at how customers can avail the Uber for beauty services in just a few taps on their smartphones.
Registration
Users can quickly sign up with the on-demand beautician app using their email IDs/ phone numbers.
Browse profiles
Users can explore the profiles of beauticians listed to find the one that matches their needs.
Book appointment
Users can schedule appointments with beauty service providers at their preferred date and time.
Status updates
Users will be continuously updated on the status of the service requested via push alerts.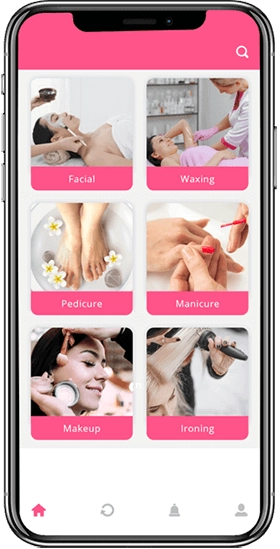 Avail the service
The services scheduled in the Uber like app for beauty are offered to users in the comfort of their homes.
Rate and review
After availing the service, users can rate and share their feedback for the service rendered.
Our On-demand Beauty Service App
Development Package With Scalable Scripts
---
At Appdupe, we strive to develop top-notch Android and iOS apps like Glamapp for the stakeholders involved in the business ecosystem. The apps we build are 100% responsive and compatible with all personal digital assistant devices, offering seamless functionality.
Our on-demand spa app development package comes with
Official
Website

User
Android App

User
iOS App

User
Web Panel

Service Agent
Android App

Service Agent
iOS App

Service Agent
Web Panel

Admin
Web Panel
Why Choose Our Uber-Like App For Beauty
---
Turnkey Solution
---
All our products are 'Turnkey'. You can start with ZERO time-to-market and capture the largest market-share.
Powerful Admin Dashboard
---
Complete control of your websites and mobile apps is comfortably available in your admin dashboard.
Scalable Product
---
Have plans of taking off and scaling up rapidly? We got your back with the most scalable robust products in each category.
Whitelabel Solution
---
Our solution is entirely whitelabel to put whatever brand you want. Your customers will never know about Beautician .
Cost Effective
---
Beautician is the most featureful product in its tier with pricing from the bottom of the barrel, prolonging your runway
Native Mobile Apps
---
Both our iOS and Android apps are built natively so that they perform with the best user experience in respective platforms
4-Step On-demand Beauty App Development Process
---
Requirement Analysis
First and foremost, we scrutinize your business model and its requirements. This way, we can jot down the technologies to use and feature set to integrate. Also, the on-demand beauty service app development team is assigned accordingly.
Front-end customization
The user interface of our ready-made solution is personalized end-to-end as per your branding needs. Its logo, color scheme, and other associated elements are matched with your business to make you the app's sole proprietor.

Back-end set up
Our expert Android and iOS app developers focus on building a robust and reliable back-end to offer a leading-edge solution. Everything is customized end-to-end to meet your business requirements.
Testing and deployment
The fully developed Uber for beautician app is then tested to ensure its security, storage, and other related capabilities. Once it passes all testing processes, it is launched on major app and web platforms.

View Demo
---
Get both the Android and iOS apps for free. After all, building a business doesn't have to cost you a bomb!
Admin Panel Features
Admin Login
Forgot Password
Admin Dashboard
User Management
Provider Management
Provider Approval
Map
Manage Ratings and Reviews
Manage Service History
Manage Scheduled Services
Manage Service Types
Manage Service Statement
Manage Promocodes
Manage Document List
Manage Payment History
Manage Payment Settings
Manage Site Settings
Manage Provider Response Time
Manage Search Radius
Help
Translations
Manage Admin Account
Change Password
User Features
User Registration
User Login
Forgot Password
Home
View/Choose Services
User Account Management
Change Password
Manage Card Details
View Service History
View Coupon
Manage Wallet
Help
Share
Book Service
Cancel Service
Book Schedule Service
Chat/Call Option
Manage Schedule Service
Push Notification
Rate and Review (Provider)
Provider Features
Provider Registration
Provider Login
Forgot Password
Offline/Online Service Option
Home
Manage Service History
Manage Scheduled Service
View Earnings
Revenue Dashboard
Help
Add Service
Upload/Manage Document
Share the App
Accept/Reject Service
Cancel Service
Chat/Call Option
Push Notification
Rate and Review (User)
Paid Plugin
---
Bitcoin Wallet Integration $1000
Integrate our bitcoin wallet and start trading with thousands and millions of bitcoin users globally. Highly secured and seamless.
Schedule Bookings $699
Your customers can book a service for a later time and date. Your Drivers will get notification of a later appointment and will be shown their
Live Navigation $499 Now Free!
With this feature your Driver can navigate to your customer within the app and not have to switch between apps
Geo fencing $750
This feature uses GPS tracking to create a virtual geographic boundary and triggers a response when the taxi enters or leaves the boundary.
Chat Integration $500
Once the ride has been accepted by the driver, chats and calls can be initiated by the driver or rider to communicate with each other
God's eye view $500
This feature allows the admin to view factors like overall earning, list of users and drivers with details, busy or

Multi Language $499
The entire Xuber apps, website and backend will be translated to a language of your choice.
MLM Viral Marketing $750
Use multi-level marketing by having your riders and drivers use referrals to promote your business. It creates a win-win situation for all.
Bidding Option $1000 Now $750!
Allow riders and drivers to take advantage of the best possible options by letting them bid for the best prices for the rides. This gives them a sense of satisfaction
Promotion Codes $999 Now Free!
This feature enables your customers to share a promo code to their friends and peers so that they both get better discount and brings virality to your app
Video Calls $2499
For a small cost we will be able to build in video calls inside of the app so that none of your providers
Wallet System $1500
This feature enables the passenger to top up money into his wallet account within the app. Mobile Money can be used to top up or admin can top up
Voice Calls (VOIP) $1499
For a small cost we will be able to build in voice calls inside of the app so that none of your providers
A Look at our Uber for Beauty App
---
An enhanced version of Beauty app. A cutting-edge Uber like salon app development solution built with the most advanced technology to help entrepreneurs prosper.
User App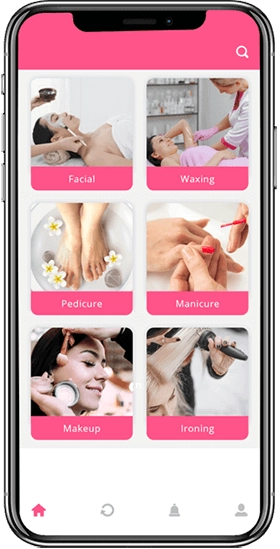 Beautician App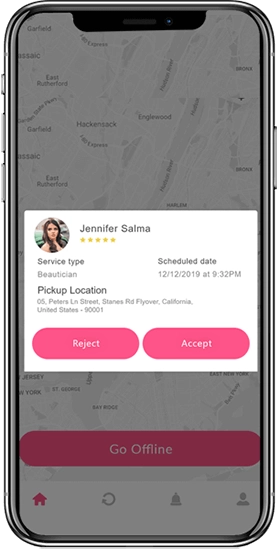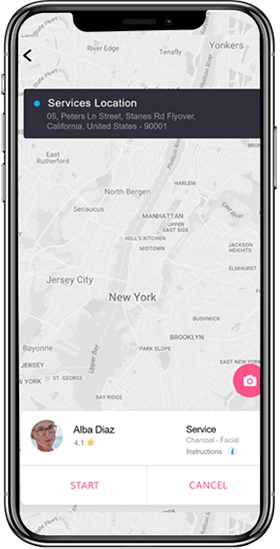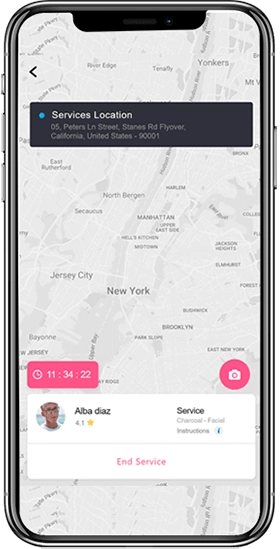 Advantages Of Choosing Our On-demand Beauty Salon App
---
Our immense expertise in developing smartphone applications enables us to offer you the very best.
Mobile Apps

Easy to use, technically advanced, seamless mobile on-demand beauty app development solutions for any given vertical.

Web App

Apps built on avant-garde technologies. Highly functioning, pro-customizable, friction free in-app functionalities.

Admin Dashboard

All-in-one dashboard to quickly skim through the app activities and overall performance.

Customization Support

Boundless customizing options with immediate add-on support for quick app transformation for your On-demand beauty app.

Payment Options

Secure payment options via any authorized online payment portals.
Tech Stack That Power Our
Spa And Salon Service App Development
---
Toggling
Availability
We own expertise in rendering and stretching services for the development of Mobile Apps, Web Apps, Web-Hosting, UX & UI designs, Digital Marketing, Support, and associated services as claimed by our clients.
Launderers can turn on and off their availability with a flick of a toggle button. Apparently, they get to decide their working time and sort.

Anyone who is looking to work on a part time basis can sign up to be a tasker. An open portal for those who are ready to do extra.

This could be a recruitment marketing point for your startup to get students to try working for you and make a buck.

Makes the reporting and picking up the day's work schedule a lot easier. Convenient way to keeping the providers/users posted about one's availability.
Review
System
We own expertise in rendering and stretching services for the development of Mobile Apps, Web Apps, Web-Hosting, UX & UI designs, Digital Marketing, Support, and associated services as claimed by our clients.
After flagging every service request both parties will be given a feedback form to
complete.

The beauticians will give feedback about their clients helping you weed out rude or non paying customers from your admin dashboard.

Customers will love being able to talk to you about how their
experience was.

Customers can leave feedback about the beautician too. Can also speak lengthy about how pleasant or bitter their experience was.
Outreach
Beauticians
We own expertise in rendering and stretching services for the development of Mobile Apps, Web Apps, Web-Hosting, UX & UI designs, Digital Marketing, Support, and associated services as claimed by our clients.
From the customer's app home screen, they can see the available beauticians around them and decide if they want to book a request before they do so.

This gives a more realistic expectation to customers about how long it will take for the nearest available tasker to reach them.

With minimal customization, you can even allow users to look at the profile and reviews of beauticians near them and select the best one.

Beauticians can put on their availability calendar to build a dedicated list of tasks on their own preferred dates.
social
logins
We own expertise in rendering and stretching services for the development of Mobile Apps, Web Apps, Web-Hosting, UX & UI designs, Digital Marketing, Support, and associated services as claimed by our clients.
Customers can login with social logins such as Facebook, Twitter, Instagram
and sort.

This reduces the friction for new users to try out your service instead of having to type down useless informations.

To procure proper email ids a small customization can fix it. Implementation of widely available form builder service can come handy at this point.

Integrate short forms in order to save both your and your customers time. Keep the entry of extra informations optional.
User Recognition on Uber for Beauty App
---