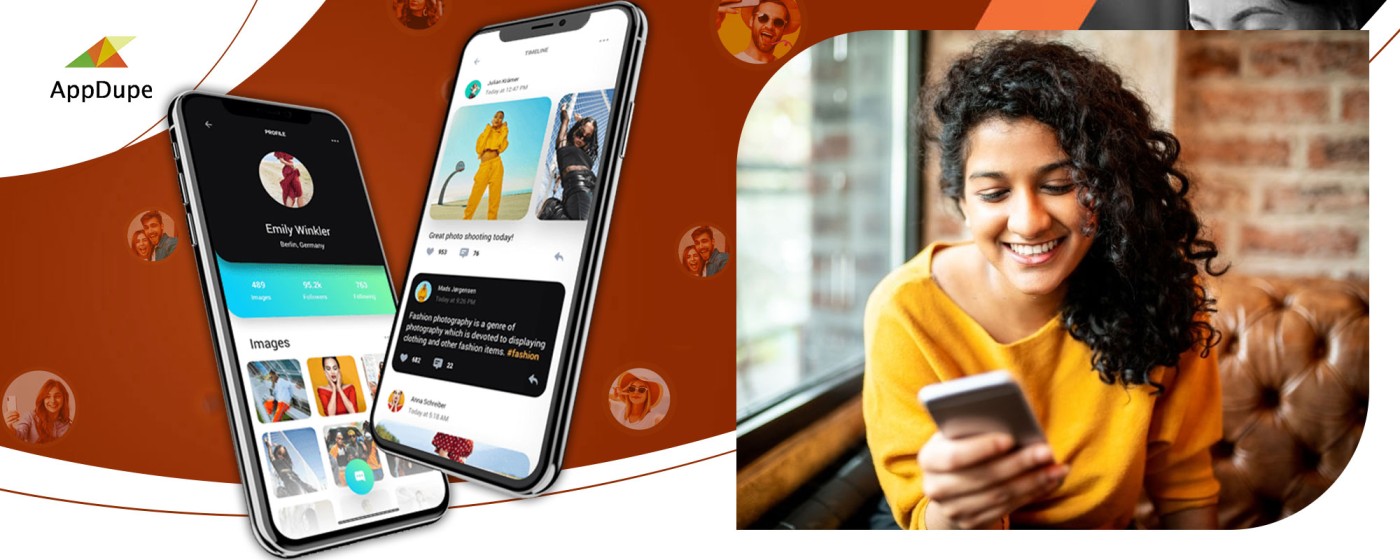 Admit it or not, but the way we communicate has changed ever since the emergence of social networks. While the obvious concept is to connect the people and communities, there are also many exciting things we could look for. Those things are going to be presented in this blog for you. So roll your eyes down for some exciting content.
Social media apps and the unpredictability
Emergence and evolution are the two fundamental pillars with which every business or concept should grow. The social media apps have fulfilled both these aspects without missing a beat. Let's see how.
When specific years before, the networks were all about posting, sharing, and connecting, it has elevated to something more innovative. Examples to make it more transparent are live video, automated messaging, and disappearing snippets. Businesses found it more appealing earlier to market their products and services more before because of the high engagement that the social media apps brought. But the same engagement we are talking about is of the question now. For making social media your best influence, 'adaptation' is what is expected from you. It is essential to look out for what is coming up next, what is trending, and how to create a significant impact.
Roll out the red carpet for the newcomer- Audio-based social media apps
Voice messages are not new to us ever since the audio messaging feature on messaging apps like WhatsApp and WeChat. Then slowly crept up the podcasts, which were welcomed by many users. Not to forget the entry of hardware like Google homes, Echos, etc., that brought in the audio frenzy worldwide. Looking at these, we can say that people are turning to voice as their medium of communication by surpassing the video chatting fatigue. If you are not yet convinced by this, then here are the stats.
An average human can type only 40 words in a minute whereas, he/she can type up to 150 words at the same time. There were 35 times more Google voice search queries in 2016 than in 2008. In the last year, 60% of people have started using voice as a medium of communication.
You would have got quite convinced by seeing this (or that's what we hope), but the answer for what this might have in connection with social media is coming right up!
Voguish audio-based social media apps
Clubhouse
New entry to this market, this app allows you to join or create a room, which is nothing but a platform where discussions or debates or talks on specific topics would be held. You can listen to issues discussed by experts or industry leaders endlessly. You can join in the group while invited by the moderators. Precisely, the app functions just like a house party.
Some enthralling features are:
Club
Room
Notifications
Find friends and club
Audlist
As an audio-focussed network, Audlist lets people post longer content or shorter content audios. The app doesn't restrict the length of the audio to be posted. It allows interaction with the content creators, but mind it; there should be no writing for interaction, other than giving a written title for the audio post. You can also post the audio with the picture to illustrate what the audio is about. Some advanced features that are coming up with the app are:
Direct messages
Audio stories, which will stay only for a day
Autoplay
Voice modifiers etc.
The app has already started to gain some podcasters, and users have also begun posting shorter content of their day to day activities.
HearMeOut
Available on both iOS and Android platforms, this app allows you to share audio content of 42-second. You can also add a photo as the cover image to the post you share. You can also share content on the social media platforms like Twitter, Facebook, Instagram, etc. You can comment on other's posts in the written form. It lets you add sound effects to your posts, such as morning bass, 70' radio, etc.
Listen
Quite different from the above two apps, Listen to acts as a different approach. Here's how it works. You can record your voice and send it to other users. You can also start a 1:1 conversation with someone.
Riffr
The app allows you to record voices for 5 seconds to 3 minutes long. You can add a cover image and voice modifiers to your audio. You can share the audio with other social media networks as well.
Quick tip:
Our Appdupe team, lets you develop audio-only social media apps like the above mentioned ones, with all the exact basic features and functionalities. To know the importance of development of any of these, scroll down!
GOT AN IDEA FOR AUDIO BASED SOCIAL NETWORKING APP DEVELOPMENT? LET'S DISCUSS!

Connect on WhatsApp Contact Us
Three self-evident reasons why are audio-based apps trending
Longer screen time:
Let's all face it, we can't drive or go jogging or indeed can't sleep with our eyes on the phone. But we can't say the same for audio-only social media apps. You can walk, run or even drive while listening to these apps. These apps add more screen time, thus paving the way for a better reach for the advertisers.
Welcoming newcomers:
Voice does not just expand the usage time or the socializing time, but it also caters to over 256 million visually impaired individuals. Though they have been overlooked these years by a voice-based social app, they can leverage this opportunity and be "social" in a way that they might not have experienced till now.
Better promotion:
As audio-based social media apps are trending, they open up new ways of advertising as well. This kind of advertising can be a future trend, as it is more engaging and interactive than image ads or text.
What does the future hold?
Many people got the maximum profit out of Twitter in the early stages of the platform. The engagement, connectivity was all spiking when it first came into the market. With the saying, strike while the iron is hot, entrepreneurs and influencers, like you, can make use of this audio-only social media market while it is still pristine. You can skip the queue of other social media platforms like Facebook or Twitter. Users are getting used to it day by day, and that is evident with the growth of digital activity. It's best if you could dive into the audio-only social media app development soon.
On a concluding note,
If you are a business owner, who would like to give it a shot, make it worthwhile with the audio-based social media app solution that our Appdupe offers. Who knows? Maybe your app could become one of the mentioned trendy apps. So, hurry right away to our team for a free demo.
Want to launch an audio-only social media app? Get it done right away!

Connect on WhatsApp
Schedule a meeting with us

Marketing is my soul mate and writing is my side kick. Using my writing skills to share the knowledge of app development and upcoming technologies.
Have a Crypto Platform/NFT Marketplace Related Development Idea?
---
Get your free consultation now