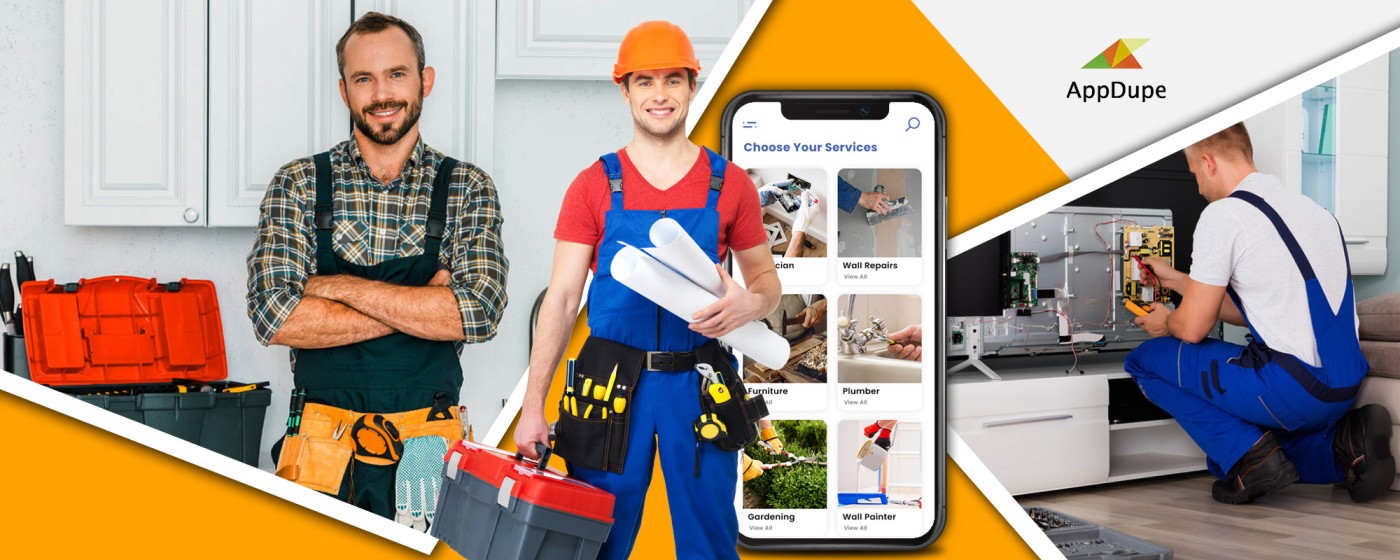 According to Harvard Business Review, the on-demand economy is attracting more than $23 million customers. These numbers are expected to increase to a sheer amount considering the fact that on-demand services are extensively preferred by customers worldwide. Handyman services offer a variety of services at the disposal of customers. Moreover, these services are far simpler to get as customers can book the service as per their needs, get the professional service executive to render the services within the stipulated time, and pay for the services using any of the digital modes.
A handyman services app provides an environment that is favorable for the customers and entrepreneurs. In this blog, let us look at the amazing ways by which Uber for handyman will propel your business growth and the reason for it being a preferred choice among customers. Understanding how it benefits customers will assist you to make the relevant changes to provide a more apt platform to cater to their needs.
Benefits of venturing into online business using Handyman app
Entrepreneurs can gain immense benefits by venturing into on-demand handyman services. According to experts, more than 80% of the business takes place through on-demand applications. It shows that the on-demand services sector is a fast-growing and prospering industry. Customers can be offered more focused services through online applications. Here are some of the major benefits associated with on-demand services apps:
Business expansion: Business can propel to greater customer reach through the handyman service app. When it comes to traditional services, the prospect of business expansion is tedious; it involves setting up the business across various locations, extensive cost, and so on. Whereas with just a few lines of code and professional executives, the on-demand services sector can cater to the needs of a huge range of customers across the country.
Leveraging the potential for the mobile market: According to the reports by Statista, the number of mobile users is expected to grow by 4.68 billion between 2015-2020. There is immense potential to leverage the presence of the extending customer base via a unique handyman app like Uber.
Simplified marketing strategies: For traditional business, the product gets promoted via word of mouth, meaning customers who are impressed by the service recommend the products to others. This process is extremely slow as people do not always express their opinion on the services they use.
Some of the proven ways to market your product and retain customers are:
It is not enough to market the product only after the launch. There must be an efficient marketing team by your side to promote the handyman app before and after launch. Use social media channels and advertisements on popular websites before launch to market your app. This will lead to customers anticipating the product release.
After the launch, advertise the application in Google Play Store and Apple App Store.
Have a group of people to use your application, and collect reviews & feedback from them, incorporate the changes and release the upgraded product.
Customers look for memorable app experiences, so as per changing market trends, including the latest sought out features in your applications.
Better utilization of resources: Handymen can set their availability and provide services based on their schedules. Using the advanced reports & analytics, customers' requests per day can be predicted, and not only that, the time when the demand spikes during the day can also be known beforehand. By utilizing these data, admins can decide on the number of professional executives to hire as part-time workers in handyman service apps like Uber. They can save on the money spent on hiring workers on a permanent basis.
Perks of using handyman app like Uber
There are numerous benefits associated with using on-demand service apps, that is one of the main reasons for it being the preferable app among customers.
Plan events in advance: Upon booking services, the estimated time of arrival and fare is provided to customers. They can plan for events. In case of emergency fixes, they can get it fixed within an hour of booking for service. Also, they can communicate with handymen for instructions to make the spot ready to work, give directions to reach home, and so on.
Verified service professional: A thorough background check is conducted for every service person who is part of the app. So customers can entirely trust them as they will render first-class servicing and also in terms of security, they can rely on, as only vetted handymen are part of the app.
Wide range of options: A multitude of repair and maintenance facilities comprising carpet cleaning, painting, carpentry, electrical, home appliances repair, gardening, and many more services are part of the app. It is an all-inclusive package to accommodate the daily maintenance requirements for varying customer needs.
Secured payment options: App like Uber for handyman services has a transparent payment policy offering customers the breakup for all the costs incurred. Moreover, there are ample options in terms of digital payment modes and mobile wallet payment modes, so customers can choose the mode of payment, which is most convenient.
How Appdupe assists in building a top-notch Uber for handyman app?
The prospect of building an app from scratch can be wrecking as it is a complicated and time-consuming process. Entrepreneurs can get the readymade application built by the skilled developers at Appdupe.
Unique aspects of Handyman services app of Appdupe
The development is undertaken to concentrate on the changing requirements of the customers and market trends. The application is built as per the design specifications of the Google Play Store and Apple App Store.
Turnkey solution: App is built with the latest technologies aimed at offering an exemplary user-centric experience for its stakeholders. The key features of applications will distinguish the app from its competitors.
Scalable product: On-demand service app development takes place with the motive of contributing to the changing business requirements. So the application is compatible with the inclusion of cutting-edge technology and other necessary add-ons.
The bottom line
On-demand handyman service app development must be undertaken such that it accommodates the present and future needs. The trend of getting the services as per customers' needs through on-demand services apps are not going to end anytime soon. Entrepreneurs can envision a bright future by investing in handyman apps.
Future is colorful for the on-demand services app

Marketing is my soul mate and writing is my side kick. Using my writing skills to share the knowledge of app development and upcoming technologies.
Have a Crypto Platform/NFT Marketplace Related Development Idea?
---
Get your free consultation now