How An On-demand Handyman App Script Propels Your Business
---
It doesn't need an expert to assert the existing gap between the monumental demand for instant services catering to a legion of domestic requirements and a scarcity for such platforms. A 5-billion strong smartphone user base is vehemently looking for services that ooze convenience, and nothing can be as relevant as launching an Uber for Handyman service app, given the tremendous receptivity. Wishing to harness this once in a blue moon opportunity?

At Appdupe, we proffer you with our Uber For Handyman Services App that's drenched in a stellar array of features and a robust functionality. Having built tapping groundbreaking technology, this world-class on-demand handyman services app is devised to propel your entrepreneurial efforts to himalayan heights! Highly recommended.
On-Demand Handyman Service App Development Package
---
Take your business to the next level with a holistic bundle of technological gems, infusing a sense of efficiency to every stakeholder involved.
Main Website
Customer iOS App
Customer Android App
Customer Web Panel
Service Provider iOS App
Service Provider Android App
Service Provider Web Panel
Master Admin Panel
Chief Differentiating Features


of Our Handyman Service App like Uber
---
Social SignUpUnshackle your customers from the clutches of nagging registration columns with the ability to storm into the app through their social media credentials.
Live TrackingInfuse a sense of relaxing freedom as customers are able to receive real-time location updates of the assigned service provider without a hitch.
Multiple ServicesExperience the magic of availability of a legion of handyman services competently clustered into relevant categories and subcategories.
Availability ToggleService providers can flag their availability for a particular request or the day as a whole by clicking the toggle button embedded in the app.
Custom InstructionsLet the customers instruct the service providers with customized information and requirements that are mandatory to establish a satisfying experience.
Service HistoryOne-touch and bang! Customers can access the complete list of previously availed services along with their transactional details.
Invoice GenerationBoth the customers and service providers are designated with comprehensive digital invoices with precise tax and fee breakdown.
Multiple Payment OptionsFlood your customers with a swarm of payment methods, including credit/ debit cards, net banking, UPI, and even an exclusive, rechargeable electronic wallet.
Referral BonusPamper your customers by awarding them with redeemable reward points for every successful referral of the app to their friends, families, and acquaintances.
Reviews and RatingsSustain the platform's pristine nature by empowering the customers to express their genuine opinions about the service availed.
Complete List of Features


in our Handyman App Like Uber
---
Instant RegistrationLet your customers plunge into the handyman platform immediately by entering their phone number, email address, besides social media credentials.

User ProfileRapid rewiring of profile elements such as name, contact details, location information, preferred payment options, etc., is made available to the customer.

Advanced Search BarForging ahead of a sea of services is now a piece of cake as customers are aided with a powerful search functionality clamped with sorting and filtering elements.

Push NotificationsKeep your customers immersed in your scheme of things by updating them with the latest offers, exclusive discounts, etc., through text messages, emails, or in-app push notifications.

FavoritesWhat's more awesome than the capacity to save the details of a particular service/ service provider and avail them on a later date? Our Uber for Handyman app makes it a possibility!

Book Service RequestCustomers are able to select the specific service they require, confirm the booking request, and pay through a variety of in-app payment methods.

Cancel Service RequestAccredit your customers with the ability to cancel the booked service requests anytime they want for valid reasons.

Schedule Service RequestSuffuse the shades of constancy into the daily chores by empowering the customers to schedule any of the services as per their convenience.

Offers and DiscountsCustomers are entitled to capitalize on any of the exclusive offers/ discounts churned out by the platform management.

Contact FieldFlag your reverence to the customers by providing around-the-clock technical telephonic and email support besides a well-laid FAQ section.
Swift OnboardingProviders can kick-start their activities instantly by registering with the app through phone number or email address.

Accept/ Reject RequestsAny of the requests booked by the customers can be accepted or rejected by the providers based on their preference and convenience.

Toggle ButtonProviders can exhibit their availability for a specific service request or the entire day by clicking the availability toggle button.

Service AlertsThe moment a customer confirms the service request, a slew of in-app notifications through the service provider app, depicting the required location, and allied information.

Service Request ListThe list of requests that need to be fulfilled by the service provider is displayed in conjunction with the time and location details.

GeoLocationIn the view of banishing location-related misconceptions, the service provider is bestowed with the geo-locating functionality, which tracks down a particular location effortlessly.

Profile VerificationProviders can configure the allied profile elements such as the type of service provided, its category, their charge, etc., and get it verified by the administrator.

Earning ManagementA comprehensive suite of financial information, such as earning per day/ week/ month, is available to the service provider.

Add/Remove AccountProviders are authenticated to request admins to transfer their commission to any of the bank accounts added by them.

Support CornerAny of the disputes/ technical glitches and support of any kind can be supplicated to the admin in the shortest time possible.
Master DashboardWith a telescopic view of the entire spectrum of the platform's business proceedings, admins can assure pronounced app management.

Service Request ManagementAdmins can seamlessly stitch together various booking process elements, including the number of requests, number of confirmed bookings, fulfilled bookings, and much more.

Customer ManagementWith the ability to access the database of registered users at its totality, admins can export them for the purpose of quality assessment.

Service Provider ManagementAdmins can retrieve the verified service providers' profiles and block them if found violating the regulations of the App Like Uber for Handyman.

Heat MapsThe capacity to view the most happening locations, i.e., the locations where the user engagement is maximum, enables the admin to reroute the service providers to those locations.

Revenue ManagementA separate billing panel elevates your financial efficiency with the availability of details such as total revenue, total profit, profit percentage, profit per booking, and much more.

Commission ManagementAdmins can deliberately configure the commission structure in accordance with market conditions, customer patronage, and industry conventions.

Payment Method ManagementAny of the available payment options can be activated/ deactivated by the admin pertaining to customer preferences and the existing market environment.

Promotions ManagementIn order to supersize the customer traction, admins can intuitively design and devise various promotional activities and execute them impeccably.

Analytical ReportsThe all-important insights derived from crucial performance metrics are available to the admin in the form of visually-appealing reports.
Workflow of Handyman Service App like Uber
---
1

User RegistrationBy entering the essential information such as phone number/ email address, customers can log into the app.

2

Browse ServicesCustomers can search for the multitude of available services through the advanced search bar utility.

3

Book a ServiceCustomers are able to book a particular service, which is confirmed upon being accepted by the service provider.

4

Track the ProviderCustomers can keep track of the assigned service professional's location in real-time through the app.

5

PaymentThrough the scores of available online and offline payment options, the customer can pay to the service provider.

6

Reviews and RatingsCustomers can rate the service proffered by the provider through the ratings and reviews field.
Additional Features
---
Besides the assortment of our world-class staple features, you can enrich the Uber for Handyman app to the next level with the following additional advanced features.
In-App Chat

Connect your customers with the service providers promptly through a secure internal communication channel. This way, even the minutest chance of mishap is eliminated!

Pricing Management

Admins are sanctioned to intently vary the pricing of each service based on business strategy. This way, sustained profitability can be established.

Electronic Wallet

In addition to the presence of a wide-spreading range of payment options, an exclusive, rechargeable wallet is available for the purpose of in-app purchases.

Multiple Service Address

Customers are privileged to add any number of service addresses. They can also set their primary address and designate the remaining locations with specified names.

Categories Management

On the grounds of enhancing visibility, admins can deliberately cluster certain services into various categories and subcategories.

Promo Codes

Admins are girded with the tools to create promotional coupon codes, which, when availed, exert exciting discounts and price slashes. A terrific way to increase customer loyalty!
Why Choose Our On-demand Handyman App
Development Solution
---
Turnkey Solution
---
All our products are 'Turnkey'. You can start with ZERO time-to-market and capture the largest market-share.
Powerful Admin Dashboard
---
Complete control of your websites and mobile apps is comfortably available in your admin dashboard.
Scalable Product
---
Have plans of taking off and scaling up rapidly? We got your back with the most scalable robust products in each category.
Whitelabel Solution
---
Our solution is entirely white labelled to put whatever brand you want. Your visitors and users will never know about Handyman.
Cost Effective
---
Handyman is the most featureful product in its tier with pricing from the bottom of the barrel, prolonging your runway.
Native Mobile Apps
---
Both our iOS and Android apps are built natively so that they perform with the best user experience in respective platforms.
360° SupportFrom conception to post-deployment, we strive to exert support across every possible assistance silos. Your most trusted mobile app development partner!
Periodic UpdatesWe sustain the technical and business relevance of your On-demand handyman app by showering the latest updates in an automated manner.
White-LabelingEncounter a monumental reception by rebranding the on-demand handyman services app with your rooted identity elements such as logo, UX palette, brand name, and much more.
Free InstallationWe take up the mantle of installing your app on the server of your choice and submit it on the major app platforms for absolutely free of cost.
A Sneak Peek Into Our Uber For Handyman App
---
An enhanced version of online service apps. Built with pure technology expertise to help entrepreneurs prosper.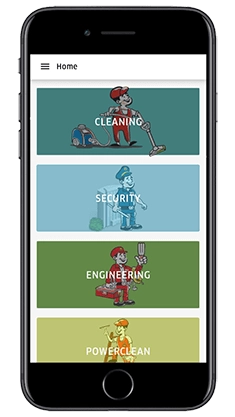 On-demand Handyman Service App Development Process
---
The agility of our Uber for Handyman app development process is matched only by the app itself. Immersive at every single connotation of the word!
Requirement AnalysisOnce you have confirmed our collaboration, our crew of graceful customer relationship executives hang out with you to scribe down the exact iterations of requirements, expectations, and app vision.

Full-Fledged PlannerWe sieve through your requirements and catch up with you with an app development planner featuring clearly defined deliverables and deadlines.

UI/UX DesignOur team of maverick designers spills out their creative artistry to come up with various versions of user interface design that's concurrently enticing and proficiently user-friendly.

DevelopmentChannelizing path-breaking technology, our master developers code out the Uber for Handyman app in its entirety that exhibits unwavering resilience and multi-device compatibility.

Testing and LaunchThe Uber For Handyman Services App is subjected to some of the most stringent testing techniques to rule the presence of bugs and glitches if any. This is followed by super fast installation and launching of the app in Google Play Store and Apple App Store.
View Demo
Get both the Android and iOS apps for free. After all, building a business doesn't have to cost you a bomb!
Admin Panel Features
Admin Login
Forgot Password
Admin Dashboard
Manage Dispatcher Panel
Heat Map
Gods View
Role Management
User Managemnt
Provider Management
View/Manage Dispatcher Manager
View/Manage Account Manager
View/Manage Dispute Manager
Manage Service Statement
Manage Payroll
Manage Zones
Manage Ratings and Reviews
View/Manage Promocode
Document Management
Provider Approval
Manage Cancel Reason
Manage Notification
Manage Services
Manage Categories
Manage Sub-Categories
Manage Service History
Manage Scheduled Services
Manage Site Setting
Manage Payment Setting
Manage Provider Response Time
Manage Search Radius
Country Management
City Management
View/Manage Menus
CMS Management
Manage Ticket Categories
Manage Tickets
Custom Push
Book Service
Admin Account Management
Change Password
User Features
Login (Guest)
User Registration
User Login
Forget Password
View Services
Book Service
Cancel Service
View Offer Banner
Schedule Services
User Profile Management
Manage Service History
Manage Scheduled Services
Wallet Management
Card Management
Referrals
View Notifications
Support
Create Dispute
View Ongoing Services
Real-Time Tracking
Call Option
Share
Rate and Review (Provider)
Provider Features
Provider Registration
Provider Login
Forgot Password
Manage Online/Offline Status
Accept/Reject Service Request
Manage Service History
Manage Schedule Services
Cancel Service
View Earning
Upload/Manage Documents
Provider Account Management
Create Dispute
Change Password
Manage Card Details
Manage Wallet
Help
Share
Real-Time Tracking
Call Option
Rate and Review (User)
Paid Plugin
---
Bitcoin Wallet Integration $1000
Integrate our bitcoin wallet and start trading with thousands and millions of bitcoin users globally. Highly secured and seamless.
Schedule Bookings $699
Your customers can book a service for a later time and date. Your Drivers will get notification of a later appointment and will be shown their
Live Navigation $499 Now Free!
With this feature your Driver can navigate to your customer within the app and not have to switch between apps
Geo fencing $750
This feature uses GPS tracking to create a virtual geographic boundary and triggers a response when the taxi enters or leaves the boundary.
Chat Integration $500
Once the ride has been accepted by the driver, chats and calls can be initiated by the driver or rider to communicate with each other
God's eye view $500
This feature allows the admin to view factors like overall earning, list of users and drivers with details, busy or

Multi Language $499
The entire Xuber apps, website and backend will be translated to a language of your choice.
MLM Viral Marketing $750
Use multi-level marketing by having your riders and drivers use referrals to promote your business. It creates a win-win situation for all.
Bidding Option $1000 Now $750!
Allow riders and drivers to take advantage of the best possible options by letting them bid for the best prices for the rides. This gives them a sense of satisfaction
Promotion Codes $999 Now Free!
This feature enables your customers to share a promo code to their friends and peers so that they both get better discount and brings virality to your app
Video Calls $2499
For a small cost we will be able to build in video calls inside of the app so that none of your providers
Wallet System $1500
This feature enables the passenger to top up money into his wallet account within the app. Mobile Money can be used to top up or admin can top up
Voice Calls (VOIP) $1499
For a small cost we will be able to build in voice calls inside of the app so that none of your providers
Stellar Benefits of Our Uber for Handyman App?
---
Mobile Apps

Easy to use, technically advanced, seamless mobile apps for any given vertical.

Web App

Apps built on avant-garde technologies. Highly functioning, pro-customizable, friction free in-app functionalities.

Admin Dashboard

All-in-one dashboard to quickly skim through the app activities and overall performance.

100% Customizable

Boundless customizing options with immediate add-on support for quick app transformation.

Payment Options

Secure payment options via any authorized online payment portals.
Why Appdupe
for Your On-demand Handyman App Development?
---
Aligning your trust in Appdupe is the most logical step in your journey to massive success, given our exceptional array of on-demand solutions that are embarked on for their scalability and business-grade functionality. Take a peek at a few of the reasons why entrepreneurs prefer Appdupe:
Exceptional Design A decade-long experience and a ceaseless appetite to deduce the end-customer psyche bestow us with the ability to mold authentic user interface designs that captivates the hearts of your customers, culminating in unwavering patronage.
Ultra-Responsive SolutionsCrafting a colossal application cannot be holistic unless it resonates with terrific responsiveness. Appdupe's brand of native iOS and Android apps, despite being packed with superlative features, packs an agile punch, all thanks to our ingenious development process.
Highly AffordableWhat if a world-class solution that ticks the boxes mandated by best-in-place industrial standards is available to you at an unbeatable price? A cost that your eyes fail to recognize? Cheers! Our peerless On-demand Handyman App Script is now at your fingertips.
Proven for SuccessWe arm ourselves with a streamlined approach that marinates the processes of design, development, and testing with prodigious efficiency. The end result is a rare piece of technology that's envied by everyone!