Developing the highly expected instant messaging WeChat clone app with outstanding features
Author
WeChat Clone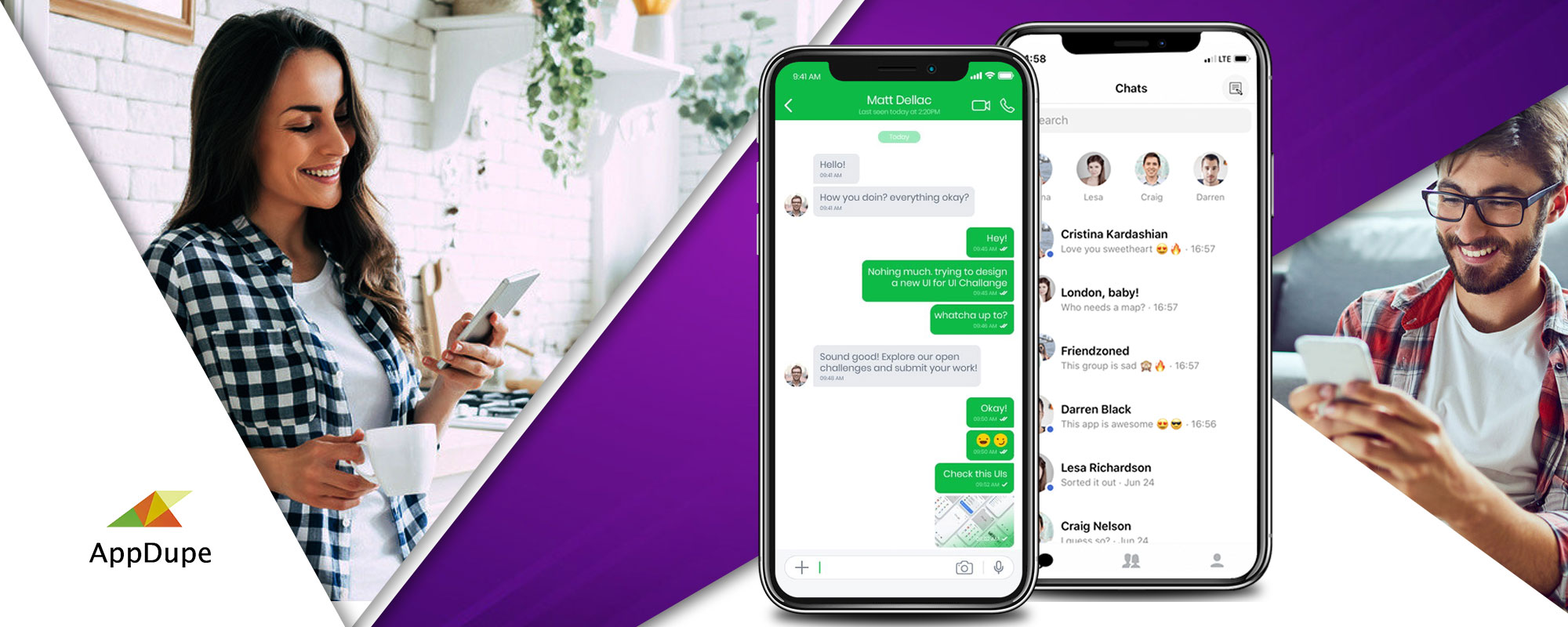 The days are approaching where AI technology is incorporated with all possible widely used mobile applications, right from downloading your songs to doing your daily tasks. The significant advantage, and the reason for its broad reach, is because it makes the work easy, fast, and time-saving in this fast-paced digitally driven world. AI technology makes human life more comfortable with instant access to anything we want.
AI technology gives accuracy. The services are super fast, helping developers understand the importance of the latest technology and now services offered instead of regular phone calling. There comes using an app for making calls replacing the traditional methods, thus making life easier in the view of conserving time.
WeChat
WeChat is a social messaging app that provides text messaging, hold-to-talk voice messaging, broadcast (one-to-many) messaging, video conferencing, video games, sharing photographs, and video location sharing. 
Why use a WeChat Clone app?
It is considered a super app because it facilitates users access to various functions and genuinely believes the app gives instant access to all features and other users to communicate and have conversations with them by providing faster connectivity and a better visual experience with a good quality video call. The app paves an excellent way for budding entrepreneurs and businesspersons, allowing them to generate a decent revenue or an income with the Wechat clone app, owing to good and quality conversations. 
You can provide advanced tools to your users, like facilitating them to access chats, making voice calls and video calls, and other activities with WeChat like app development.
How to make money with a WeChat clone?
The app should have a striking messaging application in visual for your business and helps you stand out from the crowd from other companies.
With this instant messaging platform built, you can make a hefty profit by placing Google advertisements on the WeChat forum. The more time people view the ad and use an app like WeChat, the more money they make.
Listing out simple yet powerful features that help grab the user's attention.
The social messaging app like WeChat must enable users to access the chat conversations in their desired language by incorporating the clone app with an in-built translator, thus strengthening the app's quality. 
 Almost all apps similar to social messaging apps like WeChat and WhatsApp offer a free, high-quality video calling feature. Even with the more prominent brands in the market like Google Duo, this feature has become more of a requirement than a luxury for you to incorporate. Otherwise, it is highly unlikely customers will download your app over others.
While developing an app for users, it is essential to know what they want, what they demand, and what they are looking for. The other above features offer a deleting option for the sent messages, so it doesn't get stored in the database.
Ensure access to various services and features like sharing, saving photos and videos, gifs, and stickers. Ensure the messaging app supports these messages because users like to save time and creativity with these expressions.
Ensure to provide a secure platform by providing an end-to-end encryption option while developing an app. This feature is crucial because users care about data security and privacy. Since most are aware of hacking data and claiming it to be theirs, ensure having a tight and well-maintained security feature not to get hacked without losing the loyal customers.
With a vast amount of data being shared, and since data exchange happens simultaneously, it is necessary to create an app like WeChat that provides secure and safe service. Enabling a cloud storage service like AWS assures users that the data and the information used or shared with the app like WeChat is secure.
How to generate revenue with the WeChat like app?
With Ads – Each time WeChat Clone shows an ad, it earns a promotional fee.
Creating Mini Program – Create a Wechat like app enabling customers to set up a shop on WeChat, and attract billions of consumers, and sell products across the globe. No technical knowledge or investment is needed to integrate this in your business.
Providing Subscription –They provide enticing subscription packages that let users click out of curiosity to know what it offers. These subscription-based app users get additional advantages than other free users. However, this feature positively benefits the app developers to earn as this subscription fee still allows them to make money. The cycle rotates for every user, enabling the developers to achieve more in the music app development.
Wrapping Up,
At Appdupe, we provide detailed information and various app development services with customization support. It will help you launch your robust messaging app like WeChat offering unique features and helps you stand out of the crowd, increasing the chances of reaching an audience worldwide.
Make profits in high time with social messaging apps like WeChat

Marketing is my soul mate and writing is my side kick. Using my writing skills to share the knowledge of app development and upcoming technologies.
Have a Crypto Platform/NFT Marketplace Related Development Idea?
---
Get your free consultation now