There's a saying that goes, 'Brilliant things happen in calm minds.' In today's world, where things happen at 2x speed, staying calm becomes the need of the hour. According to a majority of the population in the world, smartphones are one primary reason for this massive spike in anxiety levels, disturbing mental calmness substantially. As technology advances, there are simple yet effective solutions for almost any real-life problem nowadays. 
In view of helping people concentrate on their mental health, meditation apps have risen to the scenario. These apps help in relieving mental stress and boost the wellbeing of individuals. Meditation apps like Calm, Headspace, etc., have already made a positive impact on the audience. The market for such apps is still in the nascent stages, and an entrepreneur with the right approach can gain a stronghold of market proceedings. 
Are you an entrepreneur who aims to foray into this sector by initiating your healthcare app development like Calm app clone? If so, this blog provides you detailed information on the market conditions, the top competitors in the segment, features to integrate, and the revenue models to incorporate into the segment. 
Market Conditions – A Quick Peep on why you should create a Calm clone
Before venturing into any sector, it is ideal for analyzing the market conditions and assessing top rivals. Here are some stats that signify the growth of the meditation app market.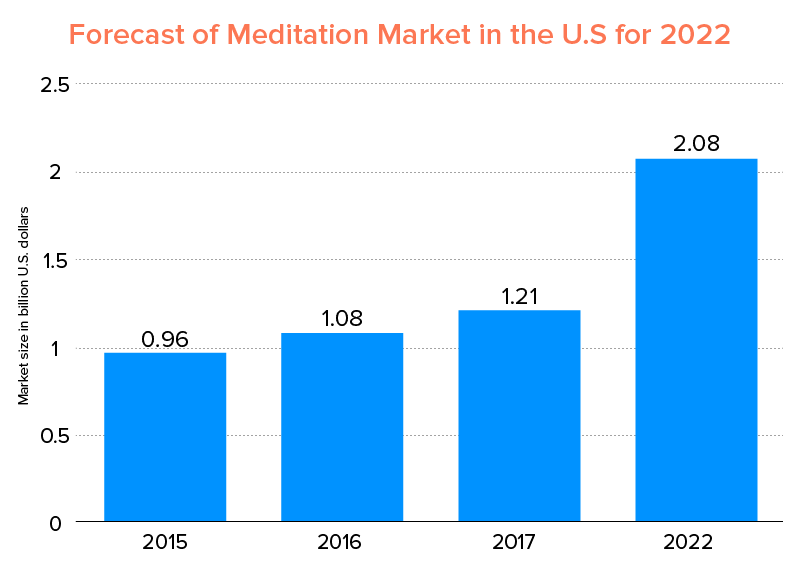 The market for mental health apps was valued at $189.64 million in 2018 (Source: PR Newswire). 

The market forecasts a massive double-digit CAGR of 41.3% between 2018 and 2027, reaching $4377.95 million in 2027 (Source: PR Newswire). 

Top 10 Meditations apps of the sector received $185 million in revenue in 2019. These numbers are 52% higher than the income received in 2018 (Source: Sensor Tower). 

There's a 65% YoY (Year over Year) increase in the number of searches for yoga and meditation apps in 2017 (Source: Google Data). 
All these stats signify that the market will continue to progress towards the positive trajectory for years to come. 
Top Meditations Apps – Your Trump cards
Here are some top mindfulness meditation apps that you need to know before storming into the sector. 
Calm:

With 60 million downloads and 80,000 new daily users, Calm has been acclaimed as the 'Top Grossing' health and fitness application. After having received $88 million funding, the platform's valuation currently stands at $1 billion. Launched way back in 2012, the platform is one of the pioneers that laid the foundation for a thriving market. 

Headspace:

Launched in 2010, this London-based healthcare app operates based on the freemium subscription service model. Generating more than $100 million every year, the platform currently sits at a $320 million valuation. The platform has partnered with some of the tech giants like Google, LinkedIn, Starbucks, Adobe, etc. 
Looking to Startup a meditation app like Calm or Headspace?
Pivotal Features to integrate Calm App Clone for Massive Impact 
Features are crucial elements that engage with the audience and create a tremendous impact. Here are some cutting-edge features to incorporate into your meditation app like Calm. 
Registration and profile setup:

Users, downloading the app, register with the platform by specifying the necessary information, or logging in via social media handles. They can complete their profile setup by providing sensitive information like age, height, weight, etc. 

Meditation podcasts:

With this feature, users have access to podcasts from some of the top experts in the meditation sector. Users can hear them on the go and rejuvenate their minds and body. 

Sleep Stories:

The 'sleep stories' feature enables users to hear stories that play a crucial role in keeping the mind relaxed, paving the way for a sound sleep. 

Discovery:

Under the 'Discovery' feature, users can browse top programs on meditation and can access them if need be. 

Library:

Having an in-built music library is crucial for any meditation app. Enable users to load the library with their favorite meditation music, leading to ultimate serenity and calmness. 

In-app alerts:

Users get periodic updates on different meditation classes and exclusive discounts in the form of push notifications. This way, they needn't access the platform every time. 

Live streaming feature:

With a live streaming feature, users can access meditation classes currently happening around the world. 

Breathing exercises:

Breathing exercises constitute one of the integral aspects of mediation courses. With this feature, users have access to breathing exercises effortlessly. 
Income-generating sources – The Floodgates to be used for Calm Clone App 
An entrepreneur needs to generate income from a variety of sources to sustain itself in the highly competitive market space. With a meditation app, one can have access to revenue from a variety of sources, including 
Commissions from meditation experts:

Meditation experts have access to a massive customer base by joining hands with the app. Hence, they give up a part of their payment as paid commissions. 

Subscription charges:

Most platforms earn massively via subscriptions. Users pay subscription charges to enjoy premium benefits and discounts to sessions, leading to a win-win situation. 

In-app ad charges:

Ads related to the health and wellness sector like displaying wellness products or introducing meditation sessions, etc., can benefit both the platform as well as third-party brand owners. You can levy ad charges based on the advertisement's impressions with your users. 
Prominent Challenges in Creating a Calm App Clone – Make a note! 
Any business will invariably face hurdles and challenges. With prior planning, successful businesses handle them seamlessly. Here are some challenges to consider while launching and running a mediation app like Headspace, 
Simplicity in design: A complex design is the last thing users expect from a healthcare app. Hence, ensure that the design is simple, informative, and vibrant to use. 
Tackling the language barrier:

Users prefer to access the platform in the language of their choice. Integrating a multilingual support feature can help you establish a global presence with your meditation app. 

Secure back-end:

Users specify their sensitive information in the platform. Hence, ensure that the platform's back-end is encrypted and robust in every aspect. 
Develop your Calm clone app today! 
Now that you have identified the ins and outs of developing a meditation app, it is time to set foot into action. At Appdupe, we help entrepreneurs with our end-to-end solutions. Reach out to us, tell us your needs, and we'll help you emerge as the next big thing in the sector. 
Launch an Ultimate Calm Clone Meditation App

Marketing is my soul mate and writing is my side kick. Using my writing skills to share the knowledge of app development and upcoming technologies.
Have a Crypto Platform/NFT Marketplace Related Development Idea?
---
Get your free consultation now