Delivery Hero Acquires The Middle East Based Grocery Delivery Business InstaShop For $360 Million: Guide On How To Start And Scale An App Like InstaShop
Author
Grocery App Development, InstaShop Clone
We all would have waked up to the news of 'Germany-based global food delivery business Delivery Hero buying MENA-based grocery delivery business InstaShop for $360 Million.' 
It might be a piece of one-in-a-hundred news for a commoner. But if you're a rising entrepreneur or someone looking to dive into the on-demand economy, this news might have been ringing in your ears ever since you heard it.
An Overview: Why Did Delivery Hero Acquire InstaShop?
Delivery Hero, a food delivery business from Germany, has been offering its services worldwide. It is also offering grocery delivery services through some of its existing apps. However, its users perceive it as a platform only for food delivery. But the business did not wish to restrict its services and purchased InstaShop to gain a strong foothold in the grocery delivery market. 
InstaShop, a Greece-based startup, offers delivery services of fresh fruits and vegetables, flowers within an hour. This five-year-old business currently serves in five markets of the Middle East region, catering around half a million users. Also, it has witnessed a steep rise in its growth and user base in the past few months amid COVID-19. 
Delivery Hero acquired this thriving business – InstaShop, to expand its operations. Of the $360 Million, Delivery Hero will pay $270 million upfront, and the rest $90 million in the following years based on the business's performance.
Businesses see this investment as a golden opportunity for both Delivery Hero and InstaShop to quadruple their growth, as the grocery delivery segment is flourishing like never before.
A Detailed Guide To Launching A Profitable Grocery Delivery App Like InstaShop
What started as a yet another grocery delivery business has made $360 Million in a span of 5 years. Fascinating, isn't it? What geared up this rapid growth?
The founders of InstaShop started their business like everyone else. They launched their app, marketed it, and started offering services. They didn't do anything magical. One thing they focused on is to build a robust grocery delivery app. 
Finding the right turnkey solution to commence your business is the key to success in the long run. Confused about getting started? We are here to help!
BEFORE DEVELOPMENT
1. Decide your target market: It is of paramount importance to know your target market. Plan if you wish to go local or global, or both. By finalizing it, you will have a clear vision of what lies ahead.
2. Pick your business model: There are various business models when it comes to grocery delivery business, as listed below.
Single store app – For grocery stores wishing to take their services online. They handle their own delivery and operate solely.
Grocery chain app – For grocery chain businesses operating in multiple locations. They too handle their own delivery in respective locations.
Online marketplace – For startups and businesses who wish to be a part of the grocery delivery business. Here, all grocery stores present in a specific location are listed on the app, and users can place their orders in the store they find convenient. The delivery is processed either by the store itself or can employ gig delivery partners for the same.
3. Monetization strategies: Deciding on the income streams is crucial as it plays a significant role in your app's revenue generation. Here are some revenue streams to consider:
Commission fee from grocery stores for listing them on your app

Delivery fee from customers for processing doorstep delivery

Advertising fee from third-party businesses for displaying promotional ads
4. Platforms to focus: Ensure to make your mark on Android, iOS, and Web platforms. This way, you can cover people from all segments. There are four stakeholders in the grocery delivery ecosystem, and each of them can be presented with apps from these platforms, ensuring the seamless functionality of the business.
Customer App

Grocery Store App

Delivery Driver App

Admin Panel
DURING DEVELOPMENT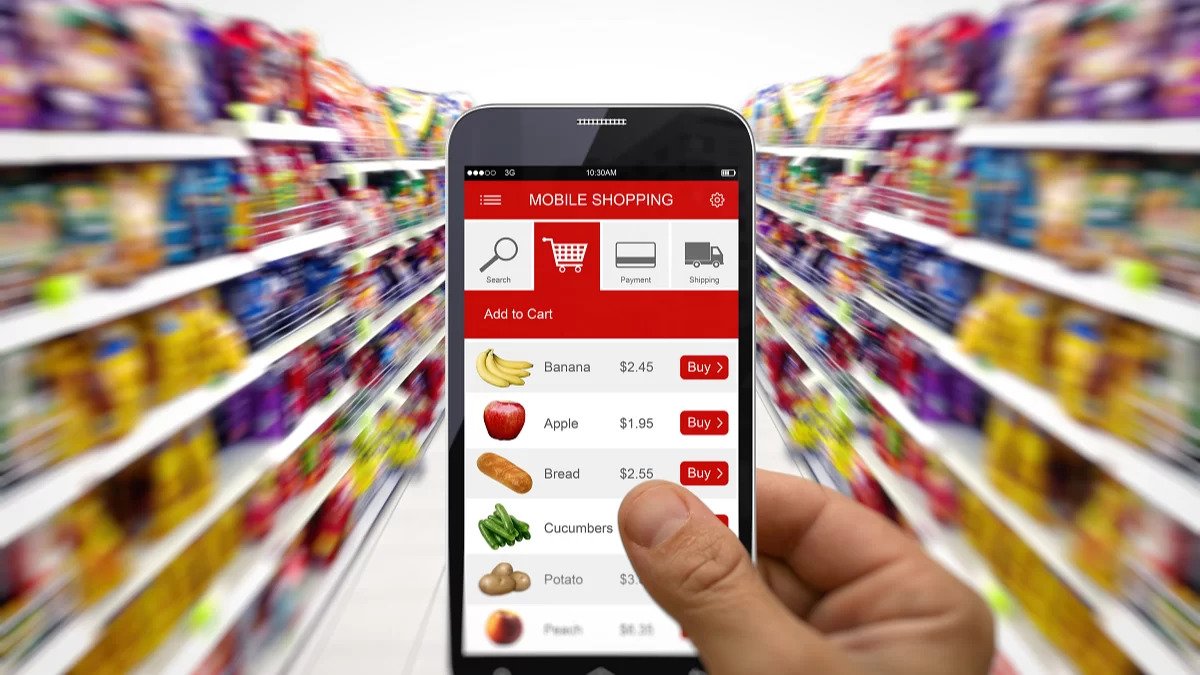 Development type: There are two ways to build a grocery delivery app like InstaShop that play a major role in deciding how fast you wish to launch your app.
1. Customization of InstaShop Clone: Personalizing a ready-made, white-label InstaShop clone can help you deploy a fully functional app in your niche in the shortest turnaround time.
2. Development from scratch: Some would prefer developing the grocery delivery app from the ground up.
We would suggest you to go for the former as it is tried and proven to be very productive and less time-consuming. Also, you can save a lot of money that you can redirect to the marketing efforts. At Appdupe, we specialize in building high-end apps at cost-effective rates. 
Feature set and Tech stack: There are two key aspects that make or break any app – the features integrated into the app and the technology stack deployed in the grocery app development solution.
Features included in our InstaShop clone
Customer App
User profile

Filter and sort option

Browse products

View grocery stores

Add to cart

Flexible payments

Schedule delivery

Reorder

Order tracking

Instant alerts
Grocery Store App
Store profile

Product listing

Receive order requests

Customer support

Order history

Earnings statistics
Delivery Driver App
Profile verification

Toggle availability

Accept/Reject order requests

Real-time navigation

Update delivery status

Earnings report
Admin Panel
Powerful dashboard

Manage commissions

Manage reviews

Dispute settlement

Analytics and reports

Referral system
Technologies deployed in the InstaShop clone app development
jQuery

MySQL

Linux

Swift

Node.js

Kotlin

Flutter

Google Cloud

Amazon Web Services
The workflow of our InstaShop clone development process: Our seasoned team follows a detailed workflow to deliver you a high-end solution on time and budget.
1. Researching the market: We examine the market to find out what's working and what's not. We apply this knowledge to fine-tune your business plan and keep you informed of the risks and opportunities.
2. Interactive UI: The user interface is the front face of your business. Hence, our designers ensure it is intuitive, allowing users to navigate effortlessly. 
3. Back-end setup: Our proficient developers deploy the cutting-edge technology to build a robust back-end for your app to ensure seamless performance.
4. Quality checks: The app is tested for bugs and glitches. Our qualified testers never leave any stone unturned when it comes to quality checks.
5. THE BIG DAY: The fully customized app is launched on all major app and web platforms.
AFTER DEVELOPMENT
Post-launch support: Our role does not end with the app launch; we also offer technical assistance to help you run your business hassle-free. These services are free of charge for a limited time. After this, you can avail of our paid maintenance services.
Marketing your app: Introducing your app in your target niche and increasing its visibility among your customers can go a long way in assuring the success of your business. 
Who constitutes the app development team? How much does it cost to develop an app like InstaShop? 
Our InstaShop app development team includes,
Business Analysts

UI/UX Designers

Android Developers

iOS Developers

Web Developers

QA Engineers

Project Manager
The development cost differs from project to project. We can give you an exact cost estimate only after analyzing your needs and business model.
Let's wrap it up,
We hope we have helped you understand the ins and outs of launching a grocery app like InstaShop. As said above, we are one of the leading app development companies in town that can assist you with everything. 
Feel free to reach out to us at [email protected] or +91 9791 101 817. You can also connect through the chat option on the website. We are thrilled to help you emerge as the next big thing in the grocery delivery space!
Looking to Startup an app like InstaShop? Kickstart Your Journey In The Grocery Delivery Industry

Marketing is my soul mate and writing is my side kick. Using my writing skills to share the knowledge of app development and upcoming technologies.
Have a Crypto Platform/NFT Marketplace Related Development Idea?
---
Get your free consultation now