The bike-sharing industry will reach the highest demand within 2025: Guide to launching an e-scooter app
Author
Uber Clone
Environmental degradation has pushed people to use pollution-free vehicles. According to Bernie Sanders, "I see a future where getting to school or work or the store does not have to cause pollution." Non-renewable energy resources are emitting greenhouse gases at a substantially increased rate. This situation has led to global warming and the extinction of various species of flora and fauna. As a result, researchers from time-to-time are stressing the importance of using renewable energy resources. 
One such novel idea led to the development of e-scooters. People all across the globe are beginning to exercise this new invention for their daily commute. Entrepreneurs are leveraging in this situation to rent e-scooters and yield profits from this business. If you are a business owner considering e-scooter app development as a potential business venture, this blog is for you. Here we'll discuss the increasing demand of e-scooters among the masses and the steps to develop one. 
The accelerating expansion of the e-scooters market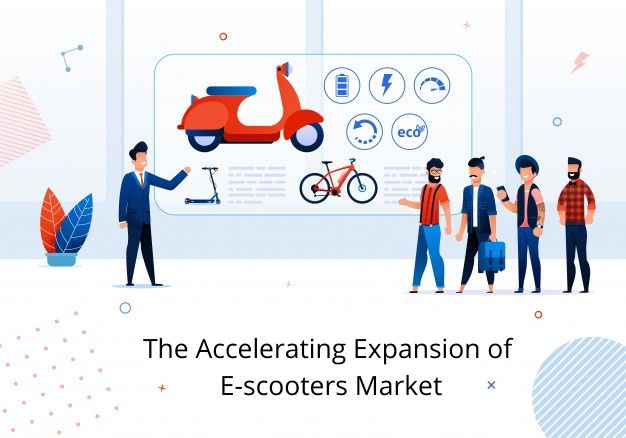 Let's take a look at the facts that support the above statement. 
According to Allied Market Research, the global electric bikes market will reach a significant value of $23.84 billion by 2025. 

The market that was valued at $16.34 billion in 2017 is witnessing a CAGR of 4.9% from 2018 to 2025. 

Beam, a Singapore-based startup, has raised $26 million to develop the largest e-scooter fleet.

Among the different types of e-scooters available, the battery model accounts for the highest demand globally. 

The model is registering a CAGR of 6.1% between 2018 and 2025. 

According to the findings, people prefer throttle on-demand e-bikes due to their increased convenience. 
The bike-sharing app market is escalating more than ever
If you are still hesitant to invest in a bike-sharing app, let's clarify your queries by presenting the unignorable facts, 
According to Research And Markets, the bike-sharing services market will generate $5 billion by 2025. 

The market is poised to grow with a CAGR of 10.2% between 2019 and 2025. 

The sector's worth was $2.7 billion in 2018. 

Among the different types of bike-sharing services, the dock-less type is the most preferred among users. 

Ofo, a Beijing-based bike-sharing company, was already valued at $2 billion in 2018. 
The industry houses multiple influential competitors
The primary step to app development is to know how your competitors are faring. Let's visualize some of the popular e-scooter apps here, 
Lime:

The American startup is one of the pioneers in the sector. In 2019, Lime's valuation was $2.4 billion. In the recent turn of events, Lime has acquired Jump, another popular American-based startup. The app is operating in more than a hundred cities and 30 countries worldwide.

Bird:

The Californian-based startup was an instant hit among people, completing 10 million rides in its first year. By the end of 2019, the company's worth rose to $2.8 billion. The app is known for its economic fares and swift availability of bikes.

Lyft:

The major ride-hailing app has established its entity in the bike-sharing sector too. Even amid the COVID-19  pandemic, the company is offering scooters to users in need. By the end of 2019, Lyft had successfully deployed 8500 bikes in San Francisco alone. 
People prefer e-scooter apps for a plethora of reasons
Now, any on-demand service must satisfy a specific purpose to increase its sustainability. There are higher chances of success of these apps due to, 
Reduced pollution:

Increased carbon dioxide emissions could disrupt the balance of the entire ecosystem, causing irreplaceable damage. According to resources, we could run out of fossil fuels in the next 50 years if we utilize them at this rate. This fact has pushed people to adopt eco-friendly ways. The pollution factor is one of the main reasons attributing to the success of e-scooter apps.

Convenient means of transport:

Congested vehicles and continual honking have made people sick. People cannot reach their destined place in the time intended owing to these issues. However, with the aid of these e-scooters, people can avoid traffic and reach their destination in time. In this fast-paced world, ease-of-use is a primary constraint to an invention, isn't it?

The best alternative:

With researchers suggesting to shift to renewable and eco-friendly energy modes, people are beginning to look out for other means of transport. The concept of using bicycles, though eco-friendly, consumes time, and energy. This reason has pushed them to use e-scooters, which is portable, affordable, and eco-friendly, as well. People who prefer a personal vehicle to public transport can readily afford e-scooters, owing to their increased convenience. 
Establish your bike-sharing app today
Are you convinced to launch a bike-sharing app? Not yet? Take a look at the seamless workflow of the app. 
Users search for e-bikes in the vicinity by granting location access after registering with the app. 

They get to choose from a variety of services available. Upon locating the bike, they scan the QR code on the bike through the app. 

The trip begins as soon as the user scans the code from the scooter. 

Users reach the destination and commence the ride. 

They park the bike and smart-lock the bike by scanning the QR code once again. 

By doing so, they get their total fare estimate of their ride. They can pay via multiple payment gateways available through the app. 

They rate their services and end the trip seamlessly. 
With such automated workflow, your e-scooter app will rule the market for years to come. 
Know enticing features worth considering
Your Uber clone app for e-scooters must contain unique features, luring the audience towards it. They include, 
Integrating the buyer-pick model:

In this type of model, users choose the type of vehicle from a list of bikes available in the vicinity. They can use advanced filter options to identify scooters based on their battery level, ratings, etc. This way, users have more convenience rather than using a randomly assigned vehicle by the system's algorithm.

Multi-lingual support:

Users from diversified cultures access your app. Not every individual may be well-versed in English. You can reach out to a wider audience and gain a positive outlook by letting users access it in the language of their preference.

In-app wallet:

Being an entirely automated system, users will inevitably use digital modes of transactions. Hence, it will be ideal if you incorporate an in-app wallet. This way, users needn't enter their account details every time for payments. They can pay seamlessly via the wallet. 
The cost depends on your needs
The cost to develop a top-notch on-demand bike-sharing platform depends on many factors, based on your specifications. Some of the prominent factors include, 
The number of platforms like Android, iOS, etc., you intend to launch your app. 

The complexity of the UI/UX design or the framework of the app. 

The features and functionalities to integrate into the platform. 

The team assisting you to develop the app. 

The promotion and support you provide for the app. 
Bottom line, 
The demand for e-scooters is on an upward trend with each passing day. The demand will be reaching a whole new phase within 2025, according to researchers. This is the ideal time for entrepreneurs to sharpen their axes and invest wisely in e-scooter app development. At Appdupe, we offer 360-degree best-in-class app solutions to all business owners based on their needs. Reach out to us, tell us your needs, and we'll help your business scale new heights in the shortest time possible!
Want to startup a bike-sharing app?

Marketing is my soul mate and writing is my side kick. Using my writing skills to share the knowledge of app development and upcoming technologies.
Have a Crypto Platform/NFT Marketplace Related Development Idea?
---
Get your free consultation now