The modern world is witnessing the next phase in grocery shopping. Customer trends propelling revolutions has been the case in almost every business. However, this time around, there's a natural factor that's steering customer trends – COVID-19. The rivalry between grocery giants like Amazon and Walmart has sparked the mood in the air. While the former leverages technology to enable customers to shop groceries online, the latter implements innovative tech ideas in its brick and mortar stores. Only time will tell which method is better and sustainable. 
With COVID-19 causing irreplaceable damages to health, economy, and whatnot, people prefer ordering groceries online rather than stepping out. According to Mckinsey & company, 98% of US grocery sales were in stores before the pandemic. With the outbreak paving the way for a paradigm shift, how can an entrepreneur turn the wind towards his/her online grocery delivery business? 
If you're an entrepreneur eyeing to capitalize on the demanding situation by launching a tech-driven grocery delivery app, this blog is a good read for you. We'll look at how retail grocery stores are making the best use of technology. Besides, we'll also discuss the prospects of implementing safety standards with the help of modern technology. 
Retail heavyweights are not giving up 
Grocery chains are inclining towards tech-based approaches to instill the factor of trust among customers. Experimentation with technology can yield fruitful results to retail grocery stores as the online market is still in its nascent stages. On-demand grocery apps fail to keep up their same-day delivery stunt, and with demands piling up, they can collapse without proper supply chain management. 
On the other hand, grocery stores needn't establish a presence as they have already produced their brand among the audience. Stores like Giant Eagle, Prince Chopper, Wegmans, etc., are introducing investments in the technical aspect of making grocery shopping seamless and safe. According to a report by Ipsos, a market research firm, 62% of the 2000 respondents opined that they would stop shopping from a retailer if they do not implement strategies to ensure safety and health. 
Let's discuss the initiatives taken by numerous grocery chains in the upcoming section. 
Eliminating checkouts from the ecosystem 
Giant Eagle, a nearly century-long grocery brand, has joined hands with Grabango, a tech-based startup, to introduce contactless payments and checkouts. Customers download the app and add payment information. By scanning the QR codes on products, they can skip the checkout line. Even before the pandemic, the grocery brand has introduced this tech approach to improve efficiency and reduce consumers' overall time. The COVID-19 pandemic has introduced a new ingredient, safety to it. Giant Eagle has plans to implement the initiative in approximately 470 stores within the next 6-12 months. 
Smart shopping carts to the rescue 
Veeve, a retail grocery startup, has come up with smart shopping carts to eliminate cashiers and checkouts. The smart shopping cart is pre-equipped with sensors to identify products and their prices. Customers scan the QR codes and log in. They can then add their essentials to the cart and pay for their orders via different modes, skipping the line and avoiding contact with cashiers. 
Standard Cognition, another tech-based startup, relies on Machine Learning algorithms that detect what each shopper picks up and puts back on shelves. By introducing ceiling-mounted cameras, the ML-powered process makes the entire grocery shopping experience hassle-free and safe. 
FutureProof Retail, a startup that provides mobile checkout software, has collaborated with numerous grocery stores ever since the pandemic. FutureProof's technology is currently being implemented in Prince Chopper stores and several other grocery stores in New York. Customers are adapting to the mobile checkout, eliminating the need for cashiers to handle goods. 
The fear-factor: A competitive advantage 
Even after implementing so many tech-based approaches, grocery retailers experience one significant drawback – customers have to step out of their homes to access services. With the fear of contracting COVID-19 hanging just around the corner, hesitations are inevitable. Turning the opponent's disadvantage into your advantage is crucial to ensure success in the industry. An on-demand grocery delivery app is an ideal way to enable customers to shop groceries from the comfort of their homes. Even on-demand apps face issues like product unavailability, prolonged delivery timings, etc. Breaking these barriers and emerging successfully lies in the hands of a stern entrepreneur. 
Online grocery shopping will grow exponentially 
One of the greatest tech-gifts of the 21st century is smartphones. Improvement in technology can come as a boon for entrepreneurs in this pandemic situation. No one knows what the future holds in cards. But it is very much a possibility that technology will be at the epicenter for every innovation, steering convenience and accessibility to services.
Apps like Instacart, Shipt, etc., experience a massive rise in download rates and order volumes since the pandemic outbreak. Instacart, which experienced 218% experience in daily download rates in March, has already hired 300,000 workers to meet the demands. It wishes to hire 250,000 more as well. It is clear that investing in a grocery delivery app solution in the current scenario can lay the foundation for success in the years to come. 
Self-pickups can prove safe and hassle-free 
The introduction of delivery workers has generated a mixed response among the audiences worldwide. Many believe that they can contract the virus via delivery workers, who are under direct exposure to the external environment. As a result, enabling self-pickups can be an ideal way out. Customers can shop groceries from the comfort of their homes and pick up their orders once they are out after packing. This way, without the intervention of delivery executives, customers can avoid the risk of contracting the virus. 
Zero-contact payments and deliveries will flourish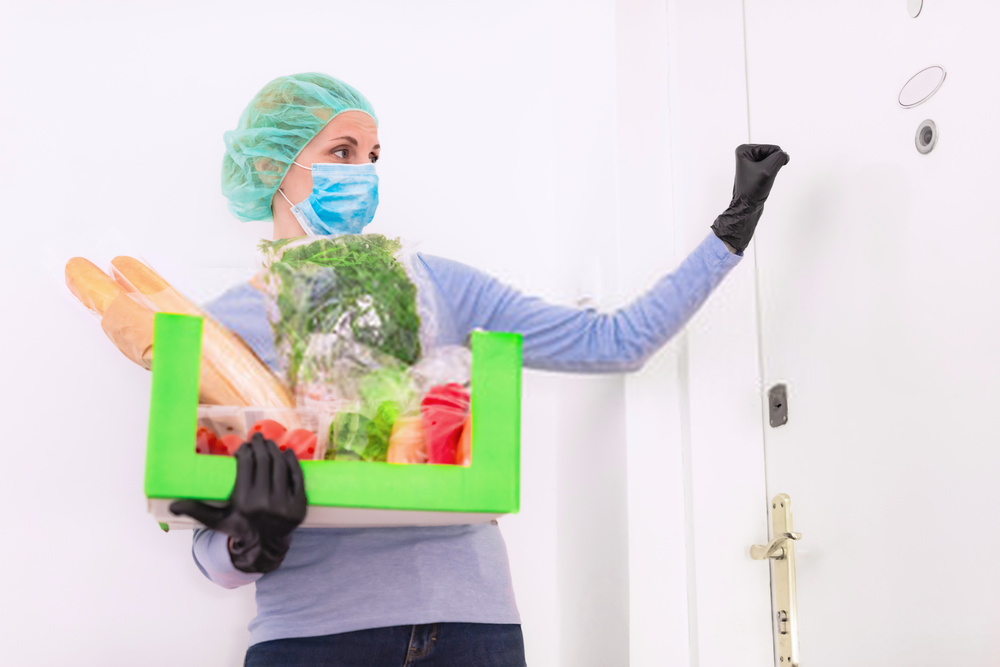 Virus transmission occurs from person to person via external physical contact. Instructing delivery workers to drop grocery orders in front of customer homes rather than handing them over directly is vital in ensuring both parties' safety. Similarly, there is no point in availing contactless deliveries if you transact via cash. Enabling digital modes of payment like credit/debit cards, digital wallets, etc., can prevent any contact while availing services. 
Safety is paramount 
Implementing specific COVID-19 safety add-ons is essential to tackle the pandemic situation. Even here, technology can aid you in conducting business operations and streamlining activities throughout your community. Some of the safety strategies worth implementing in your grocery delivery app solution include, 
Safety gear to delivery workers:

Ensure the lives of your grocery delivery chain by providing them PPE, including masks, gloves, sanitizers, etc. 

Face mask recognition software:

This software seamlessly identifies face masks in your delivery executives' faces, preventing those who do not adhere to community guidelines from providing services. 

Safety badges to grocery stores:

Conduct periodic visits to scrutinize the safety of grocery stores. Those following the highest safety standards get a badge near their names for users' display. 
Join hands with tech-savvy minds of Appdupe 
As you can see throughout the blog, technology has a crucial role in your platform's success. You need a highly reliable technical team by your side to compete with the giants of the sector. At Appdupe, we have helped numerous entrepreneurs scale their business to greater heights with our solutions based on the latest technological advancements. We have curated a specific list of COVID-19 safety add-ons to help you gain instant popularity among the masses. 
Conclusion, 
For years altogether, retail grocery stores have occupied a predominant share in the market. As a blessing in disguise, the pandemic appears to create a tech revolution that makes the entire process of grocery shopping seamless and streamlined. The demand for grocery delivery apps is more than ever. Entrepreneurs can capitalize on the situation and launch an on-demand for groceries right away. 
Reach out to us, tell us your demands, and we'll take care of your success in this digitally-driven world!
Looking to launch On-demand Grocery App with all new technologies?

Marketing is my soul mate and writing is my side kick. Using my writing skills to share the knowledge of app development and upcoming technologies.
Have a Crypto Platform/NFT Marketplace Related Development Idea?
---
Get your free consultation now