Launch your on-demand multi-niche delivery app with precautionary strategies amid the COVID-19 scenario
Author
Delivery App Development
Can you believe it? The fast-paced world has lost its wheels due to a tiny, invisible pathogen. The Coronavirus pandemic is creating a rampage all across the globe. After so many years, people are confined to the walls of their homes, a vacation they never applied or longed for. However, people cannot enjoy sitting at their homes for a long time. There is a global economic downfall happening outside. Even in developed countries like the US, 39 million people are losing their jobs. The state of the world, in this scenario, is gloomy. 
However, as a blessing in disguise, the on-demand app industry is booming ever since the lockdown. The benefits of doorstep services are significantly exploited by people globally. They fear to step out of their homes, owing to the fear that they can contract the disease from the external environment. On-demand delivery platforms are witnessing massive spikes in their orders. This scenario has opened horizons for entrepreneurs to invest in this flourishing business sector. In this blog, let's take a look at how to develop an on-demand delivery app with proper safety strategies. 
Why should I invest in a delivery platform? 
This is one of the primary questions for every entrepreneur. Let's take a look at the reasons and facts as to why investing in these platforms is a profitable business venture. 
People have identified the convenience of online shopping. They needn't wait in long queues, nor do they have to reach a grocery store. Hence, people will prefer delivery apps even after COVID-19. 

Once the system is back on track, people with busy schedules will rely on your platforms for deliveries, thus leading to time and energy conservation. 

There are various sources of revenue generation through these online apps. These include paid commissions, delivery charges, surge pricing, advertisements, etc.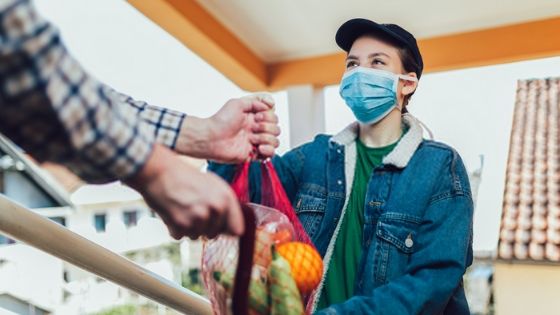 After the onset of the pandemic, Instacart, a popular grocery delivery app, hired 300,000 workers to meet people's demands. Besides, they are planning to hire 250,000 more executives. 

Drizzly, an alcohol delivery app, recorded a surge in orders by 450% since the lockdown. 

Grubhub, the food delivery platform, joined hands with 20,000 restaurants in March alone. 
All these statements prove the fact that the market is expecting business owners to pour in investments. 
How can I develop a delivery app? 
Now that you are well-versed with the potential of the market, you need to initiate on-demand delivery app development. App development is a tedious business. If you cannot achieve your desired outcome, the entire investment goes in vain. Hence, timeline your development stages and prepare strategies to attain it.

Any delivery app development involves the following stages, 
Analyzing your requirements

Knowing customer expectations

Designing the interface of the app

Integrating features into the app

Managing servers and databases 

Testing the app for quality

Deploying across multiple platforms 

Providing app support 
How do I know my customer expectations? 
Meeting customer expectations are vital to increasing the sustainability of the app. You can know the demands of the users by doing extensive market research. You need to know the in and out of your locality before setting foot into it. The market study can open up quality insights on how your app should turn out. As a result, this stage is mandatory for visualizing your app according to the end-users. 
Why is designing the interface of the app such a crucial step? 
The UI/UX of the app plays a significant role in enhancing the app experience. Your users should find it seamless to navigate through the app without any hindrances. The rest of the functionalities of the app becomes fruitful only if you offer an uninterrupted user experience. Being a delivery app, your users usually navigate through the app, looking for products of various categories. Hence, designing the interface forms a crucial part of developing the app. 
What are the features worth considering in my delivery platform? 
Now comes the big picture – the most time-consuming and expensive app development stage. Once you design your interface, you initiate to integrate features into the app. Some of the vital features of your platform include features of, 
User app

Delivery professional app

Service provider app

Admin panel 
Features of User app: 
Registration

Search and filter options

Add to cart

Multiple payment options

In-app navigation

Ratings and reviews
Features of Delivery Professional app: 
Availability slider

Accept/reject requests

Push notifications

In-app chat/call facilities

Earnings profile
Features of Service Provider app: 
Availability toggle

Manage orders

Track orders

Earnings dashboard

Manage inventory
Features of Admin panel: 
Advanced analytics

God's eye view

Reroute delivery workers

Surge pricings

Commission rates
These are certain unique features that can come in handy in your online delivery platform. 
What are the specific strategies that can help my business amid COVID-19? 
To benefit people and earn revenue simultaneously, you need to sustain your business in the market for an increased timeframe. In unforeseen situations like the Coronavirus pandemic, certain precautionary measures can help your business. They include, 
Encourage contactless deliveries:

The transmission of the disease mainly occurs through external physical contact. Hence, you can break the transmission chain by encouraging contactless deliveries. You can instruct your delivery professionals to drop user orders at a place in front of their homes. 

Enable cashless transactions and disable 'COD':

As a precautionary measure, you can disable the 'cash on delivery' options in high-risk zones. This way, there is no contact made between users and delivery executives. You can integrate multiple payment gateways into the app, thereby promoting cashless transactions. 

Joining hands with local businesses:

The more service providers your app houses, the higher are the chances of user engagements. Be it food, grocery, alcohol, medicines, etc., you need to join hands with local businesses who can reach out to their customers through your platform. This is a win-win situation for the entire supply chain. 

Managing delivery professionals:

Being a delivery platform, delivery executives are inevitably the backbones of the app. You need to make sure you handle these workers effectively to stay in the market. Some of the strategies include hiring delivery professionals, providing them safety gear, etc. 
These strategies can greatly help you manage your ship afloat amid the quarantine situation. 
What is the scope for the on-demand multi-niche delivery app? 
Now that people have identified the convenience of these apps, they'll continue to use them in the long run. However, they'll still need to switch across different apps for various services. To avoid this situation, you can introduce a multi-niche delivery app in the market. With this app, you can provide multiple delivery services through a single app. Some of the businesses that can opt for a delivery business include, 
Food delivery

Grocery delivery 

Alcohol delivery 

Medicine delivery 

Flower delivery 

Medical cannabis delivery, etc. 
With so much to offer, the scope for multi-niche delivery apps is said to rise exponentially in the upcoming years. The market is so vast, and entrepreneurs can easily capitalize on this open field. We also provide Gojek clone app to let entrepreneurs start multi services on-demand app instantly.
Summing up, 
The delivery business poses to be the most profitable business venture in this quarantine season. Businesses are booming with people preferring doorstep delivery services. In this situation, you can experience enticing returns as long as you stay in the market. Entrepreneurs needn't hesitate to venture into the thriving market. 
All these stages involve extensive care as any negligence in one step will lead to the disruption of others. Do not worry. We've got you all covered. Being the captain of the ship, you can share your visions with us. We'll take care of the entire on-demand delivery app development solution, completely customizable according to your specifications.
Looking to startup an on-demand delivery app?

Marketing is my soul mate and writing is my side kick. Using my writing skills to share the knowledge of app development and upcoming technologies.
Have a Crypto Platform/NFT Marketplace Related Development Idea?
---
Get your free consultation now