Launching an app like Instacart: Jump-start your hyper-local food and grocery delivery app
Author
Grocery App Development
"The world of work is suffering an absolutely extraordinary fall," states Guy Rider, the Chief General of the International Labour Organization (ILO). This is the impact of a tiny invisible pathogen in a mighty world. As of now, there are 4.3 million infected cases across the globe. Although governments are imposing lockdowns to curb the transmission, people are beginning to feel restless. The economy of the entire world is declining at an alarming pace. Industries are eyeing to resume their productions as they suffer heavy losses with each passing day. The world is beginning to adapt itself to the 'new' normal. 
Amid these unforeseen situations, people have realized the importance of on-demand apps. Even though these apps are prevalent in the market way before the onset of COVID-19, they gained unprecedented popularity in this quarantine season. People, fearing to step out, order their necessities through food and grocery delivery apps, and enjoy doorstep services.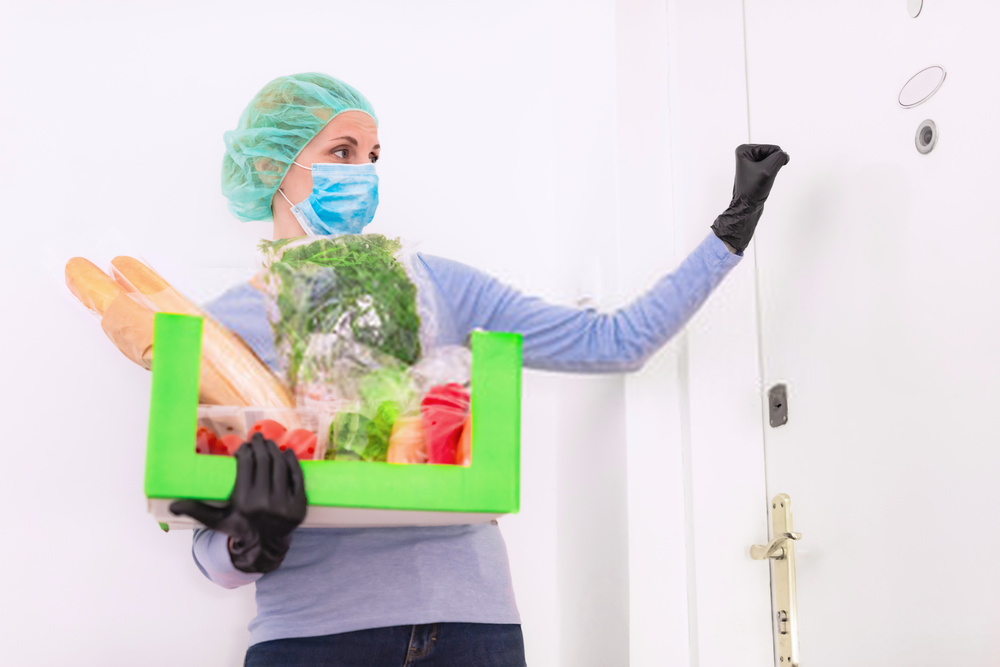 Entrepreneurs, too, have witnessed the flourishing market of these delivery apps. Grocery delivery app development is turning out to be the next big thing for business owners. In this blog, let's take a look at how to launch a hyperlocal food and grocery delivery app. 
Identify your business model
The first step in app development is to identify the business model that suits you. Let's discuss the different popular business models here, 
Marketplaces model:

In this type of business model, your app is just a virtual platform connecting multiple vendors with users in need. Vendors provide delivery by themselves. Revenue earned in this model is significantly less due to less workload. 

Aggregators model:

In this business model, you connect different service providers with users. One of the main differences between marketplaces and aggregators models is that all services provided under the latter model are provided under one common brand name. As a result, the trustworthiness of users depends on the app rather than the service provider. Instacart is the best example of this model. 

Single store model:

For an already established business entity, this type of model can be useful. Stores can use the app to provide doorstep deliveries to its customers. Here, the grocery stores have a separate delivery chain. 

Grocery chain model:

This type of model is common when multiple grocery stores are established in various regions from a single entity. Walmart Grocery, the most popular grocery delivery app, is based on this model. 
It entirely depends on your locality to identify your best-suited business model. 
Know the app development stages
Upon identifying the business model, you need to be well-versed with the different app development stages. Various stages include, 
Analyzing requirements 

Market Study

App design 

Front-end development

Back-end development

App testing and launch
Knowing your business model and identifying other needs to develop the app constitutes the first stage. 
Market study reflects customer expectations
Your locality plays a significant role in app development. Even the best performing app worldwide can fail miserably in your town. As a result, do a market study to identify the demands of the market. Your app must meet the requirements of the people in your area. Only by doing an extensive market analysis, you'll get to know customer expectations better. Hence, market research is mandatory, and it constitutes a critical stage in app development. 
UI/UX greatly influences user experience
The next stage in development is to design the outline of the app. While this may sound simple, UI/UX plays a significant role in enhancing the user experience of the app. All the interactions users have with the app depends on the UX. Your app design should be a perfect blend of simplicity and innovation. Some of the major advantages of designing UI/UX include, 
It aids in customer retention. 

It enhances user experience, leading to increased productivity. 

It reduces the overall time of development significantly. 

It reduces the budget for app development. 
As a result, do not ignore this stage. Your user interface improves the reliability of users towards the app. 
Features are the king-makers
Take any number of well-established apps in the market. Analyze them on various scales, and you'll identify one common link among them all. It is the features that make an app unique and increase the sustainability of the app.
Launch an on-demand grocery app with a white-label grocery app development solution. Popular features and functionality of the popular grocery apps with an inbuilt business model like Instacart.
Let's discuss certain vital features worth considering in a grocery delivery app, 
Search and filter options:

Users can search for any grocery item instantly with the search option. In addition, they can segregate grocery products based on price, type, etc., with this feature. 

Add to cart:

Users can add different items to their cart using the 'Add to cart' feature. 

Payment gateways:

Users can pay via multiple payment gateways integrated into the app, including credit, debit cards, digital wallets, etc. 

Availability status:

Both grocery stores and delivery professionals can switch between this availability toggle. This lets them serve users during free hours or at any time according to their convenience. 

Accept/Reject orders:

In the same way, grocery outlets and delivery workers can accept or reject user orders according to their interests. 

Multiple orders:

Delivery personnel can pick up multiple orders during their transit, thereby conserving time effectively. 

Manage inventory:

Grocery owners can manage their inventory by adding products in demand with this feature. 

In-app chat/call facilities:

To ensure streamlined communication among different sectors of the app, these chat/call facilities can come in handy. Users, delivery professionals, and grocery owners can communicate with each other in case of doubts or queries. 

God's eye view:

This is an admin-panel feature with which admins can monitor all the activities of the app from a single place. 

Delivery radius:

Admins can set a delivery radius upto which grocery stores can take up orders from orders. 
Make sure you integrate stand-apart features into your grocery delivery app to attract users and gain popularity in the market. 
A multi-services app can be your one-stop destination
Different delivery services apps, including food, grocery, medicines, etc., have gained user attention within a short period. But users may still find it difficult to switch across different apps to access services. Now, what if you can provide multiple deliveries from a single app? This has opened up horizons for entrepreneurs to venture into the market with a multi-services app like Gojek.

With a single app, users can shop groceries, order food, and get medications from pharmacies. Also, these apps can accommodate more than 50 services. The multi-services market is expecting a major revolution, and you can be the one providing it.  
We, at Appdupe, can help you climb the ladders of success with a Gojek clone app. In addition, we offer complete customization and branding, letting you develop your app according to the needs of your locality. 
In a Nutshell,
Grocery delivery apps are proving to be highly profitable, with increasing user engagements every day. Identifying a business model, according to your resources, is highly essential. You must provide the utmost care to the market study as it helps in building the app according to your locality. The user interface, too, impacts the performance of your app. It is the features that play a significant role in attracting customers towards your app. With so much buzz around the market, you can also opt for a multi-services app, providing multiple delivery services on the go! 
If you are determined to establish your business in the flourishing market, we, at Appdupe, can assist you in every way possible to take your business to the next level. Connect with us right away!

Looking to startup an on-demand grocery delivery app like Instacart?

Marketing is my soul mate and writing is my side kick. Using my writing skills to share the knowledge of app development and upcoming technologies.
Have a Crypto Platform/NFT Marketplace Related Development Idea?
---
Get your free consultation now