Experience A Rocketing Success With The Futuristic Zoom Clone App
Author
Zoom Clone
We can easily say that the things that we are experiencing right now if told by someone some months ago, we would have laughed at them for saying unrealistic things. That's how everything has turned now: surreal, apocalyptic, and catastrophic. Ok, maybe not that impactful, but you know, it's all in the game. Well, coming back to our point, our routines have changed drastically, and so have the methods to dodge the decline caused because of this change. The vast wave of video conferencing software usage is one thing we can't miss here. 
People can't get out of their homes, but they will have to make sure that they can collaborate with international clients. If this had been like a riddle a century ago, it would have been undoubtedly harder to guess. But now, all thanks to video conferencing software, people can travel to thousands of places without even having to move from a single location. The video conferencing market is going to grow stronger from 2020 to 2021 and even beyond that. 
It had reached a revenue of $3.02 billion by 2018, but because of COVID, it had been pushed to another level. However, it is projected to grow twofold by 2026 by looking at the estimated projection of US 6.37 billion dollars. The innovation in this industry has experienced and will further experience more with the evolution of many Zoom Clone apps, making video conferencing better, productive, and more comfortable.
Revolution in the corporate industry
One thing if we take as a bane in the corporate existence for years, that is refraining from the growth is unproductive meetings. People spend way more time in them, leading to many wasted hours. According to a Doodle report, a massive amount of $399 billion is wasted in organizing the poor meetings every year. Video conferencing has become the foolproof solution for these meetings, as it has helped in holding improved and efficient meetings. 
With the expansion of the video conferencing market, businesses and employees want better, smarter, and more straightforward video conferencing solutions for sophisticated visuals. Because who would love blurred and distorted visuals? Supplying to their demand, video conferencing has become much more accessible as high-quality hardware like LED screens and mobile devices like tablets or smartphones can be used. The meetings are no more becoming a burden for hosts as they can invite over hundreds of members through agenda-based meetings and breakout rooms. 
Pro tip: By creating a clear agenda, however, many pointless meetings can be turned productive. Outlining a plan, carrying it out well with video-enabled meetings and conferences, and ensuring good acoustics is another way for boosting effectiveness. 
One contemporary addition to the video conferencing- AI
As a new addition to the video conferencing software, there is also the integration of AI-based algorithms that can be used sooner. It can be used as facilitators in future meetings. To put it in an exact way, they can be used in transcribing audio, facilitating insights about engagement in the forum, counting attendees, and so much more. Hence, businesses can focus on essential pieces. 
Through machine-learning algorithms, AI will also be used to cut-out background disruptions from audios. Wondering how? The machine learning algorithm will be able to detect which speaker should be active, and it will ensure that their voice is heard clearly. 
These are just a glimpse into what AI integration could offer. There are many more innovations coming up. 
READY TO LAUNCH A VIDEO CALL MEETING APP LIKE ZOOM? LET'S DISCUSS!

Connect on WhatsApp Contact Us
Next best platform for business meetings
Video conferencing has fundamentally changed the concept of 'Meet and Greet' worldwide, as everything it takes is an electric device like a laptop, tablets, etc., and a presentable space. With the rise of many video conferencing solutions like Zoom Clone for enterprise collaboration and communication, there is a rise in the use of video conferencing. This is because it is right now that the employees are exploring and discovering the enterprise tools available in the video conferencing solutions, making it highly demanded.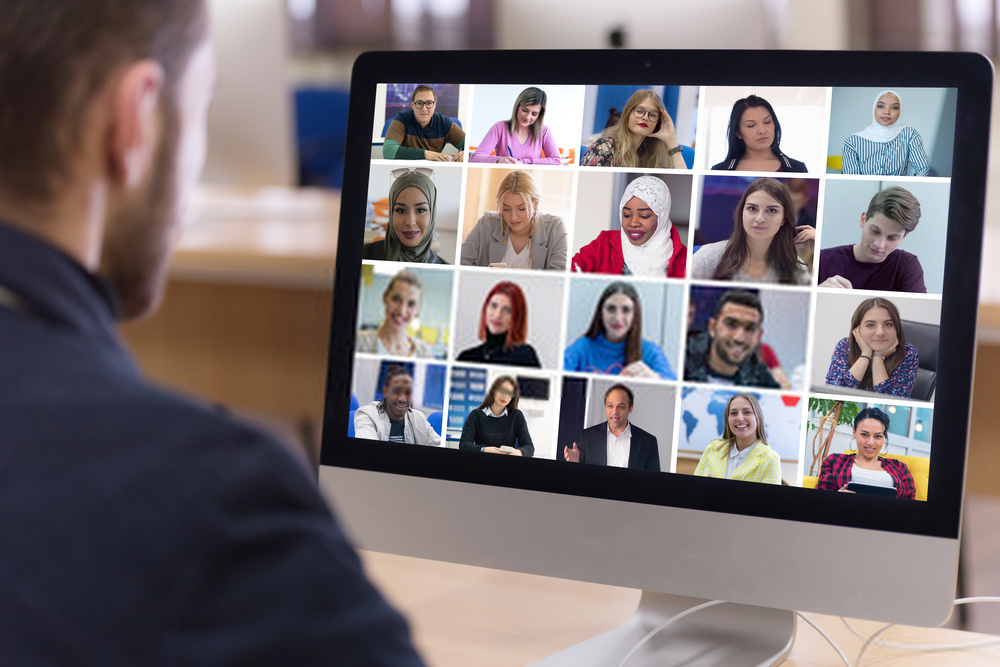 By looking at how beneficial it is, people are expecting to experience the same cutting edge even at their workplace. The user-friendly and engaging interface is the one thing to be blamed. By a report from Logitech, it is said that video conferencing has increased by 800 percent in the last four years. The employee expectations also extend to the remote workers or the people who are always on the go. 
By a report from Logitech, 70 percent of employees work from home for at least a day. Since the remote workers wouldn't be able to attend the in-person meetings, video conferencing is becoming the leverage for many businesses for having important communication and collaborations. Apart from it, the video conferencing software offers them many benefits like increased productivity, higher engagement levels, and reduced travel costs, etc. 
Say goodbye to office spaces
Collaborative furniture, office spaces, biophilic designs have all been replaced now. The definition of the modern workplace is now replaced with video conferencing. Pay attention that it is just a replacement. Because, even in video conferencing, you could still create rooms and conduct shorter meetings for a much lesser time with the right tools. On the whole, there is no compromise in productivity.
On a final note, 
Video conferencing software is highly demanded. So, help enterprises take the meetings to the next level by using the Zoom Clone script. Join forces with our Appdupe now, and we will be happier to help you out.
Get the leading-edge video conferencing app like Zoom

Marketing is my soul mate and writing is my side kick. Using my writing skills to share the knowledge of app development and upcoming technologies.
Have a Crypto Platform/NFT Marketplace Related Development Idea?
---
Get your free consultation now