[Super Apps Series] Part 2: Early Successful players in the Super Apps Market: How to develop a Super App to compete with them?
Author
Gojek Clone, Super App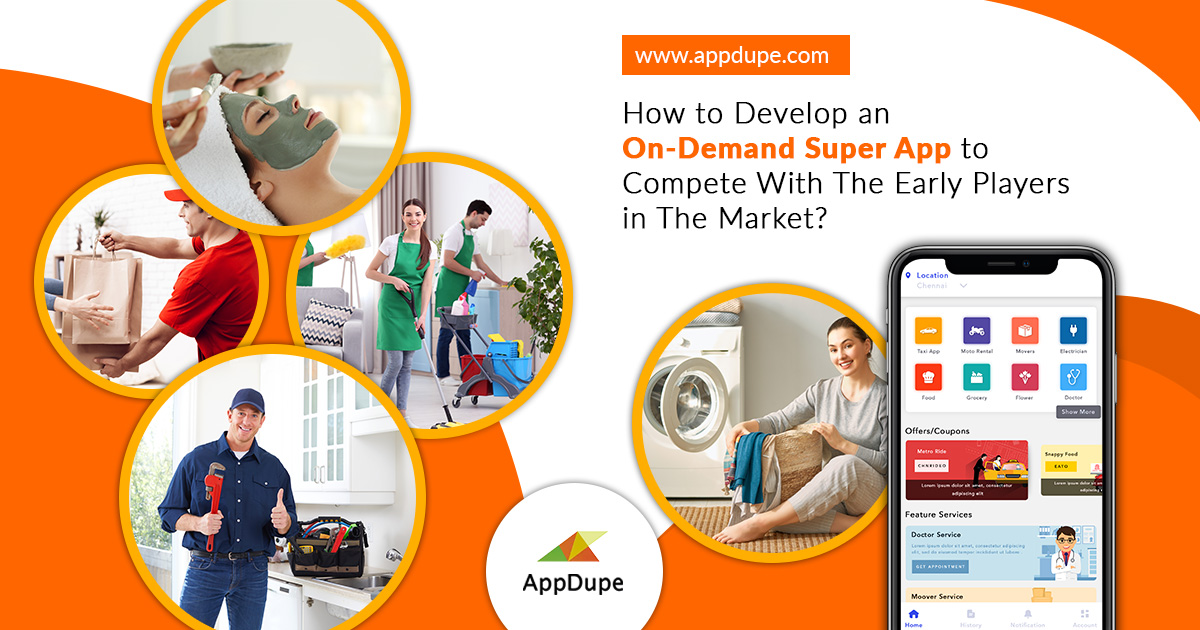 India's most popular on-demand services are becoming super apps
India has many companies that are planning to include additional services to its app to make it a super app. A few of them are:
Truecaller:
Truecaller is an app that allows users to find strangers and robo-callers using their phone number. The app has already added the recording calls, mobile payment, and the texting feature in the past nine years. Now, it has plans to include a credit option that will let the users borrow money from the app. 
Paytm:
Paytm is a super app that has multiple services such as shopping, bill payments, recharges, and more. The app started as a wallet service and has now integrated so many other services. The app also includes a few games, and there are more than 30 million active users. 
PhonePe:
This is a payment service owned by Flipkart, and it has included Ola, Oyo, and MakeMytrip to it. This will allow users to book taxis, rooms, and travel tickets.
Amazon:
Amazon is a giant in offering the on-demand product delivery service. It delivers electronics, dresses, accessories, furniture, and whatnot. The app added the feature of paying bills for food, recharge, movie tickets, and more. It also launched a video streaming service called Amazon Prime using which the latest TV shows and movies can be streamed. 
SMS Organizer:
It is a product of Microsoft and was initially launched as a messaging app. But, now it delivers the results of the 10th and 12th grade CBSE examinations. It also entered into a partnership with Indian Railways and added the facility of tracking the live train schedules. 
Ola:
Ola has also planned to add the credit option to its app. It also has plans to extend its business to the food delivery industry, and as a part of the plan, it acquired FoodPanda in the year 2017. 
MX Player:
This a video playback app that later released a streaming service using which you can view a set of shows and movies. It also integrated the Gaana app to provide the music service to the customers. Talks are going on about  adding games to the app. 
Reliance Jio:
It set foot in the telecom industry with its amazing data and voice call plans. They even launched Jio TV using which Jio users can watch movies and shows. Followed by this, they are planning to launch an app with almost 100 features in it. It has already acquired Saavn and Haptik as a part of the expansion. 
Gojek's hold in the Super App Market
GoJek was the first super app to be launched in Indonesia. It includes food delivery, transportation, shopping, hyper-local delivery, massage services, and more. It adds an additional service to the app each year. It has more than 125 million users, and it is increasing every year. The main element for GoJek becoming a super app is that it replaces the need for using multiple apps and provides a user-friendly interface that will help the user operate the app easily. The Go-Pay payment gateway is another factor that amounts to the success of GoJek as a super app. Developing a Super app like Gojek is one of the best entrepreneurial idea of this decade.
Current Market Scope for Super Apps in the US and Europe Market
In the present, the US, Africa, Australia, Europe, and Canada's market does not have any super apps. Many super app giants are trying to expand their venture to all these countries, but it is not successful yet. It will see only gradual development in terms of super apps. 
How to develop a Super App?
A super app is developed like any other on-demand app in the market. But, it is made sure that the UI of the app is extra user-friendly. It should include the following features:
GPS

In-app payments

Live-tracking

Chat or call support

Real-time sync

Ratings and reviews

Notifications
These are a few important attributes of a super app. You can also include additional features based on the business needs and the interest of the people in that region. The technology stack and tools of a super app encompass the following:
Rails

Java

Scala

Clojure

Python

PostgreSQL

Maria DB

RocksDB

InfluxDB

Hazelcast

RabbitMQ

Redis

Chef

Ansible

Terraform

GRPC
These tools and languages together form a super app and its interface. All the services should be listed on a single page. Users do not download the app to search for each and every service they are in need of. The app should run without any bugs or technical glitches. 
Appdupe Offers Gojek clone App solution to develop Super Apps
At AppDupe, apps for all on-demand services are offered. If you are the owner of multiple services, then the GoJek Clone app will be the right choice for you. You can manage all your services under a single roof. The app can be developed and customized in a few days. It can be launched on multiple platforms so that you will gain customers from various  platforms.
Become an Unicorn in the field of on-demand apps with a Super App!

Marketing is my soul mate and writing is my side kick. Using my writing skills to share the knowledge of app development and upcoming technologies.
Have a Crypto Platform/NFT Marketplace Related Development Idea?
---
Get your free consultation now