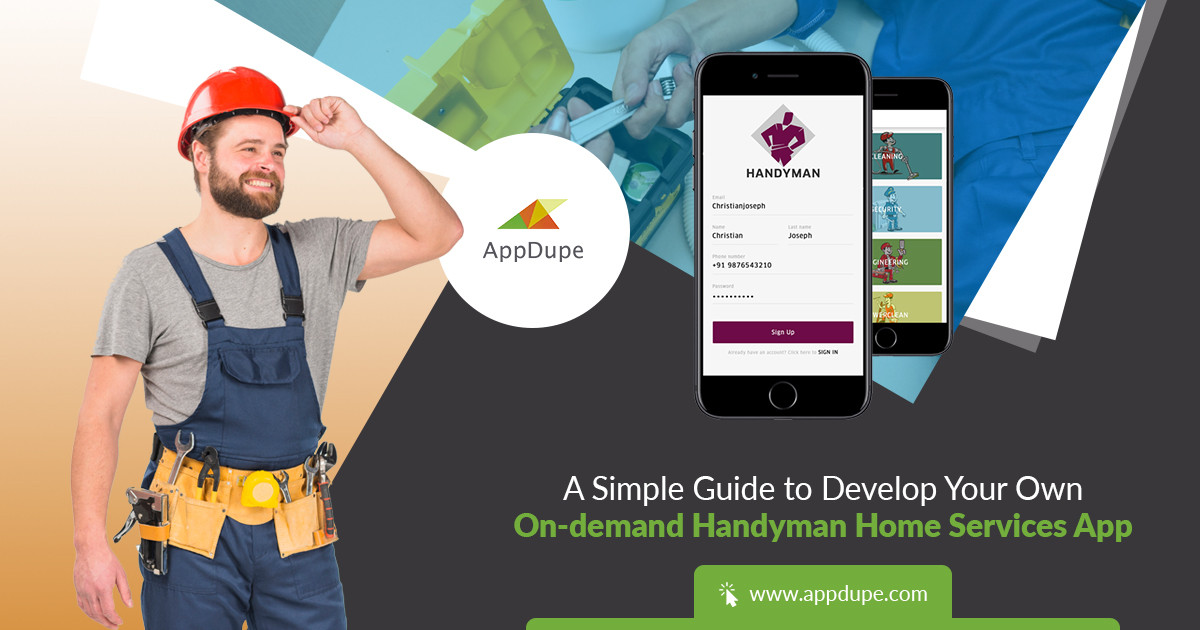 Every on-demand service is available at your fingertips now. Only a few years back, services such as food delivery, ride-hailing, etc. were introduced. But now, these businesses have witnessed a grand success. According to the Technavio research report, the revenue of $869.95 billion is being generated by the online home service market. With the launch of on-demand apps, the idea of booking any service online came into play. On-demand services are provided through online apps for laundry, cleaning, gardening, cooking, plumbing, and whatnot. Just a single tap and the concerned person will arrive to offer quality service. 
To satisfy this increasing need for on-demand services, on-demand apps similar to Uber, Gojek, etc. are needed.  So, many app development agencies came up with the idea of developing and releasing clone apps with the employment of clone scripts in it. When it comes to home services, you can offer a single service or provide the customers with multiple services in a single app. 
In this digital world, people definitely need an app to book home services online. There are ready-made app solutions which helps the entrepreneurs in launching such an app. One such app solution is the GoJek clone app that helps clients incorporate multiple services in a single app. A separate landing page is designed for each service. Monitoring and managing can be made easier with this single app. Separate apps such as Uber for Handyman, Uber for salon services, and more are also available. 
The app has so many amazing attributes such as multiple registration options, social media integration, geo-location, contact details of the executive, separate panels for each of the roles, and more. The options of each panel will vary, and the administrator will have the concerned privileges to monitor the entire process. 
Functionalities to integrate into the app
If you wish to develop an on-demand handyman app or an app for any other home service that the user will instantly like, then you should make sure you add the above-mentioned elements and a few other major features that are elaborated below:
Search filters
The customers do not want to spend so much time in finding a serviceman. So, you have to ensure that you employ necessary search filters to help them find the service and an executive easily. Search filters can be based on the type of home service, distance, the charge per hour, and ratings. This will help them find the best serviceman in the shortest time. 
Scheduling appointments
In today's busy world, people might want to fix up an appointment as and when they remember it. So, there should be an option that lets the user schedule an appointment when required. They should be alerted a few hours before the scheduled time about the home service appointment. This way, the user will not forget to set up an appointment, and you will not lose a valuable customer. 
Include tutorials in the app
Another way to earn money with your app is to add tutorial videos on how to fix problems or include precautionary measures to avoid any damage. You can set up a fixed charge to let the users watch the videos. 
Measurement tools
Sometimes the user might want to paint their house or change the pattern on the wall etc. In such situations, there should be an in-app measuring tool that will help you measure the size of the wall, including the corners. With this tool, you can provide the customer with an estimate of how much it would cost to paint or change the pattern. 
These are a few more attributes that will make your app stand out from the crowd. Since the home service sector is developing rapidly, now is the right time to launch your on-demand app and reap a high profit. 
On-demand home service app "Homee" raised $15 million
With the growth of the home service industry as an inspiration, a company called Homee set up an online app for providing home services. It was a Florida-based startup company that was found in the year 2017. It has had tremendous growth in the market that many investors have come forward to provide funds for the company. Forte Ventures, a venture capital firm, invested $15 million in Homee.Inc., a few months back. They invested because they thought that Homee would be able to see a massive growth above all its competitors with its quality of service. They provide a $1000 quality guarantee and insurance worth $2 million. Their app is easy to navigate, and it takes less than a minute to place a request or for the serviceman to find a job for the day.
To Conclude
So, if you have any plans to start up an on-demand handyman service or other home services, then you can invest now and launch an efficient app that will take your business to greater heights. We build apps with a user-friendly interface and incorporate features according to your business needs. Once you start making profits and acquire loyal customers with the help of the app, you will feel that the app was the most productive tool that you have invested on. Contact our experts to know more about the clone apps. 
Looking to startup an On-demand Handyman Service App?
Have a Crypto Platform/NFT Marketplace Related Development Idea?
---
Get your free consultation now