Best On-demand Business Ideas That will Work Now & Beyond the Coronavirus Lockdown
Author
Gojek Clone
"The thing's not going to stop until it affects 60 – 70% of the global population," says Michael Osterholm, the founder and director of the Center for Infectious Disease Research and Policy(CIDRAP) when asked about COVID-19. The Coronavirus pandemic has affected almost 190 countries across the globe. Governments of various nations are imposing and extending lockdowns to contain the disease spread. Industries have taken a massive hit following the lockdown. Schools and colleges have been shut indefinitely until further notice. People are experiencing the impacts of the disease after being confined to their homes for more than three months now. 
They fear to step out even for necessities. People demand food, groceries for their survival. They cannot access the restaurants or grocery stores down the street. Even if they do, they return home empty-handed owing to the long queues and the fear of disease contraction. In this undesirable situation, there has been one industry gaining people's attention more than ever. It is the on-demand app industry reaching out to a wider audience in this quarantine season. This is the time for entrepreneurs to venture into the flourishing market. In this blog, let's discuss the best on-demand business ideas that can benefit entrepreneurs during and post COVID-19. 
On-demand apps – The Next Big Thing
Initially, let's take a look at the growth of the entire on-demand app industry. 
People have begun to incline towards grocery delivery apps. The daily download rates of Instacart, Walmart Grocery, etc., rose by 218% and 160%, respectively, since the pandemic. 
Students, deprived of their education, are moving towards e-learning apps. Udemy saw a 425% increase in enrollment since the lockdown. 

Food delivery apps are reaching out to millions of people in need. In fact, Grubhub has joined hands with 20,000 restaurants in March alone. 

With people stranded to their homes, fitness apps have also gained popularity. These apps are experiencing a 50% rise in user engagements since the outbreak of the pandemic. 

Video conferencing apps are the talk of the town. Zoom, which had 10 million users in 2019, saw the numbers rise by 300 million in just three months. 
Telemedicine apps are providing a helping hand to people. Amwell saw a 400% increase in users since the start of the year. 
It is clear from the above fact that on-demand apps are offering almost every service at users' convenience. 
Grocery delivery business- No second thoughts!
As an entrepreneur, if you are looking for assured ROI returns, you shouldn't have second thoughts about venturing into this grocery delivery market. To quote the rise of Instacart again; To meet the demands of the people, Instacart hired 300,000 workers since the onset of the pandemic. However, it plans to hire 250,000 more to serve people effectively. Such is the upsurge of grocery delivery apps ever since the onset of the pandemic. 
All you have to do is connect multiple grocery stores in your locality. With our robust and ready-made grocery delivery app development solution, we assure your app's scalability among the masses. People have experienced the comfort of doorstep grocery deliveries. As a result, even after the pandemic, they are more likely to rely on your app for groceries. 
Online education app business – widening horizons
There are almost 1.2 billion students across the world. A single pathogen has brought their education to a standstill. Students are the backbones of the future. Hence, they require quality education according to their convenience. Online education apps are providing them with the same. They are proving that there are no horizons to gain knowledge. According to the World Education Forum, the online educational platform in China, Tencent Classroom, recorded the largest 'online movement' with as many as 730,000 accessing the site.
Digitization has become an integral part of students' lives nowadays. This could mean they can easily adapt to these online learning platforms. All you need to do is gather instructors who can offer courses in various fields. With our Udemy clone, your success in the market is assured. Even after COVID-19, students can make use of your app to gain additional knowledge in their respective fields. 
Food delivery business – the evergreen market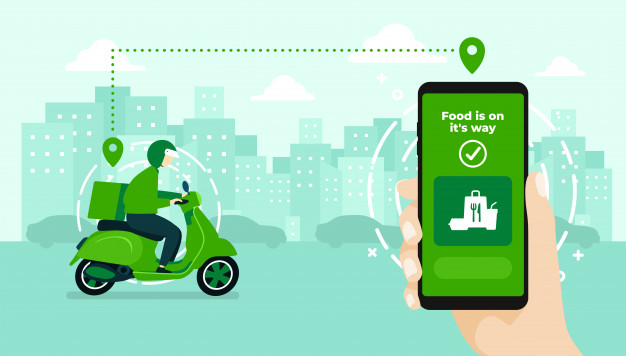 Food is a human necessity, isn't it? Hence, the market for food delivery apps will be flourishing and everlasting. Due to the Coronavirus pandemic, people have restricted movements. To help people, major restaurants in the town have turned into delivery outlets. As a result, users can access their favorite restaurants only through online platforms. This has led to the increased popularity of on-demand food delivery apps. By adopting precautionary measures like contactless deliveries, cashless transactions, etc., you can reach out to people in need effectively. Ubereats saw restaurants signup rise by ten times in March. 
All these facts signify that people will enjoy their favorite food at their homes amid self-isolation. With our Ubereats clone app, you can generate revenues from multiple ways. All you have to do is organize restaurants and maintain safety standards effectively to enjoy uninterrupted income from the app. 
Video conferencing apps – establishing virtual connections
People couldn't reach their offices for work. Instead, they are adopting 'work from home' strategies. There is no contact between employees and employers. In addition, there is no connection among team members or fellow colleagues. To solve this, remote working apps are establishing virtual connections. Organizations are conducting virtual meetings and conferences through these apps. The rise of Zoom has been clearly evident throughout the world. However, Zoom is facing criticisms regarding their privacy and security issues. 
There is a massive void in the market that can be fulfilled by your app. We offer you a securely encrypted Zoom clone app. Besides, our Zoom clone app can be utilized for a variety of purposes, including 
Business communications

Virtual classrooms

Teleconferencing and broadcasting

Personal connections 

Cooking classes

Fitness classes 
With so many enticing benefits, you can engage customers and boost your ROI in no time with our white-label Zoom clone app. 
Telemedicine apps – Hospitals at doorsteps
Hospitals and clinics are flooded with infected patients of the outbreak. As a result, people receiving periodical consultation cannot access these hospitals. They need a virtual platform to connect with their doctors. The telemedicine app market has been buzzing ever since January 2020. User engagements are increasing every day. In fact, the National Health Service has urged 7000 General Practitioners (GPs) to reach out to patients via digital modes. With lockdown continuing to prolong further, the market for telemedicine apps will expand exponentially. 
Don't worry, we've got you covered here, as well. With our Practo clone app, you can engage patients and doctors, leading to revenue generation. 
The multi-services business – One to watch out

People have understood that on-demand apps can cater to their needs almost instantly. Now, instead of providing separate apps for different services, why can't you integrate all these services into a single app? Apps like Gojek have already made a mark for themselves, offering multiple services on the go. People find on-demand apps convenient, affordable, and reliable. The convenience factor increases if they can access all services without switching apps. 
Our robust Gojek clone app can accommodate more than 50 services. With every service included, your app can be a one-stop destination for people with various demands. 
Wrapping up, 
As an entrepreneur, you needn't hesitate to develop an on-demand business app. The market is experiencing a paradigm shift, credits to the coronavirus. People have experienced the benefits of these apps. This is the ideal time for you to establish your business entity in the market. With so many services to offer, you can weigh on your options based on your locality and resources. 
Appdupe, being a pioneer in the app development company, offers you best-in-class services according to your requirements. With our premium app development solutions, you can climb the ladders of success in no time. Reach out to us for services, and we'll be happy to let your app scale among the masses in the shortest turnaround time possible.
Looking to startup an on-demand multi service app?

Marketing is my soul mate and writing is my side kick. Using my writing skills to share the knowledge of app development and upcoming technologies.
Have a Crypto Platform/NFT Marketplace Related Development Idea?
---
Get your free consultation now