Launch a Grocery SuperMarket App
in UAE & Dubai!
---
If there is a business silo that has rampantly supersized itself in the recent months given the ill-starred outbreak of Coronavirus, it must be the on-demand grocery delivery niche. So much is its growth that it's tipped to exceed the $250 billion mark halfway through 2020. Unanimously appealing traits like the ability to order groceries in the touch of a button and at the comfort of the home seem to make on-demand grocery delivery apps virally famous in the UAE region.
At Appdupe, we have unleashed our monumental technical finesse to proffer you with the white-label Grocery E-commerce script - a holistic grocery delivery solution configured to complement the UAE nuances. Infused with world-class features, it's the missing link to your entrepreneurial success.
Create a Grocery E-commerce App in UAE to Delivery more than just Grocery
---
Supermarket
---
Be it your monthly essentials to those craving snacks, our grocery eCommerce script can be tweaked to aid you with an intelligent supermarket delivery app.
Pharmacy
---
Deliver life-saving medications and routine prescriptions to your customers in a blink of an eye with our grocery supermarket application.
Pet Shops
---
Specifically designed to confer pet and pet-related products, including collars, toys, nutritious food, etc., our grocery eCommerce solution can be reverted as a pet delivery app.
Cosmetics
---
Impart opulence into homes by delivering an exquisite range of cosmetics and beauty products from various brands instantly through our solution.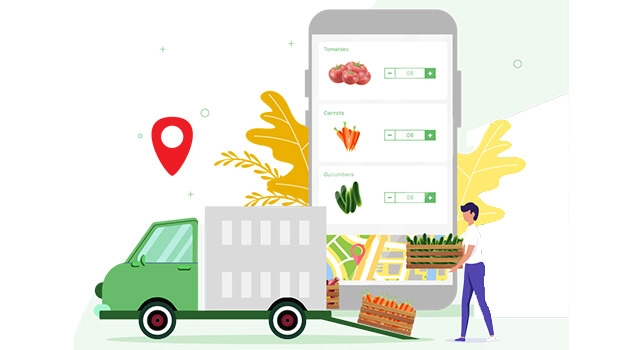 Fresh Produce
---
Facilitate the movement of farm-fresh fruits and vegetables from the markets into your customer's house directly through our grocery app.
Specialty Shops
---
Our grocery eCommerce script can be twitched to deliver both local and global exclusive delicacies and specialties in their fullest to your customer base.
Organic Shop
---
Cash in the wave of organic-products driven health awareness by launching a unique app for delivering a multitude of organic food and products.
Butchery/BBQ
---
Celebrate the Arabian spirit by delivering fresh iterations of meat and lime-light magnet BBQ varieties in your app.
Caffeinated Beverages
---
Our grocery supermarket app solution clone can be utilized to deliver the nitty-gritty of daily routine, including drinks like coffee, tea, chocolate, sports drinks, and other caffeine-rich beverages.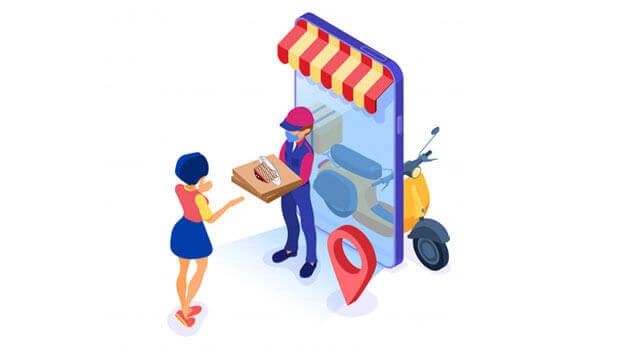 Cakes/Desserts
---
Delivering everyone's favorite celebratory attributes like cake and delicious desserts with a wide range of customization is a possibility with our solution.
Bakery Products
---
Muffins, cupcakes, waffles, bread, buns, etc., can be delivered without any hassle to a specified location through our grocery delivery app solution all over the UAE.
Home Products
---
Foray into the highly profitable home improvement product delivery with an astonishing margin and increased repeat orders rate.
Flower Shop
---
What can be called a celebration without the adornment of elegant flowers? Our solution clone can be converted into a singular flower delivery app.
Water
---
With packaged drinking water becoming a commonality, it is wise to start a water delivery application through our delivery app solution that can be scaled even for commercial purposes.
Exclusive Features of grocery eCommerce app solution in Dubai
---
Instant Login

Proffer your users with the ability to enter the grocery delivery app at the speed of lightning through social media credentials or phone numbers.

Manage Multi-Stores

Single unit or a chain of stores, our grocery delivery app can be used to manage the business operations effortlessly as it is based on an aggregator model.

Live-Order Tracking

Accredit your users to receive real-time location updates about their order with the ingenious integration of services like GPS. Delivery status is displayed too.

Push Notifications

Micromarketing becomes a piece of cake as users can be constantly updated about the latest offers, exclusive sale days, fresh products, etc., through push notifications.

Multi-Payment Option

Maximal revenue generation is stimulated as users can pay through a legion of payment methods, including credit/debit cards, net banking, UPI, etc., without any delay.
Advanced Search Bar

Provide your users the ability to nail down the exact grocery product they wish to purchase with an intelligent search bar embedded with numerous sorting options and filters.

Stock Management

Abandoned carts are non-existent as business owners can instantly access the inventory report and update the stock availability information in the store.

Order Scheduling

Want to order some groceries for a later time? We have covered it with an order scheduling feature entitling users to receive their orders as per their convenience.

Delivery Agent/Store Manager Panel

Our grocery eCommerce script comes with separate applications for delivery agents and store managers to coherently execute business operations.

Multilingual Support

To leverage a global user base, the grocery delivery app solution for UAE is devised to support a range of major languages of the world, empowering you to dive into the unexplored markets.
Our Grocery App Development Solutions
Literally and anecdotally, our grocery e-commerce script can be leveraged to launch startups in the entire grocery app development solutions spectrum.
---
Single Vendor App
Our grocery e-commerce solution can be employed to serve as a trademark delivery application for an individual grocery store with superior levels of customization, engraving the app to impart a specialized grocery shopping experience in line with the vendor's sensibilities.
ECommerce Grocery App
Connect millions of users with grocery store sellers through a unified platform similar to the hugely successful ecommerce approach of giants like Amazon. Render your business with a multifunctional marketplace as ecommerce grocery apps are touted to be the rage of this season.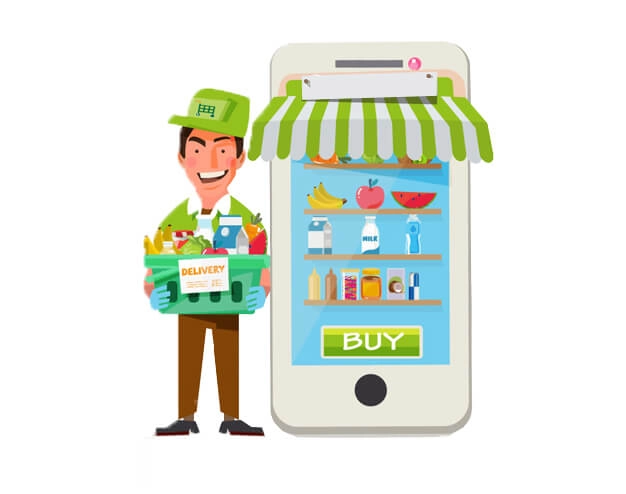 Supermarket Delivery App
Seizing the rich exploits of having an online presence is very much a relevant business upgradation strategy for supermarkets as they can expand their customer base and accelerate their revenue generation. Our high-utility grocery e-commerce script can facilitate this.
In-Store Grocery App
Launching an in-store grocery app through our grocery e-commerce script may be the prime differentiator among your contemporaries as it entitles users to have a virtual tour all around the store beside the details, descriptions, and availability information of those products.
Farm-2-Consumers Direct Delivery
Farm fresh tag is one of the most widely revered product identities of the current market environment, focusing on organic products. Confer direct delivery of products like milk, vegetables, eggs, fruits, and meats without third parties' interference. Our grocery delivery app solution does the job for you.
Personalized Grocery App
What's more awesome than empowering a customer to order the exact things he/she wants by sharing his/her customized grocery list through an app? That's a reality with our white-label grocery e-commerce script arming you with the capacity to deliver targeted user experience.
Grocery Aggregators App
Make your grocery aggregate business operation a breezy affair as our white-label grocery delivery app authorizes you to publish the list of every grocery store available around a particular location and receive commission charges for every successful transaction taking place over your app.
Grocery Chain App
Managing multiple stores that are branched across different locations is streamlined by assorting the control into a single application. This allows your customers to shop virtually across your stores and, in turn, accelerate your growth and, obviously, revenue.
How does our white-label grocery delivery app Work?
Adopting a streamlined working process, our grocery delivery script focuses on user-friendliness more than anything else.
---
Login: User registers into the grocery delivery app through the smart login credentials.
Search Product: With the help of an advanced search bar, users can browse through the entire list and select a product.
Add to Cart: Users can readily add the selected products into the cart for instant delivery.
Check Out: Users are then prompted to enter the delivery address and select available delivery modes.
Payment: Users can pay through the versatile list of payment options to confirm the order.
Order Request: Admins then forwards the order request to the seller with the detailed information.
Order Processing: Seller then accepts the order and processes it to render it available for delivery.
Delivery: Seller dispatches the order to the delivery person, who then delivers it to the user.
Review & Ratings: Users can then register their opinions about the product through the separate ratings and review field.
Users are prompted to rate the delivery experience and provide feedback
Our

Grocery E-Commerce App Package
We understand your exact business needs- that's a reason we arm you with innately wholesome tech solutions.
---
Main Website for Ordering Groceries
User Android App
User iOS App
User Web Panel
Store Manager Android App
Store Manager iOS App
Store Manager Web Panel
Delivery Agent Android App
Delivery Agent iOS App
Delivery Agent Web Panel
Dispatched Panel (For manual grocery ordering)
Billing Panel
Complete List of Features of our

Grocery E-commerce Script for UAE
---
Swift OnboardingBy integrating their social media accounts, users can instantly storm into the grocery e-commerce app and begin purchasing groceries.

Intelligent Search BarSorting over a sea of similar products is made easy as users can utilize the search bar embedded with advanced filtering and sort functionalities.

Geo IP Users can instantly order products as the delivery address is identified by geo-location, eliminating the need for manually entering the address.

Cart Users can willingly add any number of products into the cart at the touch of a button to avail instant checkout.

Order Tracking The delivery status of orders is available to users along with a live tracking feature with details like the ETA.

Order HistoryReordering the same product becomes a child's play as users can readily access previous orders and transaction details.

Social SharingUsers can express their grocery shopping preferences and exploits to their friends on popular social media sites directly from the grocery eCommerce solution.

Wish List Confer your users with the ability to save a product or several products in the wishlist feature and purchase at a later date.

Multiple Payment OptionsFlood your users with an array of payment options, including UPI, net banking, cash-on-delivery, and similar standard modes for easy transactions.

Offers and Rewards Users are entitled to avail various offers and discounts proffered by sellers and also claim rewards for successful referrals into the app.
Smart Registration Delivery agents can instantly enter the grocery delivery app through their phone number and email address to receive delivery requests.

Delivery Planner A Comprehensive scheduler and the details of delivery, including address, phone number, etc., are available to the delivery agent.

Accept/Reject OrdersBased on their availability and allied attributes, delivery agents can accept new orders and reject them.

Toggle At a tap, delivery agents can indicate their willingness and availability to resume activities using the app's toggle button.

Route ManagementBy integrating location services like Google Maps and Apple Maps, the delivery agents are proffered with the most optimal route for a particular delivery location.

Status of DeliveryDelivery agents can immediately update the delivery status, such as delivered/not delivered/scheduled delivery, etc.

Push NotificationsDelivery agents are momentarily updated about new orders and delivery requests through the in-app push notifications.

Earnings Manager The delivery agents can track the daily, weekly, and monthly delivery compensation through this separate field.

SOS ButtonIn case of any emergency, delivery agents can right away inform the admin/business owner/emergency services by hitting the SOS button.
Manage Account Sellers/store managers can promptly register and manage the business profile cand configure details like store name, payment details, etc.

Store LocatorSellers can display detailed information about the location of their stores to their customers in the grocery supermarket app.

Store PickUpIf a customer doesn't prefer home delivery, he/she can still order the grocery online and pick it up directly from the nearest store.

Order AlertsEfficiency is extensively increased as sellers are notified of new orders through SMS, email, and push notifications.

Dispatch OrderSellers can start processing the order once they receive the admin's order details and dispatch the prepared orders.

Logistics-enabledTo fulfill superfast and accurate delivery, the grocery eCommerce script can be integrated with third-party logistics partners.

Manage OrdersSellers can facilitate easy processing of orders as they can access order information in silos like scheduled orders, orders under processing, and ready-to-dispatch orders.

Manage InventoryInventory attributes like available stock, empty stock, product categories, product pricing, etc., can be modified by the sellers directly.

Manage PaymentsSellers can track the payments to purchase products and adjust the payment options concerning the existing business condition.

Support CornerThrough an in-app chat feature, sellers can directly resolve customer issues about products and replace any damaged products, if any.
Centralized Dashboard With a god's eye view, admins can competently manage the entire application's entire operational proceedings without any hassle.

Manage ListingsAdmins will have access to add/delete/modify any listing or product categories along with their descriptions and pricing.

Manage StoresAdmins can effortlessly manage the scores of sellers of the app and have access to their order and transaction history, among others.

Manage CustomersArmed with an exclusive queries resolution field, admins can afford round-the-clock telephonic support over technical issues and order issues.

Manage DriversAdmins have the responsibility to assign various delivery tasks to delivery agents along with a complete assemblage of delivery details and track them.

Manage InventoryIn the view of eliminating cart abandonment rates, admins are provided metrics like stock availability, empty categories, stagnant stock, etc.

Role ManagementAdmins can induct sub-admins or managers to monitor specific stores or categories and revert their roles with ease.

Revenue CenterAdmins can track the total revenue made by the platform, total profit, gross income, etc., and export them for further reference.

Offers & DiscountsIntensify the business traction by devising specific offers on selected products and also sale days. Admins can also reward users with loyalty points and programs.

Analytics ReportAdmins are equipped with insightful reports that depict the overall performance of the application besides crucial business metrics.
Heat MapAdmins are provided with a report that maps the areas of maximum customer engagement and accredits them effectively to channel the marketing efforts.

Web AppNot just through a mobile application, your customer can be authorized to order groceries through your business's independent web app.

Multi-Currency CompatibilityGlobal leverage of grocery receptibility can be expedited through conferring the grocery app with the ability to support multiple currencies.

Shopping ListA genuinely disruptive feature, this allows your user to upload their grocery list and get them delivered at their home at the shortest time possible.

eWalletBesides the staple payment options, users can be pampered with the capacity to conduct transactions without leaving the app by integrating rechargeable e-wallets.

Barcode IntegrationDesignate unique barcodes to every product with an intent that tracking and order processing becomes simplified for sellers and buyers.
COVID-19 Safety Addons of our Grocery E-commerce Solution
---
The spirit of our grocery E-commerce script is untouched by the looming pandemic as our titular grocery delivery applications have been strengthened by stellar safety features and protocols that coerce delivery through our app a safe experience. This makes the app a go-to choice for the significant chunk of the population preferring online delivery. It doesn't need an expert to assert that this is the best time to launch the grocery e-commerce script.
Contact-Less Delivery
If affixing a predetermined delivery spot at their homes, users can safely receive the ordered products without receiving them from the delivery executive physically.
Photo/Video Proof
Users are entitled to receive a photo and video clip of delivery agents dropping off the ordered products at a secured place near to the user's house, which can then be picked up safely by the users.
Invalidating COD
Anything transferred by hands is deemed extremely dangerous, and hence admins can disable the cash-on-delivery option and only operate payment through online channels.
Touchpoints Sanitation Information
Edify your users with the complete step-by-step instructions to sanitize the high-risk surfaces like covers, bags, etc., along with the billing information.
Safety Reviews and Ratings
Ensure the bio-secureness of the delivery as users can express their opinions about the safety standards maintained by the delivery agents and can immediately notify the admin.
Safety Kit Recognition
Only after the confirmation that the individual delivery agent is wearing the mask and gloves, delivery requests notify them to establish complete security.
Safety Batches
Admins can assign delivery agents with safety batches that indicate that they coherently comply with the safety requirements after making an assessment directly.
Take Away Option
If users aren't still convinced with the idea of home delivery, they can order from the app and pick it up themselves, exterminating the risk factor associated with the former.
Knowledge Banners
Depict your reverence to the community's health as the Grocery E-Commerce App Solution features educational banners that provide prevention information about COVID-19. An additional quiz can also be added.
The Perfect Grocery Delivery App Solution At The Perfect Time.
The pandemic has shifted the spotlight on on-demand grocery delivery apps. Luckily, you can get your own Grocery E-Commerce App with our solution.
Grocery E-Commerce Script - The Future-Proof Solution of every Grocery Shopping and Delivery Needs
---
Complete OwnershipAs we proffer you with open source script, you have absolute control over the orders, delivery, inventory, finance, anything and everything associated with the grocery supermarket solution.

100% CustomizableBeing a white-labeled solution, the grocery delivery app can be tailored to resonate with your thoughts and app ideas. Industry-readiness is an inherent part of our app.

Mobile Shopping Accord the potential to purchase groceries at a few taps with our multi-functional grocery delivery app solution that's available in trending mobile OS like Android, iOS, WindowsOS, etc.

Limitless StoresScale-up your business activity at any proportion as business owners can add multiple stores/sellers yet effortlessly manage them through a singular grocery delivery script.

Management at FingertipsFurnished with an encyclopedic control over business operations' extensive nuances, including inventory, sales, and transaction reports, handling is now a breezy affair.

Full-Fledged SupportOur holistic approach to app development encapsulates out-and-out support to our clients right from the conceptualization to post-deployment.
Key Advantages of our Grocery E-commerce Script
---
Latest Tech StackWe deploy groundbreaking technology and in-house proficient integrations to construct your grocery e-commerce app brimming with robustness.
Instant SellingKnock off the need to tediously develop a grocery delivery app from scratch as our grocery e-commerce solution is fully-loaded and ready to launch.
Multi-Model Congruity Be it a single store, personalized store, or a chain of stores- our grocery e-commerce app solution can be tempered to support any iteration of the marketplace.
Customer-Centric UIRegistration, purchase, and payment are all made uncomplicated through a thoroughly user-friendly user interface and shopping experience.
Global OperationsFueled with the stellar additions of multi-currency and multilingual support, our grocery e-commerce script is devised with a universal setup supporting operations extending over multiple countries.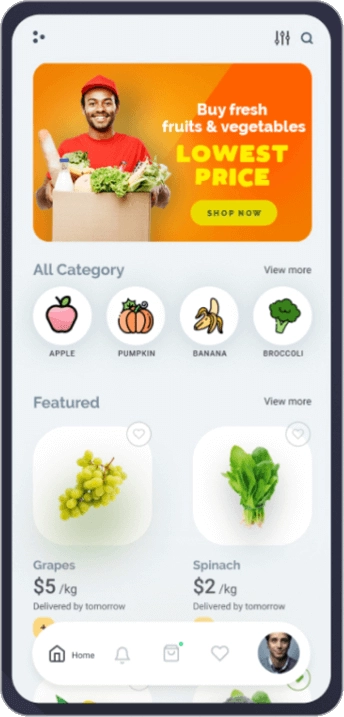 Cost to Develop a

Grocery Store App
App Development is, in many ways, similar to constructing a house. It demands meticulous planning, unwavering passion, paramount skills, and lastly, the ability to walk the talk. The grocery e-commerce script unveiled by Appdupe results from the marriage between laborious endeavor and practical industry experience. Yet, we understand that a plentitude of our clients is aspiring entrepreneurs and first-generation business owners. That's why we offer our ingenious grocery e-commerce solutions at a highly affordable price that, unlike others, doesn't drill a hole in your pocket.
The exact cost to develop a grocery e-commerce store app depends on hordes of factors, including UI/UX, features to be integrated, addons required, customization requirements, etc. Connect with our project management team to know more about the cost!
Incubating your Dream Grocery Delivery Business in UAE is Now a Possibility With Our Grocery E-commerce Solution
Our process of Grocery App Development for Middle Eastern Countries
---
REQUIREMENT ANALYSISWe collaborate with you to scribe down the exact needs, requirements, and app vision.

1

PLANNINGOur development team then churns out a full-blown, precise working action plan.

2

UI/UX DesigningExtruding creativity with business sensibilities, we come up with an arresting user interface for the app.

3

DEVELOPMENTWe profusely code out the entire application with a leading-edge tech stack that ensures a delightful user experience.

4

TESTINGDeploying some of the stringent testing standards, our quality engineers assure the app is free of bugs/glitches.

5

DEPLOYMENTWe submit the grocery e-commerce script at various app stores and make sure that it's ready for download in a snap.

6
View Demo
Get both the Android and iOS apps for free. After all, building a business doesn't have to cost you a bomb!
Premium Installation
Signup(Mobile Number)
View shop
shop banner
Order from single shop
Order multiple items
Add addons
Product wise discount
Card/cash payment
Address addition/skip
Custom notes to admin
Delivery charge
Tax
Live order track
OTP during delivery
Dispute order
Commision to admin
Notice board to delivery boy
Manage address
Promotion
Coupon
Search for dish and shop
Enterprise Installation
Signup(Mobile Number)
View shop
shop banner
Order from single shop
Order multiple items
Add addons
Product wise discount
Card/cash payment
Address addition/skip
Custom notes to admin
Delivery charge
Tax
Live order track
OTP during delivery
Dispute order
Commision to admin
Notice board to delivery boy
Custom push
Shift/Break for delivery boy
Past and ongoing order track
Manage address
Promotion
Coupon
Search for dish and shop
Rating/offer/DT for shop
Why Choose us for

Grocery E-commerce App Development in UAE?



A decade-long experience; an astral level of expertise in grocery shopping solutions isn't the only reason why the bandwagon of our eminent clients trusts us for their app development needs. Take a peek at the other ones!
---
White Label SolutionMake a splash into the grocery field with our very own application that flaunts all kinds of features and integrations you wish that's rebranded with your business identity.
One-Time InvestmentWe don't think there is any other company that confers an incredible application at a highly competitive price. Invest once and enjoy the perennial benefits!
API IntegrationWe seamlessly integrate any third-party APIs into the application that aids attributes like logistics, order, and inventory management.
Multiple Payment IntegrationCatering to the diverse spectrum of customer silage, we embed a range of popular payment options into our grocery e-commerce script that shines convenience.
Universal AppealImposing business constraints based on geographic location, language, currency, etc., are axed without a hitch as our grocery e-commerce script supports multiple languages and currencies.
Robust BackendBy adopting a full, all-encompassing technique in development, we come with unassailable backend functionalities to aid untamed operations.
Multi-Platform Capability We are experts in developing both Android and iOS applications. We never settle for mediocrity as our grocery e-commerce solution is available in both native and cross-platform.
Instant LaunchStorm into the lucrative grocery delivery market right away with our consummate White-label grocery app charged with world-class features and functionalities.
Our Other
Ready-To-Launch Grocery Clone App Solutions
---
Grofers CloneArm your business with an ultimate clone app that's modeled on the Indian grocery major Grofers.
White-label Grocery AppGet the grocery bells ringing with our White-label grocery app that's infused with avant-garde features.
BigBasket CloneAttain staggering business growth in the grocery delivery industry by deploying our BigBasket clone app.
HappyFresh CloneDash a dab of entrepreneurial freshness into the conventional grocery store through our HappyFresh clone app.
Shipt CloneCrown yourself as the market leader with our superlative Shipt clone app for on-demand grocery delivery.
The technology stack


we use for our app development
---
Our expert developers regularly update themselves with the latest app development tools and technologies to develop a robust app solution that helps your business stand apart from the rest.