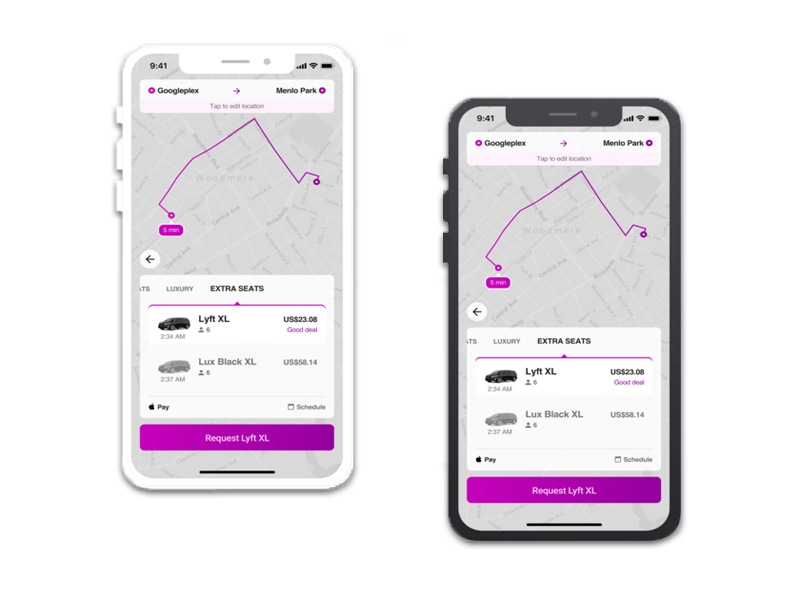 People want everything instant including transportation. Taxis have become a crucial part of the transportation system of each and every city. Booking a taxi online has become the latest trend in today's era.
Online taxi booking methods are transparent in all aspects. The same has been identified as the quickest way to provide customers with taxis. Hence, AppDupe provides the best Cabify Clone and LeCab Clone for your ride hailing business. Cabify Clone will ensure that your online taxi booking service is on top with all the features loaded in it. Get in touch with AppDupe and get the most advanced Cabify Clone Script today!
Pricing
Why choose
AppDupe's LeCab Clone?
AppDupe's LeCab Clone helps you succeed. People are dependent on taxis for their daily travel, this on demand taxi booking app will ensure that your taxi business meets the requirements of your customers.
With AppDupe's Lecab Clone you don't worry about any major investments. You can just focus your energy in getting Driver partners for the app, while we make sure that your app is the getting ready with us. Just so you know we will deliver your app script in just three working days.
We provide the most economical solution to help kick start your taxi booking startup. We ensure that the app has all the features necessary for you to succeed.
Pricing Package
---
Premium Installation
25% OFF
$2500
$1999
/ One Time
Dispatcher Dashboard
Accountant Dashboard
Fleet Owner Dashboard
User Dashboard
Driver Dashboard
User iOS App
User Android App
Driver iOS App
Driver Android App
Facebook Login
Google Login
OTP SMS Authentication
Detailed Profile with rating
Set Pin Location
Select from various types of vehicles
Fare Estimate
Coupon Code
Cash Payment
Credit, Debit Payment
Wallet System
Check Wallet Balance Before Ride
Location favorites
Peak hours
Surge Pricing Notification
Driver Assignment Notification
ETA
Driver Live Track
Call or Message Driver
Driver OTP verification
Change Payment Method at any time
Share Trip Details
Panic Button
Cancel Ride before pickup
Driver Arrival Notification   Passenger Pickup Notification
Waiting Charges
Route and Time based cost exceeding charges
Invoice and Payment Receipt
Feedback and Rating System
Compliment with Tip system
History of Rides
Upcoming Trips
Settings
Invite/referral code generation
Driver Arrival Notification
Passenger Pickup Notification
Terms & Conditions
Privacy Policy Page
Settlement module
Wallet for driver
Card for driver
Enterprise
25% OFF
$12500
$9999
/ One Time
Dispatcher Dashboard
Accountant Dashboard
Fleet Owner Dashboard
User Dashboard
Driver Dashboard
User iOS App
User Android App
Driver iOS App
Driver Android App
Facebook Login
Google Login
OTP SMS Authentication
Detailed Profile with rating
Set Pin Location
Select from various types of vehicles
Fare Estimate
Coupon Code
Cash Payment
Credit, Debit Payment
Wallet System
Check Wallet Balance Before Ride
Location favorites
Peak hours
Surge Pricing Notification
Driver Assignment Notification
ETA
Driver Live Track
Call or Message Driver
Driver OTP verification
Change Payment Method at any time
Share Trip Details
Panic Button
Cancel Ride before pickup
Driver Arrival Notification & Passenger Pickup Notification
Route and Time based cost exceeding charges
Invoice and Payment Receipt
Feedback and Rating System
Compliment with Tip system
History of Rides
Upcoming Trips
Settings
Driver Arrival Notification
Passenger Pickup Notification
Terms & Conditions
Privacy Policy Page
Settlement module
Wallet for driver
Card for driver
Child Seat, Wheelchair etc choices of vehicle tags
Car Rental Service
Outstation Service
Live Cars View
Enter Destination Later
FAQ Support System
Terms & Conditions
Privacy Policy Page
Peak hours
Rerouting with Live navigation
DB backup/Data Backup option in admin panel
Notification for dispatcher in admin(side pop menu)Only if manual assigning on
OTP on/off from admin panel
Instant ride
Reports export for particular user/provider/fleet
FAQ
---
Yes, you can add as many customizations as you wish.
Yes, we provide post delivery maintenance support that comes in the all inclusive the payment. However, there are certain aspects of the support that aren't covered and would require additional charges.
Yes, we will ensure that all the major languages are integrated as per your wish.
Yes you will own the entire source code post delivery
No the app is designed to infuse unlimited number of drivers. But you can limit the number via settings as per your discretion.