Deploy A Pre-Engineered Uber For Massage Service App
With Peerless Features Today!
---
Get a headstart in the on-demand massage service industry with our robust Uber for massage app. Gift your customers the ability to book and enjoy massages in the comfort of their homes. With the continued rise in popularity of the on-demand model of enacting business, an increasing number of services are shifting their focus to massage app development. In today's digitized economy, investing in a robust mobile application for your business has become somewhat of a necessity.
The massage industry is no exception. To thrive in this changing landscape, one needs to enable their customers to book their services through the use of an on-demand massage service app. At Appdupe, we offer you a tried and tested Zeel app clone and Soothe app clone solutions. These offerings are full of the latest features in the market, built to be completely customizable and can be readily integrated into your existing massage business. Come take the next step in your journey by partnering with the leading on-demand massage app development company. The best-in-class Zeel clone and Soothe clone are your ideal options to reach heights in no time!
The Streamlined Workflow


Of Our Uber For Massage App
---
1
Introduction screen
The first thing your customers will see when they enter the on-demand massage app. It has your logo and branding to make a good first impression.
2
Login and registration
Users can enter into their account by registering on the app and logging in.
3
Account verification
First-time users are prompted to verify their accounts through either email or phone.
4
Menu dashboard
A simple menu side panel that lets users access the other aspects of the Uber for massage service app.
5
View massage therapist profile
Users can view every available therapist's profile to help make their choice.
6
View gallery and reviews
Users can view uploaded pictures and read reviews for the chosen massage therapist.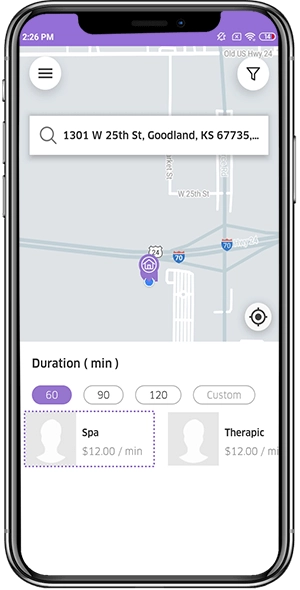 7
Choose the massage therapist
Users can choose the therapist whose service they would like to avail.
8
Choose the massage service
Users can choose the service that they would like to avail from a list of services provided by the therapist.
9
Book session
Once users are satisfied with their choice, they can confirm the session.
10
Payment
Payment details will be provided as per the services chosen and the duration of the session. Users can pay through a variety of ways, including card, internet payment, and UPI.
11
Session
The massage therapist arrives at the time of the scheduled appointment and services the client.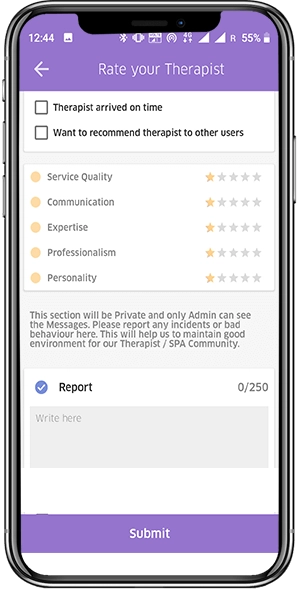 12
Feedback and ratings
Once the session is over, the client is prompted to rate the service and provide feedback.
What We Provide In
Our On-Demand Massage App Like Uber?
---
NATIVE MOBILE APPS
---
Both our iOS and Android apps are built natively so that they perform with best user experience in respective platforms.
LIVE GEO­TRACKING
---
Your Customers can always see where the nearest providers are in real time in your customer facing mobile apps.
CHANGE/CANCEL BOOKING
---
Your customers have the comfort of changing or cancelling a booking at any time.
TALK TO YOUR PROVIDER
---
With our Customer and Provider uber like app for massage, your clientele and providers can chat or call from within the on-demand massage service app.
WORK HISTORY
---
Customers and providers can check the service history and see where their previous points of service requests.
REVIEW SYSTEM
---
Both providers and your customers can see the history of jobs with reviews so that they can get better.
Service that we provide in
our On-Demand Massage Therapist App Development
---
Compatibility and adaptability are an important part of the Zeel clone app development process. At Appdupe, we offer a massage app script to build an app like Zeel and Soothe that encompasses the best of what the market has to offer.
Website
for your massage service
iOS App
for the user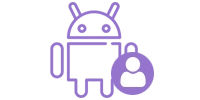 Android app
for the user
Web panel
for the user
iOS App
for the Massage Therapist
Android App
for the Massage Therapist
Web Panel for
the Massage Therapist
Admin panel to oversee the functioning of the app
Essential Features of
Uber For Massage
---
Sign up
An easy sign up process that lets customers get on board quickly and easily.
Schedule booking
Users have the option to book a massage at any time and date in our on-demand massage app like Soothe.
Chat option
Users have the ability to chat with their therapists.
Tracking
Users can see the whereabouts of therapists and the ETA.
View profile
Users can view and edit their profile/account as they please.
Ratings and reviews
Users can rate and provide reviews about the service.
History
Users can view a comprehensive history of the services availed.
Multi payment
Users can pay through a multitude of ways, including cards, internet banking, UPI, and cash.
Registration
Therapists can sign up with the app and start providing services.
Availability status
Therapists can change their status to indicate whether they are available for booking or not.
View customer profiles
Therapists can view the profiles of the customers who requested their service.
Intuitive app navigation
Therapists can navigate through the app easily and intuitively.
Manage profiles
Therapists can manage all their information from one convenient location.
Manage earnings
Therapists can view a detailed history of all their earnings.
Manage accounts
Admins can manage the accounts of both customers and therapists.
Manage appointments
Allows admins to manage all the appointments that have been booked.
Manage services/pricing
Admins have complete control of the list of services they offer, along with their respective pricing.
Tracking
Admins can track therapists in real-time.
Notifications
Admins can send real-time notifications to both clients and therapists.
Manage payments
Admins can manage the pending payments as well as view the complete history of payments.
Real-time tracking
Users and admins can track massage therapists in real-time.
Schedule for later
Allows users to schedule appointments at a future date and time.
Pay by cash
A convenient option for users that boosts sales by providing more options.
Promo codes
Grow your business by word of mouth through promo codes and a referral program.
Multi-Currency/language
A must-have in today's business world, enables you to have a global approach to your development and entice customers from all over the world.
The types of massage you can accommodate
---
We enable you to provide your customers with a range of massage services via an on-demand massage app like Zeel or Soothe.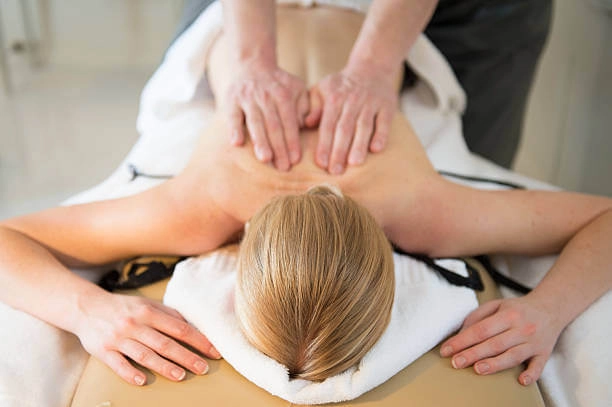 Swedish massage
Relax with long, gentle strokes executed in a circular motion.
Deep tissue massage
Focused, deep massages to relieve stress and pain.
Sports rehabilitation massage
Recover and rehabilitate with this performance-enhancing massage.
Prenatal massage
A gentle, nurturing massage to promote the wellness of both mother and child.
Couples therapy massage
Enjoy a relaxing experience with your significant other.
Work de-stress massage
A perfect relaxation massage for your after-work stress.
Four quick steps to your very own Uber for Massage App
---
Try our demo
To get a better idea of what we can offer you, take a look at our demo app. A good starting point to base your own ideas on.
Tell us your requirements
No one knows what you want better than you. Our team will listen to your every requirement and put together a robust plan on the way forward.
Development
Once we have a clear idea of what you are looking for, our team will work out the details and develop a solution that you are proud of.
The perfect launch
Once we get your stamp of approval, we will roll out your app into the market in the best way possible for a maximum reach.
Get A Complete White-Label Solution
For Zeel Clone App Development
---
Turnkey Solution
---
All our products are 'Turnkey'. You can start with ZERO time-to-market and capture the largest market-share.
Powerful Admin Dashboard
---
Complete control of your websites and mobile apps is comfortably available in your admin dashboard.
Scalable Product
---
Have plans of taking off and scaling up rapidly? We got your back with the most scalable robust products in each category.
Whitelabel Solution
---
Our solution is entirely whitelabel to put whatever brand you want. Your customers will never know about Uber like app for Massage.
Cost Effective
---
Uber like app for Massage is the most featureful product in its tier with pricing from the bottom of the barrel, prolonging your runway
Native Mobile Apps
---
Both our iOS and Android apps are built natively so that they perform with the best user experience in respective platforms
What we offer in On-demand Massage App like Uber
---
Mobile Apps

Easy to use, technically advanced, seamless mobile apps for any given vertical.

Web App

Apps built on avant-garde technologies. Highly functioning, pro-customizable, friction free in-app functionalities.

Admin Dashboard

All-in-one dashboard to quickly skim through the uber like app for massage activities and overall performance.

100% Customizable

Boundless customizing options with immediate add-on support for quick app transformation.

Payment Options

Secure payment options via any authorized online payment portals.
View Demo
---
Get both the Android and iOS apps for free. After all, building a business doesn't have to cost you a bomb!
Admin Panel Features
Admin Login
Forgot Password
Admin Dashboard
Manage Dispatcher Panel
View/Manage User
View/Manage Therapist/SPA List
Therapist On Map
Manage Photo Gallery
Finance Management
Manage Platform Commission
Manage Therapist/SPA Wallet Balance
Manage User Wallet Balance
Negative Balance List (Therapist/SPA)
Negative Balance List (User)
Manage Withdrawal Request
Therapist/SPA Approval
View Country Wise Sale
View Online/Offline Therapist
Manage Booking Summary
View Ratings and Reviews
Manage Country
View/Manage Service Types
CMS Management
Manage Service Statement
View/Manage Promocode
Add Document List
Manage Payment History
Manage Payment Settings
Manage Site Settings
Manage Provider Response Time
Manage Search Radius
Manage Service Assignment (Manual/Automatic)
Customize Country
Manage Roles and Permission
Translations
Manage Admin Account
Change Password
User Features
User Registration
User Login
Forgot Password
Home
User Account Management
Book Instant Service
Book Schedule Service
View Filters
View Service History
View Coupon
View Schedule Services
View Offers
Explore & Book Service
Book Offline/Online Service
Manage Card Details
Manage Wallet
View Notifications
Manage Settings
View Privacy Policy
Change Password
View Terms and Condition
Change Application Language
Rate the App
View Cancellation Rules
View Check In/Check Out Details
View Report Non Arrival Rules
Manage Referral
List SPA/Therapist Details
Rate and Review (Provider)
Push Notification
Provider Features
Provider Registration
Provider Login
Forgot Password
Add Service Types
Add Online/Offline Service
Manage Gallery
Manage Documents
Manage Service History
Manage Scheduled Service
Manage Service Request
View Offer Details
View Notifications
Rate and Review (Customer)
View Earnings Report
View Transaction Details
Manage Wallet
View Cancellation Rules
View Check In/Check Out Details
View Report Non Arrival Rules
Manage Referral
Report Issue
Push Notification
Change Password
Provider Account Management
Technologies that power our
On-Demand Massage Therapist App Development
---