Make Moving Easy With An
On-Demand Movers App Development
---
Moving from one place to another with all of the household things we have is a walking nightmare for many people. People who live alone or with a family would need professional help in moving from one place to another. Many valuables and expensive items like porcelain crockery, mirrors and such need extra care while moving. Not only moving homes, even offices and office supplies can be moved from one place to another. The on-demand market has changed the face of moving businesses for good. The Uber-like app for Movers services customers who need professional help in moving. Customers can make use of this Moving app like Uber to move belongings from one place to another safely and soundly.
Highlighted Features
Of Uber for Movers App
---
Manual Pick-Up DetailsSupersize the customer convenience index by enabling them to capture a picture of the product to be transported and share it with the driver, facilitating accurate pickup. Additionally, users can configure the date/ pick-up time manually, as per their convenience.
Real-Time TrackingExperience the power of precision as the Uber for movers app is embedded with the geolocating ability that nails down the exact location of the assigned driver at any given moment, This way, customers can feel relaxed and in control of the to-be-shipped products.
Offline BookingWiden your service horizons by concording the users with the capabilities of booking through a bundle of offline mediums such as phone call, SMS, and even emails. A stellar way to reclaim the business mojo amidst stiff competition.
Multiple Payment ModesWe ramp up the user-friendliness of the Moving app like uber by integrating a slew of payment methods extending from credit/ debit cards, net banking, and even an in-app electronic wallet that sprawls over a digital invoice generated in a flash.
Price Bargainer ToolBesides the automated price formulation functionality, the moving platform empowers users to set their own price range, keeping an open-end for virtual bargaining with the service providers. A massive enhancement in terms of customer autonomy!
Schedule BookingsInstant bookings might be the creme de la creme feature of any internet-actuated moving utility, but the capacity to schedule bookings receive tremendous adulation across user silos. Appdupe's solution entitles users to set up the booking concerning their agenda.
Fare CalculatorsEdify your customers about the fiscal essentialities of availing the on-demand moving services by conferring a detailed report pertaining to the estimated fare. The digital record also provides insights about the parameters influencing the final cost and more.
Uber for Movers - Business Models
---
Rental App Offer your customers rental options. Customers will be able to rent out trucks so that they can handle and drive their goods by themselves from one location to another. You can charge customers on an hourly basis.
Subscription Model Entice your customers with a subscription model with which they can save money when availing your services. You can offer monthly or weekly subscription deals.
On-Demand App Give your customers a comprehensive mobile software that they can use to reach out to your services with a few simple swipes and taps.
Monetize The Unwavering Demand For Instant Moving Facilities With Our World-class Uber For Movers And Packers Solution
Monetize the unwavering demand for instant moving facilities with our world-class solution.
Uber For Movers App Services Covering Up Varied Needs
---
Last-Mile Delivery
---
Strike a symbiotic partnership with local businesses and small-scale retailers to provide instant last-mile delivery service besides facilitating individual store pickups.
LTL Shipments
---
Expedite Less-Than-Load shipment process with never-seen-before agility. Integrated with an automated freight charge calculator, conquer the large cargo van segment.
Office Moves
---
Cheer up the corporate honchos by providing the service of shifting the entire office setup from one place to another through the on-demand moving service.
Home Moves
---
Monetizing the prevalence of domestic moving occurrences is child's play, especially when you are armed with Appdupe's avant-garde Uber for moving platform.
Junk Handling
---
Flatter your users by systematically clearing trash bins for a monthly subscription. Stack the fee details in the final bill. With Appdupe, anything and everything is possible!
Goods Transportation
---
Douse the pain points of your customer base by smoothing the way for shipping goods of various sizes across diverse locations. Expand your reign in a riveting manner!
Crucial Features


Of Our On-demand Movers And Packers App
---
Quick sign upCustomers can register with the on-demand moving app via multiple sign-up options and login effortlessly with the registered credentials.

Advanced searchCustomers can make extensive use of the formidable search engine to find out the suitable mover service that fits their needs.

View mover's profileCustomers can view the detailed profile of the concerned mover's years of experience, specialties, visiting fees, and the nearest radius of the mover with ease.

Schedule appointmentCustomers can book appointments with the nearest movers for any type of moving service required.

Reschedule/ Cancel appointmentsCustomers can reschedule or cancel appointments with ease by providing valid reasons.

Payment integrationCustomers can choose to pay in the on-demand moving service app with Debit or Credit cards, net banking, or any convenient payment option.

Push notificationsCustomers who have booked the moving services will receive the complete details of the movers via push notifications.

Review and RatingsCustomers can share their ratings and reviews for the services availed. It plays a major role in helping other users make informed decisions.

Chat supportCustomers can reach out to moving service providers or the admin team in case of any issue with the service booked.

Refer and earnCustomers can invite their friends and family to download and install the app and get rewarded with referral points for every successful invite.
Profile setupMovers can create and manage their profiles with their entire information with ease. The details can be edited anytime you want.

Request verificationBefore starting to offer their moving services, movers can upload needed documents to confirm their profiles.

Availability toggleMovers can make their availability visible with the availability toggle and choose to serve customers within their free hours.

Accept/ Reject requestsMovers can accept or reject requests based on their availability. If they are committed to another customer, they can reject the request, and another provider may take it up.

Receive requestsMovers can promptly receive service requests from customers via instant push alerts, along with the customer and booking details.

GeolocationWith Geolocation services, movers can find the pick-up and drop-off locations on maps effortlessly, rendering their services on time.

View earningsMovers can view the earnings received on a monthly or yearly basis with the detailed information in this section.

Service historyThe completed, canceled, and upcoming bookings for moving services are listed here for the quick reference of movers.
Admin dashboardThe admin can get a bird's eye view of customer's and the mover's activities, the number of bookings, commissions earned, most visited locations, and much more.

Verified providersThe admin can verify the profiles of movers registering with the platform. Verified providers will assure the reliability of getting the service done.

Set Mover's RangeThe admin can set the distance range of movers to accept the request, so when a customer places their request, the mover in the specified distance range will receive the request.

Heat View in AdminThe admin can see locations with high demand for moving services so that the admin can reroute the movers to those locations and pick up requests.

Customer SupportThe admin team can handle the requests and grievances of customers and resolve any issues instantly.

Advanced ReportsWith the data-driven advanced reports, the admin can gain insights into their business's performance, devising a clear-cut idea to run the business better.
Advance Features of Uber for Movers App
---
Bill Estimation

The app automatically calculates the final bill for customers taking many factors into consideration like the mover's fee, distance to be covered, etc.

OTP Verification

An SMS notification containing the OTP will be sent to the registered number of customers to confirm their authenticity, eliminating the fake users and requests.

Booking through Phone/SMS/Email

Not every customer owns a smartphone to download the app. Get all types of requests via a Phone call or SMS, or Email and provide services accordingly.

Email Notification

The customer will much appreciate a proper email format that contains the details of the service, such as the final bill breakdown, service provider's details, and such.
Zero Contact Online Deliveries
For Safer And Better Services
---
The pandemic situation has led to increasing demand for Uber-like app for moving services.
The market still has space for more movers and packers businesses to thrive and grow in the long run.
Effective marketing strategies help in retaining existing customers and gaining new customers.
Offering zero contact deliveries has proven to gain user interests, leading to a rise in service requests.
Users and professionals prefer paying/ receiving payments online, eliminating the need for cash handling.
With so many businesses halted, online movers and packers businesses served people without any hassle.
How Does An On-Demand Movers App Work?
---
Customer Registration Customers need to sign up with the on-demand packers and movers app in order to create an account. They can sign into it to save and retrieve personal preferences.
1
Choose ServiceCustomers will be able to select a mover from a list of multiple movers.
2
ScheduleThe time at which the moving service can be specified.
3
GPS TrackingWith the use of GPS, customers will be able to track the location of the logistics vehicle in real-time.
4
Push NotificationsAt every step of the transit, all activities will be sent as alerts and notifications to customers.
5
PaymentOnce the goods reach their final destination, customers can pay through cash, debit/credit card or online wallets.
6
Rate & ReviewFinally, the customer can rate the service.
7
On-Demand Movers App Development Solutions That We Build!
---
We go the extra mile to make your app dreams come true. Depending on your budget, we provide various on-demand packers and movers app development solutions.
Custom-built moving app developmentGet an on-demand movers app development team on board your project to help you create a custom moving software right from scratch. If you want to build a completely brand new app the industry's never seen before then this is a great development solution. Since it is experimental, bear in mind that the risks can be high.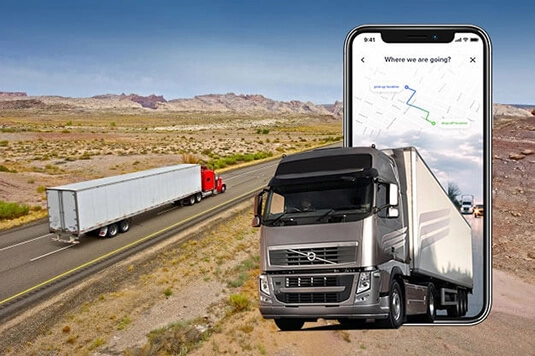 Porter and Lynk like moving appEmulating already established business and mobile software models offer great prospects in terms of ROI. We offer Porter and Lynk clone apps which you only need to customize to make them your own unique software. This solution is time and cost saving.
White-label Uber for moving app development solutionOur whitelabel moving app comes with preloaded features and a business model that can be readily customized and launched in no time. Our on-demand packers and movers app development team will stay with you until your app is successfully up and running on major app stores.
A Complete White Labeled Solution For Uber For Movers
---
We converge the ingenuity of groundbreaking technology to come up with a solution that's both technically competent and extensively affordable. A complete package one must suppose!
White-Labeling
---
We terrifically rebrand the movers app with your rooted business identity elements such as logo, brand name, UX palette, and much more. A non-dodgeable competitive advantage!
Highly Scalable
---
Being synonymous with robustness, the Uber for Movers app is capable of handling millions of users and transactions in a contemporary fashion.
Ready To Launch
---
Prebuilt with pristine functionality and futuristic features, the on-demand movers solutions can be end-to-end customized and launched at the blink of an eye!
Global Alignment
---
Flaunt a cosmopolitan outlook as the app is suffused with multilingual and multiple currency support, with the aim of leveraging on a universal user base.
Intuitive Dispatch Support
---
Automated dispatching service coupled with optimized driver allocation feature upsurges the booking fulfillment efficiency. More is the number of bookings; more is the revenue!
360° Support
---
From the app conception to post-deployment, we proffer you with around-the-clock telephonic/ email technical support across every possible assistance silos.
How Much Does It Cost to Develop
An On-Demand Movers and Packers App
---
At Appdupe, we strive to converge the entire spectrum of our technological mastery to accredit you with solutions that beat the competition. Every single app created by us requires enormous amounts of diligence, and mandates very specific resources and tech manoeuvres. Comparable to building your dream home, a plethora of factors such as the nature and the number of features you wish to integrate, the platform the app intends to run, the UX design, degree of sturdiness of the backend functionality, etc., influences Uber for movers app cost. If you wish to edify yourself with an accurate estimate about the on-demand movers solution, talk to your experts, and enlighten us with your requirements. All that takes is a click!
View Demo
Get both the Android and iOS apps for free. After all, building a business doesn't have to cost you a bomb!
Admin Panel Features
Admin Login
Forgot Password
Admin Dashboard
Manage Dispatcher Panel
Heat Map
View/Manage User
View/Manage Provider
View/Manage Dispatcher
View/Manage Fleet
View/Manage Account Manager
Manage Service Statement
Map
Manage Ratings and Reviews
Manage Service History
Manage Scheduled Services
Manage Service Types
Manage Price Setting
Manage Provider Documents
Manage Provider Approval
Manage Promocode
Manage Payment History
Manage Payment Settings
Manage Site Settings
Manage Provider Response Time
Manage Search Radius
Privacy Policy
Custom Push
Translations
Admin Account Management
Change Password
User Features
User Registration
User Login
Social Login (Facebook)
Login with Google Account
Forgot Password
Dashboard
Book Service
Service History Management
Cancel Service
Manage Schedule Services
Change Password
Card Management
Manage Wallet
View/Apply Promocode
Help
User Account Management
Change Password
Add Multiple Delivery
Real-Time Tracking
Call Option
Share
Rate and Review (Provider)
Provider Features
Provider Registration
OTP Verification
Provider Login
Social Login (Facebook)
Login with Google Account
Forgot Password
Manage Online/Offline Status
Accept/Reject Service Request
Manage Service History
Manage Schedule Services
Cancel Service
View Earning
Upload/Manage Documents
Provider Account Management
Change Password
Manage Card Details
Manage Wallet
Help
Share
Real-Time Tracking
Call Option
Rate and Review (User)
What we offer in Uber for Movers App Development
---
Mobile Apps

Easy to use, technically advanced, seamless mobile apps for any given vertical.

Web App

Apps built on avant-garde technologies. Highly functioning, pro-customizable, friction free in-app functionalities.

Admin Dashboard

All-in-one dashboard to quickly skim through the app activities and overall performance.

Customization Support

Boundless customizing options with immediate add-on support for quick transformation of our Uber for moving apps.

Payment Options

Secure payment options via any authorized online payment portals.