Rappi Clone: A One-stop solution for all kinds of delivery needs
Are you running a delivery startup that offers daily and last-mile deliveries? Yes? Then, it might be really exhausting for you to manage the entire process, from delivery scheduling to delivery tracking, from payment management to dispute settling. You might find it tricky to record and handle these data, making you look out for alternate solutions.
Here comes, Rappi clone app solutions to help you manage the entire delivery business operations in one place, storing every single detailing involved in your delivery business. Also, the app enables you to offer various kinds of delivery services, expanding your business operations to a great extent.
We, at Appdupe, offer Rappi clone app development at affordable prices to help in the effective management of your all-in-one delivery business. The app is ready-made and is loaded with all essential and advanced features needed for the seamless operation of your business. Ready to set foot into on-demand app delivery business? Connect with us now to launch your app in a short period.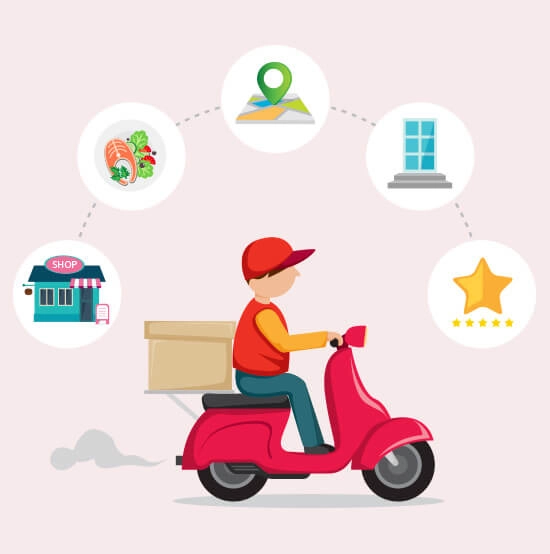 Types of delivery services available in our Rappi clone app
---
Our Rappi clone app solution encompasses several delivery services, including:
Food delivery service
Deliver food to your end-users from their favorite restaurants. Like every other food delivery app, your delivery app will allow users to order food from nearby restaurants, which will be picked by available delivery executives and delivered to their doorsteps.
Grocery delivery service
Similar to food delivery, you will allow your users to order groceries online through your app from the stores nearby. Delivery executives pick up the grocery orders from the specified stores and deliver them to your users at the time of their convenience.
Medicine delivery service
Deliver medicines needed to your end-users from the pharmacies near to their location. They can upload prescriptions from their doctors and get the service availed.
Alcohol delivery service
Allow users to order alcohol from the verified service providers near to their location through your app and deliver the processed orders to your users on time.
Marijuana delivery service
Connect your users with certified marijuana sellers through your app, enabling them to order as per their requirements. You can deliver the orders that are ready to the desired destination of your users.
Courier delivery service
Allow users to avail of your courier delivery service by choosing the vehicle type, along with their pick up and drop off locations and their time of pickup.
Flower delivery service
Enable your users to deliver flowers to their loved ones through your app. You can list all flower shops available in a locality for online orders.
Gas and fuel delivery service
Supply gas and fuel to users who are stranded as they are traveling from one destination to another. You can purchase them from a nearby gas/fuel station to deliver to your users.
Bottled water delivery service
Deliver bottled waters from service stations to users who place their orders through your app at the date and time of their choice.
Bakery delivery service
Allow users to order bakery products from the nearby stores through your app. Pick up the order and deliver it to users within a given time.
Stationery delivery service
Supply stationery supplies to educational institutions, offices, and individuals. Get them to order on your app from nearby stores and deliver it right to their doorsteps.
Essentials delivery service
Deliver essential products, right from grocery to stationery items, to users who order in your app at the date and time they specify.
The workflow of our Rappi clone app
---
Users go through the app and avail the kind of delivery service they want among the various services listed. They can place their orders, along with location details.
Store owners will receive the order requests and start processing it. Once they get the orders ready, they will transfer it to the assigned delivery executives.
Delivery executives will reach the stores and pick up the orders that are assigned to them for delivery.
Once the order is picked up, delivery executives will drive to the user's location with the help of a GPS-enabled navigation system and deliver it to their doorsteps on time.
Users will be updated on every status of their orders. After receiving their orders, they can rate the delivery service availed for future service enhancements.
Our Rappi clone app package
---
Our Rappi clone app development solutions ensure to help you build an advanced all-in-one delivery service platform that allows your users to get all their orders delivered to their doorsteps. They can avail of these services with just a few taps on their smartphones. Our apps are 100% responsive and available on both Android and iOS platforms, enabling your customers to use your app on the platform of their convenience.
Our app package includes:
User
Android App

User
iOS App

User
Web Panel

Delivery Executive
Android App

Delivery Executive
iOS App

Delivery Executive
Web Panel

Store
Android App

Store
iOS App

Store
Web Panel

Admin
Web Panel
Features of our Rappi clone solution
---
Here, users can go through the various delivery services listed on the app and avail of the service that they are looking for. Below are the features that help them access the app with comfort.
Register/Login
Users can sign up/log in with the app using their email IDs, phone numbers, or social media handles.
Advanced search and filters
Users can find nearby stores that match their needs using search and filter options.
Order placement
Users can schedule the delivery of products they need through your app, along with providing location information.
Order history
All orders placed to date will be displayed in this section.
Re-order
Users can re-order their past orders with ease.
Payment
Users can pay using any one of the payment options available in the app.
ETA details
Users will be provided with the estimated time and cost before availing of the service.
Real-time tracking
Once the orders are picked up by delivery executives, users can start tracking their live location.
Ratings and Reviews
Users can rate and review the service availed to keep the service quality at check.
Order cancellation
Users can cancel their orders by providing appropriate reasons.
In-app call/chat
Users can connect with store owners or delivery personnel in-app in case of any query.
Push notifications
Users are regularly notified about the status of their orders through emails, messages, or in-app notifications.
Mark favorite
Users can save businesses that they prefer the most as their favorite.
Order in advance
Users can schedule their delivery for a later period by specifying the date and time.
The provider app allows delivery executives to offer their delivery services from stores to end-users. They have a wide range of features that help them provide their services at their convenience.
Register/Login
Delivery executives can register with the app, using their email addresses, or phone numbers.
SMS/Mail authentication
To verify the authenticity of the details provided, OTP is sent via SMS or mail for verification.
Upload documents
Delivery executives can upload documents to the app for verification purposes. The admin has to approve their request to offer service for them to get on board.
Bank account setup
Delivery executives can add their bank details to receive payments from the admin after the commission cut-down.
Delivery requests
Delivery executives can accept or reject delivery requests due to agreeable reasons such as distance, time, etc.
GPS-enabled navigation
The provider app is integrated with a real-time navigation system, allowing delivery executives to track the delivery location.
Route optimization
Maps integrated into the app shows the best and the fastest route to delivery executives, helping them make informed decisions.
In-app communication
Delivery executives can connect with store owners and users in case of any queries in-app while processing the delivery request.
Profile creation
Delivery executives can create their profiles with their details and their photo. They can add or edit them anytime.
Availability status
Delivery executives can turn on or off their service availability status using the toggle mode.
Earning reports
Delivery executives can view their earnings on a daily, weekly, or monthly basis.
Delivery history
Details of all completed, ongoing, pending, and canceled deliveries are displayed here.
The Store App and Panel helps store owners in listing their products in their stores, allowing users to order them based on their availability. Below are the features that are vital for the app's seamless functioning.
Easy onboarding
Store owners can offer their service by registering with your app using their email IDs, phone numbers, or social media handles.
Order processing
Store owners can process order requests they receive from users and update the order status regularly.
Order management
Store owners can manage all active and new orders, along with their complete order details.
Manage delivery
The delivery details of orders that are assigned to delivery executives are displayed here.
Order service radius
Store owners can set a radius within which they wish to offer their online service.
Product listings
Store owners can list all products in their stores on the app, along with their availability and pricing details.
Categories/Subcategories
Store owners can manage the products they provide under different categories and subcategories.
Update product details
Store owners can update the availability of products, change pricing, and other details anytime.
Set bestseller products
Store owners can manually set some products in their stores as bestsellers to help users to make better decisions.
Earning details
Earning reports are shared on a daily, weekly, or monthly basis, along with graphical insights.
Minimum order limit
Store owners can set a minimum order amount for users to shop for their products.
Maximum product quantity
Store owners can limit the number of products that users can purchase at a time.
Order history
All details of completed, ongoing, and canceled orders are displayed here, along with their invoice.
Settings
Store owners can add or change details such as store information, opening and closing time, and more using the settings option.
The admin panel allows the admin to manage the entire operations of the business in one place. The admin can manage details of users, store owners, and delivery executives, and also effectively manage the orders and their earnings through the powerful admin dashboard. The features included in it are:
Manage users
Admin can manage and view profile details of all users registered with the application.
Manage delivery executives
Admin can manage and view profile details of all delivery personnel, along with the right to accept or reject their registration requests.
Manage stores
Admin can manage and view profile details of all business outlets, along with the right to accept or reject their registration requests.
Manage orders
Admin can view all orders and their details, along with their delivery status.
Earning reports
Admin can view revenue generated through the app regularly.
App updates
Admin can manage the updates of the app regularly and force app users to update at times.
Set delivery rates
Admin can customize delivery charges for each geographical location.
Assign deliveries
Admin can assign delivery orders manually and track the location of delivery executives with ease.
Referrals
Admin can offer reward points for users, delivery executives, and store owners for each successful referral to download and use the app.
Promo codes
Admin can offer promo codes to users for availing discounts on their orders on special occasions.
Payment modes availability
Admin can allow users to pay using only the payment gateways that are convenient and turn off the rest.
Manage in-app wallets
Admin can manage all user transactions taking place through the in-app wallet.
Manage deliveries
Admin can manage all deliveries, along with user and driver information, invoice details, and user feedback.
Manage user feedback
Admin can view the ratings and reviews of users for providing better service quality.
Store promotions
Upon store owner requests, users can display advertisements on the app for promotions at a fixed price.
Advanced analytics
Analytics on the business operation is generated to give insights into the business growth to admin.
Here, users can access your delivery services from any device online through the web panel, without the need to download the application. Its features include:
Sign up/Login
Users can register or login via phone numbers, email IDs, or social media handles.
Profile setup
Users can create their profiles, along with their contact information and delivery addresses.
Nearby stores
Users can search for nearby outlets to place their orders.
Advanced search and filter
Users can search for specific products and apply filters for better results.
Order tracking
Users can track their order status and delivery executive locations once the order is out for delivery.
Ratings and reviews
Users can rate and review the service availed after each completed delivery order.
Order history
Users can view the entire history of their orders, along with their status and invoice details.
Add to cart
Users can add the products needed to the cart and checkout at a later time.
Payment
Users can pay through any of the payment options available in the app.
Referral programs
Users can receive reward points for each successful referral of the app to their friends and family members.
Our Rappi app clone development process
1
Understanding the project
Our support team will get in touch with you to understand your business model and its requirements. After a thorough analysis, we research your niche and brainstorm to come up with a comprehensive app development plan.
2
Sharing cost and time estimate
The development plan helps us in sharing the estimated time needed to complete the project and its development cost.
3
Front-end customization
First, we start with rebranding our ready-made Rappi like app clone to suit your business needs. We make sure the app has a user-friendly interface so that end-users can navigate through the app with ease.
4
Back-end engineering
The back end of the app is engineered to match your business needs. All the necessary functionalities and unlimited data storage are kept in check, enabling the seamless operation of the app.
5
Rigorous testing
The fully customized app undergoes several stages of testing to ensure the app is functioning without any errors and is bug-free.
6
App launch
The app is submitted for launch on the app stores - Google Play Store and iOS App Store. Once the app meets their standards, the app will be deployed instantly.
Rappi Clone - The best all-in-one delivery app solution
---
Time-efficient solution
Our Rappi like app is a ready-made solution that is pre-loaded with all features and functionalities needed for its seamless operation. It helps us in building a fully functional app that matches your business needs in the shortest turnaround time. You can get in touch with us, discuss your needs, and get the app customized in a jiffy.
Different apps for different stakeholders
Customers, delivery executives, and store owners are the major stakeholders of your delivery business. They need separate app solutions to keep the business running. Keeping this in mind, we offer a separate app and panel for each of these stakeholders in our app package. We also build a website for your business, upon request.
Built with robust and scalable technology
As you expand your business to various locations, you might have millions of users accessing your app at a time. Your app needs to function without any glitch to offer a better user experience in such a situation. To ensure the same, our white-label apps are built with the most advanced technology. Also, these solutions are highly scalable, opening gates for future app enhancements.
Multi-store integration
As a multi-delivery service provider, the app should allow you to integrate local restaurants, grocery stores, flower shops, pharmacies, and other service providers into your app, so your users can avail of your service without any hassles. Our app is built with an option to do so, helping you to expand your business operations.
View Demo
Get both the Android and iOS apps for free. After all, building a business doesn't have to cost you a bomb!
Admin Panel Features
Dashboard with live ride details
View/Manage Dispatcher Panel
View/Manage Dispute Panel
Heat map
God's View
View/Manage Roles
User Management
Provider Management
Manage Provider Approval
Dispatcher Manager
Dispute Manager
Account Manager
Manage Account Statement
Mange Payrolls
Manage Documents
Manage shop types
Manage Cuisines
Restaurant Management
Order History
Manage Commission
View Reviews and Ratings
View/Manage Promocodes
View /Manage Country and city
View /Manage Services History
View/Manage Documents
View/Manage Menus
View/Manage Ticket Categories
View Earning Reports
Manage CMS Pages
Manage Contact Page
Site Settings
Manage Social Login
Manage Map/SMS configuration
Manage Email Configuration
Manage Payment Settings
Manage Search Radius
Manage Provider response time
Manage Manual/Automatic Assignment
Database backup
View/Manage Referral
Custom Push notification
Order OTP Verification
Change password
User Features
Social media Register/Login
Email and Mobile Number Register/Login
Verification of Email or Number
View Restaurant/Stores list
Book order service
View Offers/Coupons
View Featured Services
Search based on Restaurants/Dishes
Filter Range
View Item/Product List
View Cart
Order by Delivery/takeaway
Real-time tracking
View Estimated Time of Arrival
Call/Chat Delivery Partner
Rate/Review Delivery Partner
Manage Profile
Manage Address
Manage Payments
Manage Wallet
Manage Language
Manage Invite Referrals
Manage Order History
In-app Notifications
Privacy Policy
Support
Change Password
Logout
Shop Features
Email Login
Dashboard
View/Manage Profile
Manage Location
Manage Shop Open Timings
Manage Response Time
Manage Best Seller Timeline
View/Manage Promo codes
View/Manage Addons
View/Manage Categories
View/Manage Items
Manage Item Discounts
Accept/Cancel Order
View Order Details
Manage Estimated Preparation Time
Manage Current/Past/Cancel Orders
View Live Order Status
View In-app Notifications
Manage Bank Account
Wallet Management
Order History
Revenue Statements
Change Password
Forgot Password
Logout
Provider Features
Social Media Register/Login
Email and Mobile Number Register/Login
Verification of Email or Number
View/Manage Profile
Manage Multiple Services
Manage Documents
Manage Bank Details
Mange Payment
Wallet Management
Manage Earnings
Manage Language
Accept/Decline Orders
Switch Online/Offline
Live Order Status
Order OTP Verification
Live Navigation
Call/Chat Partner
View Order History
View Notifications
Raise Disputes
Invite Friends & Referral code
Privacy Policy
Support
Change Password
Logout
Why we are the best Rappi clone app development company
---
Appdupe is one of the leading companies preferred by several entrepreneurs for their all-in-one delivery app development. It is mainly because of the top-notch app solutions that we offer. Reasons that contribute to our success include:
Readily customizable product
---
Our Rappi clone apps are ready-made solutions that can be readily personalized to match your business model. You can add or remove any features and functionalities at your convenience.
White-label solutions
---
These apps are white-label solutions, allowing you to rebrand its name, logo, color scheme, and other associated elements. It makes you the sole proprietor of the app.
Highly scalable solution
---
Rappi clones are scalable solutions, giving you the ability to modify the app in the future for better enhancements. It helps your app to adjust to the changing business environment.
Multilingual and Multi-currency support
---
The app allows you to offer your services in multiple languages. Also, you can integrate features to accept payments from multiple currencies — these help in taking your app business to a global scale.
Added security
---
Our app solutions are integrated with top-notch security features. Also, your user data is well-guarded, preventing any possible data breach.
Chatbot integration
---
Our apps are integrated with chatbots so you can interact with your users seamlessly, establishing a stable customer relationship.
SEO friendly design
---
The apps are designed, keeping the best SEO practices in mind. It helps the app in ranking on top of the search results of app stores.
App launch support
---
We not only help you in the development of your app, but also assist you in launching the app on the Google Play Store and iOS Play Store. We also offer free installation of web panels on your server.
Complete transparency
---
We maintain 100% transparency through our app development project. Our clients are informed of each step of the project to ensure we are on the same page. It helps us in fulfilling our client expectations.
Technology Stack We Use
We use the latest tools and technologies to build an advanced and multi-functional app. Some of our cutting-edge technologies include:
---