Cutting-edge On-demand Tutor App Development Solution
---
With the rising demand in the job market, it has become vital for students to stay up to date in their subjects to begin their career victoriously. Also, they have to be well-educated to excel in their academics. Though schools and colleges provide them with all learnings needed, many students still require additional tutoring services to upgrade their knowledge.

The demand for tutoring services is widely catered by Uber for tutoring app solutions that are leading the online education space. These solutions let students interact with tutors online, irrespective of time, and location. At Appdupe, we offer white-label Uber for tutor apps that are robust and reliable in every aspect possible. By deploying the app in your niche, you can make an indelible mark among your target audience. Do not wait any longer. Get started today!
How Can You Generate Income
From Our On-demand Tutoring Service App?
---
Earn commission from tutors for every tutoring session scheduled through your on-demand tutor app.

Collect subscription fees from students monthly/ annually for accessing your platform to avail courses or tutoring services.

Collect service charges from students for each tutoring session they avail through your platform.

Charge sponsored fees for tutors who wish to feature their tutoring services on the top listings.

Promote third-party businesses by displaying their advertisements on your Uber for tutor app for a price.
Vital Features
Of Our On-demand Tutoring App Like Uber
---
Secure sign upStudents can register with the on-demand tutor app promptly via their email addresses, phone numbers, or social media profiles.
Student dashboardThe details of completed tutoring sessions, canceled, and upcoming ones are presented for quick overview of students.
Explore tutor profilesStudents can skim through the list of tutor profiles and view their details like expertise subject, experience, availability, etc., to schedule their tutoring services.
Schedule sessionsUpon choosing tutors, students can schedule their tutoring sessions with them at a convenient time and date.
Push notificationsStudents are updated on the status of their service requests instantly via in-app push notifications.
Live trackingStudents can track the location of tutors once the latter start their travel to the students' locations to render their tutoring services.
Flexible paymentsOnce the tutoring schedule has been confirmed, students can process payments fleetly with the mode of payment they find feasible.
Instant chatStudents can readily reach out to tutors if they have any queries about the tutoring sessions or inquire about their tutoring services in detail.
Ratings and reviewsAt the end of each session completion, students can rate tutors and leave a review on their profiles, helping other students make informed choices.
Invite and earnStudents can be bestowed with reward points for successfully referring the Uber for tutors app to other students in their circle to download and install it.
How The Student App
Of The Uber Like App For Tutors Work?
---
1
→

Students can sign up with the platform in no time with the multiple registration options.

2
→

Students can explore the profiles of tutors registered with the Uber for tutor app and overview their complete details.

3
→

Upon choosing preferred tutors, students can schedule a tutoring session with them at their convenient date and time.

4
→

Students can track the tutors once they start to students' locations to offer their services.

5
→

After availing the tutoring services, students can process payments fleetly via the secure payment options.

6


Students can rate and share their feedback for the tutoring service rendered.
Quick onboardingTutors can get on board by signing up with their email IDs or phone numbers.
Tutor profileTutors can set up their profiles with detailed information, such as their specialization, experience, available time, etc.
Tutor dashboardTutors can effectively manage their tutoring sessions, students' info, and more via the tutor dashboard.
Request alertsTutors are notified of the tutoring service requests from students promptly via in-app push notifications.
Accept/ reject requestsTutors can choose to accept or reject the tutoring service requests from students at their convenience.
Route optimizationTutors will be provided with the best possible route to reach the locations of students on time. They will be updated on traffic congestions and similar issues immediately.
Chat supportTutors can offer assistance to their students and clarify their questions quickly via the real-time chat support feature.
Share reviewsTutors can share reviews for students at the end of their tutoring sessions, so other tutors can readily understand the students' performance and plan their classes with ease.
Admin dashboardThe admin has a god's eye view over the app's activities, managing everything efficiently from the admin dashboard.
Manage studentsThe admin can view the profiles of students signed up with the platform and their entire details.
Manage tutorsThe admin can verify the profiles of tutors for authenticity before listing their tutoring services on the platform.
Manage sessionsThe admin can manage the tutoring sessions scheduled and ensure all are processed without any hassle.
Manage commissionAfter the tutoring session completion, the admin deducts the commission and transfers the payments to tutors.
Manage notificationsThe admin can manage the push notifications sent to students and tutors and keep them posted on any updates fleetly.
Live chatThe admin team can connect with tutors and students at any time to clarify their doubts right away via live chat support.
Data-driven reportsAn insightful report based on the app's performance is presented to the reference of the admin, helping them channelize their marketing efforts effectively.
The Detailed Workflow
Of Our On-demand Tutor App
---
1

→

Tutors can get on board by registering with their email IDs or phone numbers.

2

→

Tutors can verify their profiles by uploading necessary documents.

3

→

Once the tutor accounts have been verified, they can start offering their courses seamlessly.

4

→

Tutors will be notified of the student requests instantly via push notifications.

5

→

Tutors can accept the student requests after reviewing them.

6

→

Tutors can travel to students' locations and render their service as committed.

7

→

Once the service has been provided, students can process payments promptly.

8

→

Tutors can link their bank accounts and get paid right away.

9


At last, tutors can provide feedback for students who availed their courses.
Exclusive Benefits
Of Our On-demand Tutor App Development
---
Turnkey Solution
---
All our products are 'Turnkey'. You can start with ZERO time-to-market and capture the largest market-share.
Powerful Admin Dashboard
---
Complete control of your websites and mobile apps is comfortably available in your admin dashboard.
Scalable Product
---
Have plans of taking off and scaling up rapidly? We got your back with the most scalable robust products in each category.
Whitelabel Solution
---
Our solution is entirely white labelled to put whatever brand you want. Your visitors and users will never know about YAIM.
Cost Effective
---
YAIM is the most featureful product in its tier with pricing from the bottom of the barrel, prolonging your runway.
Native Mobile Apps
---
Both our iOS and Android apps are built natively so that they perform with the best user experience in respective platforms.
App Screenshots
---
An enhanced version of online service apps. Built with pure technology expertise to help entrepreneurs prosper.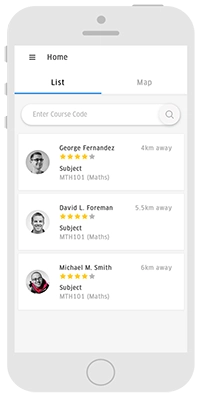 View Demo
Get both the Android and iOS apps for free. After all, building a business doesn't have to cost you a bomb!
Admin Panel Features
Admin Login
Forgot Password
Admin Dashboard
View/Manage User
View/Manage Tutors
Tutor Approval
Map
Manage Ratings and Reviews
Manage Service History
Manage Scheduled Services
Manage Service Types
Manage Chapters
Manage Pending Request
Manage Service Statement
Manage Promocodes
Manage Document List
Manage Referral Rules
Manage Payment History
Manage Payment Settings
Manage Site Settings
Manage Tutor Response Time
Manage Search Radius
Help
Manage Social Settings
Manage CMS Pages
Translations
Manage Admin Account
Change Password
Features - Student
Student Registration
Student Login
Forgot Password
Social Login (Facebook)
Home
View/Choose Subject Category
View/Choose Subject
Account Management
View Service History
View Coupon
Manage Wallet
Manage Card Details
Invite Referral
Add/Manage Emergency Contact
View About Us
View Contact US
Help
Share
Share Contact
Change Password
Book Tutor
Cancel Service
Chat/Call Option
Manage Schedule Sessions
Push Notification
Rate and Review (Tutor)
Features - Tutor
Tutor Registration
Upload Documents
Tutor Login
Forgot Password
Offline/Online Service Option
Profile Management
Home
Manage Service History
Manage Scheduled Service
View Earnings
Revenue Dashboard
Help
Add Service (Subject)
View About Us
View Contact Us
Share to Contact
Share the App
Accept/Reject Session Service
Cancel Sessions
Chat/Call Option
Push Notification
Rate and Review (Student)
Why Choose Appdupe?
---
White-labeling

---

Our Uber for tutors app is a white-label solution that can be completely customized as per the working model of your business.

Intuitive User Interface

---

Enable tutors and students to access your Uber for tutoring app effortlessly by integrating a user-friendly design and intuitive interface.

Instant Launch

---

The fully customized on-demand tutoring service app is promptly deployed on the server on your choice and major app platforms without any hassle.
What We Offer
---
Mobile Apps

Easy to use, technically advanced, seamless mobile apps for any given vertical.

Web App

Apps built on avant-garde technologies. Highly functioning, pro-customizable, friction free in-app functionalities.

Admin Dashboard

All-in-one dashboard to quickly skim through the app activities and overall performance.

Customization Support

Boundless customizing options with immediate add-on support for quick app transformation.

Payment Options

Secure payment options via any authorized online payment portals.