WhatsApp Clone
Propel The Best Instant Messaging App Like Whatsapp Today!
---
The short messaging has been sent to oblivion by WhatsApp. The app connected people from far and wide instantly with real-time chats. Just imagine what a similar app can do to your business or social circle. That's why we are here to deliver the same. From sending instant messages to high-quality video and audio calling, the messaging app solution from our Appdupe is loaded with stellar functionalities.Ourclone is stacked with pivotal features like invite contacts, share multimedia, share location, etc., along with an interactive UI, which could turn any entrepreneurial dream into reality.
Ready to Launch WhatsApp Clone:


Launch Instant Messaging App With Appdupe!
---
Highlighting Features
Of Our WhatsApp App Clone
---
Group Chat
Users can add members and assign a name to the chat with special characters and emojis. All the group members can send multimedia and also respond inline to other member's chats.
Contact Syncing
Users can sync contacts from the address book, SIM card, or through email without any hassles. No need for manual editing as these contacts are synced via the cloud.
Multimedia and File Sharing
Instant messaging apps are considered a powerful communication medium because of the ease to share any media contents like images, video or audio, and files of any format. Users can experience just that with this app and turn into productive professionals.
Social Media Integration
Users can log in to the chat app through social media logins. The app shows the online presence, timestamp, typing presence, and more.
Video Calling
Let users build bonds or enhance productivity using the high-quality video calling feature, where they can connect across miles with just a single tap without any external hardware support.
Voice Calling
Turn the instant messaging app to a carry-anywhere telephone using this feature. Users can connect with remote teams or individuals with just the internet as a medium.
Geo-location
Take the messaging experience of users to the next level, as the app is not just limited to sending or receiving text messages but also allows users to share their real-time location with their friends or family.
Instant Notifications
Users can get to know about the messages the instant they receive even without entering into the app. They will also receive notifications even while their screen is locked.
Star Messages
Users can bookmark some essential messages by starring them. They can retrieve those starred messages for later instantly whenever needed.
Secret Chats
Users can have some secret conversations with selected contacts. The messages in the secret chat will disappear from both ends automatically after a particular time.
Build an instant messaging app like WhatsApp within seven days!
Don't waste your time; connect instantly with our experts
Dynamic admin panel
---
Appdupe understands the need for developing an encyclopedic control panel for instant messaging applications. That's why we have designed the admin panel such that the admins will be able to ensure that the users get all they deserve.

Here are the features that are conducive to admins.
Far-reaching benefits of our WhatsApp Clone solution
---
Turnkey Solution
---
All our products are 'Turnkey'. You can start with ZERO time-to-market, capture the largest market-share.
Powerful Admin Dashboard
---
Complete control of your websites and mobile apps is comfortably available in your admin dashboard.
Scalable Product
---
Have plans of taking off and scaling up rapidly? We got your back with the most scalable robust products in each category.
Whitelabel Solution
---
Our solution is entirely Whitelabel to put whatever brand you want. Your customers will never know about the Instant messaging app solution.
Cost Effective
---
WhatsApp Alternative is the most featureful product in its tier with pricing from the bottom of the barrel, prolonging your runway.
Native Mobile Apps
---
Both our iOS and Android apps are built natively so that they perform with the best user experience in respective platforms.
A Premium Messaging App Solution
To Be A Par With Your Business Needs
---
Whether you want to launch a startup or you already own a firm that is renowned in the communication sector, the perfect way to take it to the next level is to popularize it. That's why Appdupe is here with the white-label WhatsApp app Clone solution that will fulfill all your business needs.

Built with cutting-edge technology and innovative designs, our solution outshines in the instant messaging app market and is considered a prime choice by a guild of successful entrepreneurs.

With our sole focus set on enhancing the chat experience of users, we offer a WhatsApp Clone script that is pliant to all the additional integrations of special features. Whether staying updated about any business information or having lively conversations, the users can instantly connect to the other end of the world through this app.
Enticing Features


Of An App Like WhatsApp
---
Share ContactsUsing the app, users can share their phone contacts with their friends and even in groups. Just a tap and they can share the contact seamlessly.

Dark ThemeWith this feature, users can get entices, enhancing their experience on the messaging app. Apart from just looking better, it also reduces a considerable amount of power usage.

StoriesUsers can share or even capture their memorable moments and upload them to their status or stories. They can share the content with their contacts by posting images, emojis, and more. They can see who viewed their status and delete it if needed.

Instant ChatsUsers can have the immense pleasure of chatting with their dear ones by receiving or sending the videos, images, and texts. The chats are encrypted, so safety is assured.

SearchUsers can search for a friend or a person to have a conversation with them. They can enter their name, and the person's chat will pop up instantly.

Last SeenThe app allows the users to hide the last seen if needed. They can set their last seen visibility to their contacts, everyone or nobody, according to their choice.

Profile PictureIt might be dangerous to set a profile picture and let it be seen by unknown people. That's why users can have their visibility turned on or off to contacts, nobody, or to everyone.

Multi-lingualOur Clone app is available in different languages. It can be customized to the user needs in their native language if they wish.

Forward MessageThe user can share any interesting message that they received in their chats with their loved ones using the app's forward message feature.

Delete for EveryoneIf any user feels that they have sent any undesirable message to their contact, they may do that with the 'Delete for everyone' option in the app, which wipes out messages.
Advanced Features
Of Our Whatsapp Clone App
---
Block/Report Users

The app users can block unwanted messages and also can report the users to avoid any further contact.

Emoticons

The app is integrated with a wide range of emoticons to keep the conversations both engaging and fun. The emoticons help the user to understand the context and tone of the message in a fairway.

Chat Backup

Users don't have to fret over losing their important messages, as the Alternative to WhatsApp is synchronized with the cloud backup.

Two-factor Authentication

Security is a primary concern in any messaging app, and this feature ensures it well. It provides an added layer of security by verifying the legal owner.

Invite Contacts

Users who already use the app can invite their friends or family who are not using the app using this feature. They are allowed to invite limitless people to join the app.
Benefits It Can Offer To Any Business
---
It is not just for the individuals, but it is also proven to establish a connection to the businesses because of the ease they provide in connecting and getting the work done in a jiffy. Let's look at some perspectives that prove how it can be an efficient communication tool in your business.
Cost-effectiveConnect with your customers or team members worldwide over calls, be it video or audio, without any hindrances.
Time-efficientTalk with your customers or team members from anywhere, anytime, thereby spending your time wisely.
Enhance RelationshipsDiscuss any critical problems, share important information, or brainstorm instantly in just a few taps. Engage in conversations with your team effortlessly with the instant messaging app.
Customer SupportIncrease the retention rate of customers by connecting with them round the clock. Update them frequently about a new product or resolve queries with this sturdy app.
Seamless CommunicationGet instant updates on the projects from your co-workers by connecting with them through our WhatsApp Clone.
Admin Panel Features
Admin Login
Forgot Password
Admin Dashboard
View/Manage User
View/Mange Blocked User
View Block User Report
Chat Export
View/Manage Country
Custom Push Notification
Manage CMS Pages
Manage Site Settings
Help
Manage Admin Account
Change Password
User Application Features
User Registration with Phone Number
User Login
OTP Verification
Whatsapp Web
Chat
Manage Account Privacy
Delete Account
Manage Notification Settings
Contact Sync
QR Code
View Admin Notifications
FAQ
Contact Us
System Status
Terms and Privacy Policy
About
Manage SOS Contact Settings
Manage SOS Message Settings
Search User
Group Chat
View/Manage Group
Starred Messages
Pin Chats
View/Manage Status
Manage User Account
Manage Recovery Email Settings
View/Manage Moments Feed
Sell Products
Buy Products
Manage Buy/Sell Product Details
Manage Call History
Audio Call
Video Call
Mute Contact
Block Contact
Email Chat
Share Picture/Video/Document Files
Share Location
Share Voice Note
Change Number
Delete Account
Language Settings
Invite a friend
Admin Panel Features
Admin Login
Forgot Password
Admin Dashboard
View/Manage User
View/Mange Blocked User
View Block User Report
Chat Export
View/Manage Country
Custom Push Notification
Manage CMS Pages
Manage Site Settings
Help
Manage Admin Account
Change Password
User Application Features
User Registration with Phone Number
User Login
OTP Verification
Whatsapp Web
Chat
Manage Account Privacy
Delete Account
Manage Notification Settings
Contact Sync
QR Code
View Admin Notifications
FAQ
Contact Us
System Status
Terms and Privacy Policy
About
Manage SOS Contact Settings
Manage SOS Message Settings
Search User
Group Chat
View/Manage Group
Starred Messages
Pin Chats
View/Manage Status
Manage User Account
Manage Recovery Email Settings
View/Manage Moments Feed
Sell Products
Buy Products
Manage Buy/Sell Product Details
Manage Call History
Audio Call
Video Call
Mute Contact
Block Contact
Email Chat
Share Picture/Video/Document Files
Share Location
Share Voice Note
Change Number
Delete Account
Language Settings
Invite a friend
Appdupe at your service!
As a team drenched in the app development industry for years, we don't just understand your business needs, but we have the unconquerable skill to help you develop a customized WhatsApp Clone app to meet them. Apart from that,
We discuss and thoroughly analyze the app to fathom its practicality.

Explain the technicalities involved with WhatsApp like app development, as transparency is one of our cardinal virtues.

We set goals and limitations, if any, for the app and achieve them masterfully.

Even after the WhatsApp app clone development and launch, we will take care of the meticulous updation and optimization of the app.

We help you promote your app on the app stores authentically.
Work-flow


Of Our WhatsApp Alternative

The app uses the primary protocol, called a Whisper Protocol. The app's encryption type, since it uses a complex approach, makes it impossible to hack any data.
1

The user/sender sends a message.

2

The message is queued on the app's server until the recipient reconnects to receive the message.

3

When the message is delivered, the app notifies the sender by a double checkmark.

4

After delivering the message, the app's server memory deletes the message instantly.
Even while the messages are queued on the server, the decoding of the data is impossible as the data would be stored as an infinite combination of strings and numbers.
WhatsApp Clone App Screenshots
Catch a glimpse of app screens made with the advanced WhatsApp Alternative app.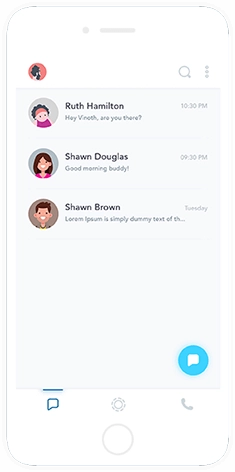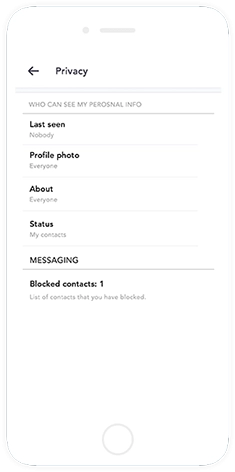 The Revenue Model


Of Our Whatsapp Clone Script
---
Constant revenue is now a possibility with these revenue streams!
Freemium ModelAllow users to access all the basic features of the app for free and avail the supreme features of the app by paying a specific amount. A great way to earn income with the gain in user base!

Advertisement FeeCollect advertisement fees from third-party brands for displaying products and services on your app. The costs can be calculated based on views, impressions, etc.

In-app PurchasesAvail prices from the users by offering superior and customized stickers, filters, effects, etc. With the correct options, you could generate constant revenue from this model.

Subscription FeeAllow users to access your app by subscribing to it regularly. You need to offer something unique to avail the best revenue from this model, as most chatting apps provide free services.
How much does it cost to develop
a WhatsApp Clone application?
---
Building an instant messaging app like WhatsApp is like building your dream home. The extent of budget hugely depends on a wide range of factors, primarily focusing on the needed features, required functionality, expected scalability, and the overall agility of the app. But that doesn't mean that the price of WhatsApp alternative is extravagant, especially when you are joining hands with Appdupe. Let's take a look at some critical elements that influence the total cost of WhatsApp Clone app development.
Nature of app platform.

Number of integrated features.

Expected time of delivery.

Selected engagement mode (full-time/part-time/hourly).
In case you wish to get enlightened with the cost estimation, get in touch with our experts right away; a quotation deliberated to your needs is awaiting you!
Why Should You Choose Appdupe?
---
Cross-platform Compatibility

Our app works on all platforms, including web versions, Android, and iOS, as the primary quality is agility. You don't need experience in coding to start using the application right away.

White-label Solutions

You can get the app white-labeled with your choice of logo, designs, and brand name. Rebranding an app like WhatsApp is a mere cakewalk.

Detailed Documentation

With the purchase of our script, we provide complete documentation of the details of the app that explains the comprehensive working.
The Signing of the NDA

As a reflection of your trust in us, we always stick to the regulations and rules of the Non-disclosure agreement that's made between us.

Server Installation

The full-fledged instant messaging app will be deployed on your server for zero cost to propel the app in just a matter of minutes.

Demo Application

'We fulfill all your needs,' not just our tagline, but we prove them! That's why we offer you the demonstration of your to-be-built WhatsApp Clone app.
FAQ
---
Schedule with Us Now!
---